LA GRANDE, Ore. — It was an ideal time for Rocky Mountain College to have what football coach Chris Stutzriem described as its best performance of the season.
First-place Rocky forced six turnovers on defense and quarterback Nate Dick threw four touchdown passes in a 34-17 Frontier Conference victory at Eastern Oregon on Saturday.
The Battlin' Bears intercepted EOU quarterback Kai Quinn three times, and also forced and recovered three fumbles. Dick threw for 224 yards and rushed for a game-high 123 yards. He threw three of his TD passes in the first half.
With the victory, the Bears remain alone in first place in the Frontier standings with a 5-1 record. This marks Rocky's best six-game start since 1998, when it went 9-0 in the regular season. Eastern Oregon, the preseason choice to win the Frontier, dropped to 3-3.
"This was our most complete game as a whole," Stutzriem said. "I thought our defensive game plan was phenomenal. We got pressure on their quarterback and we put hats on balls. And then our offense was good about taking those turnovers and turning them into points."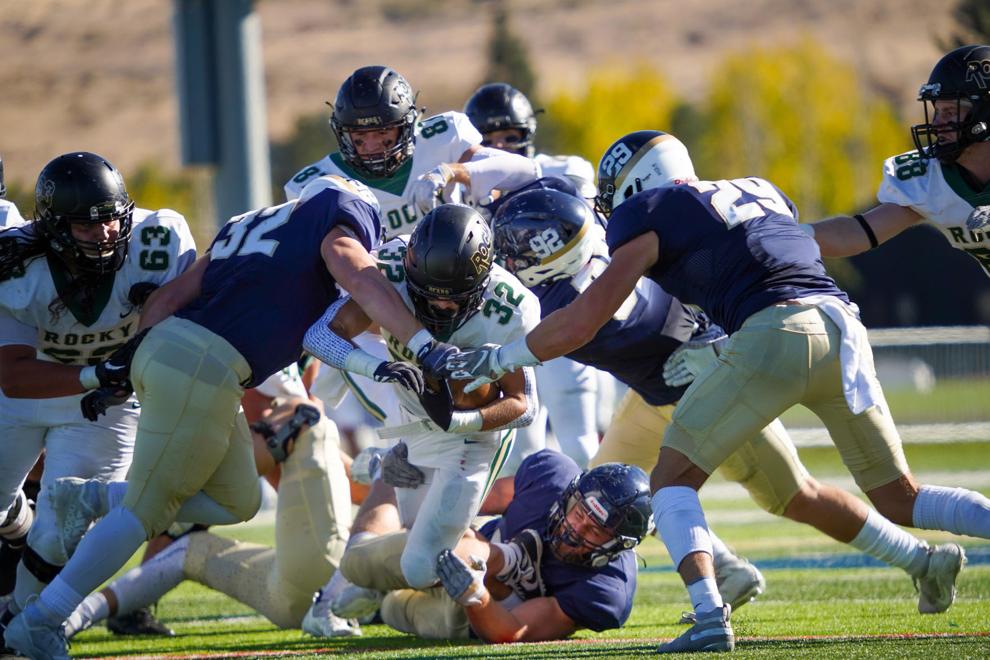 Twice Dick connected with wideout Lucas Overton, first on a 57-yard scoring pass to put Rocky up 14-7 in the first quarter, and again on a 19-yarder as the Bears built a 30-17 advantage in the third.
Tight end Andrew Simon caught a 4-yard touchdown pass from Dick to open the scoring in the first quarter. Trae Henry had the other TD reception, a 38-yarder from Dick as Rocky went up 21-14 later in the second.
"I thought Nate played his best game," Stutzriem said. "I thought he threw the ball extremely well, and we protected him. And he was able to break off a few big runs."
Victor Rosas rushed for two 1-yard touchdowns for EOU, but the Mountaineers were otherwise slowed by their inability to protect the football. Linebacker Shamar Whestone, and defensive backs Brail Lipford and Ty Reynolds all intercepted Quinn, the reigning Frontier offensive MVP.
Lipford's was especially timely. After Rocky kicker Riley Garrett had a field goal attempt blocked, Lipford picked off Quinn and returned the ball to the EOU 21. That led to a 33-yard field goal try from Garrett that was good, which capped the scoring.
"Brail got beat on that earlier in the game. They had a big play up the seam," Stutzriem said. "But he learned from it and made a play."
Garrett also made a 48-yard field goal with 50 seconds left before halftime, his longest make of the season. Mountaineers kicker Zachary Cahill made a 21-yard try as time expired in the first half, pulling the EOU within 24-17.
Rocky dominated time of possession, 38:59 to 21:01, and finished with 217 rushing yards on 47 attempts. Dick completed 14 of 26 passes and was sacked just once. He did not throw an interception.
Bears defensive end Alex Bush finished with a sack, a forced fumble and a fumble recovery. 
Seven of the eight Frontier teams have byes next week. The only scheduled game is a nonconference matchup Saturday between MSU-Northern against Simon Fraser in Havre.
"Just really happy with our team and our performance," Stutzriem said. "We'll just get back to basics and get guys healed up. We'll go back to Day 1 installs and get back to doing our jobs.
"We're very happy, ecstatic, and we're ready to go on a bye week."