BILLINGS — It couldn't have turned out any better for Rocky Mountain College's Lauryn Gamache and Maia Wetzel.
Both record-setting players had doubts about playing collegiate soccer, but once they found their way on to the pitch the duo has been hard to stop.
Led by Gamache's scoring prowess and Wetzel's ability to defend the goal, the Battlin' Bears (14-4-3) have reached the second round of the NAIA Women's Soccer National Championships and are scheduled to play No. 2 seed and top-ranked Keiser University (20-1). Rocky will play the Florida school on Tuesday at 10 a.m. Mountain time in Orange Beach, Alabama.
Gamache, a senior forward from St. Louis, became Rocky's all-time leader in goals, assists and points this season. Gamache has 50 career goals, topping the previous mark set by Kirsty Montignani, who had 46 goals from 2009-12. She also now has 23 career assists, which is two better than the previous record that was shared by three former Battlin' Bears. That totals 123 points, which eclipses Montignani's old mark of 113.
During an 11-0 win at Northwest Christian University on Nov. 1, Gamache tallied five goals to break the career goals and career points records. The five goals are also the most a Rocky player has scored in a single match. Two previous players had scored four goals in one match for the Bears, with Allie Beckers scoring five goals in a match twice (2007 and 2010) and Montignani netting five goals in a match in 2009.
"Just hard work. I obviously couldn't do it without my team," Gamache said. "Just putting in the work and wanting it. I always wanted to be the best. Breaking records is something I strive for."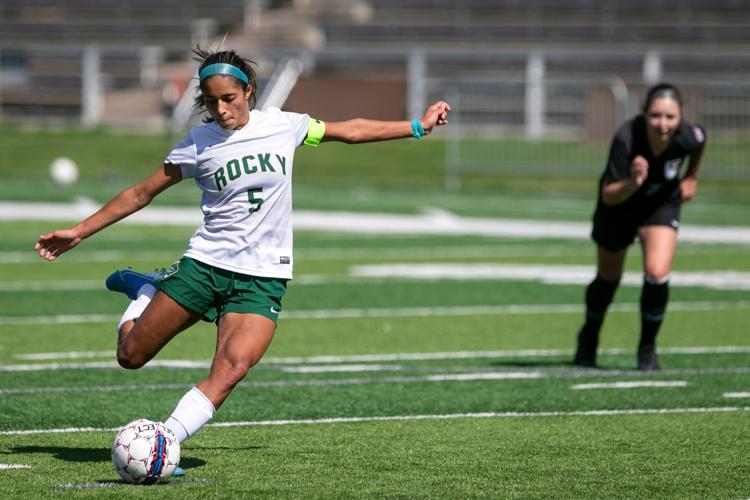 Gamache has earned the nickname "G Money" when assistant coach Kevin Luse tabbed her with the moniker last season. Gamache said part of the reason for the nickname was there are three players on the team with her first name — herself, Lauren Cornwall and Lauren Allen.
Luse said he gave Gamache the nickname "because she's money. When a player is one of your better players, it's money every time."
Longtime Rocky head coach Richard Duffy said that Gamache "has the entire package."
"It's incredible for sure," Duffy said of Gamache setting the all-time goals, assists and points records. "That's one where I'm sure we'll have someone in the program in the next five to 10 years to challenge for the goals record and someone else for the assists, but the best part is that she can do both."
Wetzel, a 2017 Billings West graduate, is a junior. And while Gamache has been unstoppable on offense for the Bears, Wetzel has been nearly impossible to get a shot past.
This year, Wetzel has been credited with the victory in all 14 of the Battlin' Bears wins. The previous record was by Malin Johansson with 13 in 2012. Wetzel is second in school history with 32 career victories, trailing only Johansson's 44 wins.
This year, Wetzel established a school record with 14 shutouts. The old record was eight by Vanessa Peters in 2007. By blanking the opposition 14 times this year, Wetzel passed the career shutouts record. She now has 22, surpassing Johansson's 14 from 2010-13.
With all of the shutouts, Wetzel also set a benchmark for saves in a season with 90. The previous record holder was Lia Unterholzer with 80 in 2015.
"Obviously, by breaking records it shows I'm doing well," Wetzel said. "The difference this year from other years is the overall team chemistry and the heart of the team is the difference. This year, everyone wants it so badly and obviously that helps me play better. If everyone wants it that helps me be successful. We vibe off each other."
While she deflected credit for her history making, at the same time Wetzel is proud of it.
"I never know what to say about records. I hate talking about myself," she said, before adding, "It's there forever and I can look back and see I set something in school history and show my family. It's there forever."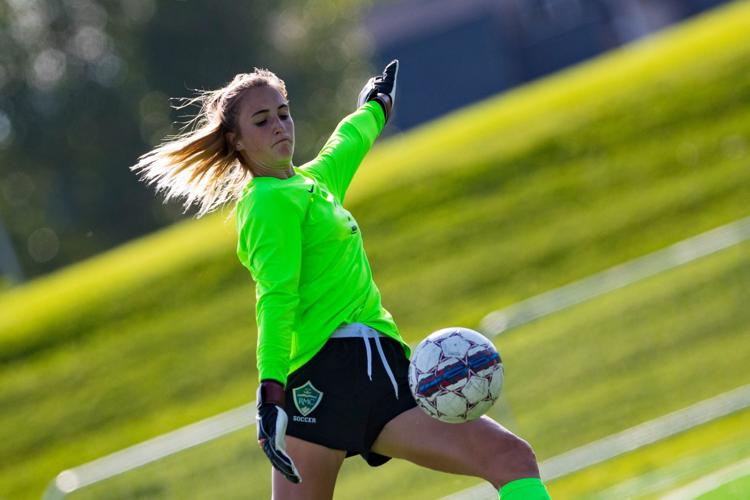 The Battlin' Bears women's soccer program started in 1999. 
Duffy said Wetzel is extremely confident in her abilities.
"It's athleticism. She's extremely athletic and has great hands and is a good shot stopper," Duffy said. "But on the other side, she is fully confident in her abilities. It doesn't matter what the circumstances are or who we're playing, she'll step up."
The Bears are counting on Gamache and Wetzel to continue their outstanding play in Alabama.
Rocky advanced to the second round with a shootout victory over No. 12 Midland University (Nebraska) in Omaha, Nebraska, Nov. 23. After two overtimes, the squads were tied 0-0. Rocky wound up winning the penalty kick shootout, 3-2. Wetzel converted on the first penalty kick for Rocky and made the save on Midland's fifth attempt.
"I'm fully confident at the national tournament the game won't be bigger than her and she'll make some outstanding saves," said Duffy. "She oozes confidence and this year she came up with some outstanding saves in big games and is a major part of the success we've had."
Duffy said opposing teams have focused on Gamache all season long. That sometimes will create scoring chances for Gamache's teammates.
"She'll be double teamed or triple teamed and still find ways to score," he said. "The No. 1 thing on what Keiser's scouting report is what she brings to the team."
Gamache's record-setting career almost never got started. After playing competitive club soccer at the national level in high school, she was recruited by NCAA Division I teams, said Duffy. Gamache said she committed to a school in Arkansas and "I panicked and wasn't ready for it."
Instead, Gamache went to school at Missouri State for a semester. She then found her way to Rocky.
"I transferred here just for school," said Gamache, who will graduate in May, 2020. "My parents said to just keep trying. I emailed Duffy and I just came out to some of the practices and here we are four years later. … I'm really glad it worked out the way it did."
Wetzel did not intend on playing college soccer.
"I never wanted to play in Billings. I'm from Billings and I was never going to play college soccer," she said. "I was going to drop it and then Duffy called me and I decided to try it out and fell in love with the girls and the school. I would never take it back. It's an absolutely amazing thing. I couldn't ever imagine what I'd be doing if I wasn't here."
Now, Gamache and Wetzel are ready to lead the Bears at the national tournament.