BILLINGS — Crow men don't grow up until the age of 50, according to "old tellings" Darrelyn Lefthand has heard throughout her life. She also saw an example of such a man: her grandfather, Eymard.
Eymard starred for the Edgar High School boys basketball team in the 1960s and became a beloved coach and teacher. He battled alcoholism as an adult, but he got sober right around the age of 50. He spent the next two decades as "the next closest person we had to a father," Darrelyn said.
Eymard died on July 24 of a heart attack, according to Darrelyn and her siblings. He was 73. About a month earlier, his son Darrell passed away at the age of 44. He was the father of Darrelyn and her brothers Darnell and Famous.
Like Eymard, the Lefthand siblings expected Darrell to turn his life around as he approached age 50. Like Eymard, he's gone before they were ready to say goodbye.
"He was doing really good. I think if he had another chance, he would have been completely done with his old life," Darrelyn said of her father. "I was just waiting for my dad to hit a certain peak and know that he was going to change."
Eymard Lefthand: Edgar legend
Eymard was going to be honored by the Montana Indian Athletic Hall of Fame in April, but the event was suspended because of the coronavirus pandemic. In a Facebook post, the MIAHOF called Eymard "a true legend" and highlighted probably his greatest athletic accomplishment: his performance at the 1966 Class C state basketball tournament.
Eymard, a Pryor native, scored 70 points in three games (23.3 per game) to lead Edgar to the state title, the first time a predominantly Crow basketball team accomplished that feat. He earned State C MVP honors and was the only unanimous all-state selection. The Wildcats finished 28-1 that season, and Eymard earned a basketball scholarship from Eastern Montana College (now Montana State Billings).
"Lefthand's athletic legacy and determination have stretched on for decades as his lineage has dominated the courts in Montana through his children, and grandchildren," the MIAHOF wrote. "Eymard's undeniable drive and dedication were a powerful example he brought his whole life bringing great pride to the Pryor community and the Crow Nation on and off the court."
EMC is also where Eymard ran into issues with alcohol. His grades suffered, and his basketball career ended when he got in a car accident and hurt his ankle, he told The Billings Gazette in 2016, tying the crash to his drinking problems.
"I must've kind of inherited some of it because I couldn't control myself," he said then.
Eymard graduated from EMC in 1979, becoming the first in his family to do so. Alcoholism didn't end then, but it did decades later, and he spent his 50s, 60s and 70s honing his leadership skills.
In addition to being a PE teacher, Eymard coached numerous basketball teams, including at Plenty Coups and St. Labre. He led a team at the Big Sky State Games that included Ryan Wetzel, whose father, Don, founded the MIAHOF. Wetzel said Eymard "took me under his wing," and he praised Eymard's basketball knowledge. 
"He was a great communicator. I never heard anything bad about him," said Wetzel, a basketball coach and motivational speaker. "He was a natural coach, a natural leader."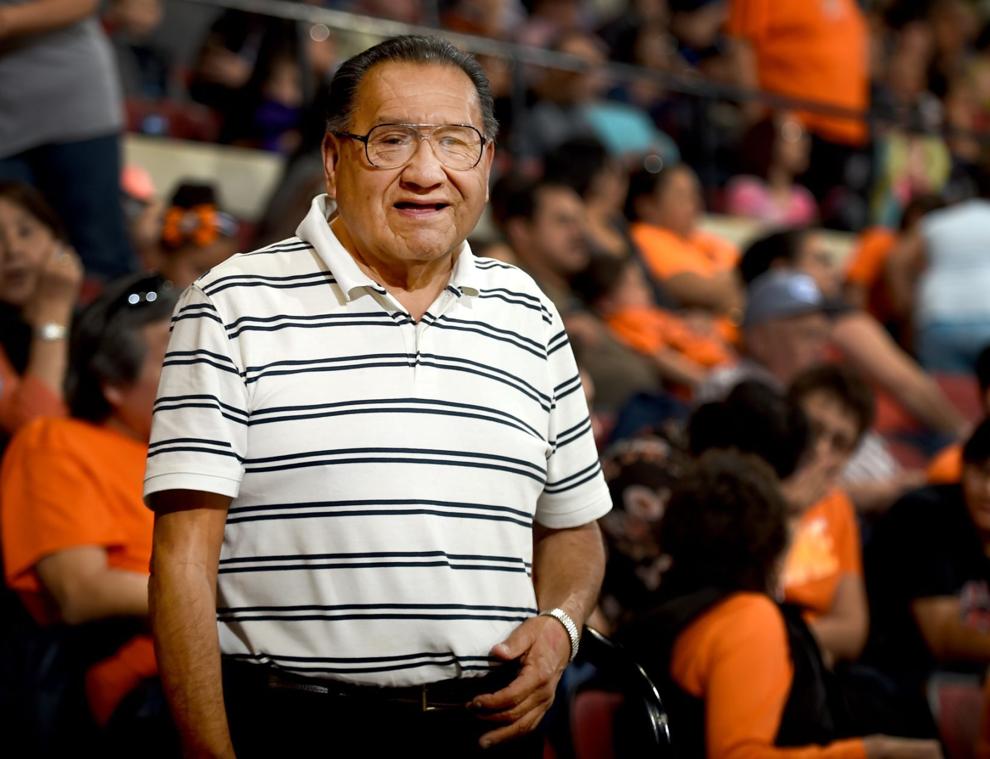 Eymard provided his own nuggets of motivation throughout his life. He was known to say, "You make the call." In other words, an individual can choose what he or she wants to do in life, said Famous, a recent Hardin graduate who will play basketball at Rocky Mountain College.
"He always told me and Darnell, there are only three places you can be, and that was your deathbed, a hospital or you can wake up alive," Famous said. "He was installing it in me: no drinking or drugs. He didn't want any of his grandkids to go through that."
Eymard saw his son go through alcohol struggles, and he tried to get Darrell back on course. Eymard and Darrell "were best friends," Darnell said, and Eymard was there for Darnell, Darrelyn and Famous while their father dealt with addiction and criminal issues, including a short jail stay last year.
Eymard often bought food for his grandchildren on days when they had none in the house, Famous said. He drove Famous and his siblings, who also attended Hardin and Rocky, to many basketball events and attended almost all of them. He often called Darnell to check in. He steered Darrelyn away from substances and toward a good education, she said.
"As a Native American student, I feel like support is our biggest thing we rely on," Darrelyn said. "He always referred back to Chief Plenty Coups' quote: 'Education is your most powerful weapon.' With education, you can basically do anything, and it can't be taken away from you. He inspired me in that way."
Darnell talked to Eymard over the phone about an hour before Eymard suffered his heart attack and fell at his home in Pryor. Eymard was with his wife, Sarah, and daughter, Tiara, and appeared OK for a while after his fall, according to his grandchildren. But he passed away at home in the early morning of July 24.
"I was slowly getting better. Then when my grandpa passed, everything hit the fan. It felt like the pain all over again," Darnell said. "But this time was different because that's all I had left."
Darrell Lefthand: "On the straight path"
Darnell felt that pain a month earlier.
Around 5:30 a.m. on June 23, he received a call from his mother, Carlotta Ware, who said Darrell had died. Darnell burst into tears.
Darrell was hit by a truck outside of his home in Wyola, according to his children. That is as much as they know about the incident, and the mystery has added another jolt.
The Lefthands have spent the last month and a half reflecting on their father's turbulent life, which they believed would have featured a third act similar to Eymard's.
Darrell was released from jail in the winter and "was on the straight path," Famous said. Darrelyn said he seemed "like a completely new person." He attended all of Famous' basketball games, went to church regularly and showed a genuine desire not just to spend time with his children but to be the father figure Eymard was.
"It felt too good to be true," Darnell said. "He was going to stop drinking. I knew he was."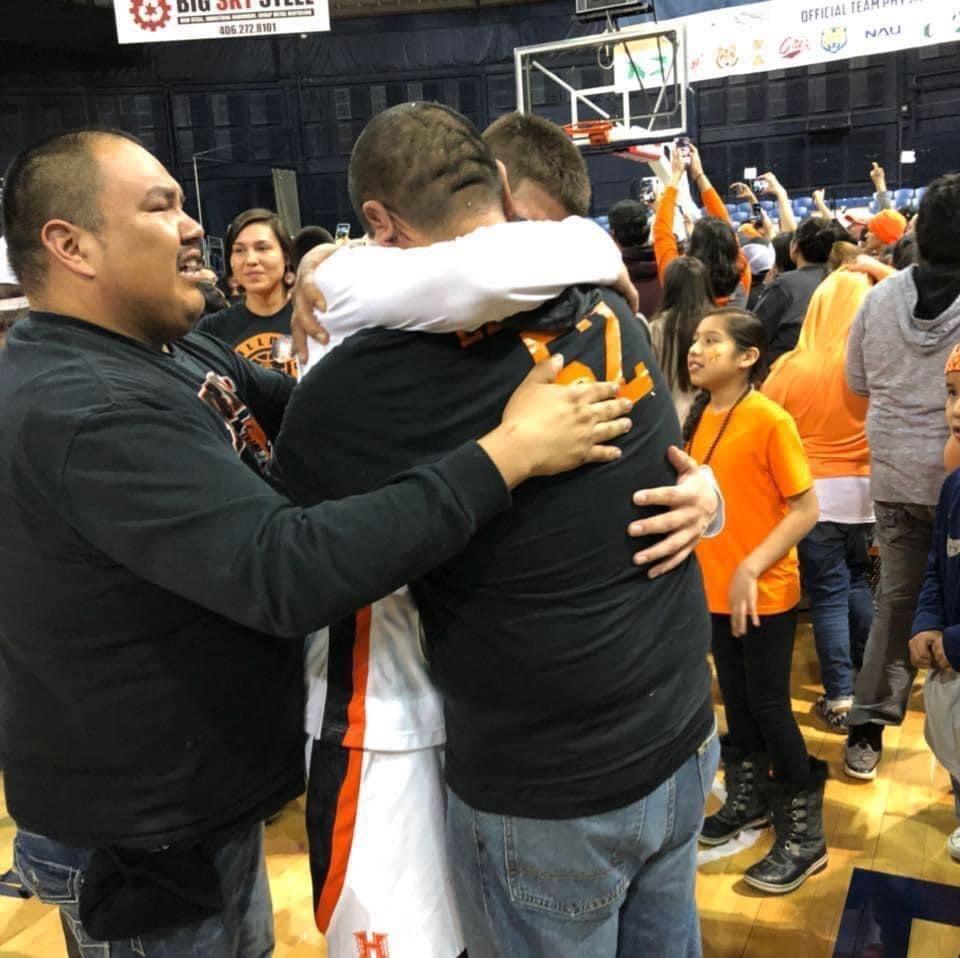 Darrell was raised in Pryor and attended Plenty Coups. Like his father, he excelled on the basketball court, and he played a season at Rocky. He coached, detailed cars and spent time as a firefighter and landscaper.
Darrell developed a friendship with Mike Chavez, a star basketball player at Heart Butte and Browning who went on to play at the University of Montana. Like Darrell, Chavez overcame alcohol issues. The two didn't talk much about their struggles, but Darrell was in good shape in the months before his death, Chavez said.
"You could see it in his demeanor and the way he carried himself," Chavez said. "He always had a great sense of humor. He was a nice guy. Great basketball knowledge, too."
Uncertain, but hopeful, future
Darrell's funeral was held June 27 at the Plenty Coups football field, and Eymard's took place July 28 at the Lefthand family arrow throwing field in Pryor. Both were outside to minimize COVID-19 risk. Many of the people who showed up stayed in their cars, Darrelyn said.
This is how many funerals have operated during the pandemic. Several Lefthand relatives have contracted the coronavirus (and recovered), Darrelyn said, so she and her family took safety extra seriously when planning their loved ones' funerals.
"It's changed my entire outlook on life, including my grandfather's death and dad's death," Darrelyn said. "Never take life for granted."
More than 200 people went to Darrell's funeral, Darrelyn estimated, and Eymard's was also highly attended. The support gave Darrelyn and her siblings a much needed dose of positivity.
It hasn't been easy for the Lefthands to stay positive this year, and the pandemic is far from over. Temptations can be hard to deny during a time of grief, especially with a family history of alcohol abuse.
Instead of turning to the bottle, the Lefthands have focused on faith and basketball. Darnell and Darrelyn don't play competitive hoops anymore, but they're excited to watch Famous' Rocky career.
"Most people end up changing their lives after they've lost someone. They end up losing their own life, too, drinking or something like that. I didn't want to be like that," Famous said. "I've been doing the same thing I was doing before. … Just staying ready for college."