BILLINGS — Nate Dick has no apprehensions.
Forget the fact that the Rocky Mountain College quarterback has already had three football seasons end prematurely due to three different foot injuries. Forget the fact that he's played in only seven games entering his fifth year of college. Dick's goals are still clearly defined.
Dick enters the 2021 campaign — Rocky opens the season Saturday night at home against Frontier Conference rival Southern Oregon — with a positive outlook and a renewed sentiment toward the game he can't let go of.
There's no room for fear in football, injuries be damned. Dick knows this all too well.
"I just kind of flip a switch and when it's time to go, it's time to go," Dick explained during an interview this week at Rocky's Fortin Center. "There's no holding back. If you get hurt again, then you get hurt again, and that's kind of just the attitude that I've had towards it."
Still, as he laid atop the turf at Herb Klindt Field last March, as the reality of another injury and the prospect of another surgery first entered his mind, Dick had a sinking feeling. Again.
This time it was a draw play during a game against Carroll College as part of an abbreviated spring schedule. This time it was a blown Achilles tendon.
This time, the physical pain was more bearable than the idea of more rehab, more time spent off the field and more reconciliation.
"I dropped back and I went to take off to go up the middle, and it just felt like I got I tripped. I thought I tripped over the ref," said Dick, who is still listed as a redshirt sophomore on the team roster. "So I kind of looked back, and then I just felt it shoot up into my calf. And I was like, 'Yeah, well, something's wrong.'"
"I thought, 'No, not again,'" he said. "I just knew. I just knew I was done. And I just kind of saw everything flash in front of me."
Sticking it out
What did Dick ever do to deserve such a fate?
Dick is now 22 years old and in his fourth year at Rocky. The seven games in which he's played and the 57 passes he's attempted are a far cry from what he expected coming out of Billings Senior in 2017 as a state championship-winning quarterback, the state's Gatorade player of the year and a two-time Class AA offensive MVP.
As a senior for the Broncs, Dick passed for 2,639 yards with 34 touchdowns and ran for another 1,222 yards and 19 scores. He quarterbacked the team to its first title since 1979.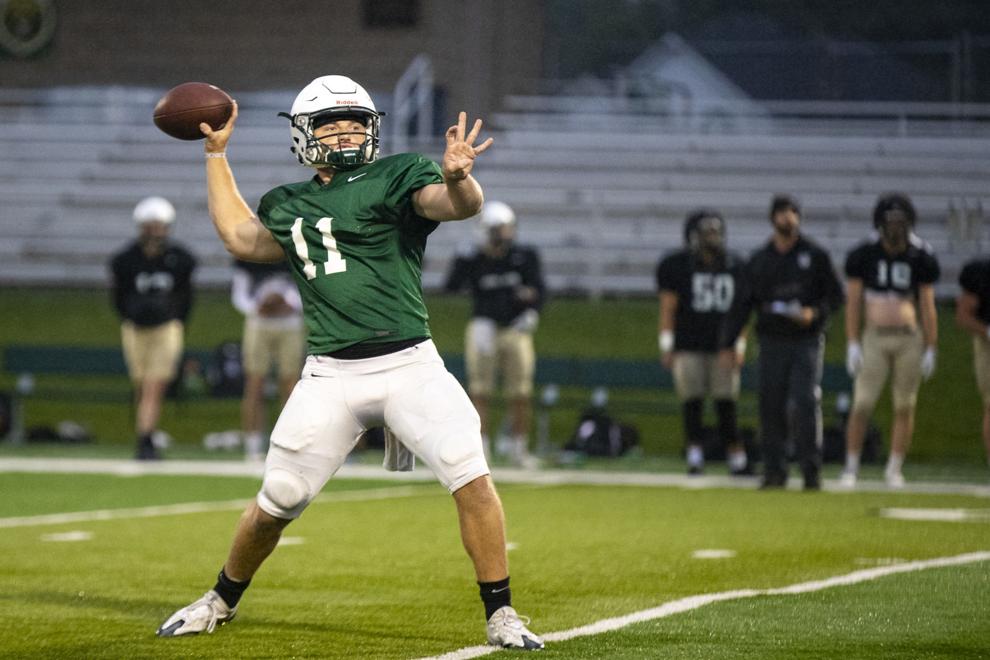 But in 2018, after transferring from his initial stop at the University of Montana, Dick went down in the third game against Dickinson State and was done of the year. In 2019, same thing — three games and that was it.
After the Frontier canceled its season last fall because of COVID-19 concerns, Dick and his teammates had a four-game reprieve in the spring. But Dick again suffered a similar fate.
The frustrating part for Dick is that all three were non-contact injuries.
Dick was born with an extra bone in each of his feet, and each broke during otherwise routine plays as a result — the left foot in 2018 and the right in 2019. Dick said each was a "freak deal," and surgery corrected the problem.
But the Achilles tear was different. Not long after, while visiting a strength coach and family friend, Dick said he was told his career was likely over.
"He told me straight to my face," Dick said. "He's like, 'Nobody comes back from Achilles injuries like this.'"
But after some soul searching, Dick had other ideas. He's now had as many surgeries as touchdown passes, yet Dick committed himself to a comeback, rehabbing and working out and strengthening his foot to make sure he'd be available for 2021.
"Once I got into the boot and started doing the range of motion and started that rehab, that was when I realized, you know, let's give this a try. Like, let's give it a go. And if I'm able to do the things that I think that I can still do, then let's give it a shot."
Dick participated in most of fall camp and showed much of the same mobility and innovation outside the pocket that he usually does.
A great sign, to be sure.
Dick is part of a top-three quarterback group that includes freshman lefty Jonathan Morris and junior college transfer George Tribble. Rocky coach Chris Stutzriem has been encouraged by Dick's outlook.
"It's good, the things that he's been able to do," Stutzriem said. "We couldn't do a ton with him in team settings, but the things he has been able to do — the leadership he brings and his understanding of the offense — he's done a great job of bouncing back."
"It's a testament to who he is as a person, his character, the accountability that he has for himself and his teammates," Stutzriem said. "I've seen a lot of guys after that second injury, they say, 'Hey, I'm done.' But he's continued to go the path.
"He's got all the great qualities that you want from a quarterback and from one of your captains. So I think the guys respect them, they trust them, they listen to him."
Selfless leadership
Rocky receiver Carter Garsjo won a state championship with Dick at Billings Senior in 2016 and the two have known each other since they were 9 or 10 years old.
Garsjo said Dick still has a lot of good football left in him.
"He made some pretty incredible plays in high school, that's for sure," Garsjo said. "He did some things that you don't really see a whole lot of. You know, 90-yard touchdown runs and the running back and forth and then the throwing-the-ball-50-yards kind of thing. So yeah, he was definitely electric.
"I hope he stays healthy and things go really well for him. I think when he's healthy he's a special kind of player, that's for sure."
After his second surgery, Dick said his mother Lori laid down an ultimatum: If it happened again, she would encourage him to hang up his spikes.
But here he is, back for another go-round.
Perhaps the most impressive thing, though, is that he's not doing any of this for himself. Dick is here for his teammates — and to give his family the chance to see him rediscover the magic that made him such an effective quarterback in the past.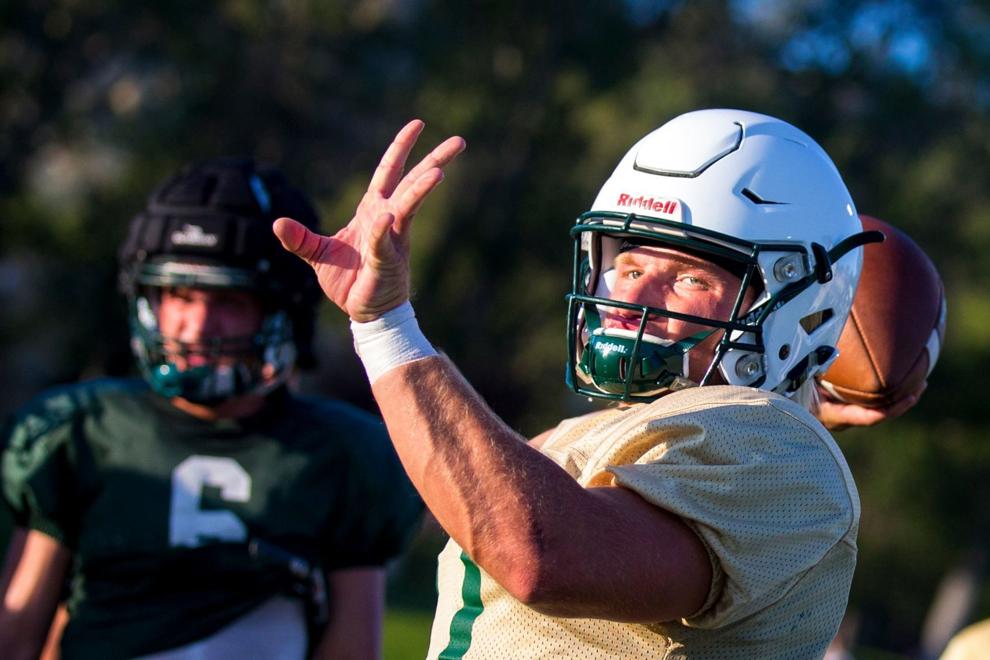 Dick got emotional while discussing the latter circumstance.
"You know, the first thing I think about is … ," Dick paused, " … is my parents. They've sacrificed so much for me, taking me to all my football camps or traveling baseball or traveling basketball, just all the time that they've put into me.
"They're my No. 1 fans and they're my rock. I wouldn't be able to get through any of these injuries without their constant support and stuff like that. So it would just mean the world to me to be able to have them watch me play again."
It would also mean the world for the Battlin' Bears. The Southern Oregon game marks the start of a 10-game fall schedule, their first in two years. A healthy Dick could provide a big boost to what is an otherwise inexperienced quarterback group.
In its spring schedule, Rocky went 1-3 but suffered their losses by a combined 12 points. With Dick in tow, the Battlin' Bears aim to reverse those fortunes.
Dick understands the objectives the team has set.
And his personal goals are still clearly defined.
"To be the best leader that I can, whether that's being the starting quarterback or being the second or third string, whatever, I think just being a guy that can help our team through my past experiences and just being kind of a rock to some guys, and be someone that they can talk to," Dick said.
"I'm a big believer that stats are for losers. As long as Rocky Mountain College has more points than the other team that's all that I care about. But I think being a vocal leader in the locker room and out on the field and in the community, that is something that has really driven me on a daily basis."
And the hope for health going forward.