BILLINGS — Rocky Mountain College head football coach Chris Stutzriem knows that nothing about this upcoming season is concrete, not even his team's schedule. But he remains "excited for football in the fall," he said during the Frontier Conference Football Media Day on Tuesday.
Stutzriem joined the Frontier's other head football coaches and members of the media on a Zoom call Tuesday afternoon. While each coach primarily focused on football-specific topics, no one could ignore the reason Media Day was held over video chat instead of in person. The 2020 Frontier football season hinges on the course of the coronavirus pandemic.
Stutzriem didn't avoid the elephant in the Zoom. Rocky's second-year head coach tested positive for COVID-19, and while he never developed symptoms, he has still urged people to take the virus seriously and has worked with other Rocky staff members to create a safe environment for his players.
Seventy-eight Rocky players came back to campus on July 5 for voluntary workouts, Stutzriem said Tuesday.
"We're kind of being used — and it's OK — as the guinea pig on campus," he said. "It was weird the first couple days with guys having to wear masks and realizing it's hard to social distance in the weight room when you're spotting and doing those things. But (we're) really doing it the right way."
The Battlin' Bears, who haven't reported any positive COVID-19 cases within the football program, were scheduled to play a conference game at Southern Oregon on Aug. 29 before the pandemic began. The 11-game schedule shrunk to eight last month. Weeks later, the Cascade Collegiate Conference suspended fall sports to the spring, including three football programs that compete in the Frontier: College of Idaho, Eastern Oregon and Southern Oregon.
The Frontier still plans to play football this fall but has not released an updated schedule. The NAIA Council of Presidents will meet Friday.
All Frontier coaches can do now is prepare and hope. Both are in abundance at Rocky.
That Battlin' Bears graduated several key players, including first-team all-conference defensive back Devonte Woods, but they also have many talented returners. Second-team all-Frontier wide receiver Lucas Overton is one 12 seniors on the current roster, and second-team defensive end Mason Price is entering his junior year.
The lost spring means Rocky, which went 4-7 last season, will have "a lot of position battles" this fall, Stutzriem said.
"There are some guys that will definitely pencil themselves in throughout camp," Stutzriem said. "But at the end of the day, we've got to get out on the field and compete, get better, and that stuff all just irons itself out."
One of the starting positions to be determined is quarterback. Senior Drew Korf and redshirt sophomore Nathan Dick, a Billings Senior graduate, are the front runners right now, Stutzriem said. Both saw time last year and both suffered injuries.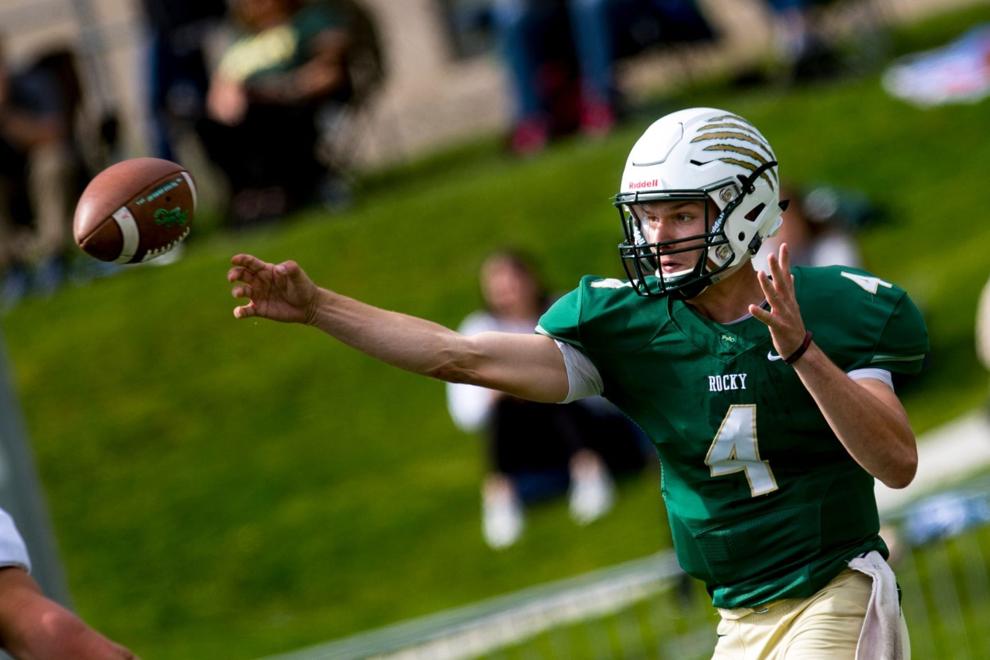 Several coaches will make their Rocky debuts this season. Former Dickinson (North Dakota) State offensive line coach Patrick Carroll took the same position with the Battlin' Bears, Teague Blome will coach wide receivers after serving as a tight ends graduate assistant at Northern State in South Dakota, former Quincy (Illinois) University student assistant Javon Washington will be the assistant O-line coach and Lenzell Green left Morehead State to assist with Rocky's defensive backs.
Battlin' Bears defensive coordinator Joe Dunning will coach linebackers, and special teams will be coached by committee. Spencer Chamberlain, Rocky's special teams coordinator and linebackers coach, announced earlier this month he was leaving the program.
Stutzriem is excited to work with his players and coaches throughout the fall, and he's hopeful they'll be able to enjoy a full season, however long that ends up being. He also enters this fall with a renewed perspective, and not only because he tested positive for COVID-19. As difficult as the spring was for him, his staff and his players, he also views it as a blessing.
"Realizing how quick things can be taken away. Focusing on family, personal growth and health and those types of things," Stutzriem said. "We spent a lot of time with Zoom meetings, with one-on-one meetings, just about life and how to better ourselves as coaches and players, so hopefully it will be great in the long run."