BILLINGS — In 2009, Rocky Mountain College didn't win the Frontier Conference men's basketball championship. The Battlin' Bears didn't win the conference postseason tournament, either.
All that didn't matter, though.
By putting together an amazing run for the ages, including several stirring comebacks, coach Bill Dreikosen's team was simply unstoppable during a week of "March Madness" in Kansas City, Missouri, and emerged as the NAIA national champions 10 years ago this week.
"They saved the best for last," Dreikosen said in looking back. "They kept their fork for the dessert."
The improbable, historic rise to national prominence, which included five pulsating victories at Municipal Auditorium over seven days, created excitement on the Rocky campus, at watch parties in Billings and across the state.
"It was definitely a special moment and a special team," tournament MVP Devin Uskoski said. "It's one of those memories you'll have forever."
Fans lined Rimrock Road near the Rocky campus to give the team a heroes' welcome the morning after the Bears (28-9) were crowned as national champions.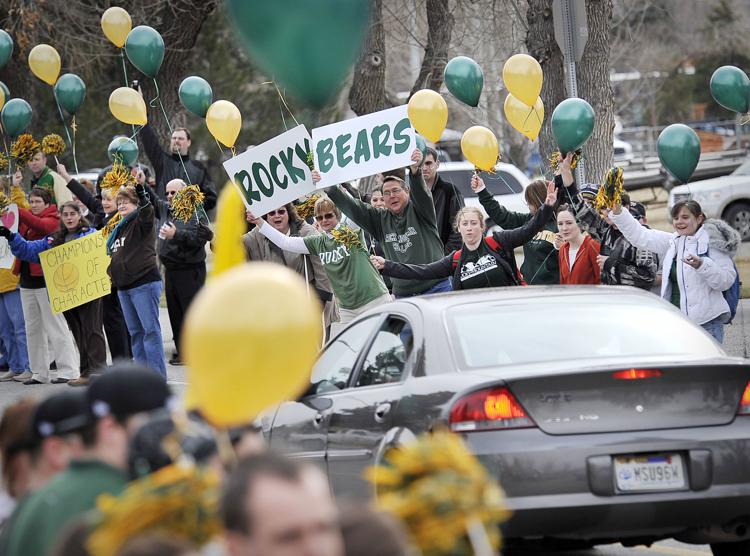 It was green and gold pandemonium at a pep rally, where Dreikosen got all of his hair shaved off in keeping a pledge he had made with his players.
"It was an experience I'll never forget," reserve Jordan Strecker wrote in an email. "From the shoot-around sessions, to the tournament itself, and the welcome back we got on campus, the entirety of it was unimaginable."
The title still reigns as the greatest achievement in school sports history.
"I don't know if there's any one thing that comes to mind," Dreikosen said of his Bears' accomplishment. "I think the biggest thing that comes to mind is you've got to be good enough to be lucky."
In turning back the clock, it's easy to recall the dominance down low by Uskoski, the quickness and hustle of point guard Nate Richardson and sharp shooting of Chase Sukut.
Fellow starters James Bulluck and Anthony Allen also shared in the glory and top moments, along with key reserves Chawn Johnson, DeAnthony Holmes and Theo Jackson.
"I think it comes down to players, personalities and performance — and we had all three of those things," Dreikosen said.
The animated Dreikosen, 48, is still wearing that bright green sport coat, which garnered him plenty of attention in Kansas City, for big games 10 years later.
The plaid pants? "They're not fitting very well anymore," he said with a laugh.
After receiving an at-large bid to nationals, Rocky, unseeded in the field of 32 schools, charged back from a 17-point second-half deficit to win its opening game 78-77 in overtime against 13th-seeded Freed-Hardeman (Tennessee).
It was the Bears' first win ever at nationals.
"We talk a lot in athletics about playing with poise. Well, guys like Nate and James and Chase and Devin and Big Anthony, they are the epitome of playing with poise," Dreikosen said. "They would get excited when good things happened, but they never, ever got too worried.
"They had the poise of calm under pressure. They just knew they were going to find a way."
There was no shortage of chaos during the opening round, with top seeds and undefeated teams quickly falling by the wayside.
"For us, we didn't really recognize what everybody else was doing in the tournament," Bulluck said. "We just focused on who we had next."
After ousting Central Methodist 71-62, the Bears once again had to rely on resiliency and tenacity to keep marching.
Rocky came alive after halftime to knock off perennial powers Concordia College (California) 72-64 and Robert Morris College (Illinois) 75-70 before overwhelming unseeded Columbia College (Missouri) 77-61 in the nationally televised championship game.
The Bears were in control by 21 points by halftime.
"When the tip happened, we were focused," Bulluck recalled. "They probably didn't expect us to come out and put it on them early, but for us that was our goal."
All five Rocky starters scored in double figures.
Uskoski, who Dreikosen called "the best player I've ever coached," led the way with 24 points and 20 rebounds. It was his fifth double-double of the week.
"Upsetting teams, hanging out with my teammates and being able to enjoy this experience together as a team is something that cannot be duplicated," Sukut said in an email. "Lots of memories were made that week."
A red, white and blue championship banner now hangs over the Fortin Center court, and Dreikosen, in his 19th season at Rocky, isn't the only one who sees it on an almost daily basis.
His former assistant, Wes Keller, just wrapped up his fifth year as the women's basketball coach at the school. Another former assistant, Len "Fuzzy" Wilkins is semi-retired at age 85, but still has a desk in Dreikosen's Fortin Center office.
"I think we had very, very good players," Keller said. "You know, every team has good players, but I think our leadership from a players' perspective was outstanding."
Bulluck of Billings, one of the senior stars for the Bears during the 2008-09 campaign, has been an assistant coach for Dreikosen for the past six seasons. He is also a para-professional at the Innovative Learning Center at Billings Skyview.
"I just appreciate the opportunity to get to come back and be a part of a program that has meant so much to me," Bulluck said.
Sukut, who is the operations manager for the freight company Meadow Lark Agency, also resides in Billings, along with Johnson and redshirt E.J. Ross.
Johnson is a sales representative at Lithia Toyota. Ross is the store manager at Verizon Cellular Plus.
The remainder of the team is scattered from California, to Texas, to Washington state, to Calgary, Alberta, Canada, and beyond.
Uskoski is a financial advisor with Edward Jones in Vancouver, Washington. Redshirt Kale Eike, originally from Melstone, is an air traffic controller in Dallas.
"In my office I have a championship poster hanging up, along with other photos and a basketball signed by all my teammates," Uskoski, 33, said. "It's a good conversation piece when I am meeting people for the first time. I actually talk about (the championship) quite often."
Strecker works on a fourth-generation family farm in Bighorn and is the head girls basketball coach at Custer-Hysham.
Phil Barndt, who is a high school teacher and coach, resides in Calgary, and earned another national championship ring last year as an assistant coach with the University of Calgary Dinos.
Ryan Neumann, who is from Geyser, is a commercial analyst for KeyBank in Denver. He is married to Torrie Cahill of Miles City. She was an All-America player for rival Carroll College in 2013.
"Even though all of us players as individuals were from different backgrounds, as a group we all bonded, pushed each other and most importantly had a ton of fun," Neumann said in a Facebook message. "What I will remember most is the great times with my teammates."
About half of the players on the 15-man roster are married now, and many of the couples have children.
"I think about them often, and see them when I see them," Dreikosen said of his players. "The championships are the relationships. We have a special bond. I am proud of all these guys. I love them all the same, and I would hope all these guys would remember that and enjoy their friendships with each other."
Westminster College of Salt Lake City captured the Frontier regular season and postseason titles during the 2008-09 season, beating Rocky in two of three meetings. The Griffins and Bears could have very easily met again for the national title, but Westminster fell to Columbia in the semifinals.
"I think we were two of the best teams in the country," Dreikosen said.
While an anticipated recruiting spike didn't materialize after the 2009 campaign, Dreikosen said winning it all 10 years ago has had an "everlasting effect" on the Rocky athletic program.
Besides the national exposure and enthusiasm, where Rocky really prospered, Dreikosen said, was through the development of the mindset in all the school's sports teams that "if we work hard enough, nothing can hold us back."
The Bears, indeed, have experienced sustained success, winning numerous conference titles in a variety of sports since 2009, including more national crowns and domination in men's and women's ski racing.
"I think that pretty much set a bar," Dreikosen said of the ripple effect.
Rocky, 19-12 and unseeded once again, will be back at the championship tournament this week, opening up against top-seeded Georgetown, Kentucky, on Wednesday afternoon. This will be the Bears' seventh appearance at nationals under Dreikosen.
Every year, when he assembles his teams at Rocky, Dreikosen said he makes the point of telling his athletes: "You are creating the good old days now, to be enjoyed later."
This is the week for the Bears to begin compiling new memories, but for also looking back and appreciating what was truly a championship run for the ages.