Rimrock Auto Arena personnel might consider greasing arena turnstiles following the just-concluded NAIA Division I women's basketball championship.
Visit Billings, the tourism arm of the Billings Chamber of Commerce, announced Thursday that the six-day tournament, which ended with Tuesday's championship game, drew 17,564 fans, including 2,900 students from Billings and other area schools treated to free admission by Scheels and Cooper Tire/Tire-Rama.
That's a 35-percent increase over the 12,993 people who took in the tournament during Billings' inaugural year in 2017.
"Having those kids come in changed the entire course of the event," said Alex Tyson, Visit Billings executive director. "Last year, with the teams going into the schools (as part of the Champions of Character program), everyone was taken aback how fun it was and the impact that players can have on students."
Ray Massie, MetraPark marketing and sales director, said there was great action all week, both on and off the court.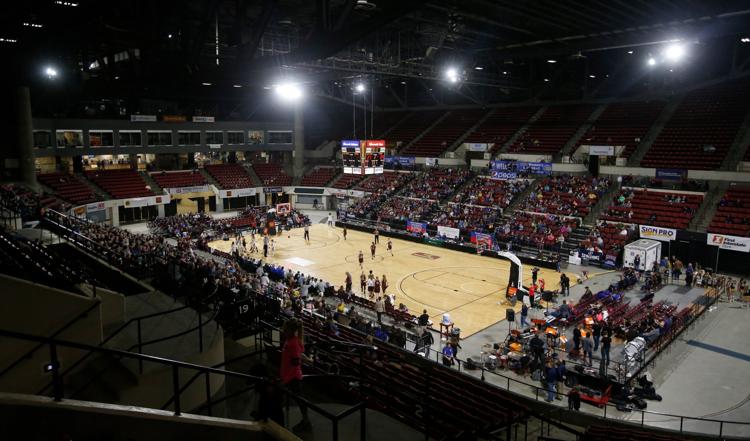 One of his fondest tournament experiences was during the opening game of the tournament's second day, when Loyola University of New Orleans went into overtime to defeat Our Lady of the Lake University of San Antonio, 89-86.
Seated behind the Loyola bench, young students in attendance "who'd been screaming their heads off all game" for the Wolf Pack were treated to high fives and hugs from the players and coaches after the game.
"Who knows what was created in that moment?" Massie said. "Maybe a future teacher, or a coach."
The additional people who attended this year's tournament helped boost concession sales over last year's total, Massie said.
"It was a great thing for us to host," he said.
Tyson had accolades not only for the MetraPark staff, which she said anticipated needs almost before they happened, but for all the behind-the-scenes stalwarts, including officials and employees of the host institution, Rocky Mountain College.
Last year, the NAIA extended the original two-year contract with the Billings group into 2019, and Tyson said the organization is interested in talking about adding yet another year, into 2020. That decision will occur after the Tourism Business Improvement District, whose financial backing plays a large role in the tournament's local success, meets next month to talk about the dollars and cents of a contract extension.
"TBID has to make sure it is financially feasible," Tyson said. "They'll make the decision, and then I'll call the NAIA and say, 'We're in for 2020.'"
If the TBID board decides "it's time for someone else to take on the financial burden, we will have to find that group," Tyson said. "We'll just have to take a close look at the 2018 numbers. Everybody knows it's been a win for the community."
"This is the community's event," she added. "So many people came forward to help that it brings a tear to your eye. Something like this brings the community together, and you sometimes forget what kind of impact that has. I'm grateful to have another event in Billings that people are so supportive of."