BILLINGS — A canceled high school sports season is an equal-opportunity punisher.
Who is hurt more, the defending state champion robbed of more hardware, or the non-contender denied one last taste of organized sports? What about the senior who saw his or her last chance of winning a state trophy vanish?
Huntley Project senior Emily Poole learned last week that her final high school track and field season was canceled due to the coronavirus pandemic, and it created a complex mix of emotions. She wishes she had the chance to threaten a couple state records, but she understands how fortunate she's been. She's a two-time Class B state champion in the discus and javelin who signed with North Dakota State on April 1.
Poole feels awful for the peers who don't have her decorated past or bright future.
"I'm really grateful for the opportunity to throw at NDSU and to sign before all this crazy stuff happened," Poole told 406mtsports.com on Monday. "This is just one season taken away, and it's taken away from everybody.
"That's kind of been the bigger picture. I'm not the only one going through it."
The Class B state girls discus record is 137 feet, 10 inches, set by Plains' Larry Jo Christensen in 1993. Poole's personal record is 132-11, and she was certain she could top 137-10 at a meet this spring.
The Class B girls javelin record was even more enticing to Poole because it was set by her sister. Hailey Poole claimed the record in 2016 with a throw of 152-8. Emily's javelin PR is 146-6.
"I was like, 'Hailey's name has to get off of there at some point,'" Emily said. "'Hopefully it's me.'"
If anybody was going to break her record, Hailey wanted her sister to do it, she said. She at least wanted Emily to get a shot, especially because Hailey knows the pain of a lost season.
Hailey tore the UCL in her eblow and underwent Tommy John surgery during her freshman season throwing javelin for the University of Minnesota. She was rusty when she made her return last spring.
"This year was supposed to be kind of my breakthrough year," Hailey said. "But this issue is bigger than sports."
Hailey has also benefited from a redshirt and the NCAA's decision to grant spring athletes an extra year of eligibility for the coronavirus-canceled 2020 season. Emily will forever be stuck with three seasons of high school track.
Last May, John and Gwen Poole watched their daughter win her second straight state discus and javelin titles. John, a Belgrade graduate and All-American javelin thrower at the University of Texas, has replayed that memory of Emily over the past week.
"We never in our wildest imagination thought that would be the last time we saw our daughter throw in high school," said John, who is the throws coach for the Huntley Project track team. "That's a piece that just got taken away from you. It leaves an empty space that's kind of hard to fill."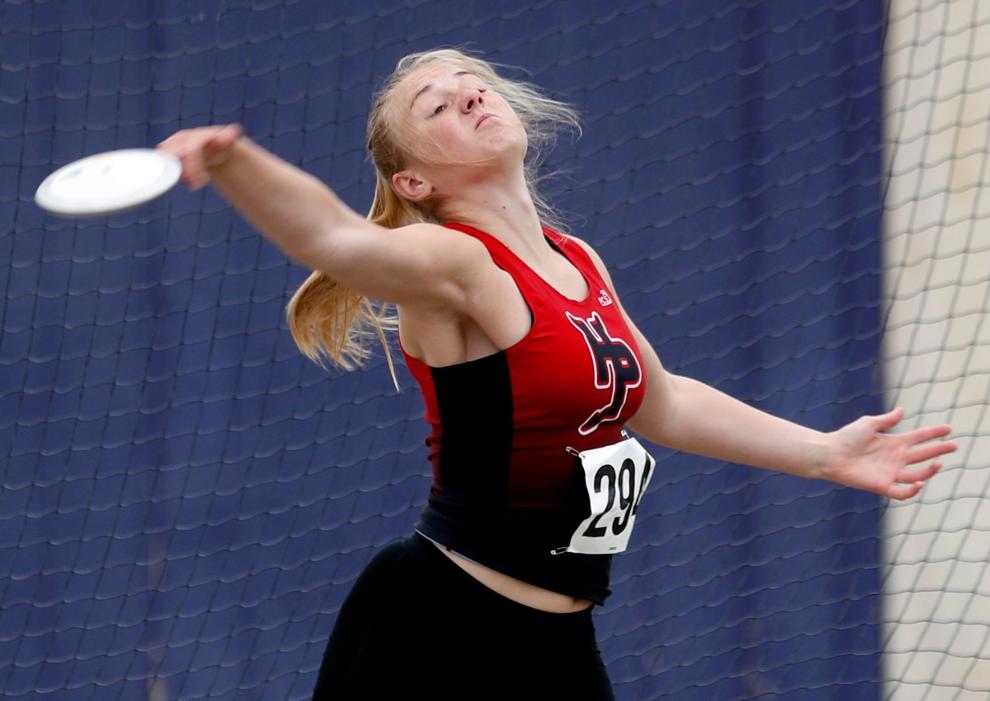 The timing of this pandemic could have been worse for Emily. NDSU might not have noticed her if the virus arrived a year ago and eliminated the 2019 season.
"A lot of coaches look at junior seasons," she said. "There are a lot of opportunities that might be taken away" from current juniors.
Emily, who will focus on javelin and might continue discus at NDSU, also took trips to the University of Montana and Utah State, and she planned to visit Nevada. She chatted with a coach at Minnesota but wouldn't have strongly considered going there regardless of the Gophers' interest in her.
"I figured, 'Hailey got to experience that. It would be cool to experience my own stuff,'" Emily said. "We've been together our whole lives."
Emily and Hailey expect to compete in some of the same meets over the next couple years. At last year's Division I Outdoor Track & Field Championships, for instance, the Minnesota and NDSU women's track teams finished tied for 48th.
A bright athletic future is a luxury many athletes do not have, and that has provided perspective for Emily since Montana's spring season was first suspended on March 16. She'll always lament her lost senior season, but she expects to feel whole when she gets to Fargo.
"I'm really looking forward to joining their program," Emily said. "Hopefully I can put in some work and do some stuff for their team. Or my team, I guess, now."