BILLINGS — Individual accolades can often overshadow team success in track and field. But that's not how it works in Stanford's program, where those combined elements are part and parcel to the overall athlete experience.
Christina Aragon has won more times individually than she can probably remember, from youth meets in Montana through her time at Billings Senior High School as one of the state's best-ever performers to victories at prestigious events like the Adidas Dream Mile and the Brooks PR Invitational.
In college, as a six-time All-American, it's been much of the same.
These days Aragon gets more contentment from those she's closest to at Stanford. With her remaining eligibility ticking away — even though she's leaning toward taking an NCAA-allowed sixth year in 2021-22 — she has made a point to pay it forward.
"I feel like my teammates give me so much meaning in this sport," Aragon told The Billings Gazette and 406mtsports.com ahead of this weekend's Pac-12 track and field championships. "Being one of the older girls on the team, it gives me the chance to be a leader and take my experiences and my own struggles and be able to talk to the younger girls about that stuff when they're going through similar things.
"I feel like it even inspires me to really try to focus on being the best version of myself when I'm here, because I know that I have a lot of teammates that I'm setting an example for and training with and trying to create a good environment for. I love running for myself, but running for my teammates is a whole other level."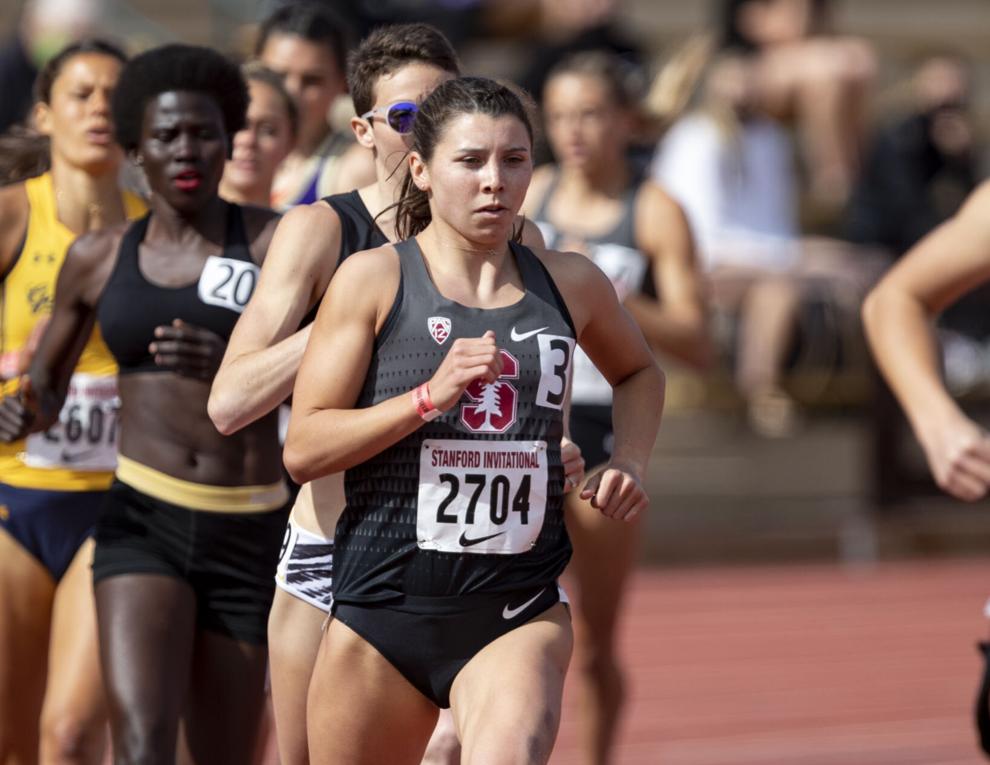 Aragon did something with her teammates just recently that she considers a watershed moment — they received their COVID-19 vaccinations.
It started with one teammate, then others followed. From there it snowballed, with several other members of the Cardinal squad getting their shots.
Aragon just recently received her second Pfizer jab, which she called "a game-changer" in the pursuit for a return to normal life and the normal competition she has craved.
"It's definitely giving me a lot of hope, for sure," she said.
To that end, the Pac-12 championships begin Friday at USC's Katherine B. Loker Stadium in Los Angeles. For Aragon, now a fifth-year senior, it will be the next step in a year of uncertainties and breakthroughs.
Last fall, some seven months after the emerging spread of coronavirus shuttered the remainder of the 2020-21 athletic calendar and left her frustrated and upset, Aragon and her teammates gathered together in Salt Lake City to train and delve into Stanford's remote-learning curriculum. It was then that her joy for running returned.
"It was nice to just be back with my teammates after being apart for so long," said Aragon, who counts fellow Stanford runner Ella Donaghu among her best friends. "It really does make a difference to be able to train together. I feel like we really made the most of it. Even just from training by yourself to training with your teammates, it really does make a difference. It helps you to train harder and feel better and more excited about things, too."
Stanford's campus reopened in late January, and Aragon competed in a makeshift cross country season in lieu of the indoor track schedule, which were held simultaneously. The Cardinal won the Pac-12 cross country title and placed third at nationals, with Aragon being named second-team all-conference.
Aragon dealt with IT band pain but worked through it to put together a strong season. That led into this outdoor campaign — an unnatural transition in a normal year but nothing that wasn't adaptable.
"Usually you're far enough removed from cross country where you kind of forget that cross country is a whole other type of suffering," she said with a laugh. "You're usually far enough removed to kind of forget about that by the time you're going into outdoor track.
"But this time it was funny for it to be so close together. You're like, 'Yeah, I can run this 1,500. I can suffer for 300 meters at the end of this. That's no problem at all.'"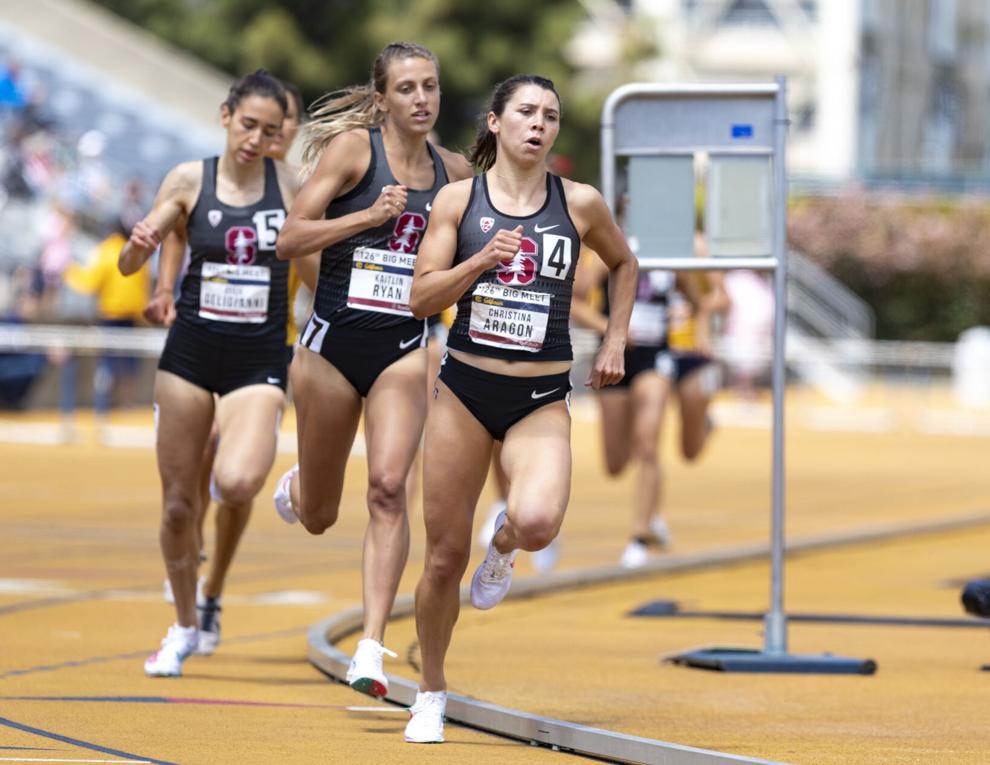 Though she has placed as high as second at the conference championships in both the 800 and 1,500 meters in the past, Aragon said she is likely to focus solely on the 1,500 this weekend in L.A. Taking into account the knee pain she's suffered this year, Aragon is trying to pace herself.
Her top times this season include a 2:06.88 clocking in the 800 during a dual with archrival Cal — known as The Big Meet — on May 1, and a 4:16.75 in the 1,500 at the Oregon Relays on April 23.
The NCAA West Regional prelims will take place May 26-29 in College Station, Texas, and Aragon will have a clearer idea of where her times fall early next week.
"I would say I'm generally pretty happy, and I'm trying to stay balanced and keep my head in the right place," she said. "That's key for me — balancing life and running and taking care of myself while also wanting to pursue goals, and I think I've been doing a pretty decent job of that."
As she contemplates returning for a sixth season next year, Aragon is on track to graduate with a degree in human biology while completing her pre-med requirements. If she comes back, she said she might minor in Spanish or creative writing; both are subjects she's interested in.
Down the road, Aragon isn't sure if she will end up in medical school or pursue a career in the physical therapy or occupational therapy realms. Combining her love for physiology and anatomy while working closely with people is the goal.
In the meantime, as she contemplates what she's accomplished so far at such a prestigious school like Stanford, Aragon knows it's been a group effort.
"It's been a very meaningful experience for me. I feel like I've had more growth than I've ever had in my life here," she said. "I've met my best friends here, especially the team. It's been such a supportive environment.
"I really appreciate all my teammates and their openness, and so many people that are here to work hard and take care of each other and help each other along. That's just been such a powerful environment for me to be in.
"I've had teammates that have helped me along, and then I've kind of got to pass that down to my younger teammates. I feel like this has been an environment of people taking care of each other, and I'm extremely fortunate to have gotten the opportunity to come here and meet so many cool and interesting people."