BILLINGS — At the precise moment Alex Singleton caught the ball, he knew he'd done something substantial in the context of his fledgling NFL career.
An interception in the fourth quarter of a Sunday Night Football game in front of a national TV audience? Pretty cool. It doesn't get much better than that for an undrafted work-in-progress out of Montana State.
Then it dawned on him.
Holy crap … I can score!
In the flash that followed, Singleton sprinted 30 yards for a touchdown that cemented a 25-20 Week 4 road win for his Philadelphia Eagles over the San Francisco 49ers.
But it was much more than that.
The play served as the most visible moment for Singleton in his quantum leap at the highest level of football. He went on to start the final 11 games and finished as one of the Eagles' top defensive players — in a pandemic-altered year, no less — with a team-high 120 combined tackles, the aforementioned pick-six and two fumble recoveries.
"I hadn't scored a touchdown since Montana State. It had been a long time," the amiable Singleton told The Billings Gazette and 406mtsports.com during a phone interview from Philadelphia. "I'm in the end zone and I'm like, 'Oh, man, this is Sunday Night Football.'
"There are a lot of little things that go through your head. I just kind of went through all the emotions of that. Preserving the lead for the team in our first win of the season, it was kind of surreal, obviously. It was exciting to be that spark that we needed at that time."
It was a breakthrough season individually for Singleton. It was hardly a year for celebration in Philly.
The Eagles stumbled to a 4-11-1 finish. Quarterback Carson Wentz struggled and was eventually benched in favor of backup Jalen Hurts.
And after a much-maligned Week 17 decision to stick with third-string QB Nate Sudfeld in the fourth quarter of what ended up being a 20-14 home loss to Washington, head coach Doug Pederson lost his job. Defensive coordinator Jim Schwartz was also ousted.
Pederson, just three years removed from guiding the Eagles to a Super Bowl title, faced questions about whether the Eagles were throwing the game as a means of keeping the No. 6 overall pick for this year's draft. No way, Singleton said.
"It's very easy for the media and everybody to pick a storyline and run with it," Singleton said. "I definitely don't think Doug or anyone was trying lose that game."
Despite the upheaval, the 6-foot-2, 240-pound Singleton was an unquestionable bright spot.
A year earlier, Singleton played 10 games on special teams, where he began to make a name for himself. As injuries mounted during the 2020 campaign, Singleton worked his way into a more frequent role until finally taking over the starting spot at middle linebacker, where he made defensive calls pre-snap and then tracked the ball wherever it went.
And he did it all with a smile on his face. Singleton, who previously achieved defensive MVP status in the Canadian Football League and won a Grey Cup with Calgary, never seemed out of place or thought the moment was too big.
"One thing I'll say is I've always felt comfortable in any situation," he said. "I've always prepared like I was going to be a starter, even last year when I was on the practice squad.
"It made it easier for this year when those opportunities came, especially early on when I was replacing guys or filling in for a couple quarters. I felt comfortable being in those spots and was able to earn more time."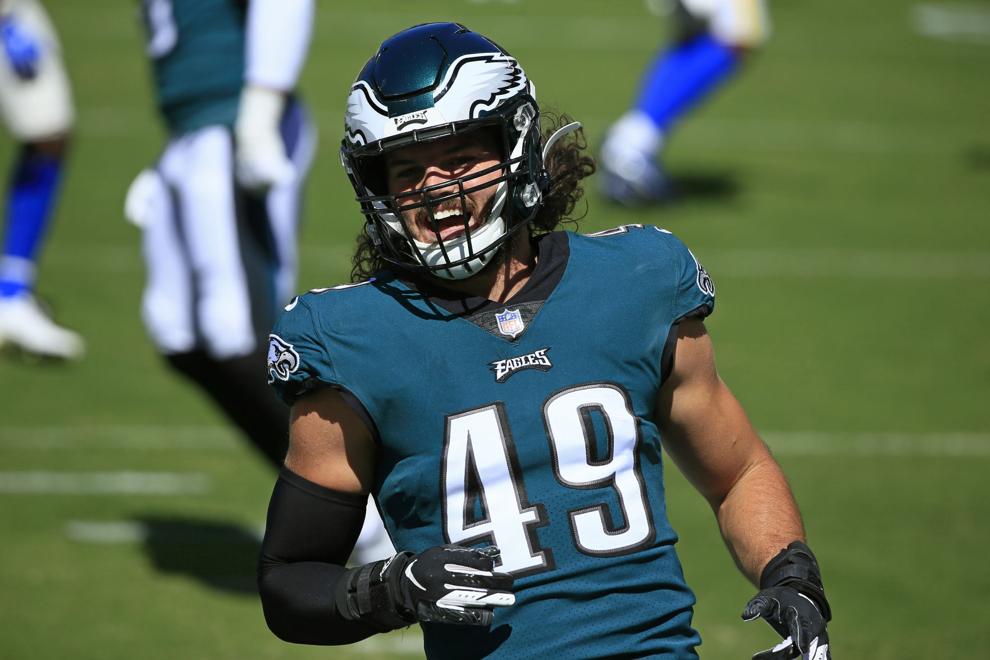 Of course, Montana State fans aren't surprised. Singleton came to the Bobcats from Thousand Oaks, California, without much fanfare but by 2014 had morphed into an All-American and had a hand in two Big Sky Conference titles.
He was a recruit of longtime MSU assistant Kane Ioane, now a close friend and someone Singleton once called "the best coach in the world to me," and the investment paid off in spades.
It continues to pay off.
Schwartz, a well-respected defensive mind in NFL circles, saw exponential gains from the 27-year-old Singleton.
"Being on the field for every snap is a lot different than being a complementary player," Schwartz told the Philadelphia Inquirer toward the end of the season. "So he's grown in all those things, and knowing the kind of guy he is, he'll continue to grow, and that speaks well for him and for us."
Singleton is due a new contract with the Eagles for the 2021 season, and he expects to be re-signed based on the year he had.
"It's in the Eagles' hands," he said. "I don't care what it is. If I get to play football next year that's all I care about."
Singleton's impact in 2020 was felt just as much off the field, if not more.
Singleton dedicated his season to his older sister Ashley, who has Down syndrome. Ashley, Alex says, is his biggest fan. And the feeling is mutual.
With a charitable heart, Singleton put his money where his mouth is.
For the NFL's "My Cause, My Cleats" campaign in Weeks 13 and 14, Singleton sported custom designed footwear to raise awareness for Special Olympics organizations in Montana, Pennsylvania, Southern California and Canada.
It's a cause he holds dear; Ashley is a decorated Special Olympian with bags of medals she's won in swimming, bowling and soccer.
The campaign supplemented Singleton's "Tackling Inclusion" initiative, which raised money for every tackle he made in 2020 and eventually garnered more than $11,000 for Special Olympics. The original goal, Singleton said, was $2,000.
"It's just really cool to be able to bring awareness to something bigger than myself and bigger than just playing football," he said. "To give some light to that organization just means a ton to me."
For the season Singleton put together, no one could have been happier or more proud than Ashley.
Singleton said his sister was "over the moon. I sent those cleats home to her, I sent any turnover ball I got home to her. It was great to give her some of the spotlight, because she deserves it more than the world."
To that end, Singleton has a lot to play for no matter who the Eagles' next coach will be. Perhaps his sprint to the end zone after his Week 4 interception is a microcosm of his career — relentless pursuit of professional relevance and longevity.
He can't wait for what's next.
"Whoever the next coach is we're going to do everything for and play our best for," Singleton said. "And whoever it is, they're going to bring their best as well."
"It's been a crazy road, a long road," he added. "There is so much I can go through now with a fine comb to really perfect my craft. Hopefully next year I can do everything better — make more plays and be an all-around better player and teammate. I will never not have that chip on my shoulder."