Now that Christmas has come and gone, and the negative temperatures have made their joyful return, it's time for conference play in high school basketball.
For Helena Capital basketball fans, that means a state championship rematch on Thursday night at the Bears Den as the Bruins, the two-time defending champions in Class AA, and currently 3-1, will host Missoula Hellgate.
The Knights are 3-0 so far this season and led by the 6-foot-5 Alex Covill. Their scoring 57 points per game while allowing just 31. Covill, a junior, is scoring 13.3 points per game to go along with 2.7 blocks. Senior Baylee Sayler is also averaging double figures with 12.3 per game and is shooting 30 percent from 3-point range. She's also leading Hellgate in rebounds per game (5.0). Point guard Addy Heaphy is another veteran at the point.
Capital and Hellgate met in the state tournament in 2020 (semifinals) and 2021 (title game) with the Bruins coming out on top both times, including a 33-31 win last March. 
But with Paige and Dani Bartsch both graduated, guarding Covill will be harder to do but 6-foot senior Parklyn Heller, Capital's leading rebounder will be one of the Bruins tasked with the job.
On the other end, Jada Clarkson has made up for some of Capital's lost production and is the Bruins leading scorer with 13 a game. She's also shooting a team-high 53 percent from beyond the arc.
Megan Swanson is also averaging 12 points per game for CHS and two assists, as well as 1.5 steals per game. As a team, Capital has made up for less size with more full-court pressure and that's yielded 10.5 steals per game, including a team-high 2.2 per game by Kathryn Emmert, who is also averaging  4.7 points and four assists per game for the Bruins.
Tip-off for the Class AA girls title game rematch is set for 7:15 p.m. Thursday in Helena. Capital will play at Big Sky Saturday at 4 p.m. 
Capital boys look to stay unbeaten
Coming out of nonconference play, Capital is the only unbeaten team left in the Class AA boys basketball and the Bruins will put their 4-0 record on the line Thursday night, on the road, against Missoula Hellgate.
The Knights are 2-1 and actually are second in the state in point-differential at plus-12 — compared to plus nine for Capital — meaning we should be seeing two of the Western AA's top teams on the floor in Missoula.
Hellgate is led by 6-foot-6 Griffin Kinch (16.9 ppg, 9.0 rpg) as well as 6-foot-4 Connor Dick. Hellgate, which boasts the best scoring defense in boys AA basketball, has a number of players standing at least 6-foot-4, but Capital has size too led by Hayden Opitz a 6-foot-4 big who averages more than eight points and six rebounds per game.
Yet, the straw that stirs the drink for the Bruins is Brayden Koch.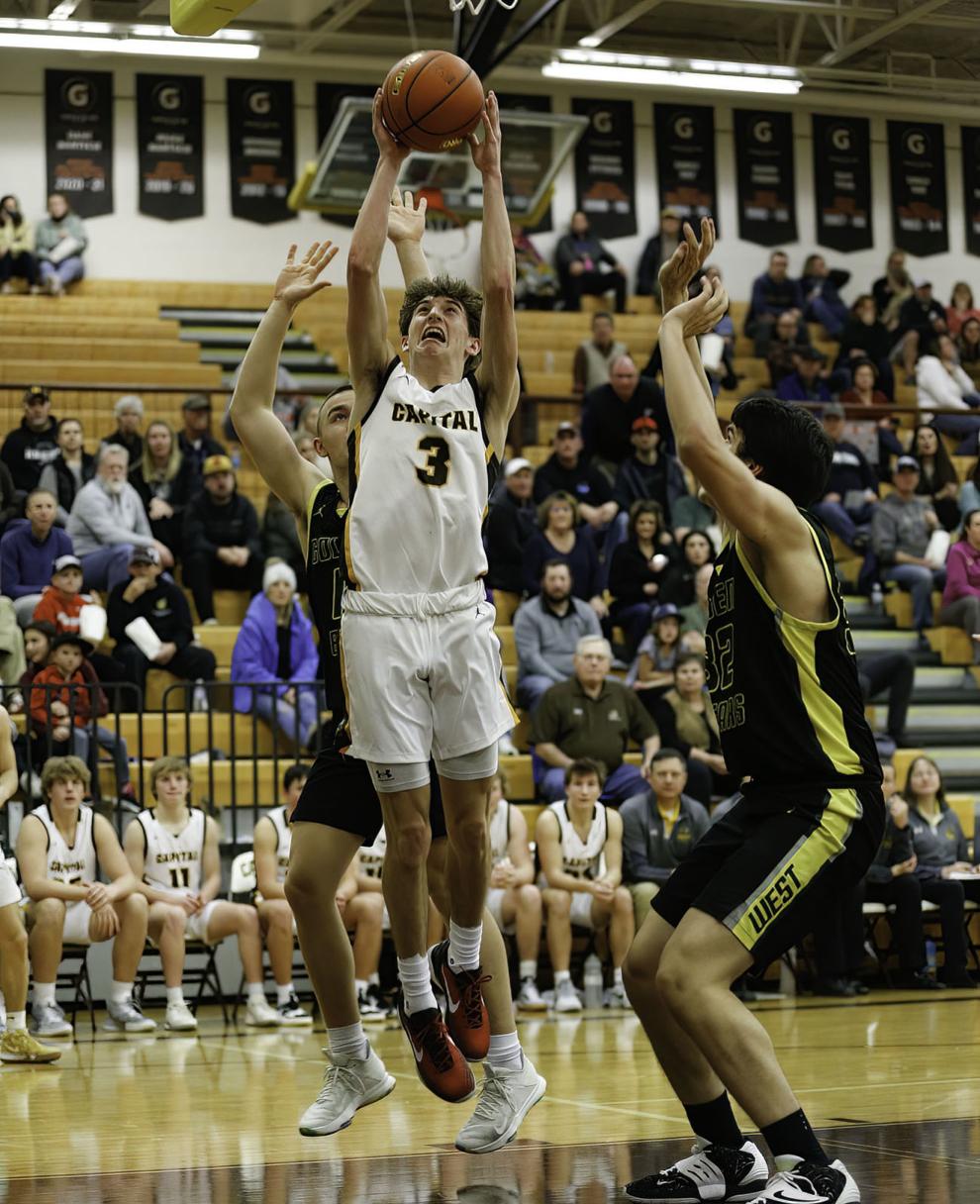 Koch is Class AA's leading scorer with 27 points per game. He's also shooting a ridiculous 64 percent from the field. Koch is also leading the Bruins in steals with 2.7 per game and don't forget about Jacob Curry who is averaging 11.5 points per game and making 38 percent from downtown.
While Hellgate boasts the No. 1 defense heading into Thursday's matchup, the Bruins are the only AA boys team to rank in the top four in points scored and allowed, which bodes well for CHS as the second-part of the season starts.
After visiting Hellgate Thursday (7:15 pm), the Bruins will host Missoula Big Sky (2-2) on Saturday at 4 p.m. 
Bengals aim to end another streak
The Helena High boys basketball team ended their overall losing streak before the holiday break with a win in Belgrade. Now, the Bengals will be looking to do the same thing in conference play and will get two chances this week with a trip to Big Sky Thursday (7:15 pm), as well as a home game against Hellgate Saturday (4 pm).
Helena is averaging 54 points a game so far this season led by Kaden Huot's 12.2 and Colter Petre's 10.5 per game. Petre is shooting 41 percent from 3-point range, while big man Dylan Christman has played a key role inside with 9.2 points and 6.5 rebounds per game.
The win over Belgrade was the first time Helena had held an opponent under 60 points, which wasn't a coincidence and that will be something to watch against a Big Sky team that averages 54 and gives up 52. 
Helena's girls will also have two games this week. The Bengals are 3-1 and led by both Avery Kraft and Alex Bullock who each score 10 points per game. Big Sky will come to the Jungle Thursday before the Bengals face a stiff road test against Hellgate, the defending runner-up Saturday. 
East Helena back in action
Both East Helena basketball teams have already won games this season and each Vigilante squad will be looking to add to their win totals Thursday night. 
The East Helena girls (1-5, 0-3) will host Corvallis (0-6, 0-3) at 7 p.m. in a matchup of Southwestern A teams. Dymon Root will lead the way for the Vigilantes and is scoring 13.8 per game, as well as being the team's leading rebounder with 6.2 per game. Natell Goodman and Montana Pierson are also averaging more than six per game as East Helena is looking for its first conference win.
The girls will also travel to Dillon to take on the undefeated Beavers on Saturday at 4 p.m. The boys team will host Dillon Saturday in an intriguing Class A matchup, but first, the Vigilantes will look for their second straight Southwestern A win against Corvallis, in Corvallis Thursday.
The boys beat Stevensville in the final game before the break and will look to improve their 2-4 record against winless Corvallis. Kaeden Sager who is among Class A's top scorers at over 16 ppg for East Helena will be key to that effort for head coach Ty Ridgeway who is also getting 10 points and 8.7 rebounds from Kobe Mergenthaler. 
Dillon, which was the Class AA runner-up in 2021, is a perennial power and the Beavers boast a dynamic offense led by Jonathan Kirkley who is scoring 18 a game.
Bruins have two top-ranked wrestlers 
Capital and Helena High were both back in action with duals on Tuesday. The Bruins went 1-1 and Helena went 0-2 against Butte and Missoula Sentinel.
This weekend, both teams will take part in one of Montana's top high school wrestling tournaments in the Tom LeProwse in Bozeman.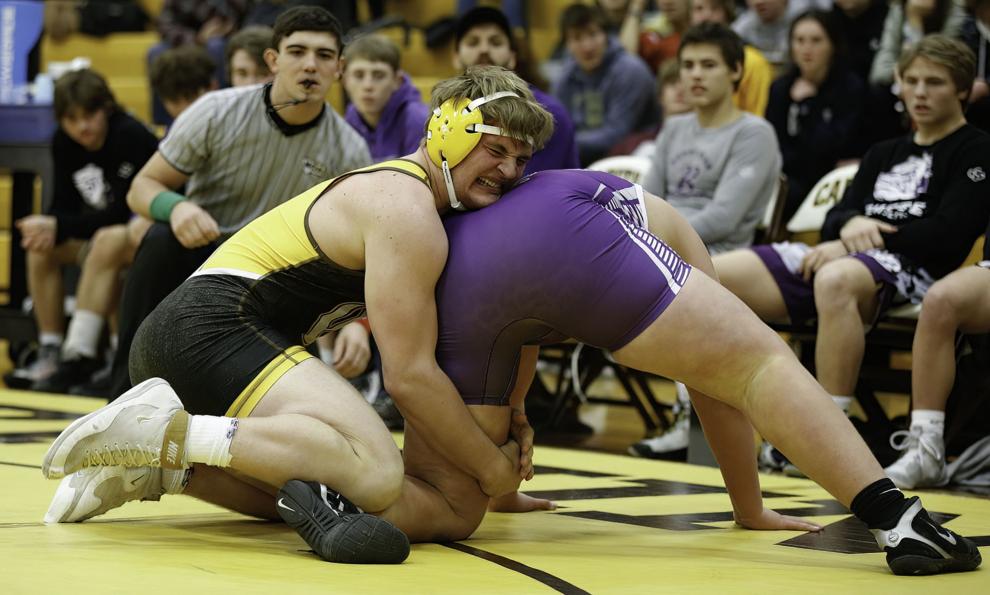 138-pounder Carson DesRosier won an individual title at the Tom LeProwse in 2019 and will look to garner another title as a senior this weekend. Joining him in the No. 1 spot in his weight class is Talon Marsh who is the Class AA's top heavyweight.
Four other Bruins will also going into the Tom LeProwse ranked: Cashton Spolar (6th, 103), Hunter Rahn (6th, 126), Cole Graham (5th, 152) and Conner Kovick (5th, 160). The Bengals will also be in Bozeman along with East Helena.