BILLINGS — The Scobey boys and girls basketball teams mirrored each other last season in an almost eerie manner. They combined to go 42-1 through the regular season and divisionals, they each played Arlee in the first round of the Class C state tournament and each took third place.
That last fact has lingered with both teams. They were happy to win the vast majority of their games and finish with a state trophy, but they wanted more.
Perhaps more will come in the next month. This season, the boys and girls at Scobey have again rolled through the regular season, and both teams have reasons to believe that they can reach the state championship game.
The Scobey boys entered the state tournament last season with a 21-0 overall record, while the girls were 21-1. The teams might do the same thing again. Through Monday, the boys are 18-0 and the girls are 17-1 heading into the District 3C tournament, which begins Wednesday at Glasgow High School.
Last season was a massive success for the Scobey girls. Coming off two straight third-place finishes at divisionals, the Spartans got to state with one forgivable loss: 55-43 at eventual State B champion Wolf Point. A 65-40 victory over Arlee in the first round of the State C tournament left Scobey one win away from its second title game appearance in program history.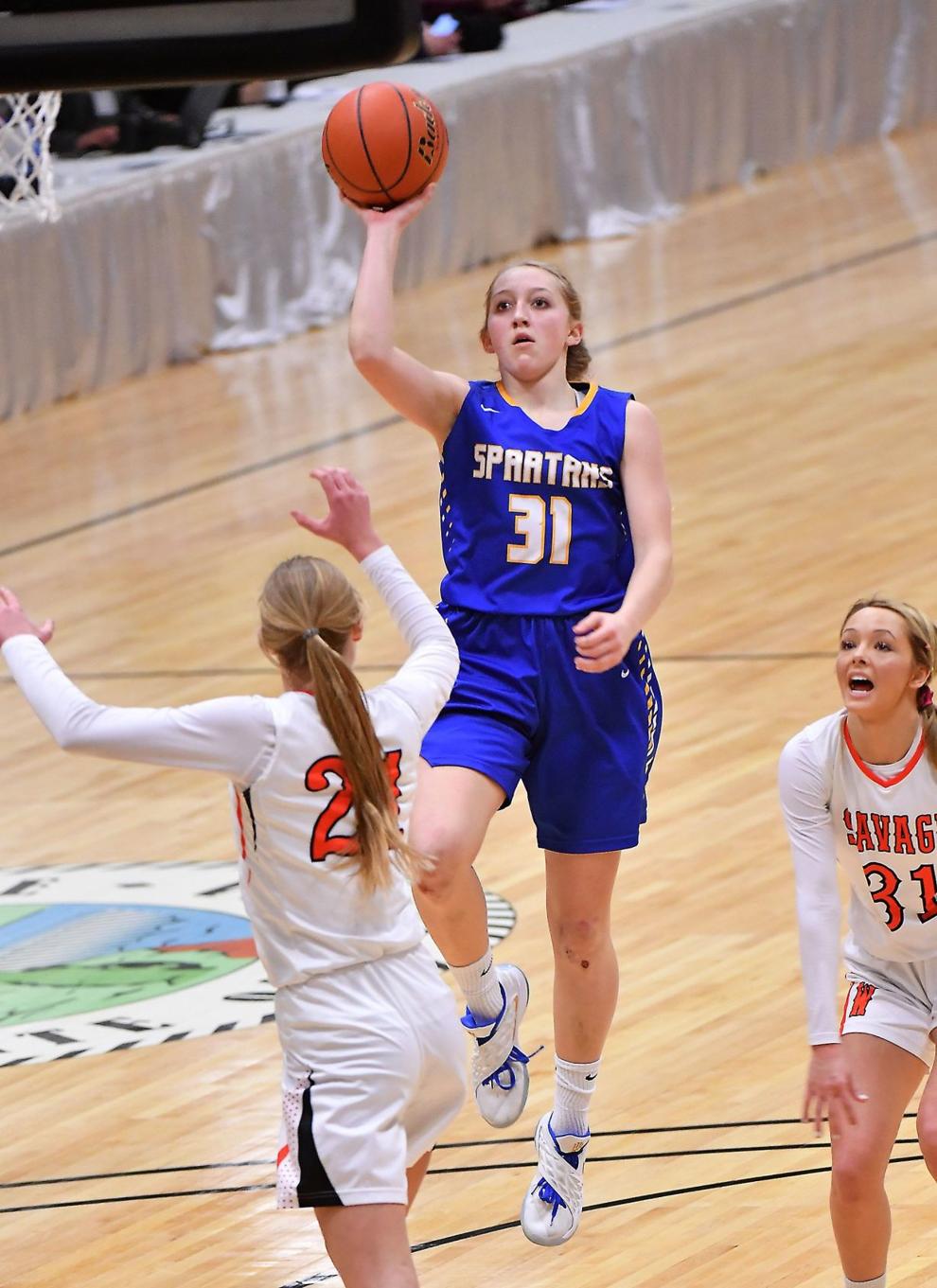 The championship bid ended with a 60-50 semifinal loss to Roy-Winifred, but the Spartans didn't fizzle. They won their final two games to end the season 24-2 and the third-place trophy, their best finish since a state title-game loss to Reed Point-Rapelje in 2005.
"It was pretty exciting to finally get to state and get a trophy," said Scobey senior guard Kortney Nelson, who will continue her basketball career at Montana State Billings.
Scobey's other starters this season are junior Ryleigh Backman, junior Gracee Lekvold, senior Jennifer Cahill and senior Ellie Linder. All five can shoot and handle, said coach Jedd Lekvold, who is Gracee's father.
The Spartans graduated starters ShaAnn Danelson and Abria Boze from last year's roster, but Nelson and coach Lekvold have been impressed by those players' replacements. Westby-Grenora is responsible for Scobey's only loss (in the season opener), and the Spartans got payback in Westby on Jan. 31. They are No. 8 in the final 406mtsports.com Class C rankings.
"Everybody's stepping into their role and understands what their job is out there," coach Lekvold said. "I thought we'd be right here."
Unlike the girls, last year's state tournament run was not new for Scobey's boys. They reached the state semifinals in 2017 and took third place. Two seasons ago, the Spartans lost to eventual champion Arlee in the first round and fell to Melstone in the third-place game. Last March, they met Arlee in the opening round again and lost their first — and only — game of the season, 63-57. Scobey earned another third-place trophy.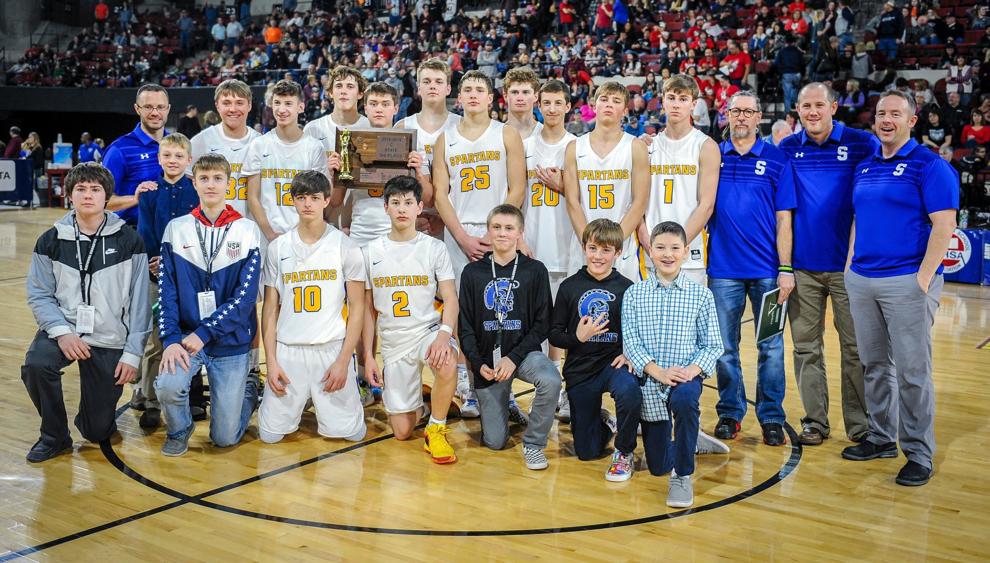 The Spartans, who graduated all-state players Martin Farver and Jeremy Handy, start one senior (Brayden Cromwell) and four juniors (Brayden's cousin Parker Cromwell, Aidan Fishell, Caden Handran and Jayce Tande) this season. The "catalysts" are Fishell and all-stater Handran, coach Jason Wolfe said.
Fishell runs the point, while the 6-foot-4 Handran can play all five positions and is "a pass-first guy," Wolfe said. The Spartans are deep, too — seven different players have led the team in scoring this season, per Wolfe.
Scobey's starters have played together since about third grade. As a result, "our chemistry is great," Handran said. The Spartans are No. 5 in the final 406mtsports.com Class C rankings, and they handed No. 6 Fairview its only loss.
"Although we're young, we've got some good experience," Wolfe said. "We hope that experience plays through."
This four-year run of success shows no sign of slowing down, at least not until after next season, considering how many key players are underclassmen.
"I haven't really thought about next year," Handran said. "We can do really good things this year."
After they beat Fairview 51-43 in last year's third-place game, the Spartans remained at MetraPark for the title game, which Manhattan Christian won 83-51 over Arlee. As Handran watched, a thought rattled around his head.
"You feel like you could be out there," he said.
The Spartans have maintained a one-game-at-a-time mindset this season, but Wolfe admitted that the previous state tournament losses are "in the back of everybody's mind."
Scobey is tired of consolation prizes.
"We don't want to slip up like we did at state last year," Handran said. "We've got a lot of unfinished business."