BILLINGS — Last year, Lame Deer athletic director August "Tiger" Scalpcane was in a meeting with other school administrators when his phone lit up with a text message. The person left in charge of the high school told Scalpcane that basketball players were late to class and roaming the halls.
Scalpcane, who is also the Morning Stars' girls basketball coach, got on the loudspeaker.
"If I see any basketball players in the hallway when I come down, you will not play this weekend," he announced.
Scalpcane could hear students running up and down the halls as he returned to the meeting. He and the other administrators shared a knowing laugh.
"I went out into the hallway and it was dead silent. You could hear a pin drop," Scalpcane told The Billings Gazette and 406mtsports.com. "Solved that problem really fast."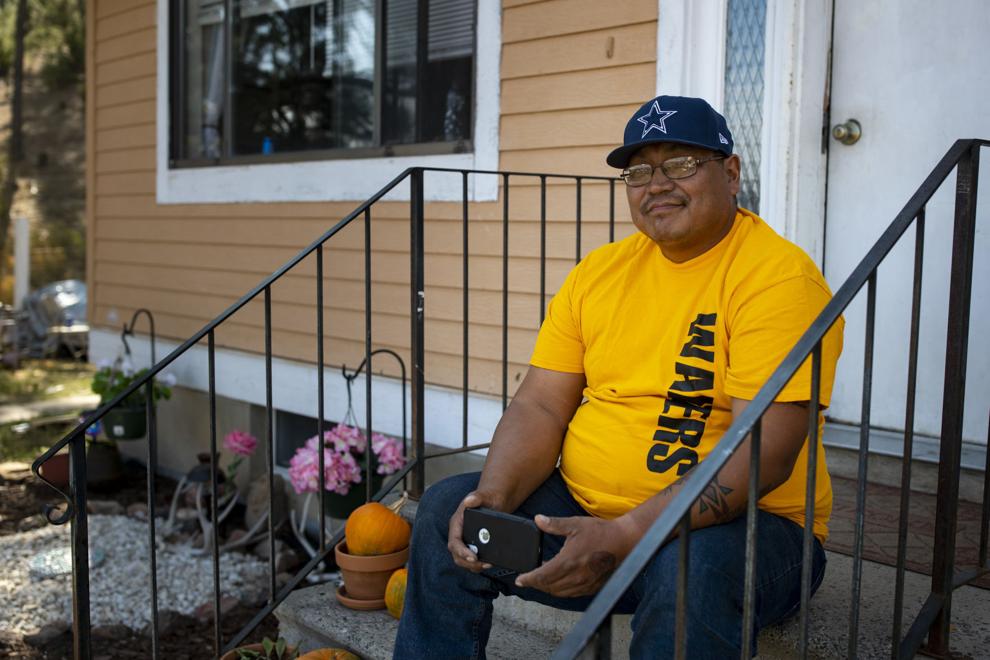 Basketball is "more than a sport" to Native Americans in Montana, said Lodge Grass boys basketball coach Josh Stewart. It motivates students to keep their grades up. It lifts reservations through hard times.
"It's been the ultimate connector," Stewart said.
Times haven't been much tougher than the past 10 months. COVID-19 has disrupted life across the world, and Native Americans have been disproportionately devastated by the disease. This winter has been, and might continue to be, the worst stretch of the coronavirus pandemic in the United States, with widespread COVID vaccination still months away.
In most years, the next few months would be among the happiest stretches for Montana Natives because of high school basketball. Many involved with Native basketball programs hope this season, which began Jan. 2, will not face any major COVID-related obstacles.
Some feel pessimistic. COVID cut last year's basketball season short by one day, and forced the cancellation of spring sports. The fall season was completed but had many bumps and coincided with a massive increase in COVID cases, hospitalizations and deaths across the state. Lame Deer, which is on the Northern Cheyenne Indian Reservation, called off its football season, as did Crow school Lodge Grass.
Two Eagle River of the Flathead Reservation canceled its basketball seasons because of COVID, and two Northern Cheyenne reservation schools — Northern Cheyenne and St. Labre — haven't played any sports so far this school year.
Native basketball coaches and players know firsthand how devastating COVID can be. They also know how important basketball is to their communities. Shielding residents from the virus while maintaining their beloved hoops tradition will be a difficult balance to strike between now and the state tournaments in mid-March.
"We live and breathe basketball. You take that away from us, that's like taking our oxygen away," said Hardin boys basketball coach Andrew Round Face. "You take something away from somebody who thinks that's the only thing they have left, there's no telling what could happen."
The resonance of basketball
Montana has seven Indian reservations: Blackfeet, Crow, Flathead, Fort Belknap, Fort Peck, Northern Cheyenne and Rocky Boy. Several Native-heavy schools sit just outside reservation borders, including Hardin (Crow) and Harlem (Fort Belknap). Both have long records of basketball excellence.
Natives learned to play basketball in the late 1800s at government and missionary-operated boarding schools. Several decades later, the sport's reservation popularity grew thanks to Crow legends Jonathan Takes Enemy, Larry Pretty Weasel and Elvis Old Bull, as well as other Native stars and individual teams. The importance of social gatherings made basketball games natural draws, said Poplar AD Coy Weeks (Poplar is a Fort Peck school). Basketball is also one of the few indoor sports in a state that is cold for most of the school year.
"We can't even put a football team together," Scalpcane said. "When it comes to basketball, we end up having tryouts."
Stewart likened Montana Natives to Black communities that cherish hoops, a sport that is not as expensive or exclusive as most others.
"Some of these kids come from impoverished communities where they don't have as many opportunities as someone from the upper- or middle-class would," Stewart said. "We could go on about historical trauma and how we were set up for failure, where basically reservations were no better than prison camps and they were all hauled off to one place to be controlled.
"Thankful for sports like basketball where people have found an avenue to express themselves and be creative and strong."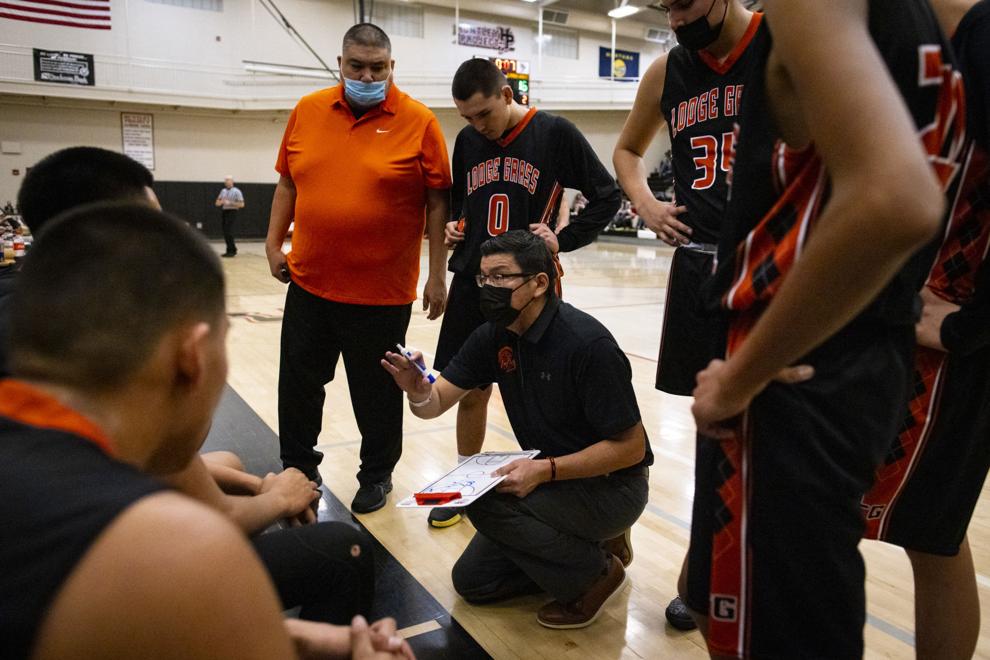 Stewart, Scalpcane and others emphasized the importance of basketball on community members' mental health. Sometimes, their joy goes to fanatical places.
When Lame Deer has faced other tribal basketball teams, fans have often lined up outside the gym as early as 9 a.m., Scalpcane said. He and his wife, Annette, have cooked for those waiting spectators, some of whom are elders, before doors opened in the late afternoon.
"When it comes to football, I think we have more visiting fans than home fans," Scalpcane said with a laugh. "Like, 'Man, those guys sit here all day long,' but that's all they've got to do. All they've got to look forward to is basketball."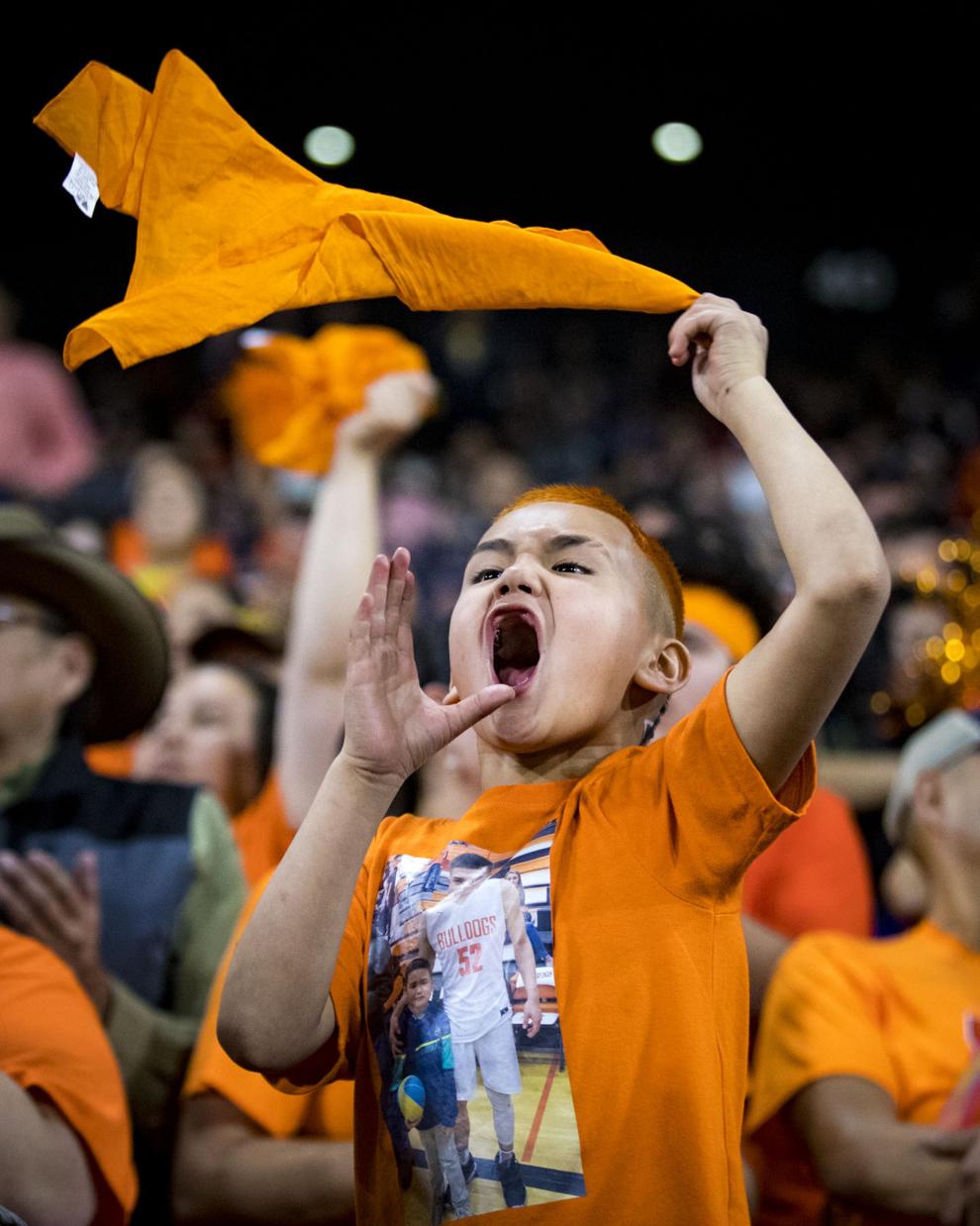 Few schools, even at the Class AA level, can match the size of Native basketball crowds, and none can top noise — the chants, the drums, the whistling, the yells of "hey" every time the other team is on offense, the roars whenever one of their players makes a shot.
Basketball teaches "work ethic and dedication" on and off the court, said Hays AD and Hays-Lodgepole girls basketball coach Cory Morgan (Hays and Lodgepole are on the Fort Belknap reservation). Like Scalpcane, educators at other Native schools have seen basketball players work extra hard academically to stay eligible and strengthen their resumes.
"They are looking at athletic scholarships because that's the only way some of them can afford to further their education," said Hardin girls basketball coach Cindy Farmer. "Losing a few basketball games is minor compared to what it can do to the kids themselves about being in school and having that motivation to do better, to go on to college."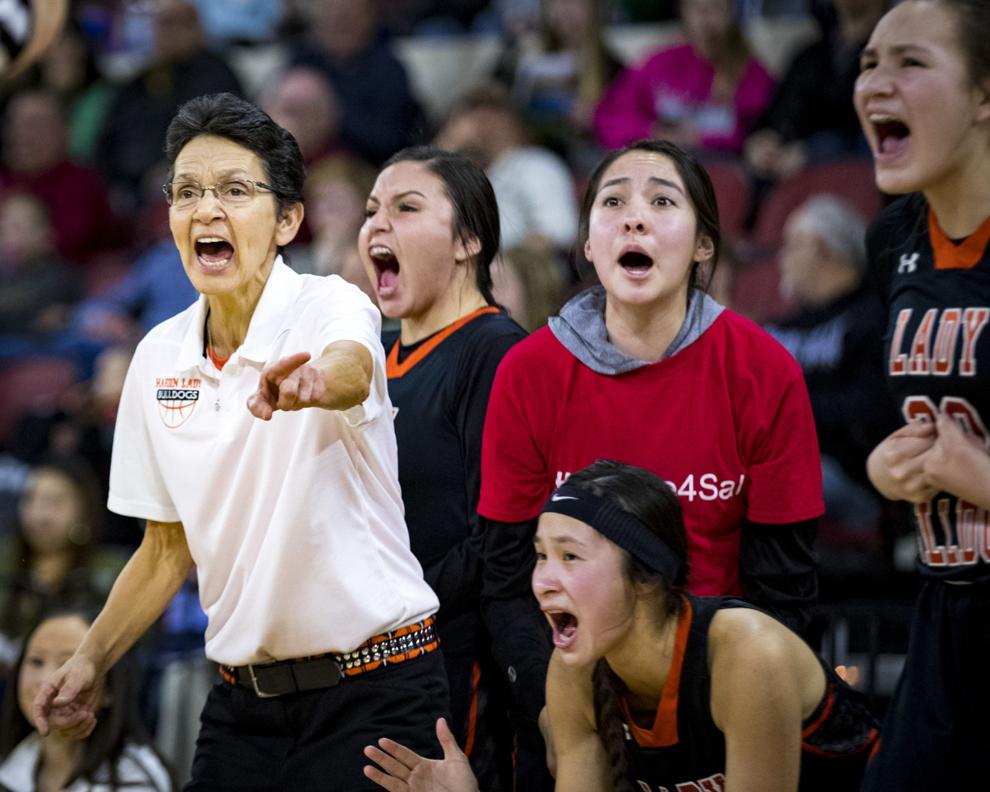 Poverty, violence, addiction, illness and other issues that plague reservations don't disappear during basketball season, but the sport has the power to briefly push problems to the side.
"It doesn't matter what they're going through. It doesn't matter what they're facing individually or as a community," Stewart said. "When the games start, they seem to all come together and unite for their team."
Playing during the pandemic
In Montana, Natives have accounted for about 30% of all COVID-caused deaths and 14% of cases despite making up less than 7% of the state's population.
Scalpcane nearly died of COVID. Round Face feared for his life as he battled the disease. Harlem boys basketball coach Geno LeValdo also tested positive, as did several of his family members. They, and several others connected to Native basketball programs, know many people in their communities who have been hospitalized or died from COVID.
These personal experiences have caused conflicted feelings. As much as Natives want basketball seasons, they also know that any game, with or without fans, increases the risk of transmission.
"We try to take precautions as much as we can, but sometimes it's a bit difficult," said Harlem junior Taya Trottier, an all-state player who has committed to Montana State-Northern's women's basketball program. "We just don't want to bring it back to our families and then have our season ended, or one of our family members getting it."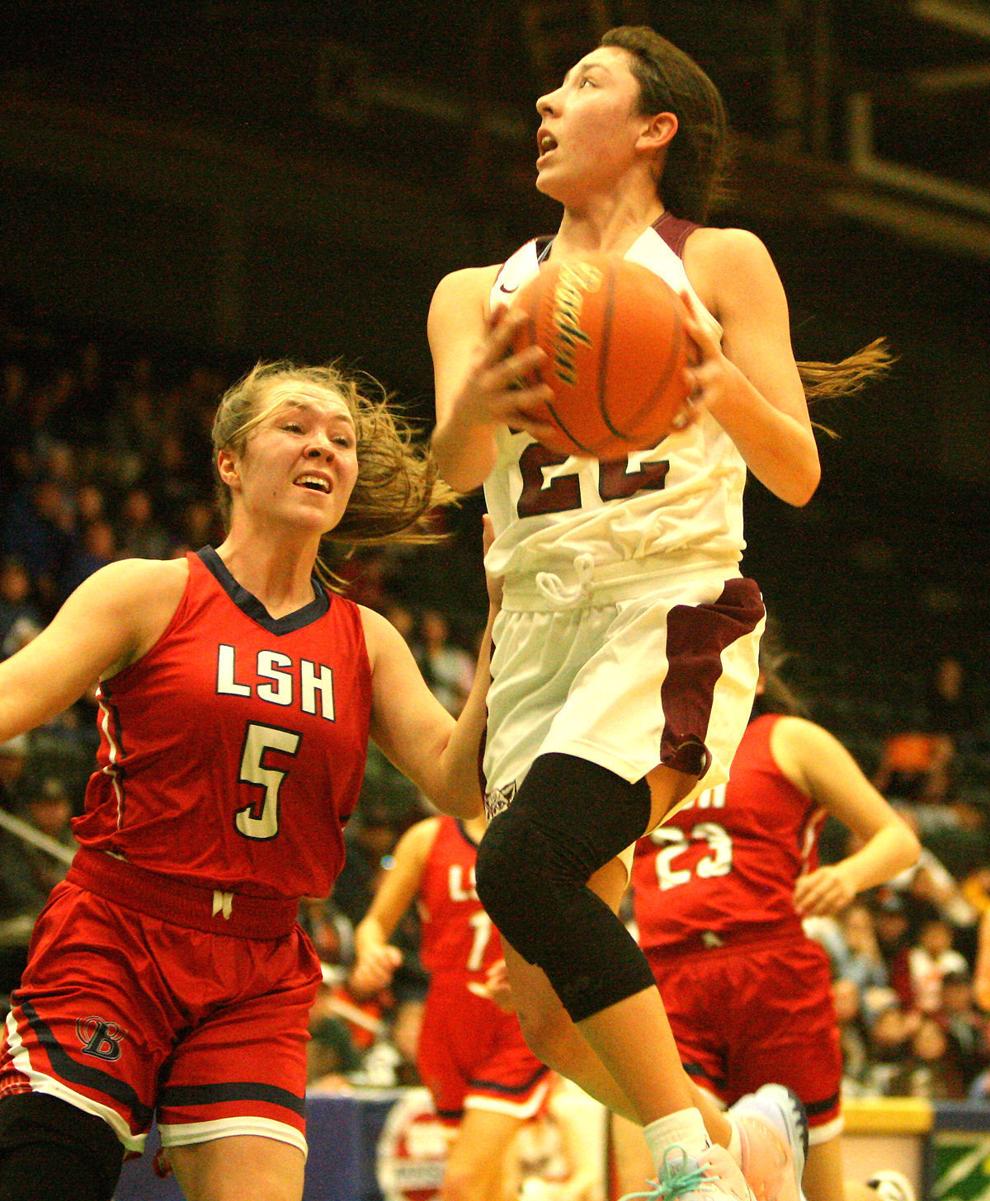 Playing sports during this pandemic is complicated. On one hand, it seems foolish to play a game when 200,000-plus Americans are testing positive for COVID and around 4,000 are dying from it every day. Unlike the professional and college levels, high school sports don't provide billions of dollars or many full-time jobs.
On the other hand, mental health issues, while hard to measure, are real for some athletes who have seen their seasons canceled due to COVID. This is extra true for Native athletes, according to many involved with sports on or near Montana reservations.
"Suicide rates are already high for Native Americans," Weeks said. "Without sports, I don't know what it would look like. Probably a lot worse."
Some Native educators reported drops in attendance and grades last month, when basketball games were originally scheduled to begin.
"It's no secret that our community and our reservation love basketball, and to not have it, it's almost just like pouring salt on a wound," Round Face said. "We're already hurting. Already so many families have been devastated by this pandemic, and to take something away from us that actually brings joy to the whole community is gonna be kind of a heart-wrenching deal" if it happens.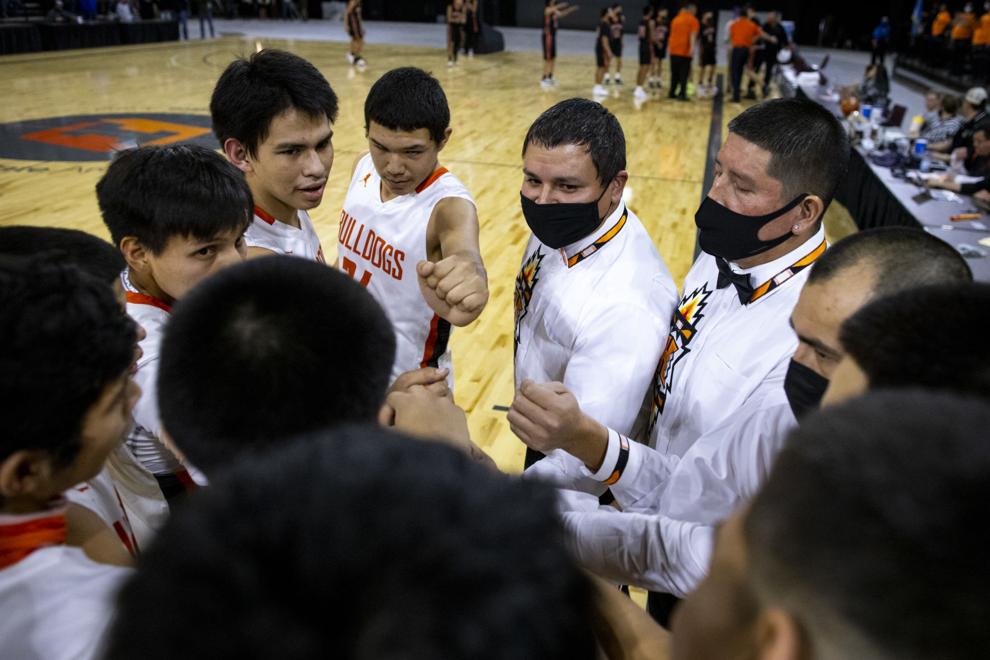 More pandemic devastation might be unavoidable if basketball season continues. Those involved with the sport are optimistic they can walk the tightrope with the right precautions in place, such as mask wearing and limits on how many spectators can attend games.
Some schools, such as Lodge Grass, currently aren't allowing any fans at home games, and other Native communities would be open to the same restriction, coaches said.
"The seniors, I don't want to have them cheated out of a full season because of this pandemic. But I'm hoping safety is the first priority," LeValdo said. "I'd rather have kids safe in an empty gym playing than one, two, five of them getting sick."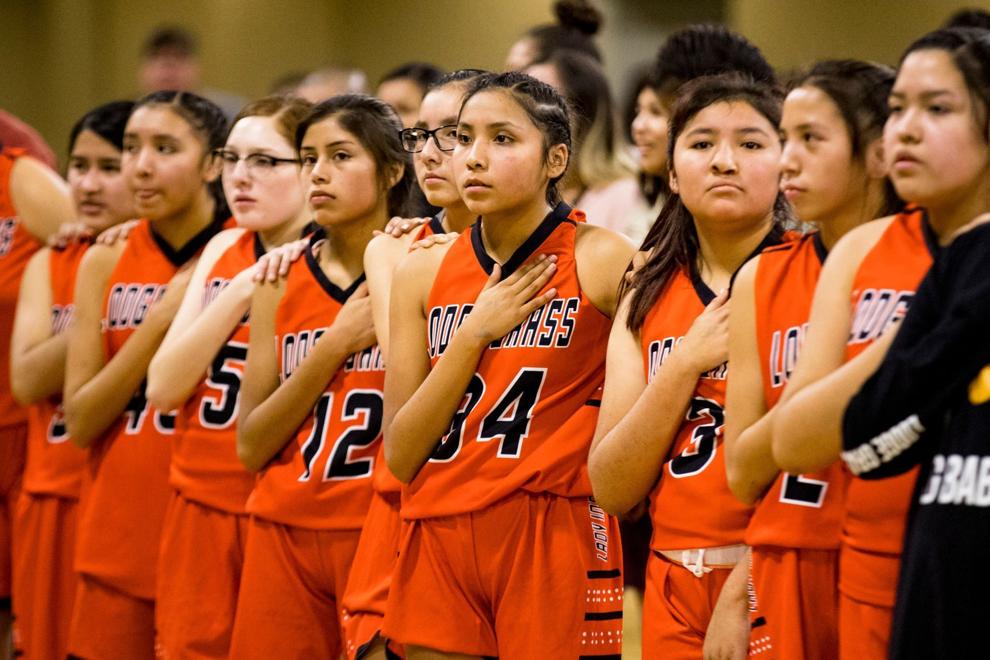 No season for some
Montana's first confirmed cases of COVID-19 were reported March 13. Hours after the news broke, the Montana High School Association canceled the state basketball tournaments, effective after the semifinals were completed. A month later, the MHSA scrapped the spring season. Montana was able to get through its entire fall sports season, albeit with many COVID-related postponements and cancellations. 
Despite a drop in positive COVID tests since November, hundreds of cases are still reported in Montana every day. The disease has caused several basketball games to be canceled, but most are taking place, with fans. Hardin and Lodge Grass played in front of 2,900 spectators at First Interstate Arena at MetraPark on Jan. 13, and they'll meet there again Jan. 30. The MHSA has not tightened its winter sports restrictions so far.
That is not how every state, or even every Montana school, is handling this winter.
High school basketball is not currently being played in states such as Arizona, California, Hawaii, Illinois, Oregon and Washington. Northern Cheyenne, St. Labre and Two Eagle River called off their basketball seasons before winter practice began on Dec. 7 because they are doing remote learning.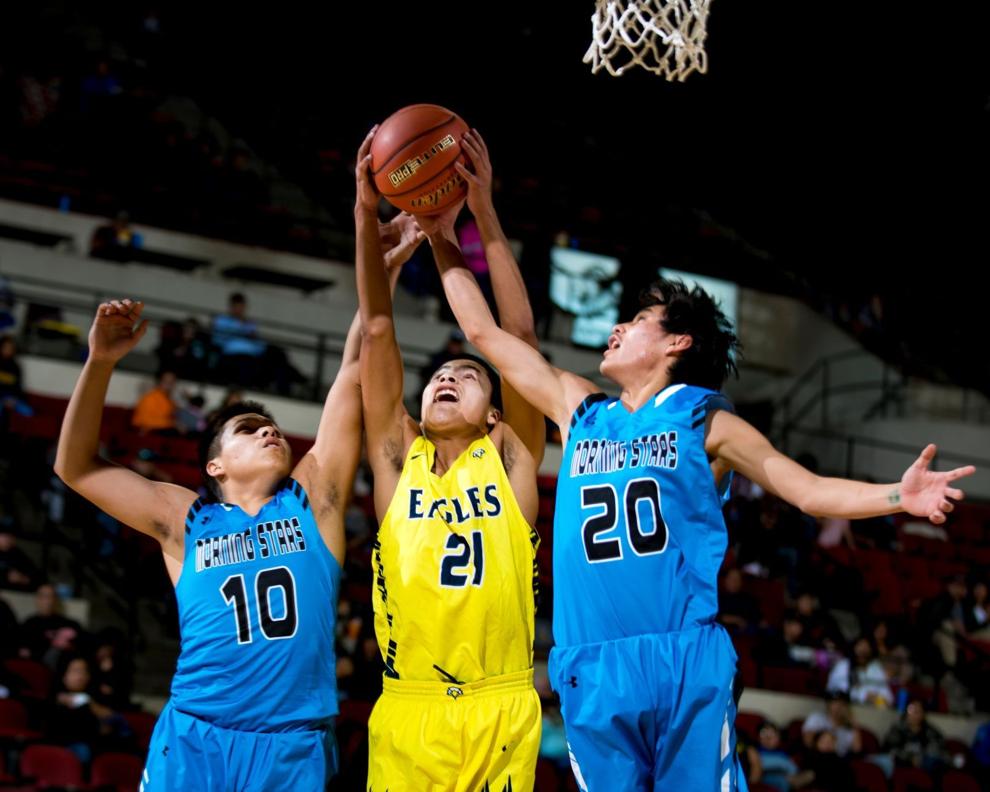 St. Labre athletic director Larry Cady said cancelling basketball was tough because it is "the heartbeat of wintertime," but he believes the school made the right decision.
"We just felt that if our kids aren't in the classroom, it doesn't make sense for us to bring it back and put them all together in a gym, either," Cady said. "We wanted to make sure that our kids were going to be safe, that our community was going to be safe."
Northern Cheyenne superintendent Teresa McMakin echoed that sentiment, saying, "We have to look out for the welfare of our tribal members first."
Residents' reaction to the cancellations wasn't as negative as Cady expected. Two Eagle River community members have also been understanding, according to AD Shawdee Dillon, who said basketball games at the school were routinely packed with fans in previous years.
"The blame has not ever been on the (school) board," Dillon said. "It's been on the situation."
A Two River Eagle senior, Michael Brown, successfully challenged the MHSA's 90-day transfer rule, Dillon said, and he now plays at Ronan. 
Tegan Medicine Bull, a senior, transferred from St. Labre to Hardin in August, shortly after he learned that fall sports would be canceled and in-person instruction at St. Labre wouldn't return until the second half of the school year, at the earliest. Medicine Bull likes cross country almost as much as basketball.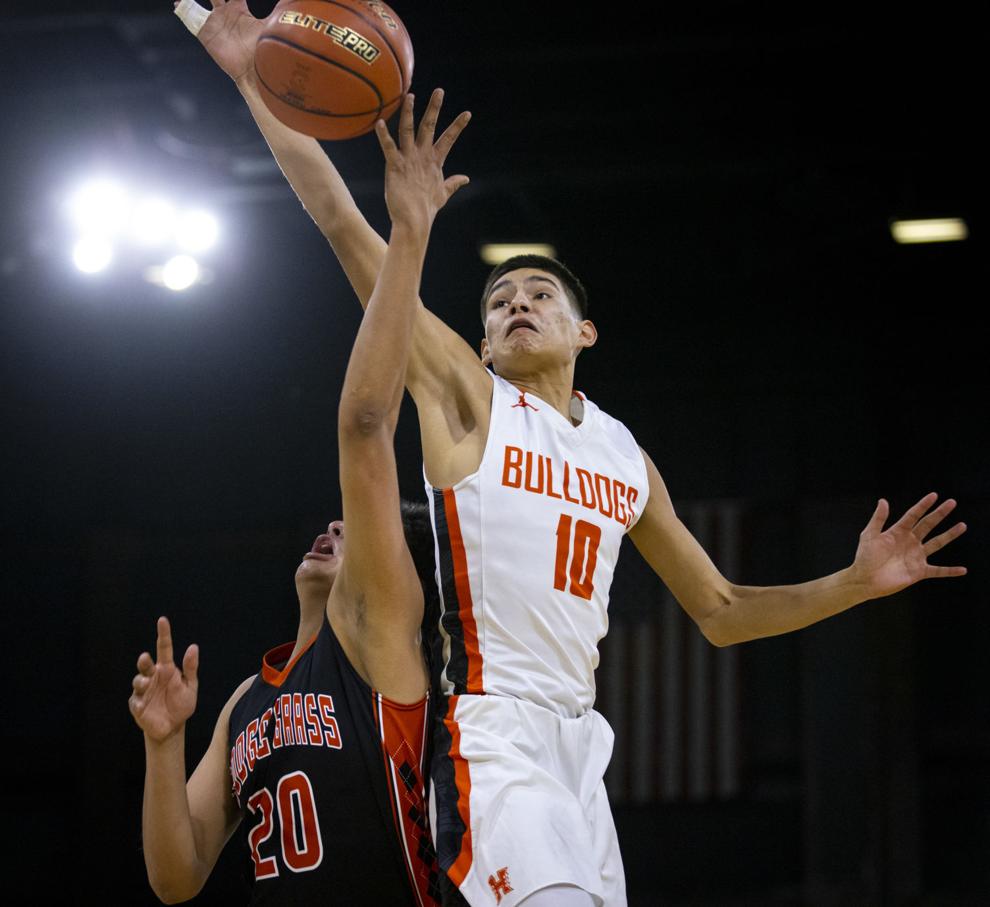 "They're everything for me," he said. "They've provided a lot of stability. They've kept me out of trouble with the struggles with alcohol and drugs on the reservation."
Medicine Bull doesn't think he'd succumb to those temptations if he couldn't play sports this year, but "if I wasn't able to have a season, I don't know what I'd do with myself," he added.
Medicine Bull's former basketball teammate, Kevin Shane decided to stay at St. Labre this year and forego his senior season. The shooting guard who started last year is one of about 20 Labre boys basketball players not playing this season, he said.
Shane moved from Hardin to Labre a year ago, mainly for academic reasons, so transferring again didn't make much sense to him. Instead, he chose to focus on classes and getting into West Point.
It hasn't been easy. A couple weeks ago, Shane attended a friend's basketball game in Red Lodge. Fans were sparse and wearing masks, but it looked like normal high school basketball otherwise — a sense of normalcy Shane hasn't been able to enjoy. At one point during the game, his eyes welled up with tears.
"It was hard watching them," Shane said. "Realizing this is my last year of high school sports, to get that taken from under me, it hurt a lot."
To Shane, basketball is "therapy," "a getaway from our home lives," "an incentive" to get good grades. He's unhappy that Labre couldn't find a way to play a season, and the cancellation has "taken a toll on my mental health," he added.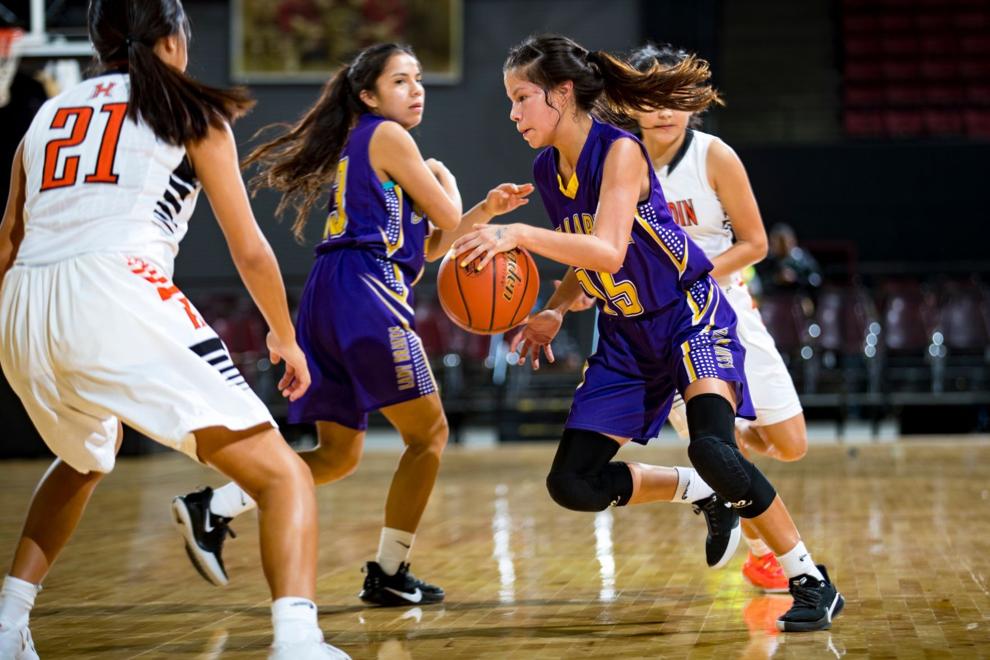 He also understands why the season isn't happening. Some of Shane's elderly relatives have died from COVID.
"With all of our elders that go, there also goes a piece of our culture," Shane said.
The extent to which sports have contributed to the 1,000-plus deaths in Montana and 400,000-plus in the U.S. is unclear. Playing basketball in a pandemic is risky, but how risky? And is it worth the risks?
In a year full of loss, many Montana Natives are grateful for basketball. They just hope it doesn't exacerbate the COVID destruction.
"I have grandparents that could easily catch COVID. It spreads so fast," Medicine Bull said. "But I also think about the community and the people who are able to fight the virus because their immune system is so strong.
"I think about people and where their happiness comes from, and I think a lot of it comes from basketball."