HARDIN — Cameron McCormick will never forget the image: Famous Lefthand on his back, in the snow, in a pool of his own blood.
McCormick was driving south on Interstate 90 when he hit a patch of black ice. The car slid into the median and flipped several times. Lefthand was ejected from the back seat.
Though bloodied, Lefthand never lost consciousness. He was taken to a hospital and released hours later. No breaks, no concussion, not even a scar.
"It was a miracle," Lefthand said.
That wreck happened seven years ago this month. Since then, Lefthand has transformed from a short and scrawny kid into a 6-foot-3 senior at Hardin. A tireless work ethic has helped him become one of Montana's best high school basketball players and a good student who hopes to become a commercial pilot.
Lefthand credits his success to family members and his fear of becoming a reservation statistic. He's seen people like his idol, Elvis Old Bull, derailed by drugs and alcohol. He's seen firsthand how fragile life can be.
"Anytime you have a scary moment in life happen to you, it's always going to put you on the straight path," said Hardin boys basketball coach Andrew Round Face. "I think those (moments) have a little effect on him, but for the most part, I think that's just him. His determination, his drive... he wants to be the best."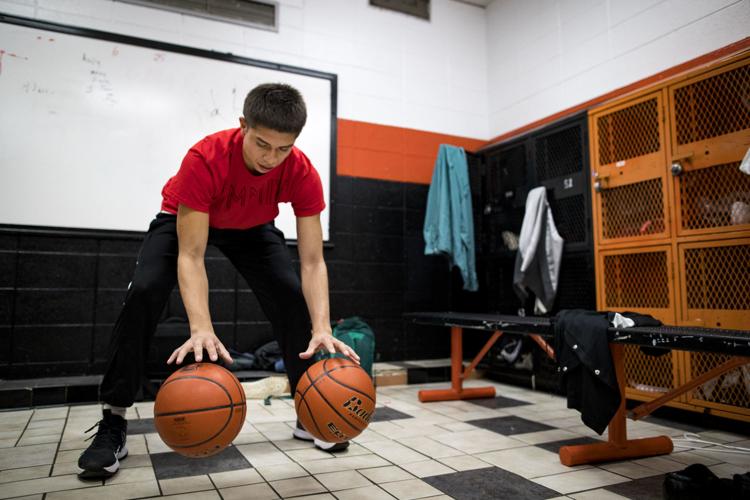 Miracle on I-90
Seven years ago, Famous and his older brother Darnell lived in Crow Agency and attended Wyola School. McCormick, a teacher and coach at Wyola, gave them a ride one Monday morning in January 2013.
Darnell sat in the passenger seat of McCormick's eggshell white PT Cruiser. Rope Three Irons, Famous' friend and sixth-grade classmate, sat behind Darnell, and Famous was behind McCormick. Only Darnell and McCormick fastened their seat belts.
I-90 becomes hilly and surrounded by patches of pine trees a few miles north of Lodge Grass. At Mile Marker 527, the Cruiser hit ice and started to slide. The car, traveling at least 60 mph, veered from the right lane toward the median. "Jesus!" McCormick yelled. At least one of the boys prayed. Three Irons quickly fastened his seat belt and closed his eyes. Famous grabbed his seat belt, but it was locked.
McCormick slammed on his brakes when the car reached the grassy median, which was covered in snow. Rather than stopping, the car flipped — anywhere from three to seven times, depending on which passenger you ask.
The Cruiser came to a stop upside down in the median. McCormick's seat belt had wrapped around his right forearm, causing a cut that would require seven stitches. Darnell and Three Irons suffered minor injuries.
When Three Irons opened his eyes, he noticed Famous wasn't in his seat. Famous had flown out of the back left window and landed in the median, yards away from where the car stopped cart-wheeling.
Famous was moaning when McCormick, Darnell and Three Irons got to him. The pool of blood reminded McCormick of a center circle on a basketball court, though it wasn't that big. Most, if not all, of the blood came from Famous' nose.
McCormick, Darnell and Three Irons tended to Famous' wounds and called 911.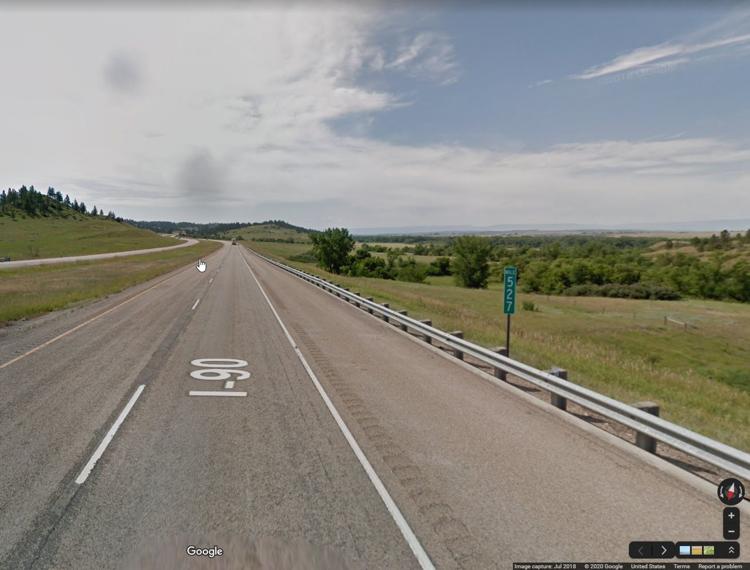 In 2010, rollovers accounted for almost 35% of all deaths in passenger vehicle crashes, according to the National Highway Traffic Safety Administration. Of those rollover fatalities, 69% weren't wearing seat belts. 
"Had any of our lives been snuffed out, it would've been him," McCormick said of Famous. "It feels like there was divine intervention."
Famous remembers little about the crash. One moment, the car was sliding and McCormick was screaming. The next, he was in a bed at Crow-Northern Cheyenne Hospital.
McCormick's cut was the most serious injury. Famous had bruised ribs, several small cuts and was sore all over. He still experiences some back issues.
Famous' mother, stepfather and sister arrived at the hospital fearing the worst. Five hours later, he was home.
"How did that car roll over and not crush him?" his sister Darrelyn said. "God put his hands around him, and he was saved. He knew he had stuff to do still."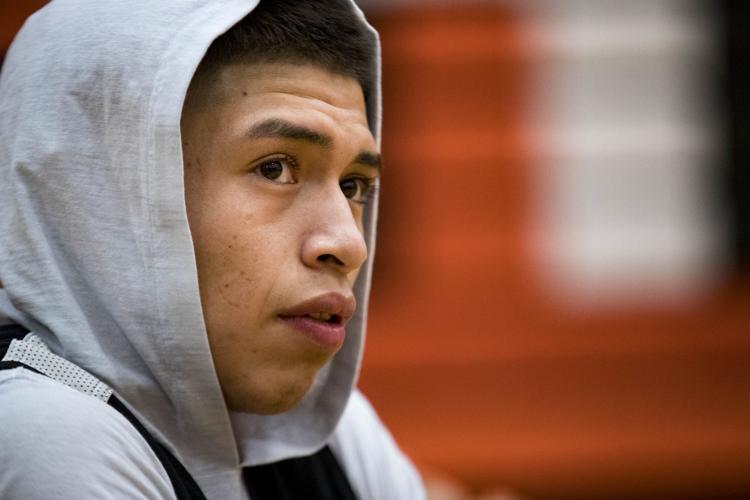 Another close call
Several winters earlier, when Famous was about 5 years old, he noticed his body feeling extra cold at night. His parents gave him over-the-counter medicine, but the chills worsened.
After a few weeks, Famous' face turned purple and he had trouble breathing. His father, Darrell, took him to St. Vincent Healthcare in Billings.
Famous had severe pneumonia. He spent the first night at St. Vincent in the intensive care unit.
"It was like 2 in the morning, they said they had to transfer him. I got on my knees and prayed," his mother, Carlotta Ware, said through tears. "He just had no life in him."
If they had waited another day to go to the hospital, Famous would have died, he said.
Famous battled pneumonia a couple other times during his childhood. Those bouts didn't threaten his life like the first one, but his behavior changed in their light. Before, he spent many freezing days without his shirt on and wore shoes that were easily soaked by snow. 
"Now, I barely even go outside because I don't want to get sick," he said. "I go to the gym every day and stay nice and hot."
'He'll be a legend'
A typical weekday for Famous goes something like this: wake up around 3 a.m.; shower; eat an apple; shoot hoops at Crow Tribal Multi-Purpose Building for about three hours; go to school; eat lunch; lift weights and go to basketball practice, or vice versa, right after school lets out; go home; eat dinner; do homework; go back to the Multi and shoot hoops until 10 or 11 p.m., whenever he reaches 1,000 shots for the day. He gets about three hours of sleep a night.
He's done this routine, with varying regularity, for years.
"My mom always says, 'You rest when you're dead,'" Famous said with a laugh.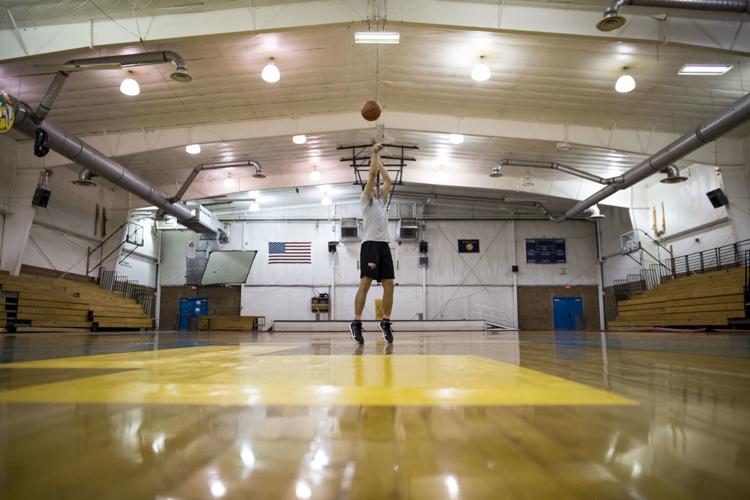 Earlier this season, he got home from a game around 11 p.m. He went straight to Hardin's gym and shot hoops until 4 a.m. That's a common occurrence. Round Face sometimes wakes up in the middle of the night and sees a message on his phone from Famous. He doesn't have to guess what Famous is doing.
Round Face is happy to accommodate Famous' schedule, and he isn't worried about fatigue.
"I've never seen a kid with this type of mentality. Yeah, they all like to play ball, but not like this kid," the coach said. "He'll be a legend."
Famous' mother was an all-state player at Billings Central, as was his father at Plenty Coups (Darrell played for a semester at Rocky Mountain College but stopped after he got into a bad car wreck, Darnell said). Darrelyn and Darnell earned all-state selections at Hardin.
Darrell was friends with Old Bull, a Lodge Grass basketball legend who died in 2014 at the age of 42 (he was ejected from an SUV that rolled over after it drifted into a median on I-90). Old Bull used to say that Famous was "something special," Darrelyn recalled. Famous, who wears No. 52 in Old Bull's honor, has proven his idol correct during his basketball career at Hardin.
Famous received Class A all-state honors in each of the last two seasons. He helped the Bulldogs win the State A title two years ago, and they lost to Billings Central in last year's state championship game.
This season, Famous is averaging more than 22 points per game, helping Hardin start undefeated and reach No. 1 in the 406mtsports.com Class A rankings. His shot is pure, his handle is tight and he can dunk with ease.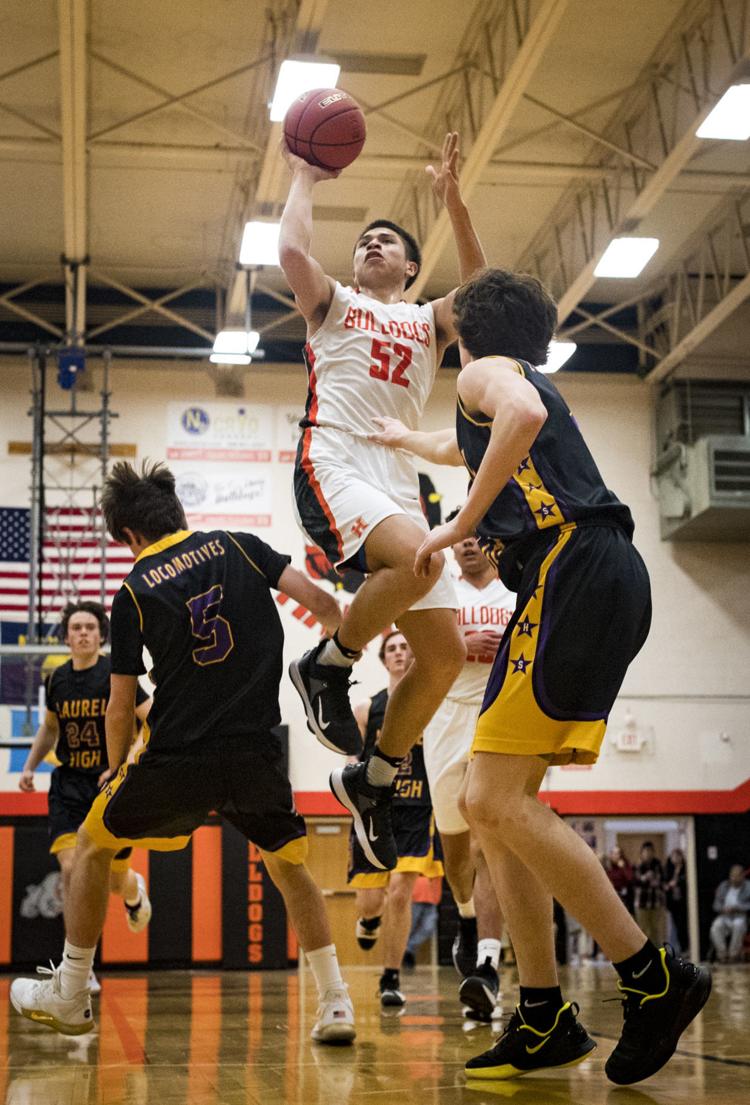 "I used to be known as Darnell. Now, I'm Famous' brother," Darnell said.
In the fall, Famous will attend Rocky Mountain College on a full-ride basketball scholarship. He also has a 3.8 GPA and plans to study aviation. When he was in eighth grade at Pretty Eagle Catholic Academy, planes captured his attention and imagination as they flew overhead. His interest in flying grew during his first plane rides, and he heard that no Crow has been a commercial pilot.
"I'm trying to be the first," he said.
Famous, who is right-handed, became obsessed with basketball his freshman year, after the Bulldogs went two-and-out at the State A tournament. Long hours in the gym were common before then, but his daily routine has ramped up the last few years.
Carlotta spent much of her childhood lifting weights and going to the basketball gym. When she was in high school and college (at Montana State University Billings), she commuted every day from Pryor.
Carlotta, whose brother George died in a car crash at the age of 17, raised her children to work just as hard. They credit both of their parents for their work ethic.
"You've gotta keep them busy, especially living on the reservation," Carlotta said.
Carlotta grew up in an alcoholic home, she said, and Darrell has struggled with alcohol. Famous has heard that drinking hindered Old Bull's basketball career.
Those cautionary tales have motivated Famous to spend his nights shooting hoops.
"People ask me to go to parties and stuff, and I'm like, 'That's for losers, man.' You have the rest of your life to do that. Why do it now?" Famous said. "Just have my mind focused on going to college and getting my degree because you can make money off that. Get set with money, have a family, teach my kids the same way."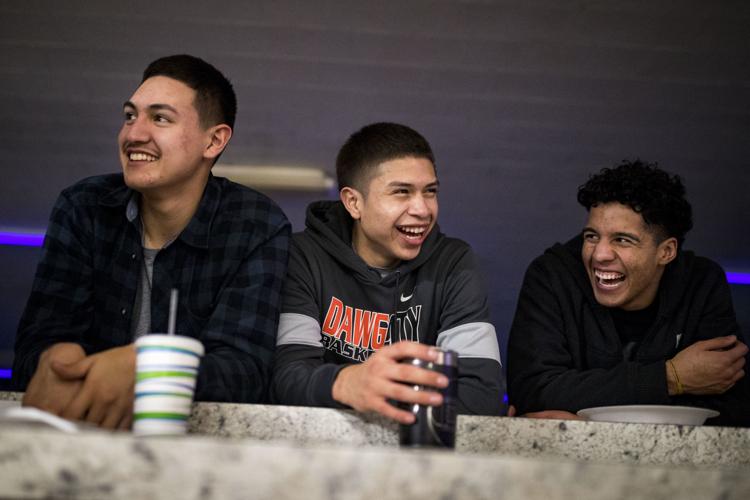 In the rear view
Famous recognizes how lucky he is to be alive, especially when he reflects on the 2013 car crash. He prays every day and wears his seat belt whenever he gets into a vehicle.
"Thankful that I'm here," he said. "God has a plan for me. He doesn't want me to leave yet."
The Lefthands rarely talk about the crash or Famous' pneumonia scares. Darrelyn said Famous is "very to himself" and unlikely to tell people what he's going through. The few times Carlotta has heard him mention the wreck, it's in a joking manner. Famous tries "to forget about it, mainly," he said.
Carlotta is responsible for some of that silence because she's instructed her children not to dwell on the past. Learn from it and move on, she's told them.
Famous has a few visible scars. Darnell accidentally cut him on the right cheek years ago when they were horsing around. A longer scar, on Famous' left hand, formed after he fell off his horse.
After a practice in December, Famous was applying liquid bandage to cuts on his right middle finger and left thumb — the fingers that feel the most pressure when he shoots a basketball. When you take 1,000 shots a day, blood is a predictable result.
---
Photos: Hardin star has overcome challenges