BILLINGS — Damon Gros Ventre's first shot of Thursday's boys basketball game at Joliet clanked off the rim. It proved to be an outlier, not an omen, for the Lodge Grass junior.
"We say on our team, 'Don't stop shooting. Just keep letting it fly,' " Gros Ventre told The Billings Gazette and 406mtsports.com on Friday. "That's what I did."
Gros Ventre drained three straight 3-pointers after the opening miss. Overall, the 6-foot-5 star made eight 3s and 14 2-pointers against the J-Hawks, and he went 5 of 5 from the free throw line. His final point total was 57, just shy of a couple single-game records. The Indians won the Southern B game 105-63.
"The rim literally looked like a hula hoop at some points," Gros Ventre said. "Right when it released from my hand, it looked like it was going in."
Gros Ventre isn't sure how many shots he took in the game, but he believes he made more than 50%, which would mean no more than 44 attempts. He also grabbed more than 10 rebounds. His previous career high was 37 points, which he scored against Hardin on Elvis Old Bull Day a year ago.
The 57 points are the 10th most by a high school boys basketball player in Montana history, according to Montana High School Association archives. The all-class record is 68, set last February by Harlem's Brad Cichosz.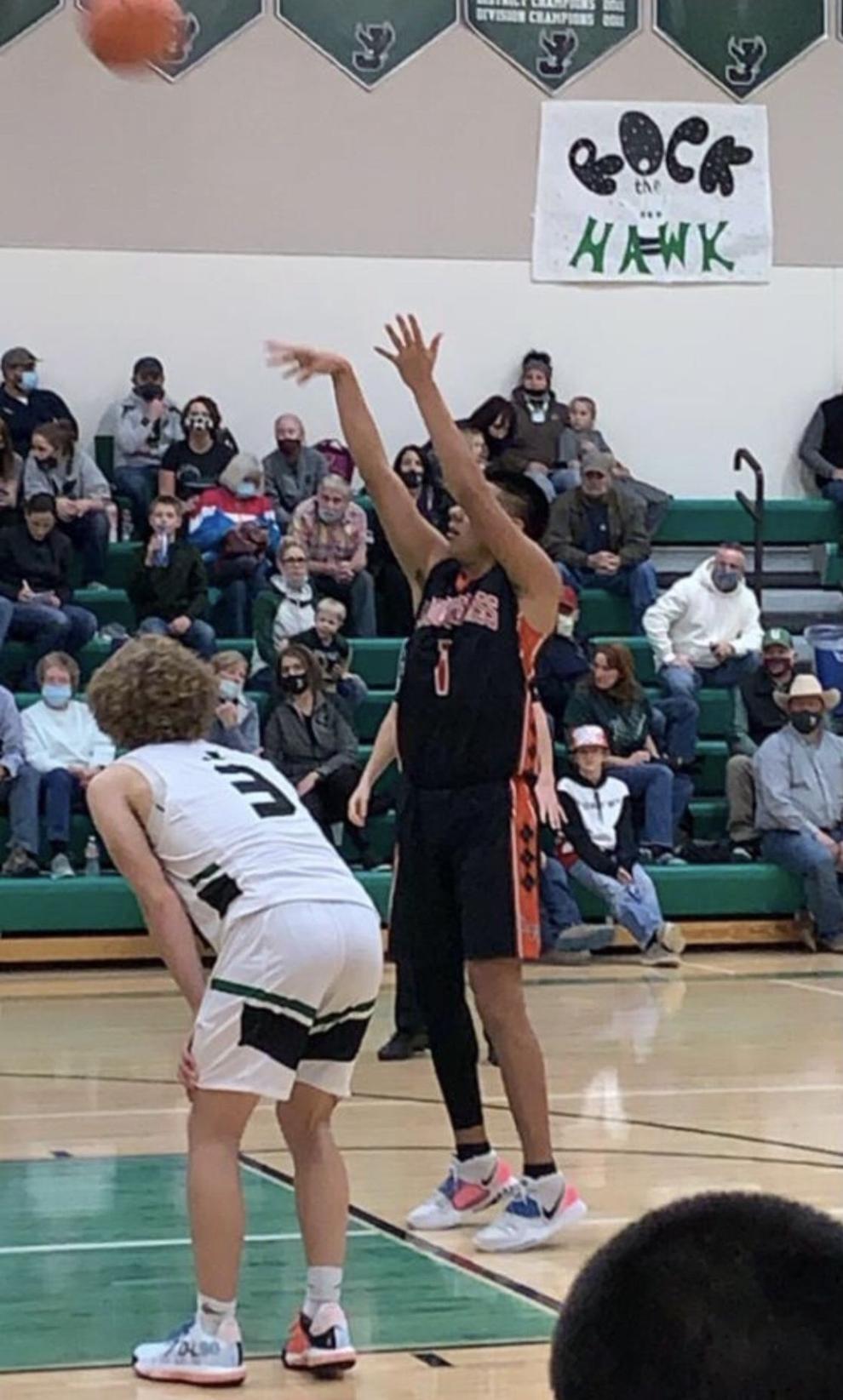 Gros Ventre didn't know how many points he scored until after the game, he said. Lodge Grass coach Josh Stewart said he wasn't keeping track until the fourth quarter, when someone with Joliet informed Stewart that Gros Ventre was at 48 points.
"It honestly didn't feel like I had 57, so knowing that I was 11 points shy (of the state record), it kind of hit me like, 'Dang, it's just right there,' " Gros Ventre said. "But we got the win, and that's all that matters."
Gros Ventre finished three points shy of the Lodge Grass record, set by Gary Whiteman in 1983. Stewart subbed Gros Ventre out with about three minutes left in Thursday's game.
"They said 57 and I thought, 'Maybe I should've left him in there.'" Stewart said. But "I don't try to go out and have record-setting nights for individuals."
Lodge Grass, a defending Class B co-state champion, led 26-9 after one quarter, 49-24 at halftime and 74-45 through three quarters. In fourth quarters of previous blowouts, Stewart has replaced all of his starters with young bench players. Those inexperienced players struggled to run the offense, so Stewart decided to keep a couple veterans in late to help the backups, he said. On Thursday, the two that stayed in were Gros Ventre and senior Malachi Little Nest, who finished with 22 points.
Gros Ventre entered the fourth quarter with 42 points. When Stewart learned the number was up to 48, his goal was for Gros Ventre to 50 and then take him out. Gros Ventre sank a 3 to reach 51. Stewart decided Gros Ventre deserved a chance at a heat check, and the junior drained another 3. Gros Ventre was allowed to take one more shot, and he fired from "beyond NBA range," he said. It swished through the hoop.
"To see him locked in, it's fun," Stewart said. "That's one of those cherry-on-top experiences."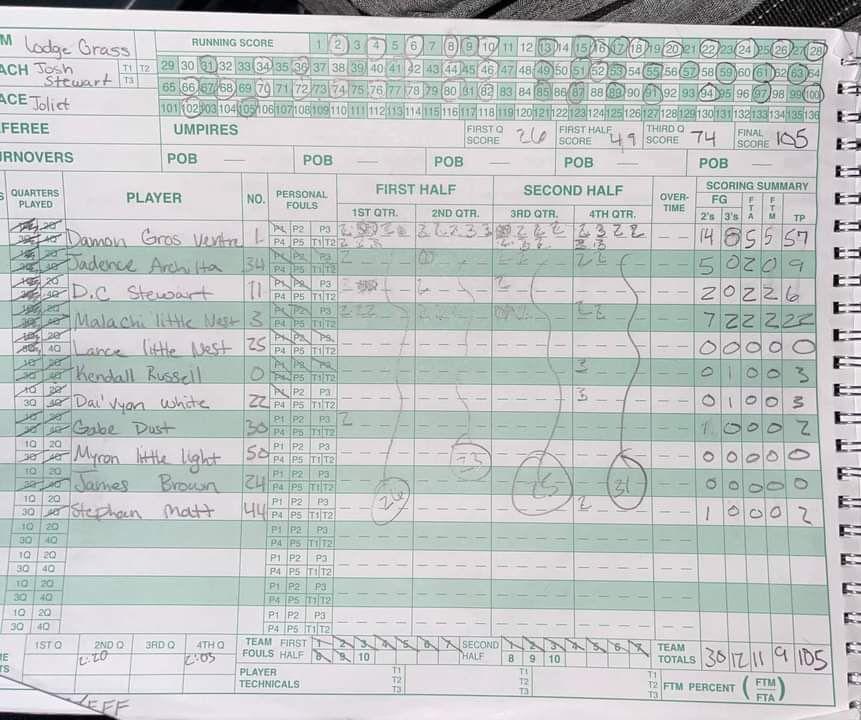 Lodge Grass isn't allowing spectators at home games this season because of COVID-19 concerns. Joliet allows limited attendance, so more Lodge Grass fans were able to witness Gros Ventre's performance Thursday than they would have if the game was at home.
"It was good to see our fans out there," Gros Ventre said. "That was a good atmosphere."
Stewart frequently praises Gros Ventre's work ethic and called him "a team-first guy." On Thursday, Gros Ventre dished out several assists and stuck to the game plan, rarely taking bad shots. His teammates were thrilled for him, Stewart said.
"They will look back on it and know they were part of something special," Stewart said.
While Gros Ventre fell just short of the school record, he did surpass Old Bull, one of Montana's most celebrated high school basketball players who led Lodge Grass to three straight state titles from 1988 to 1990. Old Bull's single-game high was somewhere in the 50s, Stewart believes, but less than 57. Old Bull, who died in a car accident in 2014, was related to Gros Ventre — his brother was Gros Ventre's grandfather.
Gros Ventre surpassed 1,000 career points on Jan. 13. After that game against Hardin, he said one of his goals is to break Old Bull's school record of 1,984 points. Gros Ventre has scored 32.3 points per game this season. As long as he doesn't miss a bunch of games, that average would be more than enough to get Gros Ventre past his legendary relative.
"It seems like it's just right there," Gros Ventre said. "But I've still got a lot of work to do."