BILLINGS — The Billings Central boys basketball team returned to the Eastern A Divisional semifinals with a 66-43 win over Lewistown on Thursday at First Interstate Arena at MetraPark.
Central sophomore Brock Blatter scored 18 points, grabbed 11 rebounds, shot 5 of 9 from the field and finished 8 of 9 from the free-throw line. Gabriel Penha Dos Santos also scored 18 points (6 of 12 on field goals) and had six rebounds, and fellow senior Charlie Parkan added nine points (3 of 5) for the No. 5-ranked Rams (12-7).
Dos Santos is a foreign-exchange student from Brazil who joined Central last school year. Because he returned this year, he became a transfer student under Montana High School Association rules, forcing him to sit out the first nine games of the season.
The 6-foot-2 senior scored 10 points in his first game back, a 67-44 win at Livingston, and he poured in 24 one game later, a double-overtime defeat to top-ranked Hardin.
"These guys are pretty much my family now," Dos Santos said of his teammates. "I'm just enjoying my time here."
The Rams are 6-2 against Class A opponents since Dos Santos' return, with the other loss coming in overtime at Laurel last week.
Even as Central was comfortably ahead of Lewistown (7-12) on Thursday, Dos Santos yelled and pumped his fists after he drained 3-pointers. It's the only way he knows how to play.
"I pretty much bring energy every single time," he said. "That's my role on the team. I can shoot 3s, yeah, but it's all about energy."
Central will face Laurel in the semifinals at 5 p.m. Friday. The Locomotives' first-round game against Miles City tipped off right after Central's ended, so the Rams had to wait to find out their semifinal opponent. While Central would have accepted either foe, Dos Santos was excited for a potential rematch with the Locos. The winner of Friday's game will clinch a State A tournament berth.
Senior Gage Clinton led Lewistown with 13 points (6 of 11 from the field) on Thursday, and freshman Royce Robinson added 10 (4 of 8). The Eagles will play Miles City in a loser-out game Friday at 9 a.m.
Laurel 52, Miles City 37
February has been a little rough for Nick Pasquarello.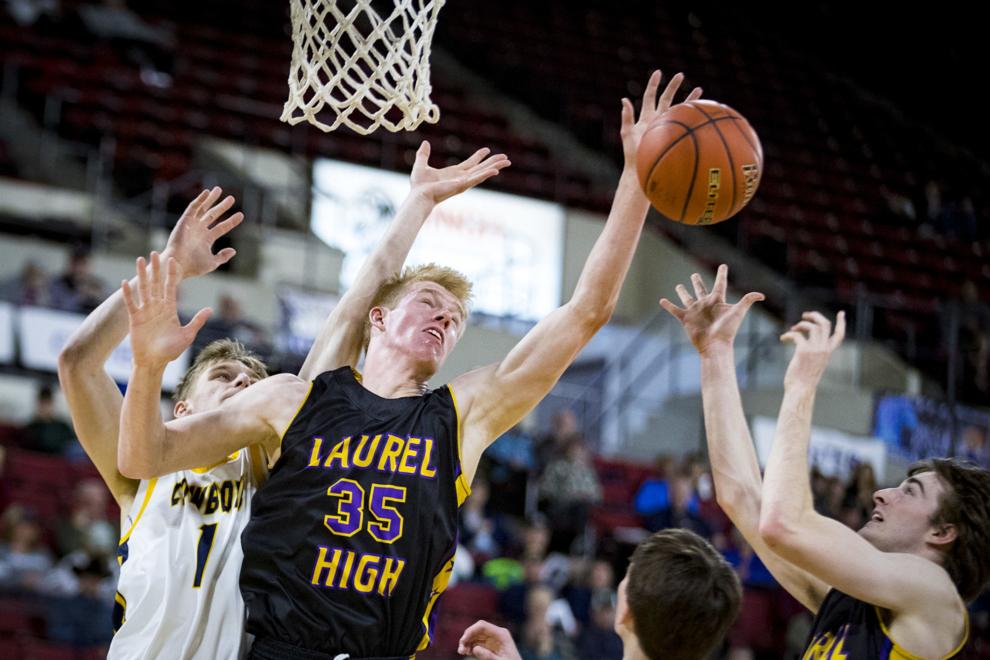 On Feb. 6 against Livingston, the Laurel junior fell hard to the floor and split his chin open, needing stiches to close up the wound. Pasquarello missed most of Wednesday's divisional tournament opener against Sidney because of strep throat. He started Thursday's game against Miles City but finished with three points on 1 of 6 shooting from the field. Oh, and he split his chin open again, requiring a bandage and another set of stitches.
Winning can be a soothing salve, and Pasquarello has received a heavy dose the last two weeks. Thursday's win over the Cowboys (10-8) was Laurel's fifth straight, and it advanced the Locomotives (12-8) to the Eastern A Divisional semifinals.
"I'm feeling good," Pasquarello said. "We're all really excited where we're at."
Laurel junior Colter Bales scored a game-high 14 points (6 of 14 from the field), grabbed a game-high 12 rebounds and dished out a game-high three assists. Junior Wylee Schnetter added 10 points (4 of 5) and sophomore Emmett Renner had nine (3 of 6).
Laurel's eight-point halftime deficit shrunk to five, but it went on an 11-0 run and maintained a double-digit advantage the rest of the way.
The Locos will face rival Billings Central at 5 p.m. Friday in the semifinals, which features all four teams from the Southeast A (Hardin and Livingston will play at 3:30 Friday). Laurel beat the No. 5 Rams in overtime at home last Thursday, avenging a 59-56 loss at Metra on Feb. 8.
"You've gotta go one game at a time. Tournament play, anything can happen," Pasquarello said. "But Central's always who we wanted to play."
Freshman Logan Muri (3 of 8) and senior Haden Warren (3 of 7) each chipped in eight points for the Cowboys, who will play a loser-out game Friday at 9 a.m. against Lewistown.