BILLINGS — Josh Stentoft doesn't like to talk about it.
On March 11, 2011 in Bozeman, the Froid-Lake boys basketball team was leading Arlee by three points with a handful of seconds left in their Class C state semifinal game. A Froid-Lake player could have made it a four-point game with a free throw, but he missed. The Redhawks were still in good shape, especially if they fouled Arlee after the foul shot as Stentoft, their coach, instructed. They didn't foul, and Arlee drained a long 3-pointer at the buzzer. The Warriors won in overtime.
Stentoft didn't watch the film of that game and never plans to.
"It's vivid enough in my head that I don't need to revisit it," Stentoft said with a laugh earlier this week.
Had Froid-Lake held on, it would have faced Scobey in the state title game. Stentoft helped the Spartans win the 1996 State C championship, and one of his teammates, Jason Wolfe, was Scobey's coach in 2011 (Scobey beat Arlee 55-47).
This is Wolfe's 16th season as the Spartans' coach, and Stentoft has been coaching Froid-Lake for the past 18 years. The No. 4-ranked Redhawks (12-1) will host the No. 1 Spartans (14-0) on Tuesday night in what both Eastern C teams hope is a preview of a state title matchup that was oh-so-close to materializing 10 years ago.
Stentoft and Wolfe have been good friends since high school, and they look back on 1995-96 fondly. Scobey won boys state titles in football, basketball and track and field that season. The Scobey boys basketball team rolled over Gardiner 70-38 for its first state title since 1979. Those Spartans were coached by Dave Selvig, the younger brother of longtime Montana women's basketball coach Robin Selvig.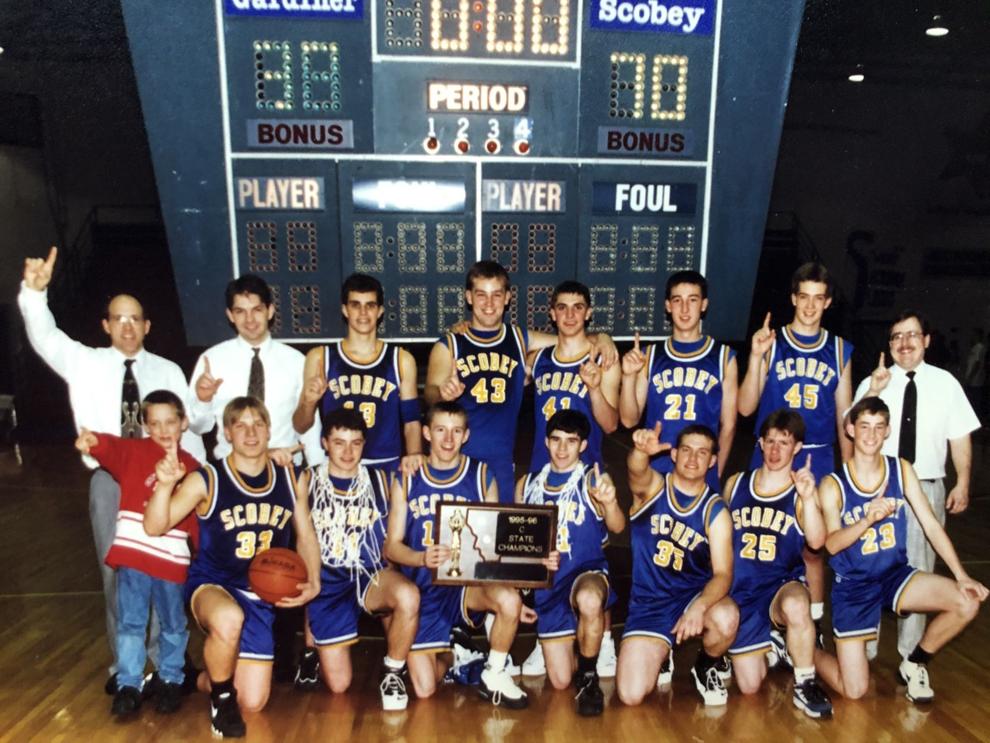 This fall, the Scobey football team lost to Drummond-Philipsburg 44-6 in the State 8-Man championship game. Beating the Spartans at next month's State C boys basketball tournament in Bozeman will be a much tougher task, as they've shown with their perfect record spearheaded by four all-state players who led last season's team to an undefeated co-championship finish.
Froid-Lake might be the best bet to get in Scobey's way.
The Redhawks' only loss of this season came at Scobey on Jan. 21. They led 16-10 after one quarter but were outscored 35-18 in the middle two. A late run gave Froid-Lake a chance, but the Spartans prevailed 57-54.
Scobey's next-closest win this season was by 16 points (on Jan. 8 at Saco-Whitewater-Hinsdale).
"Scobey's really tough," Stentoft said. "I feel like we have the size and ball handlers to stay with them."
The Jan. 21 game was put on Scobey's schedule the day before because COVID-19 forced Dodson to cancel. The Spartans should benefit from more preparation time for Tuesday's game, but road games against good opponents are never easy.
"They've got a great team. They've got good depth," Wolfe said of Froid-Lake. "We look for a real close game, a dogfight."
The Redhawks think "all the time" about possibly playing Scobey in next month's State C title game, Stentoft said.
"That's the standard we have to get to as a team," he added.
Froid-Lake has not made state since 2011. Fresh off the first state football title in program history, the Redhawks are confident in their abilities to get back to that stage and earn a first-place state boys basketball trophy for the first time since 1975 (in Class B).
Stentoft could certainly use a happier memory.
"(The Arlee loss) definitely motivates you every day to push the kids because you know how great it can be to get there," Stentoft said. "It's been a long time, since 2011, and we finally have a chance."