GREAT FALLS — It took a little bit of time this year for Great Falls High sophomore Reed Harris to find his shooting touch from behind the 3-point line.
Starting off the season 0-8 from behind the arc in his first six games, he knew it was only going to be a matter of time before some started to fall. After all, he has a great jumper, good touch and picks his shots well.
Really well, in fact. He shot 59.8% from the field during the Class AA regular season. Those triples eventually fell, too, and he hit his first two 3-pointers in a tight 51-48 win over Billings West on Jan. 30, which was also the only game this year he's led the Bison in scoring.
Or at least it was until he scored a game-high 19 points on 7-of-10 shooting against Kalispell Glacier on Wednesday afternoon to help push the now 15-1 Bison to the state semifinal against Helena Capital, which will be played at 5:30 p.m. Thursday.
On the year, Harris is averaging 10.4 points, 6.9 rebounds and leads the Bison in blocks with 15.
"At the beginning of the season, it was more of kind of getting used to the pace of the game," Harris said after Wednesday's 66-38 first-round win. "And then as we started playing more ... I got used to my shot a little bit more and everything started falling."
Harris came up huge in the win over the Wolfpack, especially when Bison stars Levi Torgerson and Drew Wyman were relatively quiet from the field. Torgerson was 0 of 7 from behind the arc and didn't attempt a shot in the second half, while Wyman's 13 points were well under his season average of 20.9 points.
Harris played just under 20 minutes in Wednesday's game, and 12 of those minutes came in the first half. 
"Reed (Harris) had a very nice game, and that's good for us," Bison head coach Bob Howard said. "He's been getting better and better every day."
Improving as the season moves on has been a theme for Harris this season, and not just in basketball. He spent the first part of his sophomore year of high school as the starting quarterback for the Bison football team.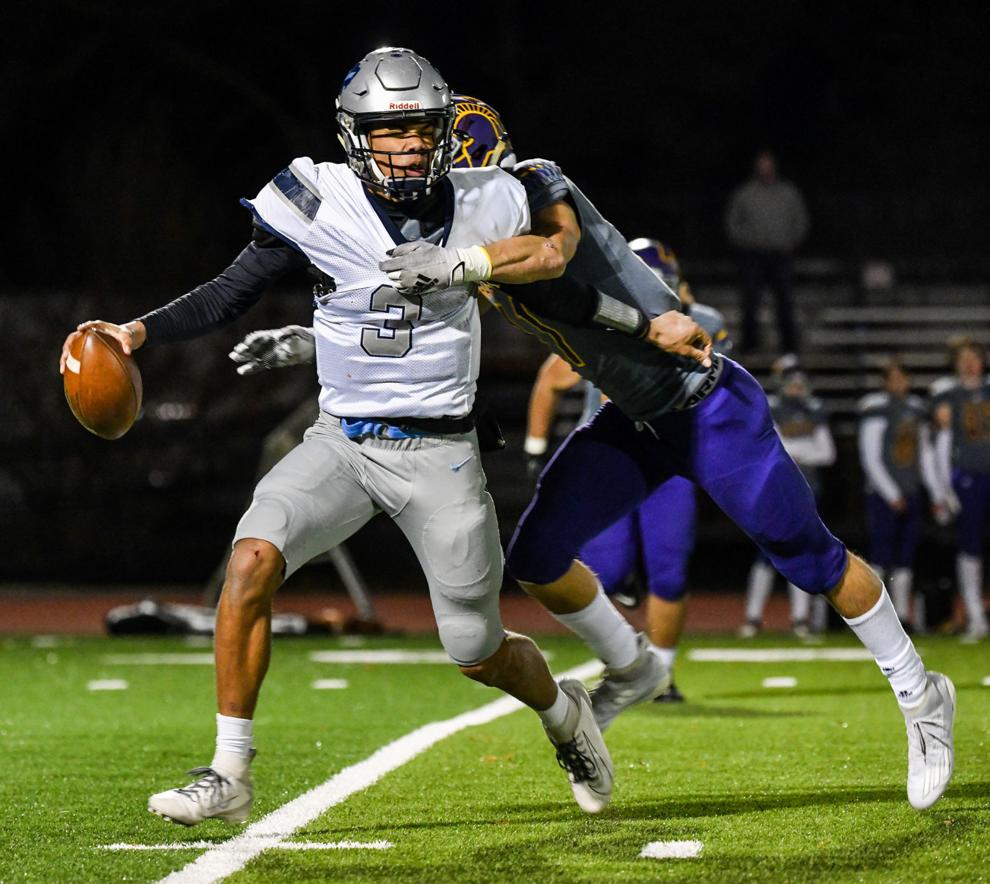 The Bison finished 4-4 on the year and made the Class AA playoffs, where they fell on the road to eventual state champion Missoula Sentinel. Harris finished a strong campaign with 1,335 yards through the air on a 62.1% completion percentage to go with eight passing touchdowns.
He ran the ball another 93 times for 551 yards and seven rushing scores. Not bad for a brand new starter, who also netted an all-state honorable mention nod.
"I believe he will continue to improve, he learned a lot of hard lessons," Bison head football coach Mark Sampson said after the Nov. 6, 2020 playoff loss to the Spartans. "He's got some talent, the biggest thing is that he has to learn more about how to do things and manage the game.
"He had a good year for us and made a lot of big plays, now we just have to build on that."
That growth is apparent on the basketball court. His turnover numbers are low, and he patiently looks for a good shot, rarely making a poor decision.
Fate has a sense of humor — the Spartans basketball team is on the other of the bracket, and if the tournament goes chalk, the two teams could end up playing in the state title game.
But for right now, Harris is focused on Helena Capital and doing what he can to help push the Bison to their first title-game appearance since 2006.
"The biggest thing against Capital has to be working together," Harris said. "We can't let Brayden Koch get hot. He's a great player. And we're just gonna have to work our transition a lot and make good plays."