BILLINGS — Sherrell Fisher took a wide-angle view of the crowd that had formed at her brother's funeral on Thursday.
She climbed the stands at St. Labre's football stadium in Ashland and saw more than 200 people, she estimated, who had come to remember Dane Fisher. Most attendees sat in physically distanced clusters under canopies and many wore face masks in attempt to slow the spread of COVID-19. Others remained in their cars parked around the field.
"They were all there for him, whether he touched their lives or they touched his in some way, shape or form," Sherrell told 406mtsports.com and The Billings Gazette. "He created those relationships. He made that day happen. He made it special. It was just awesome to see."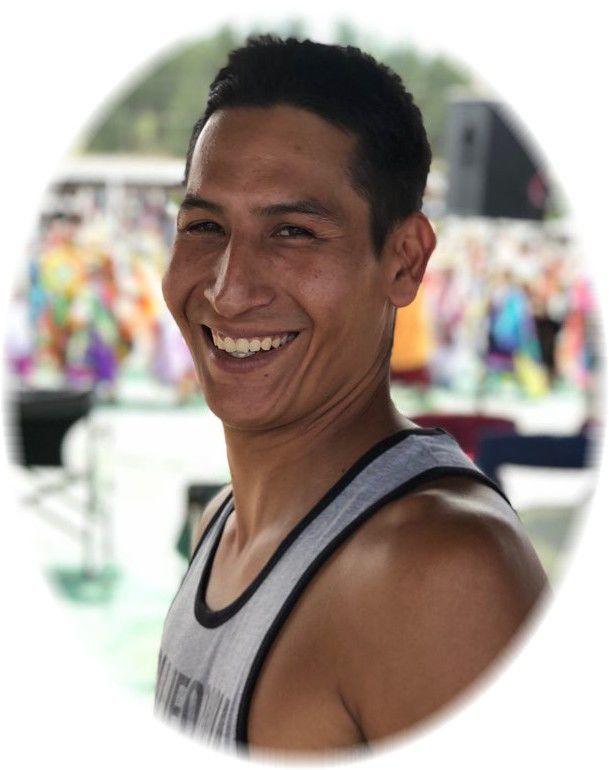 Dane, a former star basketball player at St. Labre, died Sunday after he was stabbed at the Tee Pee Convenience Store and Gas Station in Crow Agency by another tribal member, according to tribal officials. Law enforcement agencies have yet to announce any suspects or arrests. The FBI and Bureau of Indian Affairs are investigating. Dane was 34 years old.
Dane's friends and family members have spent all week trying to process his passing. Over the last couple of days, they've focused less on the tragedy and more on the man they loved, remembering his excellence on the basketball court and his grace off it.
"It's a happy-sad feeling. That's my brother, and he's gone. But at the same time, it was just a great feeling to be surrounded by so many of his friends and a lot of our family," Sherrell said. "He just was able to make friends and become family with everybody that he came in contact with. It made me happy."
Sherrell was Dane's only biological sibling, but he also had four half-siblings and many extended family members. Dane's daughter, Jaden, is 12 years old, and his son, Dane Jr., is 8. His mother, Lisa Old Mouse, lives in Lame Deer, while his father, Steven Fisher, resides on the Mescalero Apache Reservation in New Mexico.
Steven made the 1,000-plus mile drive from New Mexico to Ashland earlier this week. He didn't sleep for three days after he heard the news of Dane's death, he said.
"It stunned me so bad, I just kind of went into a shock. I couldn't even really cry at first because I couldn't believe it, I didn't want to believe it. Then it started hitting me," Steven said. "I hollered out into the sky. I was upset. I went into a little bit of a rage."
Similar emotions hit Steven two Julys ago, when his nephew, Allen Fisher, a popular basketball coach, died in a boating accident at the age of 37.
"I lost my composure but then I regained it," Steven said, referring to Dane's death. "Then I just started praying."
Lame Deer athletic director August "Tiger" Scalpcane played basketball against Steven growing up and is related to Dane's mother. Scalpcane has known Dane since he was little, which made Sunday's news especially hard to stomach.
Thinking about Dane's death also "brings back old wounds," Scalpcane said. His son, Keeshawn, died by suicide last June.
Old Mouse visited Scalpcane shortly after Keeshawn's death to console him. Scalpcane hadn't spoken to her or Steven as of Thursday, but he knows how they likely feel, he said.
"The pain never goes away. You just learn every day how to live with it," Scalpcane said. "Take everything one day at a time, sometimes one hour at a time."
Scalpcane called Dane a "really good basketball player" and "a good guy all around." Dane, who grew up in Billings, earned all-state selections his junior and senior seasons at St. Labre. He averaged almost 30 points per game in his final season (2003-04) and led the Braves to the State B boys basketball tournament for the first time in more than 20 years.
"He was able to compete at two levels above his age, starting from when he was 5 years old," Steven said. "The things I cherished about him and nurtured was his will to work hard and get better every time he did something. Every time he stepped on (the court), whether it was at the YMCA or the blacktop, he embraced it to get better each time."
Dane's basketball career continued at Bismarck State (N.D.) College, Lame Deer's Chief Dull Knife College and Salish Kootenai College in Pablo, near Flathead Lake. "The Great Dane" was a preseason all-American his sophomore year at BSC and averaged more than 20 points per game on efficient shooting in both seasons at the junior college. Then-BSC coach Buster Gillis compared Dane, a 6-foot-2 guard, to John Stockton in a 2006 Bismarck Tribune article.
"Even when I was 2 or 3 every time I would see a basketball I would freak out," Dane told the Tribune in 2006. "That's all I did — shoot around and play basketball."
After college, Dane competed in basketball tournaments across the country and coached at places such as Helena Heat Youth Skills Development Camps.
Dane lived in several Montana towns over the last decade, including Billings and Great Falls. His last residence was Ashland, and he was not recently employed, Sherrell said.
Steven said Dane was "well-mannered," a sentiment echoed by Sherrell and many of the people who attended Thursday's funeral. Steve Ewing, Dane's uncle and coach at St. Labre, gave a eulogy at the ceremony and told stories about the boy he watched grow into a man. Ewing's then-assistant Bill Tatum did the same and read Dane's obituary. Dane Jr. danced in front of the casket to honor his father.
The funeral helped Sherrell briefly push Dane's death to the back of her mind and remember the joy he gave to so many of the 200-plus people in attendance.
"It seemed like no matter where he was, he always took the time to tell everybody, including me, 'I love you whole bunches, and have a blessed day,'" Sherrell said.