BUTTE — Manhattan Christian head coach Jeff Bellach just wants to get some sleep.
No one spent more time at the Western C Divisional basketball tournament patrolling the sidelines than him and that's because he's pulling double duty for the first time — Bellach helms both the boys and girls teams for the Eagles. But following three days and seven total games, he's looking forward to taking a day off.
"It's amazing what the body can do as far as lack of sleep and things go when you have adrenaline and passion for what you're doing, and a love for the kids and all that," Bellach said. "I'm sure I'll crash on Sunday and I'll be down for a bit, but it'll be fine."
The hardest part, Bellach said, has been the emotional swings. Take Friday night's semifinals, for example. Manhattan Christian's boys squad — which includes his son Montana State signee Caleb Bellach — won a tough game over previously undefeated Twin Bridges to put them a step closer to a state title berth.
A couple hours later, after the second boys semifinal game between Arlee and Gardiner, he was back on the court coaching the girls squad. After taking a first quarter lead over the Scarlets, Manhattan Christian fell behind and eventually lost the game.
"You know, you go home and you don't how to feel and you're thinking about your kids and so many different emotions," Bellach said. "But I've got great assistants and I have great support from the administration and the parents. If I didn't have that, it would be a lot tougher."
Another thing that's made it a bit easier is that he's already had experience coaching girls basketball. Bellach spent twelve years at Three Forks, with the final five coming at the helm of the girls program where he compiled a 60-45 record. He took over the Manhattan Christian boys team in 2013 and added the girls duties this year.
He's found huge amounts of success with the boys squad. The Eagles have made each of the last two state championships and compiled a 130-25 record since 2013. His girls squad struggled at times this year, but they made it to the Western C divisional semifinals before falling to Arlee.
They were able to win the loser-out game, but lost to Ennis in the consolation finals. He's definitely planning on coming back next season, but isn't entirely sure how long he wants to coach both squads. That said, the decision to give it a chance was a fairly easy one.
"The time commitment wasn't a big thing to me," Bellach said. "I enjoyed being in the gym with the kids and you know when I just coached just one, I was always there. That part hasn't been too bad."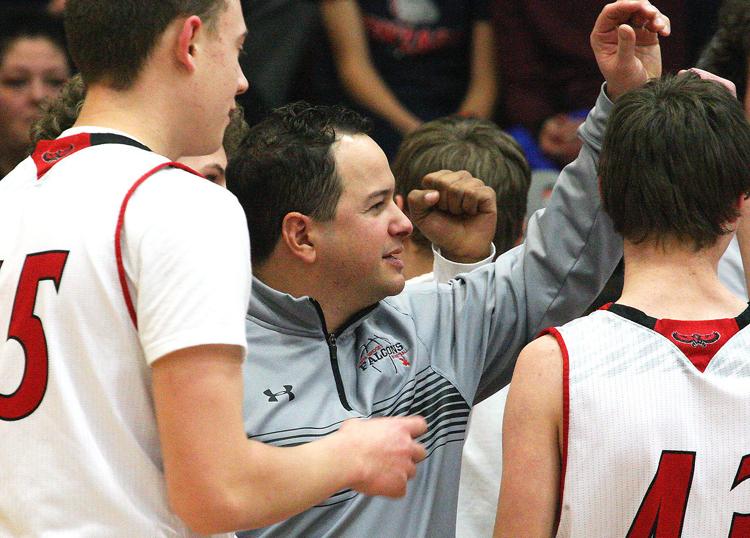 Ahead of adding the girls duties to his plate he reached out to several people with experience coaching two squads at once, including Twin Bridges boys' head coach Josh Keller. Son of legendary head coach Steve Keller, he took over the reins of the Falcons boys team ahead of the 2014-15 season and became the girls skipper in 2016.
Keller gave up the girls duties before this year — which he said was anything but easy — and led the boys to a third-place finish this year at the Western C. He finished third at state the last two seasons with the girls squad.
"To be honest it's really difficult," Keller said. "I don't know what Jeff's philosophy is, he's such a great coach he might be able to do things a little easier than myself. But I had to have everything pre-planned and written out and take a little bit, like five minutes, during our warmups to just sit and refocus.
"Just think about what are our goals for this game, what are our objectives are and just get your mind right."
Keller said, though, that it was an extremely valuable experience and that it made him a better coach.
There's things that can be taken from each game, and there's also things that can't. Finding what works can be a challenge.
And so can finding some sleep.
"I told (Jeff), I said wait until you get to tournament time, especially the semifinals back-to-back," Keller said. "It's killer. I never got out of bed on Sunday's.
"I literally would lay in bed all day."