BILLINGS — Thursday's boys basketball game in Lodge Grass featured two No. 1-ranked teams, more than 200 total points and two players who each scored at least 35.
Not a bad way to "honor The King."
That's the phrase Josh Stewart uttered when he described Thursday's festivities in Lodge Grass. Stewart, who's in his first year as Lodge Grass' boys basketball's coach, helped spearhead the inaugural Elvis Old Bull Day.
The day honored the late Lodge Grass basketball legend. Hardin's 112-92 win did little to bring Stewart down. He was happy that Thursday's celebration of Old Bull went so well.
Stewart, Lodge Grass mayor Quincy Dabney and Crow Tribe human resources director Albert Gros-Ventre were three of the main people to make Elvis Old Bull Day a reality, Stewart said. With the support of the Lodge Grass school board, the special day was put on the calendar months ago.
Those leaders chose Jan. 16 because it included the boys and girls basketball games between Hardin and Lodge Grass.
"That's the biggest game for Crow people," Stewart told 406mtsports.com on Saturday. "All the Crow people could be a part of it."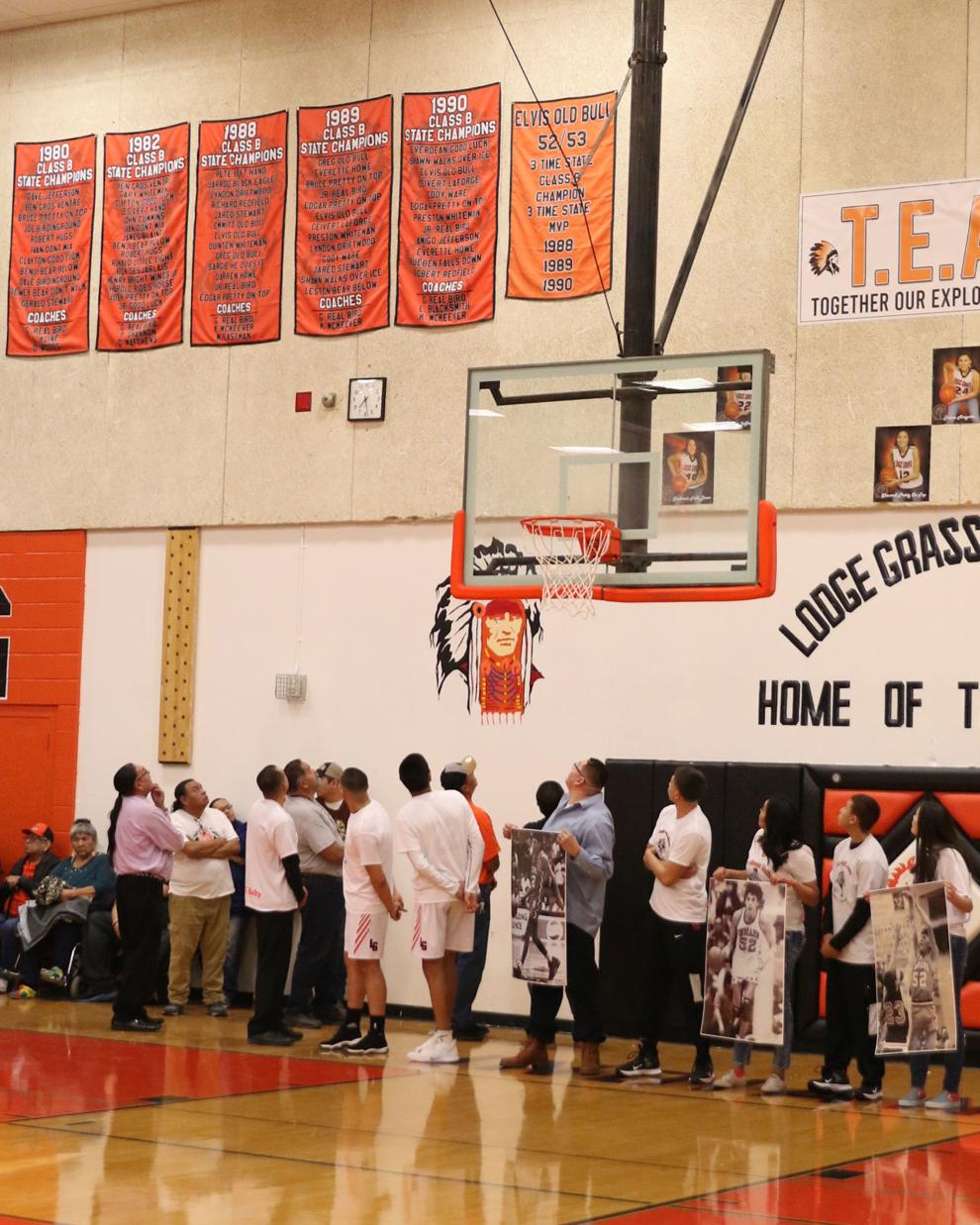 Old Bull led Lodge Grass to Class B state boys basketball titles in 1988, 1989 and 1990, and those championships are commemorated on banners in the Indians' gym. Another banner was raised beside them on Thursday.
The new banner features Old Bull's name at the top. Below are his jersey numbers (52 and 53), a couple accolades (three-time state Class B champion, three-time state MVP) and those three championship years.
Old Bull's legacy transcends stats, but those are legendary, too. He scored more than 1,900 points, averaged nearly 20 points per game and once dished 22 assists in a game. He set 16 school records, was inducted into the Montana Indian Athletic Hall of Fame and made Sports Illustrated's list of Montana's 50 greatest 20th century athletes.
"When I was younger, it was almost like seeing Michael Jordan," Stewart said. "He's not just a local legend. He's a true legend."
Old Bull died in a car accident in 2014. He was 42.
Thursday's ceremonies included a speech from former Crow Tribal Chairman Darrin Old Coyote, speaking on behalf of Old Bull's children Elvis Old Bull Jr., Char Old Bull and Coral Old Bull. Those three stood behind Old Coyote and held photos of their father from his playing days.
"To honor him with Elvis Old Bull Day is one of the highest honors you could give to him," Old Bull Jr. said. "Me and my family were really proud and happy."
Other Crow basketball legends such as Larry Pretty Weasel and Mike Chavez were also in attendance.
People lined up outside the gym for hours before it opened, Gros-Ventre said, and it was standing room only during the games.
Hardin won the girls game 81-45. Bulldogs senior Marie Five led all players with 21 points.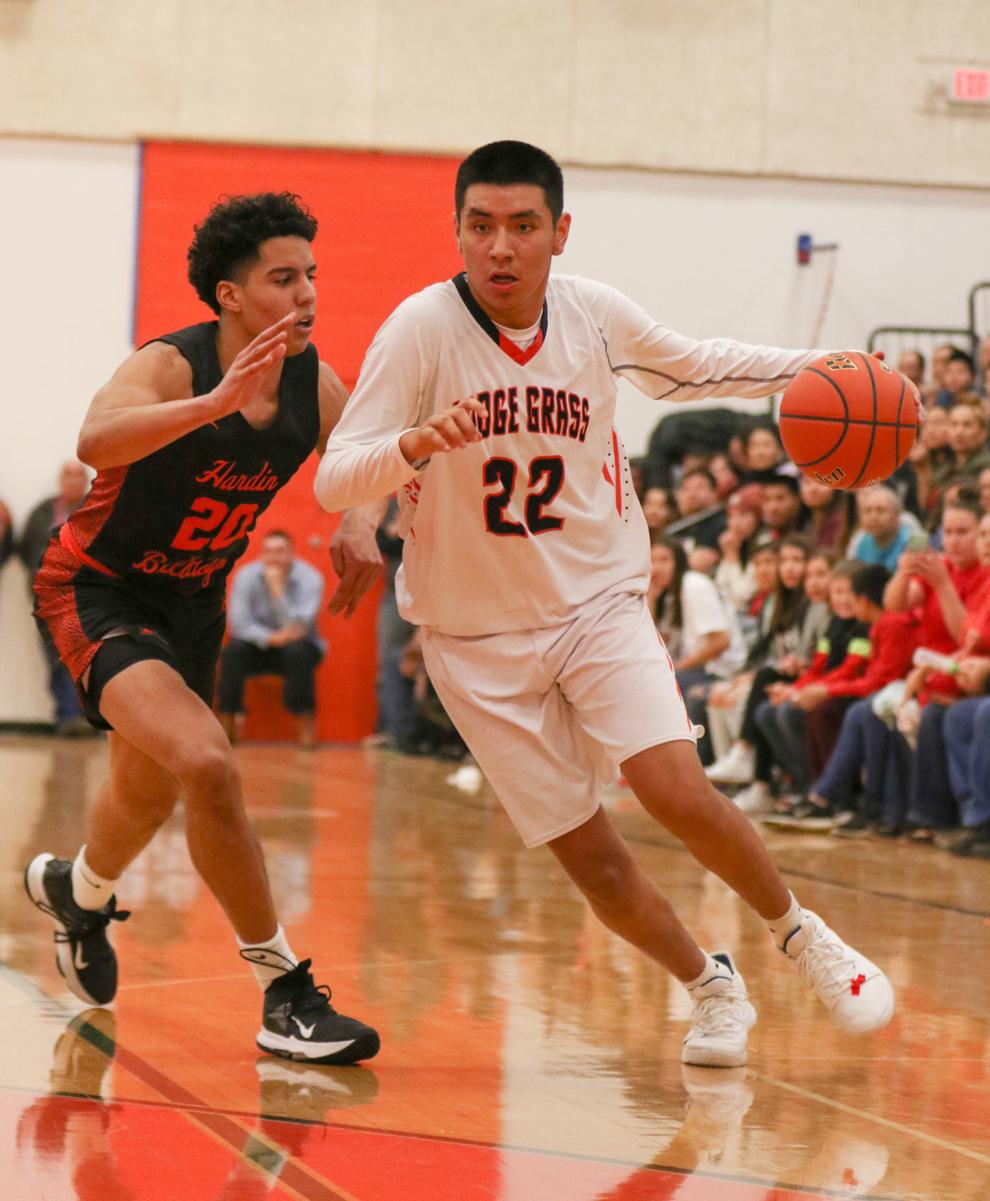 A 112-92 score is common in a 12-minute quarter, 24-second shot clock NBA game. It's rare, to say the least, to see those point totals in an eight-minute quarter high school game that operates without a shot clock.
That doesn't mean anyone was shocked that the Bulldogs and Indians bombarded the scoreboard. Hardin, the No. 1 team in the 406mtsports.com Class A rankings, features several players who have earned all-state honors and more who aren't far off. Lodge Grass is also deep and talented, as its No. 1 Class B ranking indicates.
Few, if any, teams in Montana play faster than the Bulldogs and Indians. That combination of talent and pace led to Thursday's eye-popping score.
Lodge Grass sophomore Damon Gros Ventre led all players with 37 points. Famous Lefthand, who wears No. 52 in Old Bull's honor, led Hardin with 35 points. Fellow seniors Trae Hugs and Cayden Redfield scored 27 and 22 points, respectively.
The current plan is for Elvis Old Bull Day to be an annual occurrence, and it won't necessarily be Jan. 16, Albert Gros-Ventre said. The only thing that matters is honoring "The King."
"Just a day where we can always remember him," Gros-Ventre said.