BILLINGS — Lodge Grass enters the Southern B divisional boys basketball tournament as the defending champion and No. 1 team in the 406mtsports.com Class B rankings. But other teams have reasons to believe they can knock off the Indians this week at First Interstate Arena at MetraPark.
Lodge Grass (13-3) will open divisional play at 7:30 p.m. Wednesday against Townsend (11-4), which is coming off a 65-59 loss to No. 2 Manhattan in the District 5B title game on Friday and lost to the Tigers 52-47 in the season opener.
Manhattan (14-2) begins its Southern B run against the winner of Wednesday's play-in game between No. 6 Red Lodge (13-3) and Lame Deer (5-7). Manhattan beat Red Lodge in the first round of last year's divisional tourney and lost 73-66 to Lodge Grass in the semis. The Tigers' season ended a day later in a 69-47 loss to Colstrip, dropping their record to 11-11.
So far this season, Manhattan has only suffered one Class B loss, 53-52 to Jefferson on Feb. 11, three days after it beat the Panthers 64-38. The Tigers' other loss came against Manhattan Christian (now ranked No. 3 in Class C) on Jan. 22, and they beat Fairfield (now No. 5 in Class B) 60-52 on Feb. 20.
If Manhattan wins its first divisional game, it will get a semifinal matchup with No. 7 Colstrip (12-4) or Columbus (12-5), who face off at 5:30 p.m. Thursday.
Colstrip lost to Lodge Grass 77-70 in the 3B title game on Feb. 20 and 64-58 to the Indians on Jan. 28. The Colts went to overtime in both of their games against now-No. 3 Huntley Project (13-4), beating the Red Devils 55-53 on Feb. 9.
Columbus is the only Class B team other than Colstrip and Lodge Grass to defeat Project, winning 42-41 in overtime on Feb. 4. The Devils beat the Cougars 45-42 in the 4B title game on Friday.
Project opens Southern B play at 5:30 p.m. Wednesday against Three Forks (5-14), which began the season 0-7 and 2-13 but qualified for divisionals with wins of 75-56 over Jefferson and 50-47 over Big Timber last week in the 5B consolation bracket.
If the Devils get past the Wolves, they'll likely set up a rubber match with Lodge Grass in the semifinals. The defending State B co-champion Indians beat Project 66-58 on Jan. 8 but lost 64-52 on Feb. 2, a game they were playing without all-state star Damon Gros Ventre, who returned from an ankle injury three weeks ago.
Project will try to get a bad divisional taste out of its mouth — it entered last season's tournament ranked No. 1 in Class B but lost to Three Forks in the semis and to Columbus in a loser-out game.
There will be 500 tickets available per team for the Southern B divisional boys and girls tournaments.
Two girls teams undefeated
The girls portion of the Southern B appears to be as power-packed as it can get.
Like the boys bracket, the top three teams in the final 406mtsports.com Class B rankings, and five ranked teams overall, highlight the nine-team girls field as the divisional gets underway Wednesday at 9 a.m., when Joliet takes on Baker in a play-in game.
Columbus versus No. 8 Jefferson is at 1 p.m. Wednesday, with No. 2 Colstrip against Whitehall in the day's final girls game at 3 p.m.
On Thursday, No. 10 Forsyth plays No. 3 Roundup at 1 p.m., while top-ranked Big Timber takes on the Joliet-Baker winner at 3.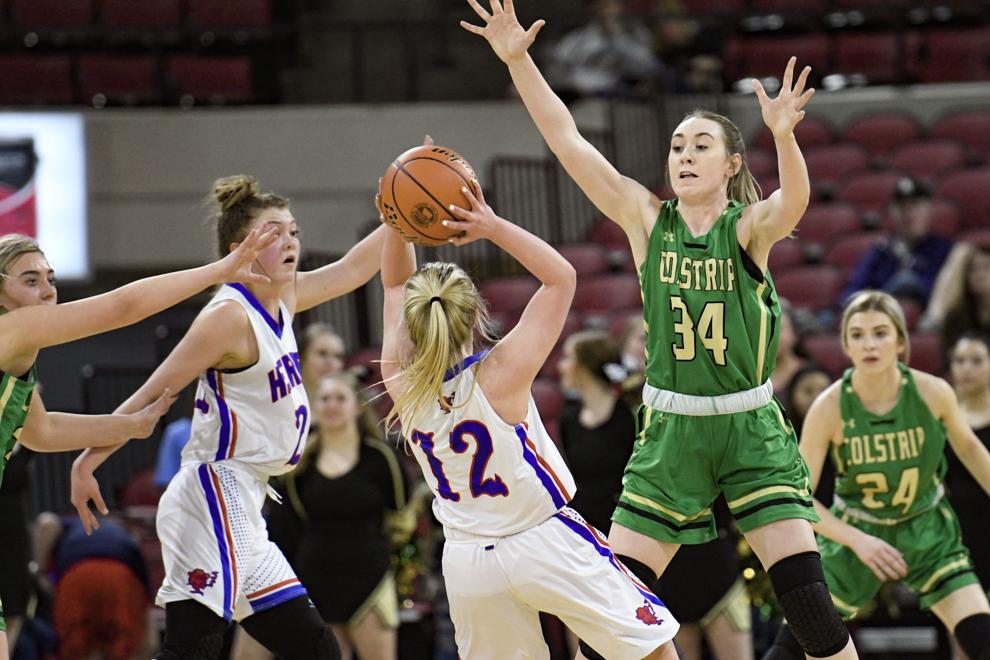 Three teams advance out of the divisional to the state tournament, which will be back at Metra from March 10-13.
Big Timber and Colstrip enter the tournament undefeated, though Whitehall nearly got the Herders at the end of the regular season.
Big Timber, led by double-digit scorers Bailey Finn, Emily Cooley and Hailey Brandon, opened the season with a 50-43 win over the Trojans but needed overtime to beat the Trojans 72-69 in the District 5B championship game on Saturday night.
Colstrip has had just one game of a single-digit margin — beating Forsyth 51-45 on Feb. 2 — and has given up more than 37 points just three times this season.
It was the Fillies who toppled Big Timber, again unbeaten, in last year's divisional title game, 45-35.
Roundup has lost three games this season: early in the year to now-No. 4 Malta, 48-37 (which the Panthers avenged a month later, 47-35) and twice to Columbus. The Cougars got the Panthers 36-34 in overtime in early February and struck again 39-30 in last weekend's 4B championship game.
Columbus also boasts an overtime win over Class A's fifth-ranked team, Laurel. But Joliet has beaten the Cougars twice this season.
Forsyth had to blend in four new starters from last year's state co-championship team, but has put together a solid season behind Montana State-bound post Lindsey Hein.
Jefferson enters the tournament having won eight of nine, the lone loss coming against surging Whitehall in the opening round of the 5B last week.