BILLINGS — The speed of a high school athletic career sometimes doesn't become apparent until the end.
That's the case for Melstone senior Shayden Cooke, who is currently processing the final days of his sporting life.
"I came into football thinking it would be a long season. Next thing you know, I'm playing on senior night," said Cooke, who was a wide receiver/defensive back for Roundup. "I hope that doesn't happen with basketball."
One key way to make this upcoming boys basketball season feel longer is to play until the final day, which Melstone has done in each of the previous two seasons.
But Cooke is the Broncs' only returning starter, so returning to that postseason level for a third straight year won't be easy.
"He needs to take control of our team if we're gonna get anywhere this year," said Melstone coach Jason Grebe.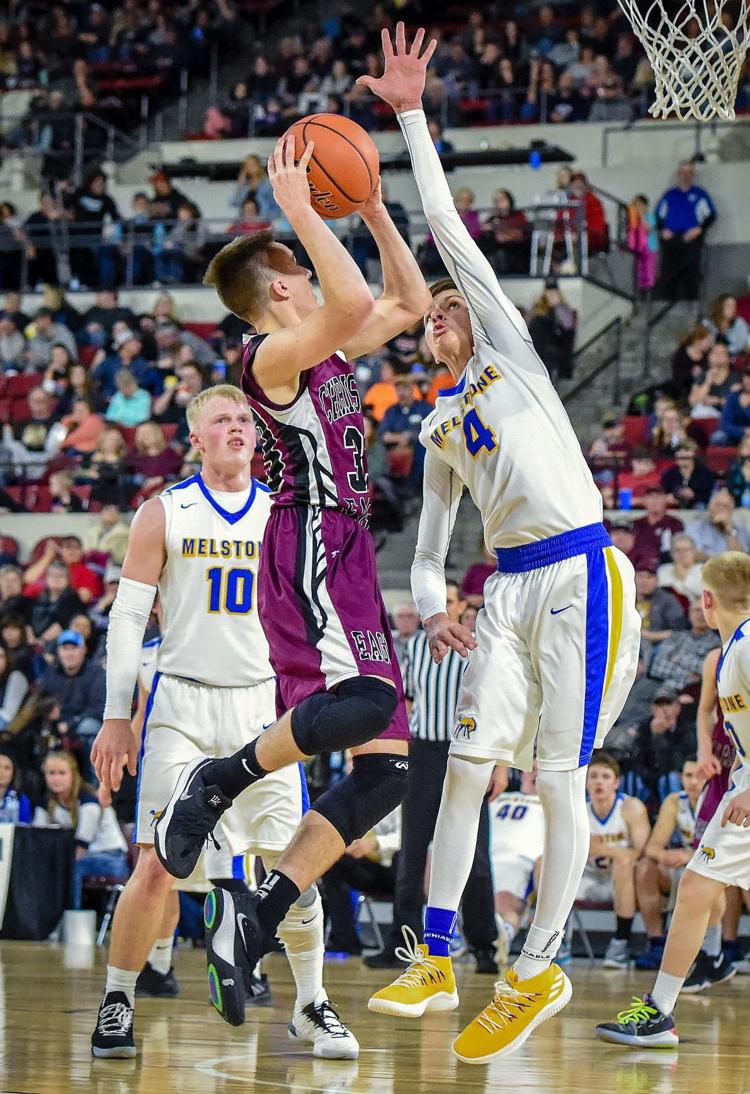 Three of Melstone's seniors last season — Thomas DeJaegher, Carson Hein and Nathan Zard — were starters who helped the Broncs reach the State C semifinals, where they almost knocked off eventual champion Manhattan Christian. Another senior, Jason's son Brody Grebe, was one of the best players in the state.
Brody broke records, earned all-state selections and is getting Division I interest while he plays multiple sports at a prep school in Connecticut.
"No one can replace him," Cooke said. "He was such an outstanding player."
Last year, Brody moved from point guard to more of a shooting guard role, attacking and often operating from the high post, Jason said. Cooke replaced Brody at the point and put up solid numbers: 12 points per game, 52 field goal percentage, 40 3-point percentage, three rebounds and assists per game, two steals per game.
Cooke will fill Brody's position again this season, operating as the Broncs' main scorer who will "play a lot of positions," Jason said, just like Brody a year ago.
"Shayden is going to step up," Jason said. "He's one of the better players in the southern division."
Melstone freshman Bryce Grebe, Jason's son and Brody's brother, will take over point guard duties.
Despite losing four starters, Jason believes his team is deeper this season than last. Cooke thinks the Broncs are being overlooked simply because Brody is gone.
"What people don't understand is, it wasn't just him," Cooke said. "We want to show everybody that we're not gonna lay down. We're not scared of anybody."
Cooke has mentally prepared for this season since he was a freshman. Back then, he knew Melstone would enjoy a couple fruitful seasons with Brody and his classmates leading the way. Then they'd graduate, leaving Cooke to lead an unproven group of players such as Bryce and cousins Ty and Devin Meredith, both seniors this year.
The Broncs lost 45-43 to Scobey in the first round of the 2018 State C tournament (they got revenge in the third-place game). Last year, Melstone lost 40-36 to Manhattan Christian in the semifinals (and 47-42 to Scobey in a loser-out game).
If that trend continues, the Broncs will reach this year's State C title game. That might seem far-fetched given the losses they've endured. Cooke is confident his final season will last just as long as the previous two.
"We're tired of being close," he said. "We want to get there."