BUTTE — Brett Clark didn't really know what to say after he hit a game winning shot to lift Bozeman to a 55-53 overtime win over Missoula Hellgate in the Class AA state championship.
That's fair, because he's never been interviewed before.
But on a Saturday night in Butte, he was the hero. With the score tied at 53 and less than two second left, the 6-foot-3 junior found himself wide open under the basket. Carter Ash, who had only barely corralled a long pass from Ryan Simpson, then tossed him the ball.
Clark caught the pass and put up a short shot from the baseline. It went in and pandemonium ensued.
"That was crazy man," said Clark, who finished with a team-high 18 points. "Coach has been talking all year about someone stepping up and tonight, I guess, it was just my night. I stepped up and we got the championship, that's what it's all about."
It put an end to just the second state championship ever at the boys Class AA level (or when A was the highest classification before AA was introduced in 1956) to be decided in overtime. 2019 was Bozeman's fourth-straight appearance in the state title game.
The Hawks had lost the previous three.
"It's tough to go in the locker room after you lose that one," Bozeman head coach Wes Holmquist said. "It was a lot more fun to go in there tonight."
Tied at 49 in overtime after a 3-pointer from Hellgate's Rollie Worster, Bozeman took a 51-49 lead before the Knight junior hit another shot from behind the arc to take the lead.
Ryan Lonergan was then fouled under the basket with 9.1 seconds left and made both free throws to give the Hawks a 53-52 lead. Hellgate's Logan Riddle found some space under the basket and put up a shot and was fouled. He hit one of two free throws, tying the game at 53.
Bozeman called timeout with 4.1 seconds left and the ball. Simpson threw the ball in, trying to hit Ash at midcourt to set up the play. Simpson's pass missed and hit the hands of a Hellgate defender, but the three Knights in the area couldn't corral it and Ash managed to get the ball to Clark.
"I wanted to get it to Carter (Ash) there around half court and let him make a play," Holmquist said. "I think obviously the scramble with that, but Carter's just a playmaker. We've been saying that all year long. Made the right play, found a wide open teammate under the hoop.
"When he got it off I wasn't sure he got it off in time."
He did — though just barely — and Bozeman walked off the court as state champion. For Hellgate, it was their only loss to a Montana school this season and finish the year 21-2.
Worster scored a game-high 26 points and hit seven 3-point shots, many of them coming from NBA range. Trailing by 12 with less than six minutes to go in the fourth quarter, Worster hit back-to-back 3-point shots to help spark a furious comeback.
Worster also had a chance to win the game at the end of regulation, but a double clutch 3-point shot hit the back of the iron and clanked out.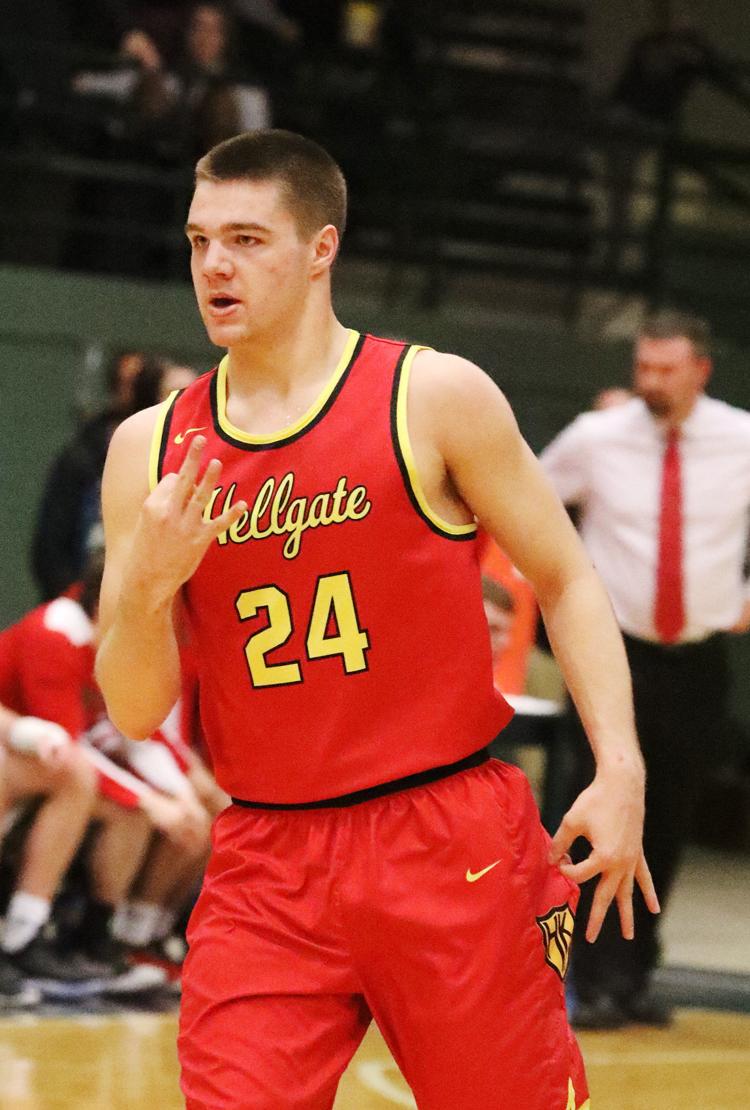 "They battled, they never quit, were down 40-28 with I think five and a half minutes to go and we stayed together, we preached it all year long," Hellgate head coach Jeff Hays said. "We stayed together, we battled back, we had a couple opportunities to win and it just wasn't meant to be tonight. Sometimes that's the way it goes."
Sometimes you just need a hero. And in the biggest game of his life, Brett Clark came up unbelievably huge on a night where star Bozeman seniors Ryan Lonergan and Ryan Simpson were a combined 6-of-19 from the field.
"Brett has started every game all year long," Holmquist said. "Been a staple in everything we do, but he doesn't get the attention the other guys do and that's pretty fun when a kid like that, who works his butt off, gets rewarded."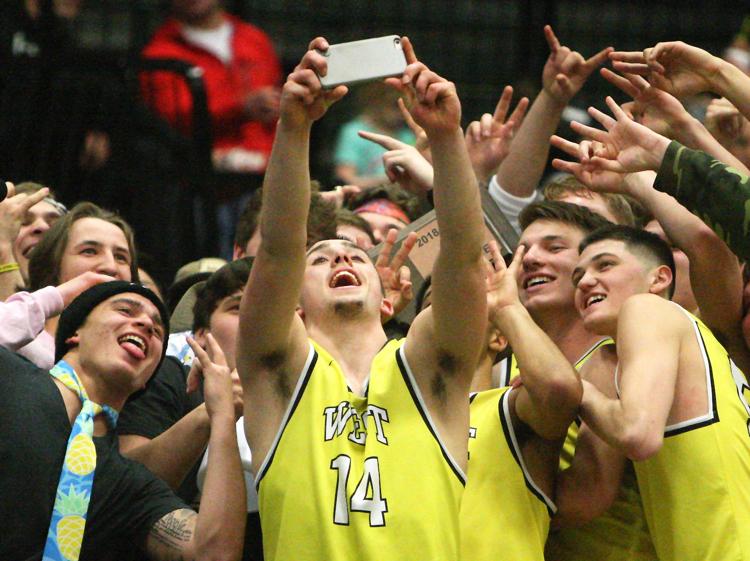 THIRD PLACE GAME
BILLINGS WEST 53, GREAT FALLS 40 
Cade Tyson doesn't miss free throws very often.
Well now, at least. In fact the Billings West guard hit all 19 of his attempts at the state tournament, including going 6-of-6 in the Golden Bears' 53-40 win in the third-place game over Great Falls High.
But it wasn't always like that for Tyson. In Billings West's first 10 games he hit just 66 percent of his free throws and was disappointed in himself about it. The 5-foot-9 junior gets to the line a lot and he knew it was hurting his team.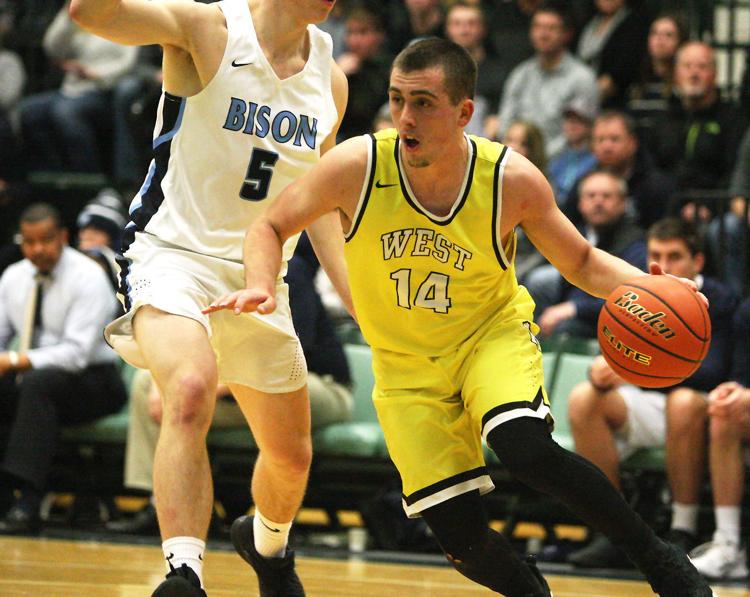 "I started the season slow and I just had to get refocused and shoot every one like it was my last," Tyson said. "I had to treat every one like it was important and not get lazy on them."
His final two of the season came with a bit under two minutes left in the game and helped the Golden Bears get the final bit of separation they needed. After going up by 11 in the third quarter, the Bison trimmed West's lead to just one with a bit under six minutes left in the fourth quarter.
But Tyson then hit a tough shot underneath the basket which helped spark a 10 point run over the final five minutes. Great Falls was held without a made field goal for the final 6:43 of the game.
As the final seconds ticked off, the Golden Bears could start celebrating a strong end to the tournament after suffering disappointment at the hands of Bozeman in the semifinals.
"Last night was a tough one. You come into these things and your aspirations are to win a championship," Billings West head coach Kelly Darragh said. "Lot of times you turn around after that semifinal and that's a tough one to get up to. But they're so competitive, they played their butts off and I felt like we really closed that thing out."
Tyson finished with a game high 23 points and added on three rebounds. Jesse Owens bounced back well after a disappointing night shooting the ball against Bozeman to score 18 points and also pulled down five boards.
Blake Thelen and Keegan Bistodeau each had 12 points for the Bison. Riley Callery was also in double figures with 10 points.
"I can't say enough about my senior group," Darragh said. "They're leaders, they're great people, they're great students … we got kids that are football players, we got kids that are golfers, we got baseball players, they're the type of kids that you want your kids, your nephews that you want them to grow up to be like.
"You couldn't ask for a better group."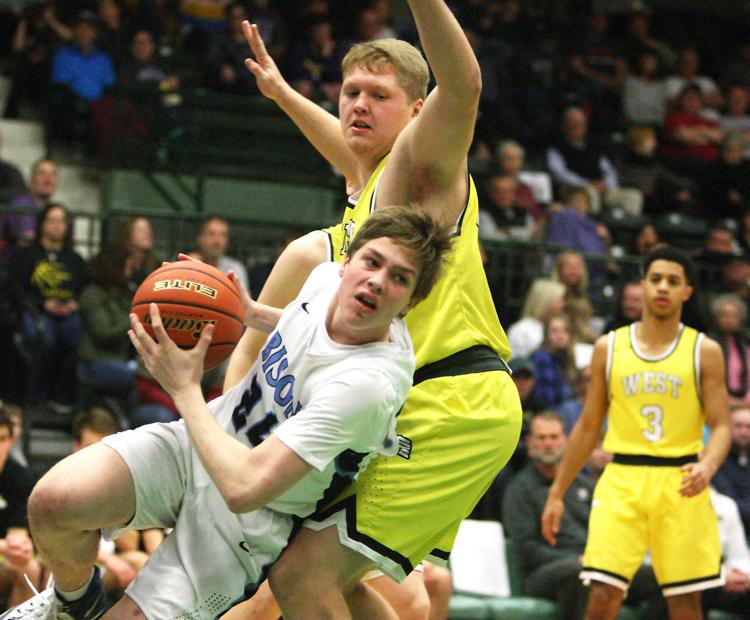 LOSER OUT
BILLINGS WEST 51, MISSOULA SENTINEL 43
Cade Tyson and Jesse Owens each had 10 points as Billings West topped Missoula Sentinel in loser-out action on Saturday morning.
The teams traded shots back and forth through the first half and Spartans briefly took the lead in the second quarter. But West was able to rally and came out of the second half strong, getting out to an 11 point lead in the third quarter. Neil Daily had 14 points for Sentinel, while Tony Frohlich-Fair had 10.
Sentinel finishes the season 17-8.
GREAT FALLS 59, HELENA HIGH 44
Three players scored in double figures as the Bison topped the Bengals in loser-out action.
Kyle Torgerson had 12, Blake Thelen had 11 and Cash Abbott had 10 for Great Falls. Thelen also added on seven rebounds and two steals. Alex Johnson had 12 points for Helena, who finishes the season 13-11.
The Bengals shot just 16-of-48 for the game and only hit two of 11 3-point attempts in the second half. Great Falls also found itself at the line a bunch, hitting 19-of-28 free throws. Helena was 7-of-12 from the line. Helena lead by two after the first quarter, but only scored five points in the second to get itself into a hole.