BUTTE — With time expiring in the third quarter, Rollie Worster rose up for a deep 3-point shot like he had so many other times in Hellgate's first round Class AA state tournament game against Skyview.
There wasn't a Falcon near him and the ball slipped through the net, as it had in all but one time before. Then he shrugged, much like Michael Jordan's in Game 1 of the 1992 NBA Finals. There simply wasn't an explanation as Worster ended with 32 points and eight rebounds, hitting 11-of-16 shots and 5-of-6 attempts from 3-point range.
Most important for Hellgate, they got a 65-56 win and move on to the state semifinals.
"Just came out in warmups and I was shooting it well," Worster said. "My teammates found me, got me open, so yeah, [those shots] just felt good."
Trailing for most of the first half, Worster found a tiny bit of an opening right before the second quarter buzzer and, well, splashed home a shot from behind the arc. It tied the game at 25 and the teams would battle back-and-forth through the third quarter before Hellgate was finally able to take control of the game.
Skyview started to unravel early in the fourth quarter and with 5:20 left in the game, were called for an offensive foul, followed by a technical foul. The 10-0 Knight run that followed turned a two possession Hellgate advantage into a 15-point lead.
"We preach to our guys all the time about maintaining poise," Knights head coach Jeff Hays. "The poise to handle the delay in the game and we made four free throws. That gave us a bit of breathing room and I thought the next few minutes we continued to defend really well, we executed on offense."
Hellgate out-rebounded Skyview by 11, despite the fact the Falcons start 6-foot-7 defending state high jump champion Julius Mims and 6-foot-10 senior Zach Schacht, a Montana Western basketball signee.
The Knights had four players with four or more rebounds, including a 12 point, 10 rebound double-double performance from junior Abe Johnson.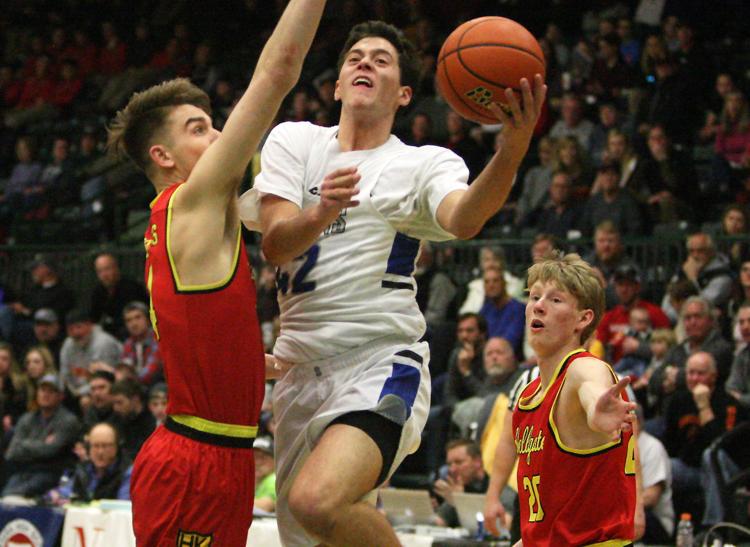 Big rebounds late in the game were part of what allowed Hellgate take and build their lead.
"The biggest part in the second half was just defensive rebounding," Worster said. "That's what coach talked about in the timeouts and we all just struck to it, we had to box out, play hard, to play good defense."
Daniel Davis led the way for Skyview with 15 points, while Cam Ketchum added on 12. Mims had 11 points and 10 rebounds.
The loss slips the Falcons to the consolation bracket, where they'll face Missoula Sentinel at 10:30 a.m. on Friday morning. Hellgate, meanwhile, will take on Great Falls High in the second semifinal game at 5 p.m.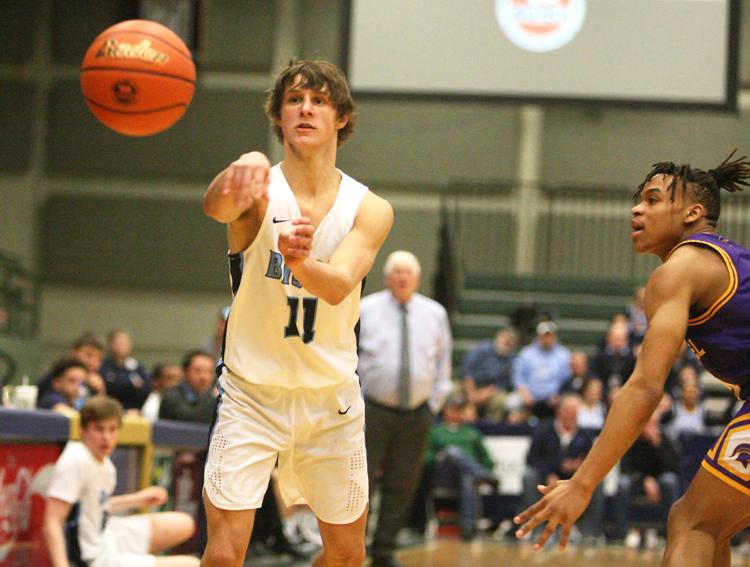 GREAT FALLS 57, MISSOULA SENTINEL 46
After falling in the state semifinals last year, Great Falls is calling this season a redemption tour.
So far, they're on the right track. Behind a double-double of 14 points and 10 rebounds from Blake Thelen and an 18-point effort by Kyle Torgerson, the Bison were able to rally past Missoula Sentinel for a 57-46 win.
"It's always hard coming out in the first half at state and in the first half I don't think we handled it very well," Torgerson said. "We kinda stuck in the game and in the second half we settled down a little bit."
Great Falls trailed by one at halftime and as many by seven in the first quarter, but quickly rallied to close the gap. Battling back-and-forth through most of the third quarter, Cash Abbott splashed in a 3-point shot at the 1:44 mark and then stole a pass on Sentinel's ensuing possession which he laid up. The Spartans wouldn't lead again and part of the reason was a barrage of Bison makes from the free-throw line.
Great Falls was 15-of-17 at the line while Sentinel was 10-of-16. Torgerson had 11 of the 15 makes at the line for the Bison.
"They're probably one of the biggest parts of the game," Torgerson said. "You hit a couple free throws, you go up by a couple points, it's a huge factor, so I thought we did a great job today."
Sentinel's Tony Frohlich-Fair was tremendous throughout the game and especially in the opening minutes. He hit several early shots and finished with a team-high 12 points. Scott Malikie had a double-double with 11 points and 13 rebounds, seven of them offensive. He also tacked on three blocks.
But shooting was an issue throughout the game and the Spartans hit just 33.3 percent of their field goal attempts and were 2-of-17 from beyond the arc. Great Falls, meanwhile, was a much more efficient 18-of-40 from the field.
The Bison will play Missoula Hellgate in the state semifinals on Friday at 3:30 p.m. while Sentinel falls to a loser-out game with Billings Skyview. That loser-out contest will be played at 10:30 a.m.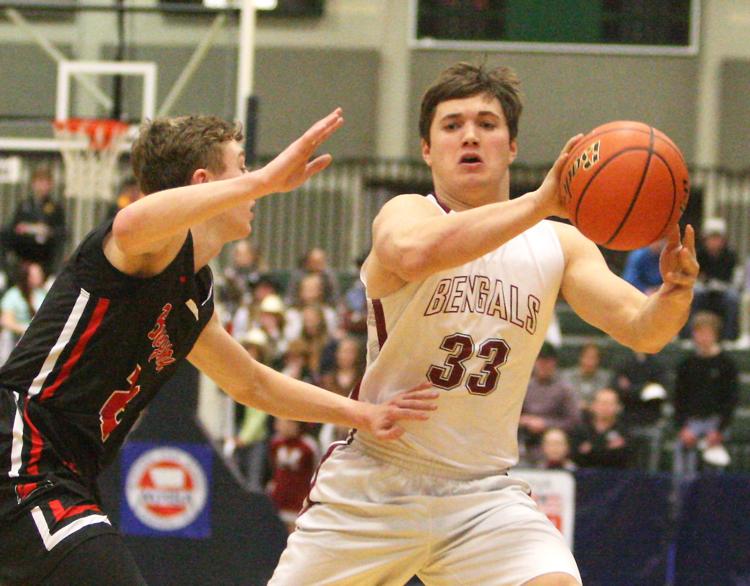 BOZEMAN 61, HELENA HIGH 48
It came in fits and spurts, but the Bozeman offense was able to do more than enough to get past Helena High in the first round of the Class AA state basketball tournament.
Leading by 13 at halftime, a slow start to the third quarter eventually ended in an 11-3 Hawks run that helped put the Bengals away. With the 61-48 win, Bozeman moves into the semifinals for a game against Billings West — a team they've already beaten twice this season.
"At this point it's all about survive and advance," Bozeman head coach Wes Holmquist said. "I thought for stretches I really liked what we were doing. I thought we got a little bit complacent, we got up 50-30 and I thought we kind of let our guard down a little bit.
"Silly, unforced turnovers. Not talking as well on defense, but that happens throughout games."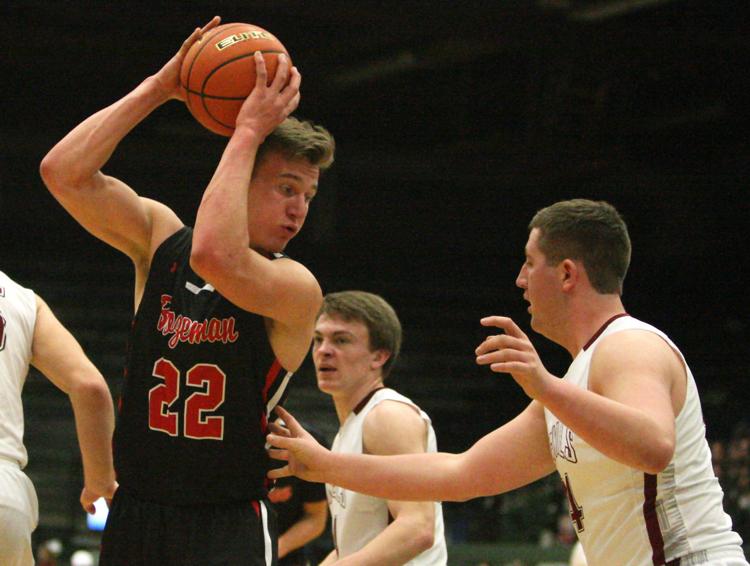 A veteran squad with aspirations of a state title after a runner-up finish last year, the Hawks looked in control of the game from the tip. Senior forward Ryan Lonergan — a Montana State football commit — got shots when Bozeman absolutely needed them and finished with 18 total points, 10 of them coming in the first half. He notched a double-double with 12 rebounds and had four offensive boards.
Ryan Simpson, who has been back from a wrist injury for just eight days, had just seven points but added on 13 rebounds.
An important piece of their team, Simpson's return has been just as important mentally as it has been physically.
"It's huge. He's a force out there and draws a lot of attention," Holmquist said. "I'm just really proud of him. He's fighting through it, he's not 100 percent healthy … he can do so many things to help us on both ends of floor, he doesn't need to score 20 points for us to be good. The guys are just excited to have him back."
Carter Ash added on 12 for the Hawks, including a near half-court shot at the first-half buzzer. Jackson Coles was also in double figures with 10 points and, like Ash, hit an impressive buzzer-beating shot.
Connor Murgel had 13 on 16 shots to lead Helena, while Pierce Brown had 11. The Bengals shot just 17-of-60 for the game and 5-of-31 from 3-point range.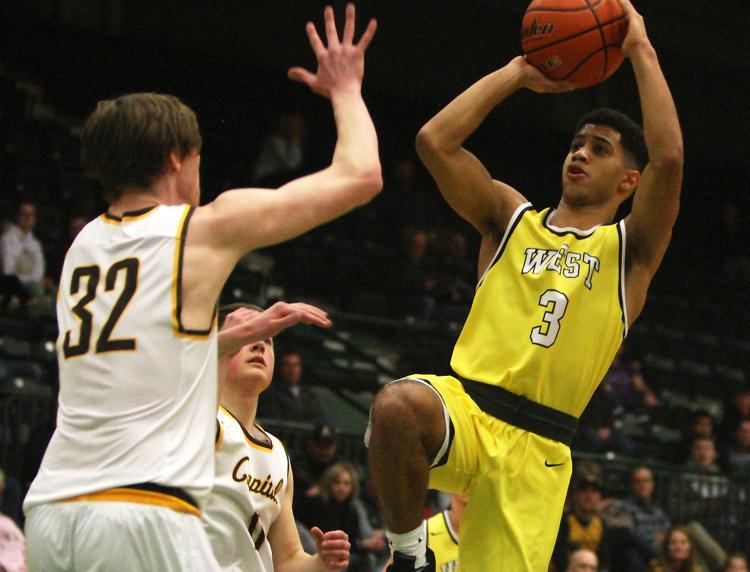 BILLINGS WEST 56, HELENA CAPITAL 50
If Billings West's Jesse Owens ends up hitting a buzzer-beating jumper to win the state championship, Golden Bears head coach Kelly Darragh won't really be surprised.
The senior guard just kind of has a knack for hitting those sort of shots. And while West didn't need a gamer-winner to get past Helena Capital in the first round of the Class AA boys, Owens did hit a pair of buzzer beaters in the 56-50 win.
"The kid lives for big moments," Darragh said. "I mean it's just in his DNA. Anything he does, it's just kind of old hat by now."
The senior guard's first late-clock shot came in the first quarter off a nice pass from Peyton Streiff. Driving to the rim, Streiff flipped it back to Owens, who hit an impressive off-balance 3-pointer to beat the clock.
His second came with a bit under five seconds left in the third quarter came on a wide-open shot from the right side of the arc. It hit nothing but net and gave West a six-point lead — Capital would get no closer than four the rest of the way.
Owens finished with 19 points on just 10 shots and dished out five assists. He was 4-of-7 beyond the arc for the game.
"I just try to do whatever the team needs, whether that's defense, offense, passing, rebounding," Owens said. "I'm not coming in here saying I'm going to score 20 or whatever points, I'm doing whatever the team needs to be done in order to get the win."
Cade Tyson also hit four triples for West, who were 9-of-11 from 3-point range in the first half. Capital was strong from beyond the arc over the first two quarters as well, but cooled off over the final two.
The Bruins were able to hang around, but weren't able to get the shots they needed to fall late in the game.
Bridger Grovom finished with 14 to lead the Bruins. West will play Bozeman in the state semifinals on Friday afternoon at 3:30 p.m. while Capital will take on rival Helena High in a loser-out game at 9 a.m.