BILLINGS — It's been a heavy two weeks for the Huntley Project boys basketball team.
Joan Branger, the wife of Project coach Mark Branger and grandmother of senior forward Noah Bouchard, passed away on Jan. 23 at the age of 67. She was diagnosed with breast cancer in November and died of complications from chemotherapy (it gave her sepsis, Mark Branger said).
The Red Devils have worn pink warmup shirts in the three games since Joan's death, including Tuesday's Southern B contest at Lodge Grass. Led by Lodge Grass athletic director Dee Pretty On Top and other administrators, the Indians honored Joan before tipoff. Lodge Grass coach Josh Stewart and his players donned pink shirts with the words, "We are with you," on the front. The Indians also gave gifts to Branger and Bouchard shortly before the game began.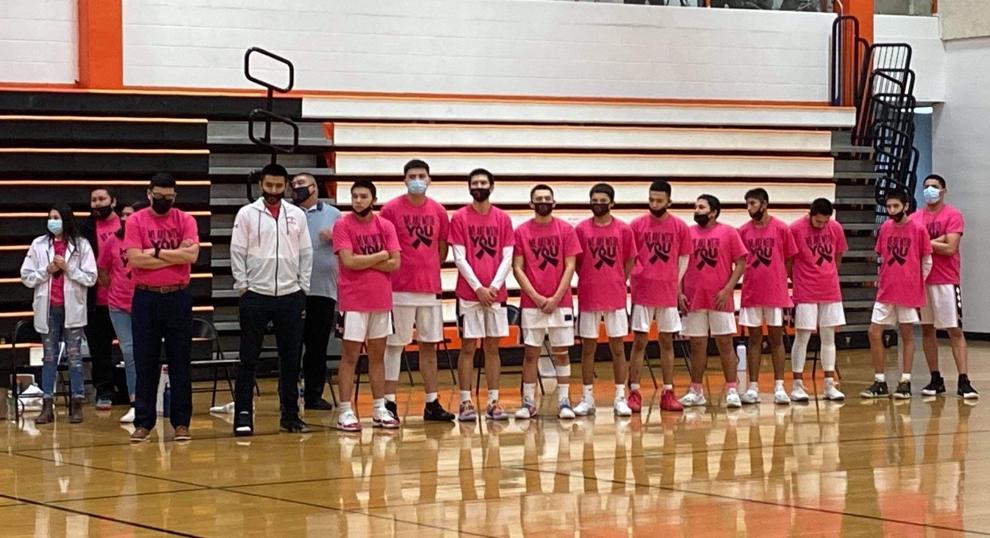 Branger and Bouchard did Joan proud in a 64-52 win over the top team in the 406mtsports.com Class B rankings. It was a tight game, as it usually is between these two, but the competition was entirely friendly thanks to the kindness Lodge Grass showed to the No. 2-ranked Red Devils.
"I was very, very touched by the support of the Lodge Grass community," Branger told The Billings Gazette and 406mtsports.com by phone Tuesday. "Josh Stewart has become one of my very best friends. He's a wonderful man as well as a good coach, and the Lodge Grass community has given me so much prayer, love and support. I just can't thank them enough."
The last 11 days have been "extremely emotional," Branger said. He and Joan, who were married for 23 years, did everything together, be it traveling or supporting their grandchildren. She rode on team buses, washed team uniforms and made scotcharoos for the players.
"My wife was truly my very best friend and my soulmate," Branger said. "We lived life, but that does not take away the deep sorrow and the depth of love and sadness that I now have."
Bouchard called Joan "a cornerstone."
The gifts Lodge Grass gave to Branger and Bouchard consisted of Pendleton blankets, sage and a couple of shirts.
"I wanted him to know that we're there to support him, and he'll always have friends in Crow country," Stewart said.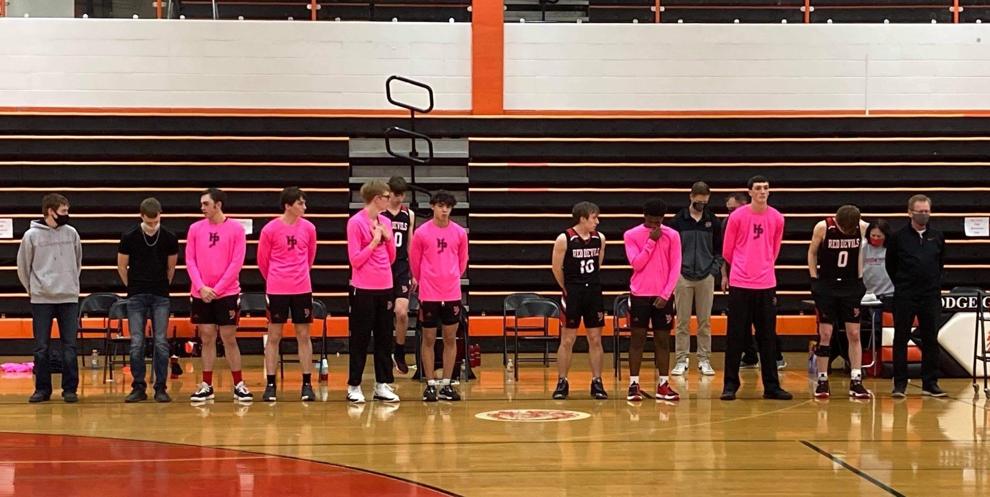 While Tuesday's game was close most of the way, Project was in control for the majority of it. A 7-0 run to end the first quarter put the Devils up 19-12. The Indians cut the deficit to 28-26 at halftime and 41-40 through three quarters, but Project began the fourth on an 8-0 run to all but put the game away.
"The idea of playing the No. 1 team in the state was able to give us the energy even when we were tired," Branger said.
Bouchard led all players with 24 points and grabbed 13 rebounds.
"To put those numbers up against this team, that's easily the best game of my high school career," Bouchard said.
Jake Fox added 15 points and 10 rebounds for the Devils, and Tim Rose had 10 points and seven assists.
Malachi Little Nest led Lodge Grass with 21 points, Ty Moccasin had 12 and DC Stewart added 10.
The Indians were playing without Damon Gros Ventre for the second straight game. The all-state junior sprained his right ankle on Friday at Baker.
Project lost to Lodge Grass 66-58 on Jan. 8 in Worden. A week later, the Devils beat Colstrip in overtime on a Bouchard buzzer beater, and they earned an overtime win over Shepherd a day later. Bouchard hit another game winner on Saturday at now-No. 8 Red Lodge.
The Devils hosted Joliet on Jan. 23. Branger missed that game and a road matchup with Roundup this past Thursday.
"The team's dedicated the season to her, and it will be an emotional ride the rest of the season," Branger said.
Games like Tuesday's have provided "a distraction from thinking about losing" Joan, he said.
"It's actually helping me heal some because I know she's there with me," Branger said. "She really was just a basketball fanatic. She just loves the sport, and was my great support. I know that I feel that she's looking down and she's still supporting me."