BILLINGS — The Murnions could detect some chuckles from the spectators during pregame introductions.
It was Nov. 30, 2018, and the Jordan boys basketball team was beginning its season at Circle. Fans quickly noticed a trend as Jordan's starters were announced.
Starting at guard, a freshman, Dawson Murnion. At the other guard, a junior, Cole Murnion. At center, a junior, Douglas Murnion. At forward, a junior, Ed Murnion. And at the other forward, a junior, Keenan Murnion.
"The whole crowd was like, 'Holy smokes, it's like a clown car over there,'" Cole recalled.
Reactions like that persisted as opponents saw Jordan's starting five for the first time. Some people asked the junior Murnions if all four were brothers, an impressive feat for the mother if true. But no, those four are cousins — Cole and Keenan are first cousins, as are Douglas and Ed. Dawson is Ed's brother.
The five Murnions are enjoying their second and final year together in Jordan's starting lineup. At 10-4, the Mustangs have already won more games than last season, and they hope to reach the Class C state tournament. If they do, they can thank the talent and chemistry of the Murnions.
"They have this kind of connection that's something else. It's almost weird," junior center Dalton Bliss said. "It's fun to watch, though."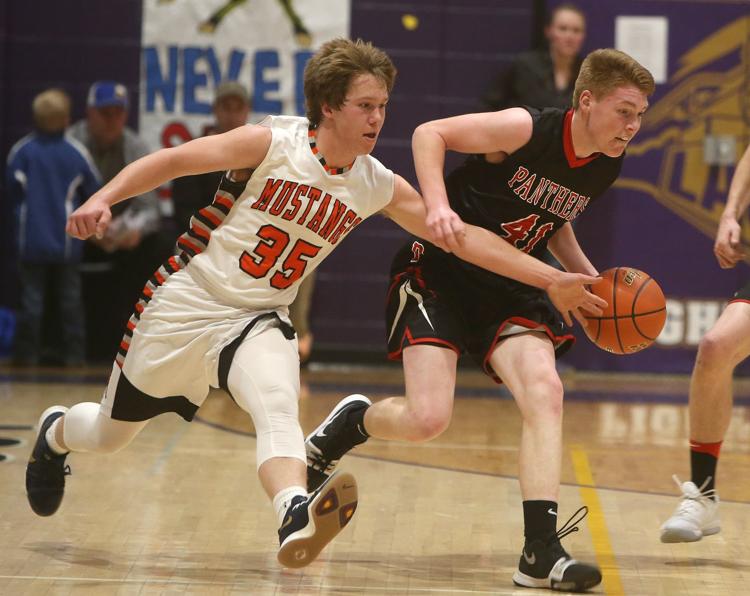 Between last basketball season and this one, Jordan added another Murnion: Tyler Murnion succeeded Loren Edwards as head coach.
Tyler was hesitant to take the job largely because he wanted to watch his sons, Dawson and Ed, play without the added stress of coaching them. Plus, Tyler is usually busy during the winter trying to manage his farm. But Jordan has almost literally been "The Big Dry" so far this winter, giving Tyler more time to focus on basketball and less on clearing snow.
"I thought it was gonna be a lot more stressful, and it has been plenty, but these guys are great to work with," Tyler said.
Jordan might be the first Montana high school to feature five relatives in a basketball starting lineup. The Murnions recognize the rarity of their accomplishment, but they're not surprised it happened. Considering the prevalence in Murnions in Garfield County, this was almost a matter of time.
John and Pat Murnion settled in Garfield County more than a century ago, according to Tyler, who is John's grandson. Most of their children and grandchildren put down roots in the area, too, largely on farms and ranches.
Garfield County has more than 1,200 residents, per the 2010 Census. About 140 are Murnions, Tyler said.
Keenan's father, Fred, and Cole's father, Lee, each have 15 siblings. Cole is one of six children. The majority of those family members are male, so the Murnion name is in no danger of disappearing anytime soon.
The Murnion boys go to family reunions knowing that they won't have time to talk to every family member, even aunts and uncles. Some Murnions have never met.
Many Garfield County residents are connected to the Murnions even though they don't share the same last name. Bliss, for example, is distantly related to the Murnions through marriage.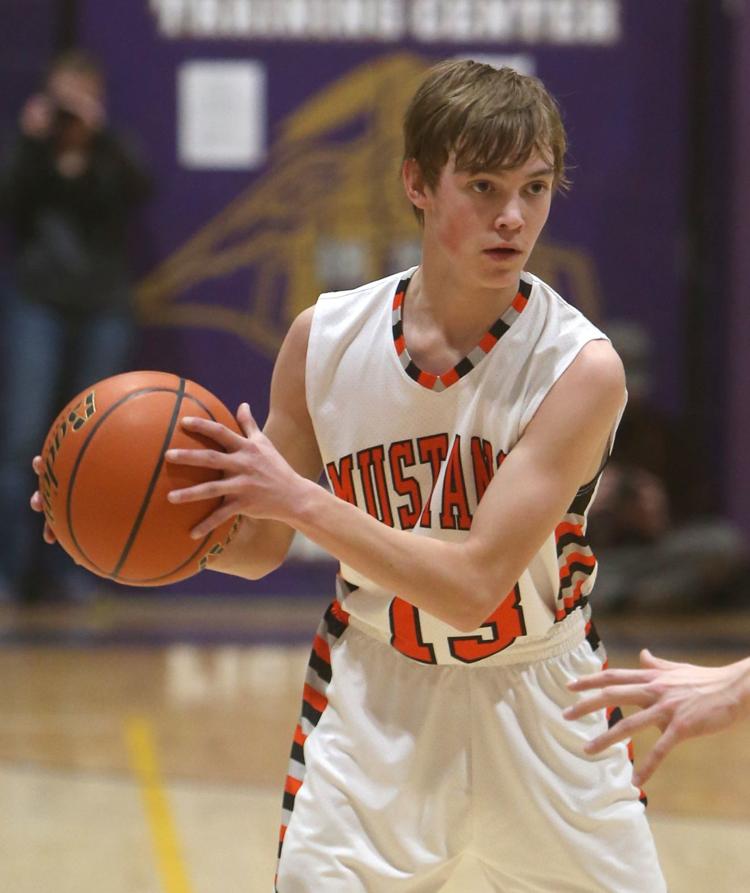 "You've certainly gotta date out-of-town girls," Cole said with a laugh.
Murnions have starred in many sports, and none have been more successful than the current crop of boys at Jordan. Cole, Dawson, Ed and Keenan have played key roles on the Mustang football team, which reached the 2018 6-Man state title game and won it this past fall for the first championship in program history.
The 2019 title game was played on Nov. 23, and Jordan's basketball season began less than two weeks later. The adjustment from football to basketball was difficult, the Murnions admitted, but the Mustangs have been competitive regardless. They split their two games with Circle and Ekalaka, and their other two losses came against No. 4-ranked Melstone, which won by six points at Jordan on Dec. 14.
The four senior Murnions have played together for about a decade, and they demonstrate their familiarity through their (often non-verbal) communication on offense and defense. With a glance, Cole can get his teammates to move to specific spots on the floor. In transition, each starter seems to know exactly where the other is positioned and where they're headed, as if they're telepathic, Bliss said.
"We make a lot of good cuts, a lot of good passes, a lot of fancy plays, and that's because we've played together so long," Keenan said. "It's the highest form of chemistry."
Because they know each other so well, the Murnions aren't daunted by big deficits or long runs from their opponents, Keenan added.
Jordan's regular season will wrap up next week, and the state tournament is 35 days away. The senior Murnions are trying not to think about the end. They want to enjoy the final days of their unique careers.
"This season's definitely one for the books," Ed said. "It's been so fun."
Next basketball season, Jordan's pregame introductions won't sound so repetitive. But Dawson probably won't be the only Murnion on the team. Jason Murnion, Cole's brother, is an incoming freshman.