2020 state basketball tournaments were something that I don't think I'll ever forget. In my mind, there's a dividing line between what life looked like before and after because of how quickly it felt like everything changed. I was in Butte for the Class B tournament and there are images that will forever live in my mind: Fairfield and Three Forks playing for a share of the championship unknowingly, watching Lodge Grass dance as they mingled with Fairfield after being named co-champions, and Forsyth taking photos in an empty gym the morning after. 
This story serves as a snapshot of what it was like living through one of the most unique moments in time I've experienced and serves as a reminder of making the best of every situation. - Lindsay Rossmiller
---
BUTTE — The morning they should have been preparing for their state championship game, the Forsyth Dogies were taking team pictures in an empty arena.
As they pulled purple jerseys over their travel clothes, they arranged themselves in various configurations as parents and family members, also wearing purple, took pictures and milled around the Butte Civic Center floor debating the best routes home Saturday.
Workers coiled cords, and banners that had been hung just days before drooped from the railings.
When they finished, all the jerseys replaced with sweatshirts and backpacks gathered up, the team huddled at the west end of the floor. They counted down and yelled, "No regrets!"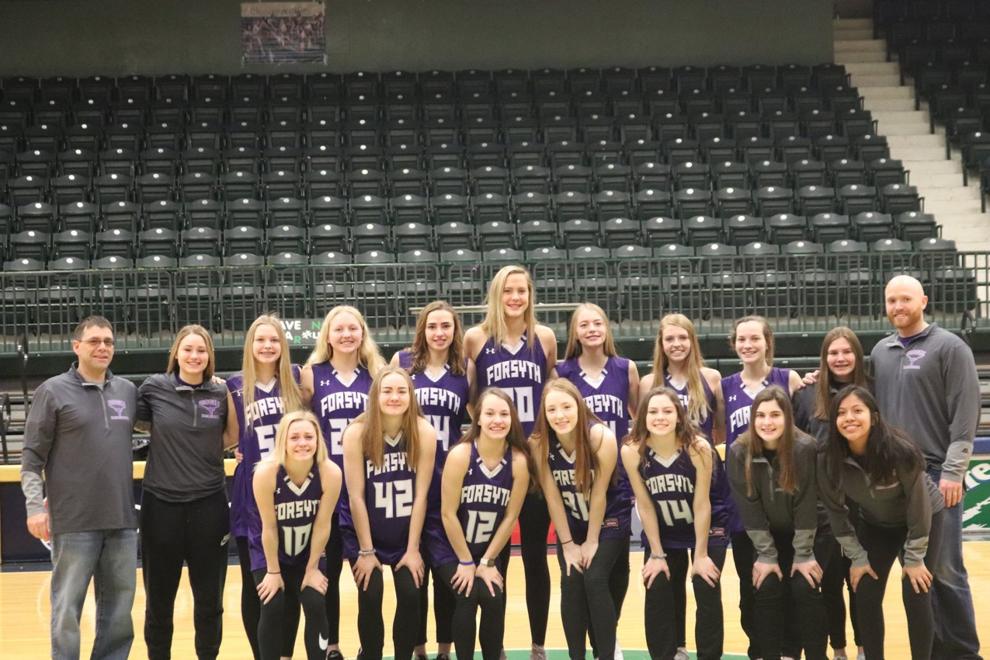 Less than 24 hours earlier, Forsyth had defeated Big Timber in the State B semifinal and left the Civic Center thinking about the championship against Missoula Loyola. It was the first time the Dogies had even made the final game and they were excited to be making history.
"We were getting ready to be focused on today," junior Lindsey Hein said.
But while they ate at the Montana Club, coach Rian Pinkerton received a phone call from their superintendent. His team quieted at the table and held their breath waiting for news.
The tournament was going to be canceled and the MHSA was naming all of the winners of the semifinal rounds co-champions.
"It's really tough to tell a team anything like that," Pinkerton said Saturday morning. "They were all holding hands and had their heads down and unfortunately I had to tell them the decision's been made and that it's done and we are co-champions and some way or another we have to be satisfied with that."
Since girls basketball was added in Montana in 1972, the only year without a champion was 2002 when basketball and volleyball switched seasons. Aside from that, there has always just been one champion per class.
"The fact that we got here and no matter that we'd never even made it to a championship game is huge and we left everything on the floor in our last game," Pinkerton said. "We played one of our better games of the season and we were getting better as the season got longer and we were prepared for the next game, but we were happy when we left."
Hein said that for her senior teammates it was especially difficult as they all processed the news.
"It was really hard for them because they didn't know until after that they had played their last game," she said.
Both Hein and Pinkerton described a somber scene around the table initially.
"It almost sounded tragic at first. And then after about five or six minutes, one of our seniors remembered that our assistant coach said if we won state he would shave his eyebrows off," Pinkerton said. "So that helped to lighten the mood pretty quickly."
They returned to the hotel where rather than doing game prep they instead swam and enjoyed one last night together.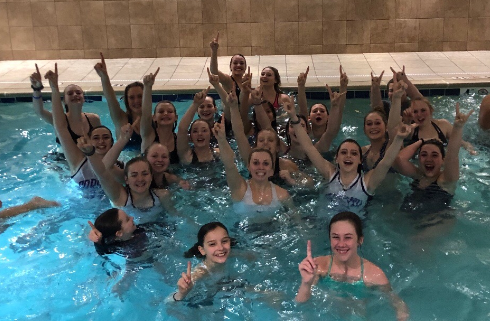 Questions about whether the trophy or banner would say co-champion would be sorted out later. But they did know something for sure.
The Forsyth volleyball team won a state title in 2014 and many of the basketball players had older sisters they'd watched. They remembered how those Dogies were rewarded.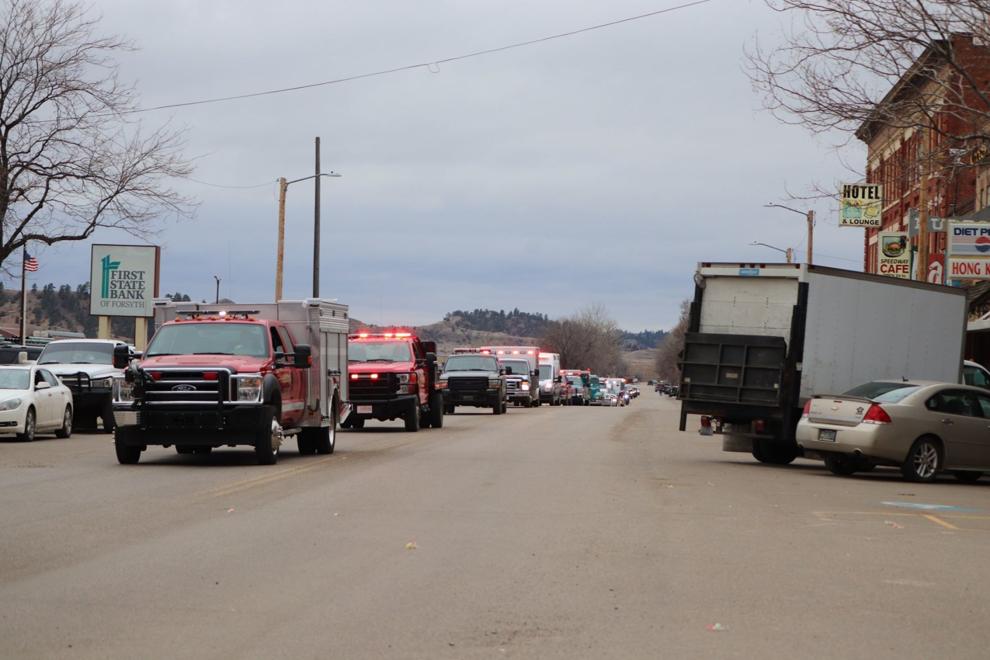 Which is how on a blustery gray day, people in Forsyth lined Main Street to see the Dogies ride into town on fire trucks to honor the town's first girls basketball state champions.
"Pretty much the whole town was on Main Street," Hein said.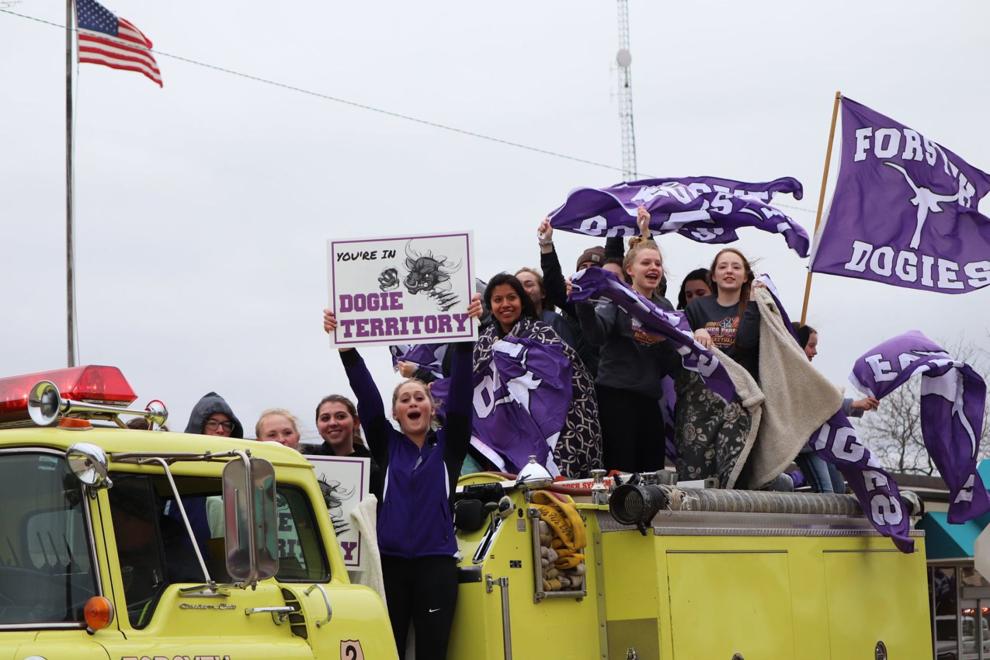 They rode up the street, sirens blaring, purple flags flapping and coats pulled tight against the wind.
Fire trucks and ambulances and sheriff's vehicles with lights flashing formed a line and a procession of cars and trucks honked behind the bus, many with windows still decorated. They headed to the gym as the community cheered.
"Butte's so far away, but they were with us all the way," Hein said.
In the meantime, superintendent Dinny Bennett had driven back from Butte as well with something for the team. While they still didn't have a trophy, they finally had the game ball and bracket.
So for the first time since being named co-champions, they were able to take a picture with something to prove it.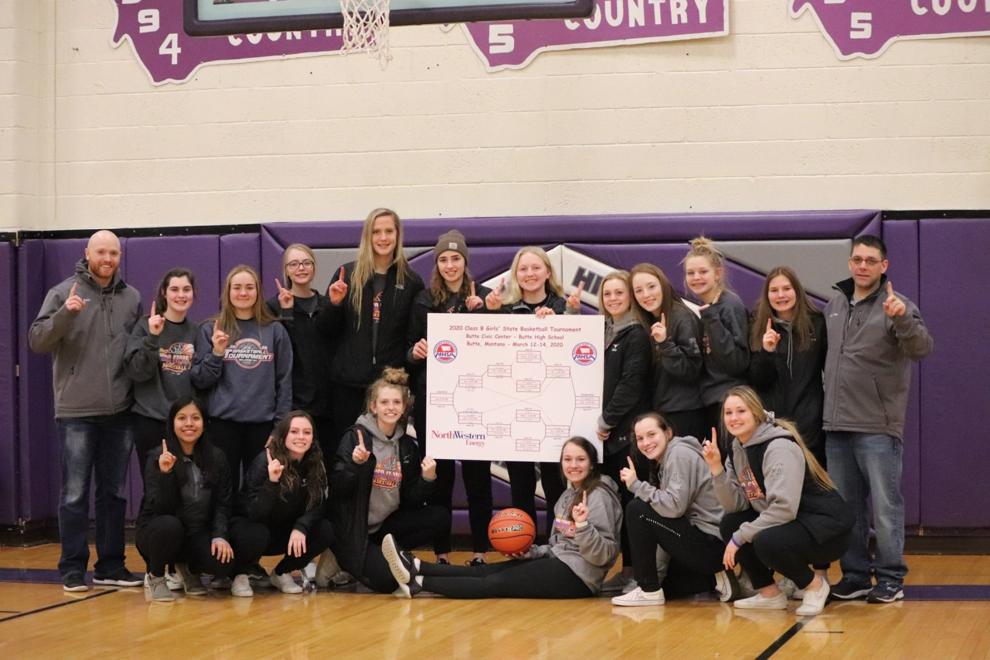 "This weekend what's happened is going to be something that goes in the history books throughout the world," Pinkerton said. "I mean, whether it was right or wrong, who knows, but it's something that's stamped there forever now and it's going to be tagged with these girls and it'll be something that will be a piece of conversation to their families as they grow older."
Before they left the gym and headed home, assistant coach David Bierlein, true to his word, made good on the deal he had made with the team weeks ago. He shaved off his eyebrows.
By then, the 'co" in front of "champs" didn't sting quite so much.
As Hein put it, "We still made history in Forsyth."