GREAT FALLS — It has been a unique season for Hellgate basketball coaches Rob Henthorn and his son, Brady Henthorn.
While Rob Henthorn is officially the head coach for the Knights, it's been his son who has taken over many of the sideline duties this year. Brady's input into things such as playing time and running practices is a lot of times his own.
Rob does a lot of the administrative details, such as sending emails and communication with parents and others, but he sits on the bench while his son coaches during games. Since Brady is the one roaming the sidelines, the official MHSA Class AA tournament roster has him listed as head coach.
"It's a father-son relationship, it's kind of unique that no one understands," Rob Henthorn said Thursday afternoon. "He can just look at me and knows what I want and vice versa. It doesn't really matter who is the one standing up other than he's never done it before."
Brady took over the extended duties and while he found it hard to exactly put a label on his job, said the best way to look at it was the fact they were co-head coaches. Brady has taken on these extended duties throughout the year and both said it was easy for the team to work with them, albeit in slightly different roles.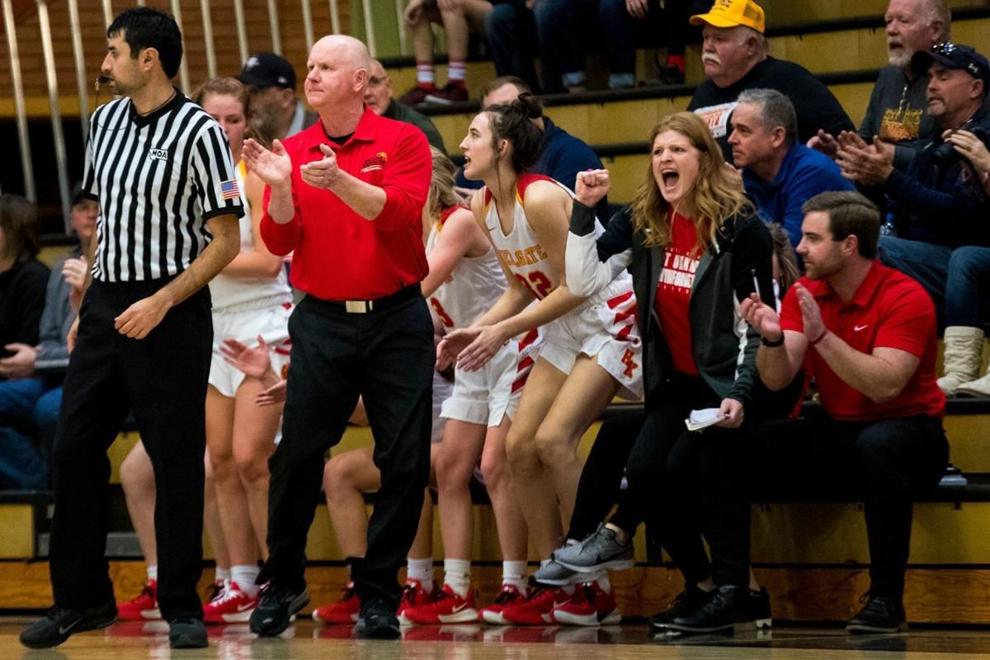 Rob, who joined as head coach in 2015, says he has no plans currently to retire. Brady, who in 2015 was in college, began working with Rob as an assistant around that time.
Brady helped lead Hellgate to the 2013 State AA boys basketball title and said he did not know he was going to be taking on an extended role with the program until before the first game.
"It was just kind of like, he said, 'You deserve it. You're gonna be standing now,'" Brady Henthorn said. "It caused some (initial) confusion for some refs or other coaches and stuff, but it kind of comes down to what we say to all the girls in our programs: 'Just everybody's got a role.'
"You know, my dad is the program, he brings the energy, he's just big hearted, does everything possible, puts in all the time, watches the film and stuff, and I got the easy job where I'm just really there for the X's and O's and I'm just coordinating it."
Brady added: "Bottom line, he's still the head coach, he's the guy, he's the man. I have the easy job."
The COVID-19 pandemic, Rob said, was also a factor in the decision.
Rob is an extended resource teacher at Russell Elementary and was worried he might have to miss time due to quarantining or exposure to the virus. Brady is not a teacher in the Missoula County Public Schools system, so he did not have to worry about exposure in a classroom.
Brady might end up as a head coach somewhere else down the line, but he feels he has a pretty good gig right now. After a 15-1 start to the season, Hellgate is headed to the State AA semifinals.
"The hard thing, though, is I got the best job you can possibly ask for when it comes to coaching," Brady said. "Doing it with people you enjoy, the people that you trust and the people that will listen to you and vice versa. And then having a great group of girls, it's tough to beat the situation, you know what we have going now.
"So, we'll see what comes in the future. But right now, I'm pretty content with where I'm at."
His father seems pretty content, too.
"Once a dad, always a dad," Rob laughed. "And his son always listens to his dad."