BILLINGS — Of the three Division I schools Carter Hughes visited, the University of Minnesota offered him the least amount of scholarship money. The Sidney thrower could have joined his brother, Garrison, at the University of Nebraska. He could have opted for the warmer climes of the University of Arizona.
He chose Minnesota.
"I loved it so much there, so I figured money didn't really matter," Hughes told 406mtsports.com over the phone on Tuesday.
Hughes committed to Minnesota last week and signed on Thursday. The senior strongly considered reuniting with Garrison, now a freshman at Nebraska, but the Golden Gophers won him over.
Minnesota's scholarship offer will pay for around 30 percent of Hughes' college expenses, he said. He plans to compete in the shot put, discus, hammer throw and weight throw, and he will redshirt next year.
He liked that Minnesota isn't too far from Sidney (about 660 miles away), but the track team was the main selling point.
"It was mostly the culture there. The throws crew and coach (Peter) Miller are great," Hughes said. "They're all pushing each other, and it's something I wanted to be a part of."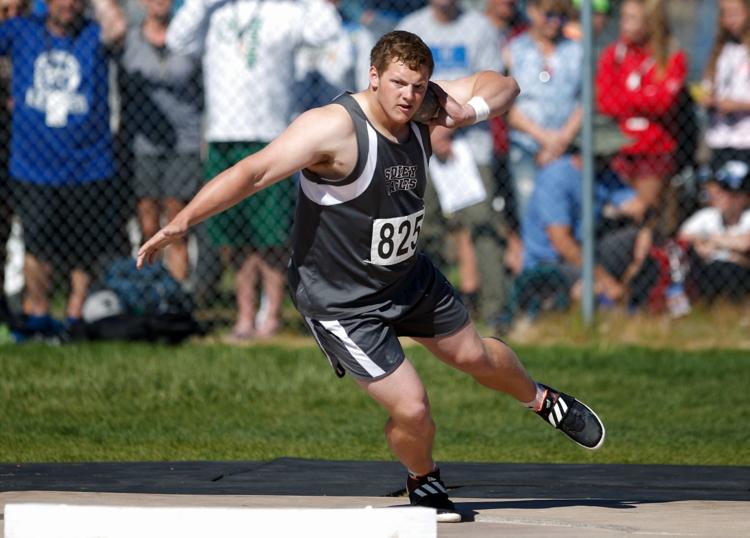 Hughes said it was tough to turn down Nebraska and not compete on the same team as Garrison, but both the Golden Gophers and the Cornhuskers compete in the Big Ten Conference, so the brothers will likely cross paths multiple times in their careers. Plus, their cousin, Mike Herauf, competes in pole vault for Minnesota.
More than anything, Hughes is proud to be joining his brother at the Division I ranks.
"Both my brother and I have worked for it," Hughes said. "It's not crazy surprising to us, but it's pretty cool."
Hughes is the two-time defending Class A state champion in both the shot put and discus. This coming spring, he hopes to go three in a row and set a couple records while he does it.
The Class A state tournament shot put record is 58 feet, 5 1/2 inches, set by Livingston's Chris Emter in 2014. Hughes topped that distance at the North/East Top 10 meet in May with a personal-best 58-6, and he threw 55-6.5 at last year's state meet. His personal record in the discus is 179 feet, and the Class A record is 182-7, set by Colstrip's Jason Small in 1996.
Hughes will be able to chase those records without a college decision hovering over his head.
"It'll definitely be a lot less stressful than last year," he said.
Sidney girls snap losing skid
For the first time in nearly two seasons, the Sidney girls basketball team earned a win.
The Eagles ended a 37-game losing streak with a 45-34 victory over Glasgow last Saturday. Sidney went 0-20 last season and 1-18 in 2016-17. The last win was against Glendive on Jan. 6, 2017 (35-33 was the final score).
Sidney coach Dan Peters and junior guard Maddie Peters, Dan's daughter, hope last weekend's triumph helps steer the program in a successful direction.
"It was really exciting," said Maddie, who scored a game-high 24 points against Glasgow. "It was a big step for the team as a whole. It gave us all a boost of encouragement."
Sidney led Glasgow 8-4 after one quarter and 29-19 at halftime, and it held on despite a second-half scare.
"Glasgow was making a run, and it could've gone either way. Sometimes teams that are used to losing will find a way to lose," Dan Peters said. "I was proud of them for finishing it off."
The Eagles are 1-5 this season and have been blown out in all five losses, so they are still far away from the heights of 2009-10, when they finished second at Class A state tournament.
Sidney's decline this decade can't be attributed to one factor, but coaching turnover has certainly contributed. The Eagles have funneled through 15 coaches in 13 years, according to Dan.
Dan is in his first year as head coach, and he said he's willing to "work as long as I need to turn it around." In addition to Maddie, he has another daughter, Sophie, in eighth grade.
"I didn't take (the job) for my daughters. I took it for all the girls. It was a little rough to watch last year," Dan said. "Just tried to see how I could help out."
Maddie didn't play basketball last year, and she said the team's losing ways contributed to her absence. In fact, several prospective players didn't come out to play this year, Dan said, mainly because of the losing. Dan played a large role in Maddie's return to the hardwood this season, she said, and she felt motivated to help the program return to its winning ways.
Maddie and Dan hope the Eagles can compete for a state tournament berth before Maddie graduates, but they realize improvement requires baby steps. Dan started a kindergarten-to-fourth grade program this fall in hopes of sparking the process.
All Maddie and Dan hope to accomplish the rest of this season are a couple more wins and some other signs of growth that are harder to measure. 
"I never expect to lose, I never want to lose. Everyone here expects we're gonna lose," Maddie said. "I hope we can change that this year."
Wacker's hot start
The Melstone girls basketball team is just 3-3 this season, but it would certainly be worse without Draya Wacker.
The 5-foot-4 freshman point guard is averaging 23 points per game, with 28 points in a 43-27 win over Manhattan Christian and 34 in a 65-62 win over Wibaux.
Though she's young, Wacker isn't surprised by her early production. She even played on Melstone's varsity team last year as an eighth grader.
"It's always been my role to score the ball," she said over the phone on Saturday. "I've always had high expectations for myself. I've been playing since I was little."
Wacker's father is well-know roper Jody Wacker, and her brother Brayden Wacker played basketball for Rocky Mountain College. Her sister BreElle Wacker owns the girls state record for most 3-pointers made in a game (12 against Billings Christian in 2015-16). 
Draya said her mother Tamara Wacker, a teacher and cross country coach at Melstone, has also been instrumental in her life and basketball career.
"She would always make time to come rebound or help me with my shooting form," Draya said. "I would never be where I am today without my family."