Basketball is a game of skill. Some are born with talent, but no one is born into being a great player.
That takes dedication, desire and effort. Like Larry Bird shooting an infinite number of jump shots or Pistol Pete Maravich honing his ability to handle the ball.
Havre's Kyndall Keller isn't Bird or Pistol Pete. Yet, she might be the best girls high school basketball player in Montana and there's no doubt her greatness, stems in part from her passion for the game.
"I love the competitiveness and it's really fun," Keller said. "It really is. I don't know how to describe it. Just the atmosphere and making a good pass or making a shot. There's nothing like it."
Growing up in a family of basketball players, Keller has always been around the game. Both of her parents, Karen and Bill, who played for Carroll College, helped get her an early start.
"We, of course, introduced the sport at a very young age," Bill Keller said. "I was still playing in some travel tournaments, in the adult leagues around the state and she would come with me."
"I remember one time, Kyndall wasn't very old and she came with me to Belt for a tournament," he continued. "I would play my game and she would sit in the stands and we would just hang out. She was always around it and I was actually coaching basketball in Chinook when she was born. The night she was born I missed a district tournament game in Malta and I traveled down there the next day for a morning loser-out."
Bill was a high school star for the Turner Tornadoes and he also came from a basketball family that included two sisters, Juliann and Cheryl Keller, that played at the University of Montana.
Karen (Gross), his wife, also had a stellar career at Helena High and was All-State along with her two sisters, Lori and Lisa.
In 1984, Karen helped lead the Bengals to their first state championship on a team coached by her father Jim Gross, who was also the head coach of the Carroll Women's team, as well as the school's athletic director until 2003.
However, even with all those family ties to basketball, Kyndall's dedication came from within.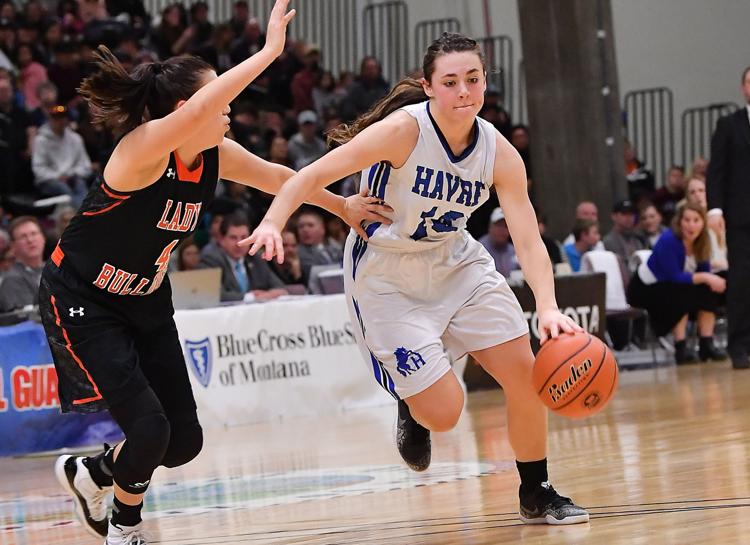 "She always had a passion to play. There are times where you have to help them through different valleys and peaks," Bill Keller said. "But for the most part, it was all her. She is the one that went to the gym for hours on end and would ask me to go with her. She has done it clear up until this past summer, when she put in as much time playing as she probably ever has."
That's the result of never being satisfied and when it comes to her game, Keller isn't complacent.
"Her drive to be very good is really impressive," Havre High head coach Dustin Kraske said. "She's a gym rat. She's always in the gym, in the offseason trying to work on her game and that's one of the things that stands out to me the most."
So far, the results speak for themselves.
Keller has led the Havre Blue Ponies to back-to-back Class A state championships and in the process, has been named Class A All-State three times in addition to signing with the Lady Griz to play college basketball.
Over the past two seasons, the Ponies have gone 47-1 and are headlined by Keller, who led Class A with an average of 17.1 points per game. She also averaged 5.3 rebounds, shot better than 52 percent from the field and connected on 31 percent of her 3-pointers.
"She is very committed to getting better," Kraske said. "Just look at the jumps she made from her freshman year to her sophomore year and in her junior year. I am interested to see what kind of jump she will make now from her junior year to her senior year."
The leaps in skill and production that Kraske talks about aren't simply a byproduct of talent, they are also about hard work and Keller's been doing it for years.
"When I was younger, we worked on ball-handling a lot," Keller said. "Then when I was in middle school, we started working on shooting and 3-point shooting and that's still something I'm still working on."
Despite all the long hours in the gym, Keller's passion for the game never dissipated.
"A lot of people say the younger you start, the easier it is for you to burn out," she said. "But I kind of disagree with that. If you really love it and really enjoy it, I don't think you will burn out. Over time it just gets more fun."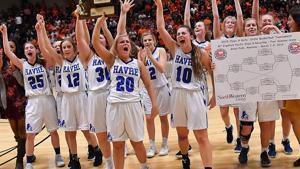 Especially if you win as often as Keller and the Ponies have.
"When we were in our travel days in middle school and grade school, we had a motto," Keller said. "It was beat Malta, win state and never lose to Lewistown. Malta and Lewistown were the rivals and we always wanted to be state champs. We had a goal and we stuck to it and it's really crazy to think that we have won state twice."
A third title seems almost destined.
Havre is certainly beatable as its defeat to Billings Central in last year's Eastern A championship game showed, but with Keller and two other all-state players returning in Kadia Miller and Sadie Filius, as well as a number of others, the Ponies will be heavy favorites to 3-peat.
"I never even thought about winning three in a row," Keller said. "Winning two in a row was crazy. You think about it and you think it might happen, but it never really hits you until it does. But now that we have won two, we are definitely thinking about three."
While Karen (Gross) Keller was one of the greatest players in the history of Helena High girls basketball with 821 career points, Kyndall is already over 1,000 and is well on her way to being considered one of the best Blue Pony girls basketball players of all time.
"I think Kyndall has earned being in that conversation," Kraske said. "She's a winner and has been part of teams that have been pretty successful and maybe the most successful stretch in the history of the girls teams in Havre."
It's certainly been something to watch, especially for those who have been there since the beginning.
"For Karen and I, it's been very exciting," Bill Keller said. "We really try and sit back at the games and just enjoy it — as a fan and a parent."
Talent, hard work and dedication are reasons Keller has become one of Montana's best high school players, but the foundation of it all, is her love of of the game. 
"It's such a big part of my life," she said. "I'm not sure what I would do without it."