BILLINGS — Coaches at every level hammer the word "team" into their players' heads. Cameron McCormick has gone a step further with an acronym — T-E-A-M: Together our Exploits will Amaze Many.
McCormick's mother, Alma McCormick, came up with the saying, and her son has preached it throughout his seven-year coaching career. The acronym symbolizes the mostly unseen connection between Cameron McCormick's players and Alma.
McCormick, 34, is in his first year as the girls basketball coach at Northern Cheyenne Tribal School in Busby. This weekend, the Eagles went 2-0 at the sixth annual All-American Indian Shootout at Rimrock Auto Arena at MetraPark.
But McCormick doesn't expect wins to come easy this season. His roster features seven players, most of whom are underclassmen. Class C Northern Cheyenne is a far below the level of Class B Rocky Boy, where McCormick coached the previous two seasons. He wants to win in Busby, but his focus is not entirely on the court.
McCormick can be a demanding coach who is happy to deliver stern monologues to his players after games, as he did Saturday after Northern Cheyenne's 38-34 win over the Hardin JV team. The Eagles were in control most of the game despite a seven-girl roster that was reduced to six after Cholena Walker suffered an injury midway through the contest.
McCormick's tone in the locker room was the same as it was minutes earlier on the bench. He barked orders with the occasional "attagirl" sprinkled in. He has a standard.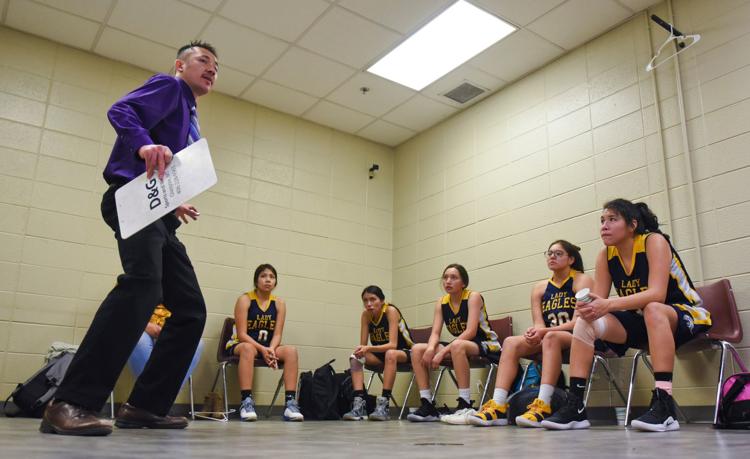 Walker and fellow Northern Cheyenne freshmen Chelsey Spang and Tamia Swank said McCormick is one of the hardest coaches they've played for, but not to a miserable extent.
"He's probably one of my favorite coaches I've had," Walker said. "He wants the best for us, and he's pretty good at working us."
McCormick graduated from Hardin and spent two short stints at a bible college in Ohio. He returned home and attended Little Big Horn College, where he played basketball for one season. After earning his associate's degree from the Crow Agency community college, he finished his schooling at Oral Roberts University. He spent four years as a public school teacher in Crow Agency before moving to Rocky Boy.
The last two years were rewarding but often difficult for McCormick. School politics mainly contributed to his exit from Rocky Boy, he said. The Morning Stars made their first Class B state tournament in school history, but seniors Sean Henry, Adrienne Gopher and JayLynn Mitchell were the only players who truly bought into his coaching methods, he said.
"We went as far as we did because of their submission to my authority as head coach," McCormick said. After they graduated, "I felt like I couldn't stay. I wasn't going to get the respect or the submission to my authority that those three gave."
Another tough aspect of the Rocky Boy job was distance. Box Elder is an isolated town about 350 miles northwest of Busby. He knew no one and missed the meals Alma cooked for him throughout his life.
McCormick doesn't necessarily like Northern Cheyenne more than Rocky Boy. It's just different, he said. He loved coaching Henry, Gopher and Mitchell, and he said 20 to 25 girls came out for basketball. Half as many Northern Cheyenne girls tried out, and McCormick is simply hoping to get through this season with a full roster.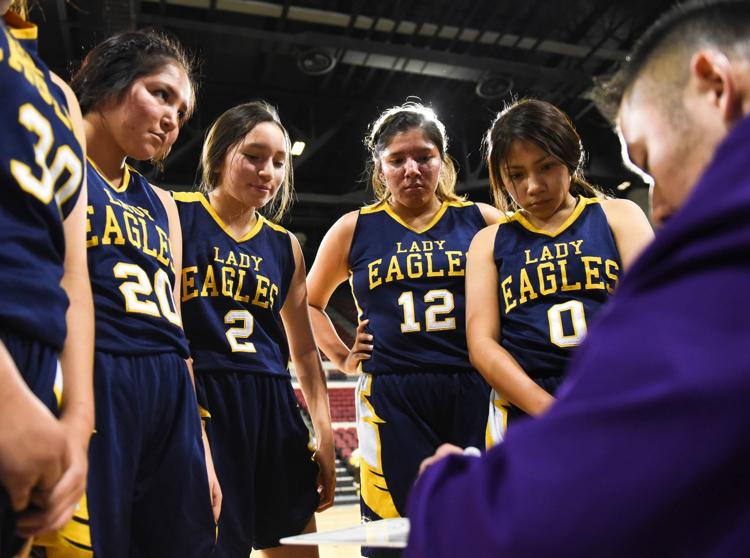 But McCormick is happy to be closer to home. When he craves a home-cooked meal, he only needs to drive 45 minutes to get it.
Alma has been a single parent since McCormick was born. The day-to-day grind of her life was made much harder shortly after McCormick was born. His twin sister, Camie, died from cancer at the age of 2.
Alma and Camie are two of the biggest reasons McCormick has coached girls basketball.
"I haven't always had respect for women like I should," he said. "But in the end, because of what I've seen with my mother and what I've seen with my siblings, what she went through in her marriage and what she's gone through raising us ourselves, I can't help but have respect for ladies."
That respect has been passed on to his team, communicated through Alma's acronym. But T-E-A-M is hardly the only message he wants to send to his players.
"I can almost guarantee some nights, they're losing sleep because of one or multiple addicted people in the house causing fights, arguments, damaging the house, waking up the children," he said. "But they're expected to come to school the next day, and they've got me expecting them at practice. I want to help them learn something, a principle or two, that's going to help them through their lives far beyond high school."