BILLINGS — Hardin girls basketball coach Cindy Farmer puts the phrase "stay the course" on her whiteboard before every game. The three words remind her players to focus on their overall goals and shrug off poor stretches of a game or season.
That mindset was especially important after Thursday night, when the No. 3-ranked Bulldogs suffered their most lopsided loss of the season, 54-38 at unranked Laurel. Less than 24 hours later, they would host No. 1 Billings Central. A loss on Friday night would have been Hardin's third straight.
A loss didn't come all that close to happening. A strong defensive showing led the Bulldogs (9-3) to a 51-38 win over their Eastern A rival. Central (11-1) had won 22 straight games going into Friday's road test.
"They were really disappointed in the way they played (against Laurel) and wanted to come out with a stronger start," Farmer told The Billings Gazette and 406mtsports.com by phone after Friday's game. "We put that game behind us, but you always learn from it, and when you do, it's a good thing."
Hardin trailed Laurel 18-5 after one quarter in Thursday's game. Five days earlier, now-No. 2 Havre led 17-4 going into the second quarter and held off the Bulldogs 44-40. Two games before that, on Jan. 30, Hardin fell behind 21-3 to Class B rival Lodge Grass (Hardin won 70-32).
The Bulldogs began Friday's game on a 7-0 run.
Central, which trailed 8-5 after one quarter, went ahead 14-12 in the second, but Hardin ended the quarter on an 8-0 run. The six-point halftime lead grew to 36-23 through three quarters.
In a 54-50 loss on Jan. 29, the Bulldogs struggled to defend Central's pick-and-rolls, and their help defense was lackluster, Farmer said. They had little trouble in those areas on Friday.
"They were just more patient and disciplined," Farmer said. "Their extra effort on every play, it was there the whole game."
Friday was Central's lowest-scoring game since a 43-38 loss to Columbia Falls on March 9, 2019 in the elimination bracket of that season's State A tournament.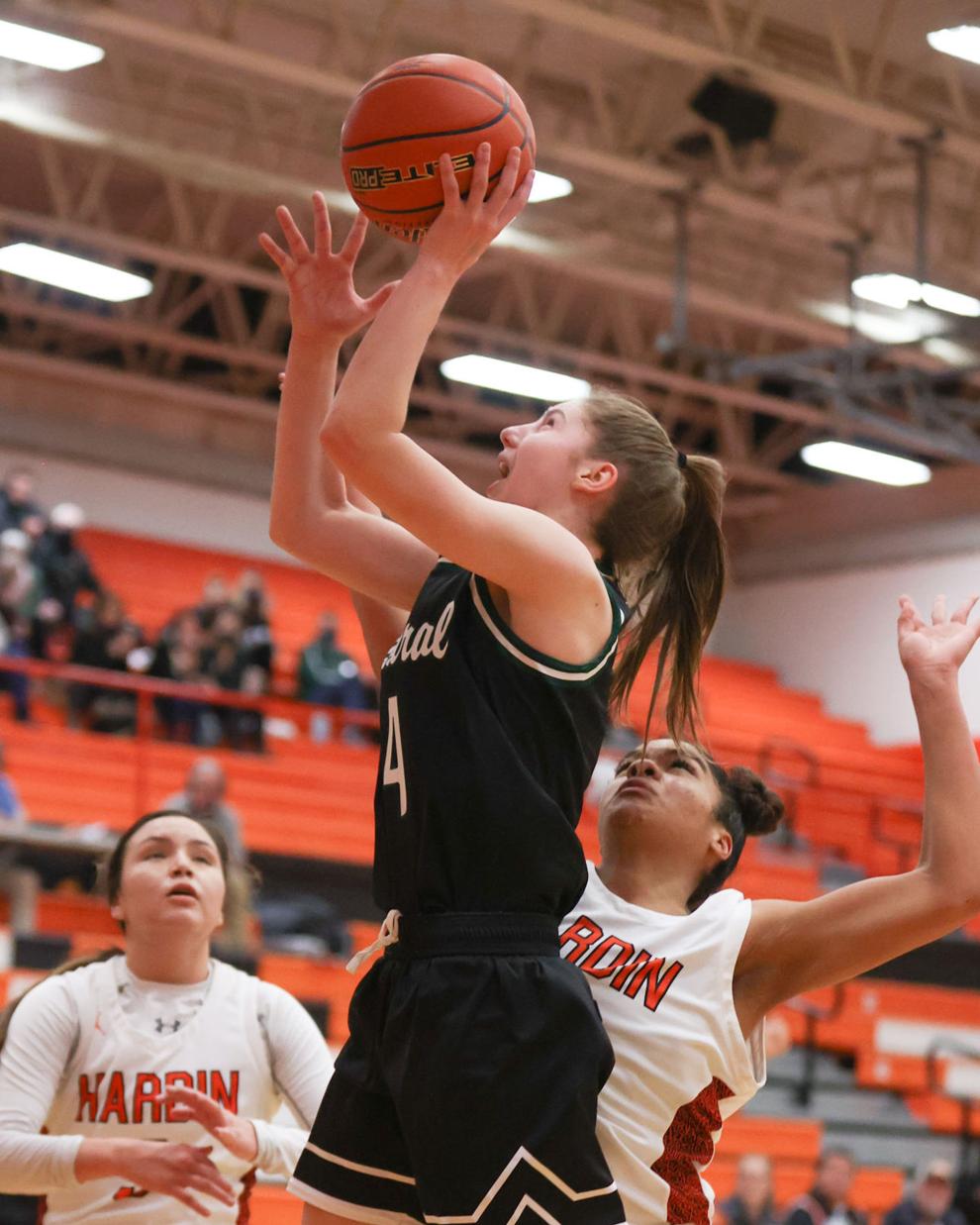 Hardin junior Kamber Good Luck led all players Friday with 18 points (5 of 12 on field goals, 5 of 6 on free throws), and sophomore Aiyana Big Man added 11 (8 of 8 from the foul line).
"A total team effort," Farmer said. "Just staying the course."
Junior Mya Hansen led Central with 17 points (6 of 9 on field goals, 2 of 3 on 3-pointers).
Before Friday, the Bulldogs were responsible for Central's most recent Class A loss: 65-55 at the Metra on Jan. 24, 2020. The Rams suffered their second loss of the season to Class AA Billings West on Jan. 28 and started their 22-game winning streak two days later.
Central and Hardin advanced to last season's State A title game but were declared co-champions after the state tournaments were canceled due to COVID-19.
Hardin has one more game this regular season, and Central has two: Saturday at Glendive and Tuesday at Laurel.
"Some nights, you struggle in some areas, and we've got to execute a bit better. But we'll be just fine," said Central coach Jetton Ailes. "It's one of those things that you use as motivation and a learning experience."