GREAT FALLS — When Havre and Billings Central stepped on the court for the Class A girls state championship game Saturday night, it felt like two heavyweight champions stepping into the ring.
And after 40 minutes of exchanging haymakers, the Blue Ponies and Sadie Filius delivered the final knockout in a 64-60 double-overtime win for Havre.
The victory was the 12th-consecutive state tournament win inside the Four Seasons Arena for Havre. It's also the Ponies' third state title in the last four years. 
"I'm amazed right now," Said Filius, who scored 18 points. "I'm just so happy."
It's the opposite of how she felt a week ago, when she missed two free throws at the end of regulation that would have given the Ponies a win over Billings Central in the Eastern A title game.
That was the third straight postseason loss for Havre against Central. This time around, Filius would get redemption and so would the Ponies.
After 38 minutes and change, the score was still tied, 55-55 when Filius drove to the basket. She attempted a shot, which missed, after stumbling, she rebounded the miss, scored and was fouled. She connected on the free throw to put HHS up three and the Ponies never trailed again. 
After a series of defensive stops, as well as more free throws from Filius and Yelena Miller, the clock ran out on the Rams run as Class A state champs.
"I knew that it was going to happen again," Filius said. "And I was just more mentally prepared this time."
She felt more prepared, by doing what's she always done: hit the gym.
"I felt down about it last week," Filius said. "But I just got back in the gym. It motivated me."
As far as the game itself? By all accounts, it's an instant classic and one that won't soon be forgotten by anyone who watched or participated. 
"As a player and as a coach, I can confidently say that will go down as one of the best state championship basketball games ever played in this state," Billings Central head coach Jetton Ailes said. "I could not be more proud of the group of girls who left their hearts out on this court. It's extremely humbling to be the head coach of a such an incredible group of human beings."
Said Havre head coach Dustin Kraske: "That was crazy, what a basketball game. Our kids played so well and give credit to Billings Central, that's a heck of a basketball team. It took everything we had." 
Everything they had and then some. 
Of one player in particular, Filius, Kraske asked a lot, putting her on Mya Hansen defensively, while also relying on her to facilitate the offense. But once Havre fell behind 16-7 in the second quarter thanks to a quick nine points from Hansen, a Lady Griz commit, it was time for a switch.
"The idea was to keep her fresh," Kraske said. "But it was Sadie's time."
And almost immediately, it changed the tenor of the game, on both ends of the floor.
With Filius on Hansen, the Central superstar found tough sledding and on the other end, Filius provided a spark with a 3-point play and by halftime, it was 20-14 Central, but HHS had weathered the storm.
"We talked about having me guard (Hansen) later in the game," Filius said. "It came a little earlier than expected, but I was ready for it."
With the Pony defense racking up stops, Kraske made the decision to feed Miller in the second half, and the 6-foot sophomore answered the call with 27 total points, 21 in the second half and overtime, making 5-of-7 shots from the field and 11-of-13 from the free throw line.
"I'm just overjoyed and excited right now," Miller said after her gargantuan effort. "I'm just so glad to celebrate this with my teammates right now. I love all of them."
Of her ability to hit big shots over and over again? "I just try not to think about it," she said. "I just clear my mind."
Still, late in the third, Havre had yet to lead, until a steal and score by Avery Carlson made it 30-29 Ponies entering the fourth. A 3-pointer from Kylie Walker in the fourth gave Havre a four-point lead.
Hansen scored numerous buckets down the stretch and the Rams also got a clutch 3-point play from Molly Molvig, but Havre kept in front, until the last minute when Hansen scored and then, after a 10-second violation on Havre, Hansen dished to Molvig, who tied the game on a layup and sent it to overtime.
In the first overtime, after an exchange of buckets, Hansen, who scored 35 points, put Central in front. The Ponies? They went to Miller, who evened it up with 56 seconds to go.
"She's a great kid and works incredibly hard," Kraske said of Miller. "I'm glad that she's just a sophomore."
Central was able to take a final shot as time expired in the first overtime, but Hansen's potential game-winner hit the front iron, which meant playing on for four more minutes.
In the second extra frame, the two teams, which had won or shared the last three state championships, continued to go blow-for-blow.
Filius gave Havre the lead, only to see Hansen tie it.
Then, with the score tied, Havre got the friendly bounce on a Filius miss, a break the junior point guard took advantage of.
"Sometimes you need a break," Kraske said. "And she (Sadie) seems to get em."
Filius is good at making her own luck, just like she made her free throws down the stretch.
"The first thing she said after she ran over and hugged me, was 'I made all my free throws,'" Kraske said. "And that was just beautiful."
Hardin 53, Whitefish 37
One thing you can expect at the Class A girls state basketball tournament, is for Hardin to take a home a trophy. 
But the fifth-consecutive state tournament trophy didn't come easy for the Bulldogs and that's because Whitefish, their opponent, seeking its first trophy since 2003, refused to go down without a fight in the consolation final Saturday at the Four Seasons Arena in Great Falls.
Hardin knocked down four 3-pointers in the first quarter and built a 27-13 halftime lead, but in the third, Whitefish responded with two triples that led to a 12-0 run that cut the lead to two (27-25). 
Yet, Hardin responded with a 16-5 run that extended the lead to double digits again and the No. 3 seed from the Eastern A won 53-37 to take home third. 
"I am just so proud of these girls," Hardin head coach Cindy Farmer said. "Being in the championship or the consolation the last five years and coming away with a trophy just shows the character of these girls. They work so hard and I'm just so proud of their effort."
The victory was the second in a row for Hardin, which defeated Hamilton Friday to earn a spot in the consolation finals, then wrapped up a fifth-consecutive top-three finish.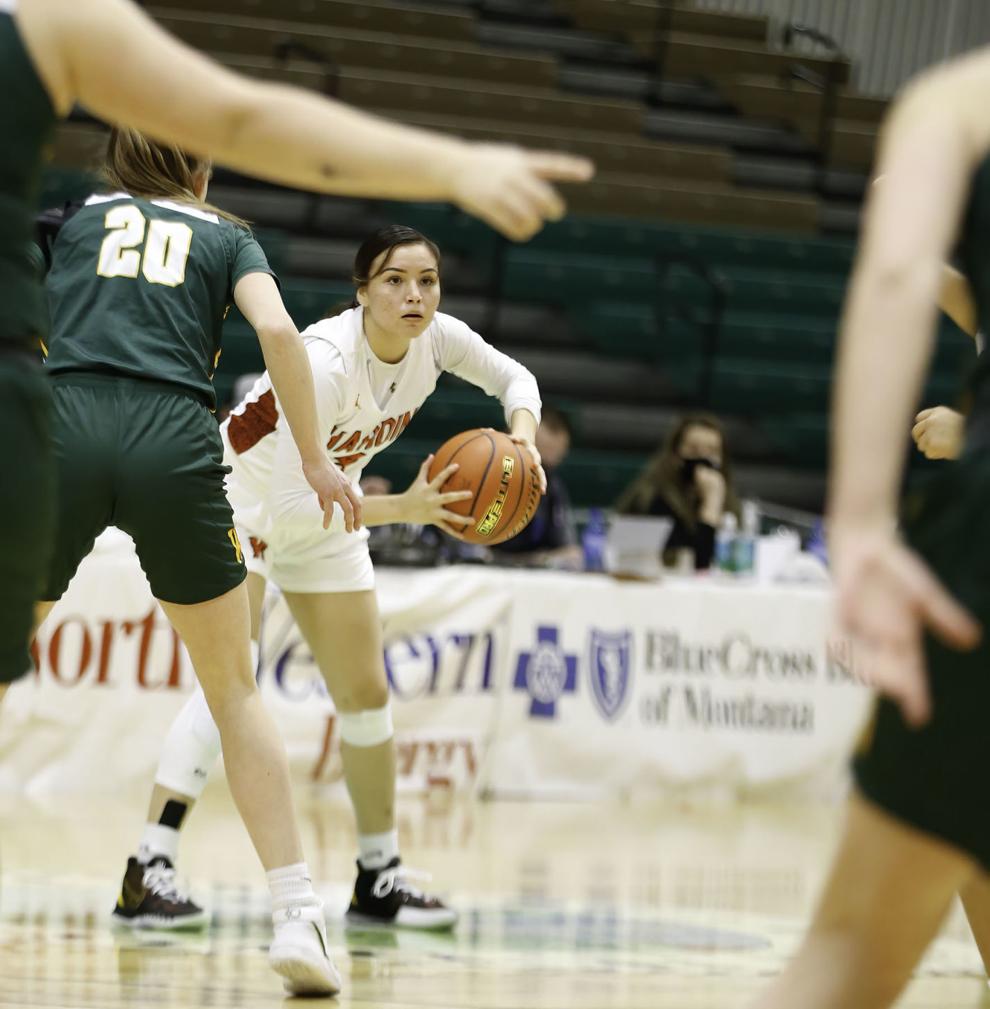 The Bulldogs finished as the runner-up in 2017, 2018 and 2019, as well as co-champions with Billings Central in 2020. 
Aiding the effort for Hardin in the first half, was a hot start from beyond the arc as Kamber Good Luck connected twice from 3-point range in the first quarter, which along with makes from Kylee Old Elk and Aiyanna Big Man, put the Bulldogs in front 18-6.
In the second quarter, Alyssa Pretty Weasel was able to get going inside and used a 3-point play to score seven in the first 16 minutes as Hardin took a 27-13 into intermission. 
Good Luck and Pretty Weasel each finished with 11 points. Gracie Smyley had 12 for Whitefish in the loss. Brook Smith also added 10.