GREAT FALLS — For three quarters Saturday night in the Class AA girls state championship game, just about everything went the way of Missoula Hellgate, at least until Audrey Hofer hit the biggest shot of her life.
The Knights led 21-11 late in the third and appeared to be in complete control. But suddenly, the momentum shifted.
A technical foul call on Hellgate and a 3-point shot for Helena Capital, following a 10-2 run by CHS, changed things for good in a 33-31 come-from behind win for the Bruins at the Four Seasons Arena. 
"That was insane," Capital's Dani Bartsch said. "We didn't play well for three quarters. But when that fourth quarter came around, we obviously didn't want to go out that way. We needed to make a big change and we did."
Down 23-21 with 3:20 left go, Jaymee Sheridan and Dani Bartsch each hit two free throws following the technical foul on Hellgate to give the Bruins their first lead of the night at 25-23. Soon after, Audrey Hofer buried a corner 3-pointer, which pushed the lead to five and from there, the Bruins never looked back.
"Audrey always has the green light to shoot that shot if she's open," Capital head coach Katie Garcin-Forba said. "She's a kid that has hit so many shots like that and that was huge. I don't remember anyone hitting a shot like that for us on this stage." 
Said Hofer of her game-changing 3-pointer: "Early on, the shots weren't falling. But my coaches told me to have confidence and something clicked. I was like, 'I got this.' And I stepped up."
Hellgate never quit and down by two, with just seconds remaining, the Knights had one last shot to win, but Bailee Sayler's 3-point shot bounced off the front iron and Capital escaped with the win, as well as a second consecutive state championship.
Sayler's 3-point shot was one of two final attempts to tie or take the lead by Hellgate in the closing moments. Lauren Dick nearly tied the game with a 3-point play with six seconds to go, but she missed the free throw to tie.
Capital made 1/2 at the line on the other end and following the board, Sayler got the game-winning attempt up, but it didn't go in.
"I was so mad at myself for fouling her," Capital's Paige Bartsch said. "I gave her the chance at the and one. On Bailey's shot, I thought, 'Oh, that's not going in and it hit the front of the rim. I'm glad it didn't go in." 
When the dust settled, Dani Bartsch was the leading scorer with 15 points. She also grabbed seven rebounds. Jaymee Sheridan added 10 points, including eight made free throws. 
"At no point in that game did we ever think we were going to lose," Sheridan said. "We have so much confidence in each other. We have spent countless hours working on late-game situations and practicing those high-pressure situations. And at the end it really paid off."
As far as how it feels being a two-time champion and having the co-title removed after sharing the 2020 crown with Billings West? 
"This feels so good," Sheridan said. "This is something that we have been waiting for for two years and it just feels awesome."
Sayler put forth a valiant effort for Hellgate and led the Knights with 12 points and seven rebounds. Dick pitched in with eight and Keke Davis managed seven.
"We dominated the first half and they dominated the second," Hellgate head coach Brady Henthorn said. "It's a tough deal but these girls are still champions in our hearts. Capital is just a great team and that's the thing about sports, you can learn a lot more from the failures that you have. We will use that as fuel and I'm just proud of the heart and effort from our girls." 
While the Bruins scored 18 points in the fourth quarter, Hellgate held them to just 15 in the first three quarters and thanks to a Davis 3-pointer, as well as seven points from her off the bench, the Knights took a 13-5 lead into halftime.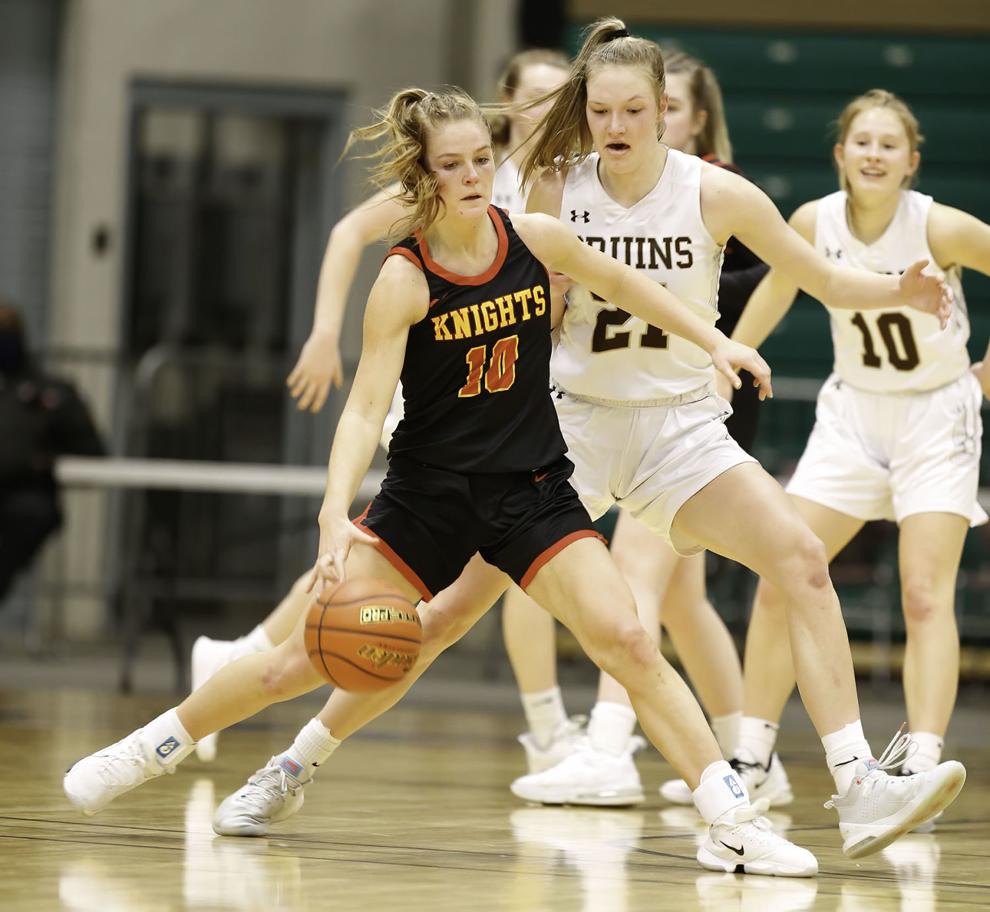 In the third, Sayler started heating up and eventually pushed the lead to 10 points, when the Bruins called timeout and regrouped.
"I just told them to be aggressive," Garcin-Forba said. "And they were able to put together stops. We got one and then another. We knew it was going to be a defensive battle."
Both coaches agreed though that the technical foul on Alex Covill, which was also her fifth foul, changed the game.
"It's a tough situation," Henthorn said. "Emotions are running high but that was a turning point in the game, there's no question about it. But it is what it is and you just have to move on."
Garcin-Forba agreed and once the Knights were hit with the call, their lead would vanish and they wouldn't get it back.
"That changed the momentum," she said. "It swung things and then Audrey hit the three. She hadn't made a shot all tournament but she hit that one."
The Bruins will finish the season 17-1 and became the first Class AA girls team to win back-to-back volleyball and basketball state championships.
"They are special in so many ways," Garcin-Forba said of her senior class. "They are special as people and special as athletes. They are very unique and some of the hardest workers and they have left their legacy with Lady Bruin basketball."
Billings West 59, Billings Skyview 29
It may not have been a repeat as state champion, which was the goal, but following a win over Billings Skyview in the third-place game of the Class AA girls state basketball tournament Saturday at the Four Seasons Arena, the Golden Bears will go home with a trophy.
It wasn't easy though, not by a long shot.
First, West had to knock out a pesky Great Falls High, which it did, 34-33. Then, came a matchup with crosstown rival Billings Skyview. Yet, a trio of first-half 3-pointers by Kaycee Rider gave the Bears an early advantage, one they wouldn't relinquish in a 59-29 victory.
"We talked about how the last couple of days weren't really a reflection of who we are as a team," Billings West head coach Charlie Johnson said. "This morning we were still kind of sluggish, but this afternoon Kaycee Rider got us started. The energy was there, the enthusiasm was there and it was a total team effort." 
In addition to Rider's 10 first-half points on two treys and a four-point play, Kaitlin Grossman connected from deep, helping West build a 24-12 lead at halftime.
The Bears, who lost just two games all season, including Friday's semifinal to Helena Capital, extended the lead in the third quarter and after a buzzer beater at the end of the stanza from Taylee Chirrick, West led 41-18.
Rider led the Bears with 15 points, but Chirrick came off the bench to score 14 points, dish out three assists and get three steals in the win. Grossman also put forth a dominant effort with 11 points and 12 rebounds. 
MG Spotted Bear led the way for Skyview with 8 points. Brooke Berry and Breanna Williams both had seven. 
"I think that Taylee Chirrick showed she is one of the best players in the state," Johnson said. "And I just think (three straight trophies) says a lot about our program. We have excellent players, excellent coaches, excellent parents and we just have a great culture." 
The third-place trophy was the third straight state tournament trophy for West, which was co-champions in 2020 and state runner-up in 2019.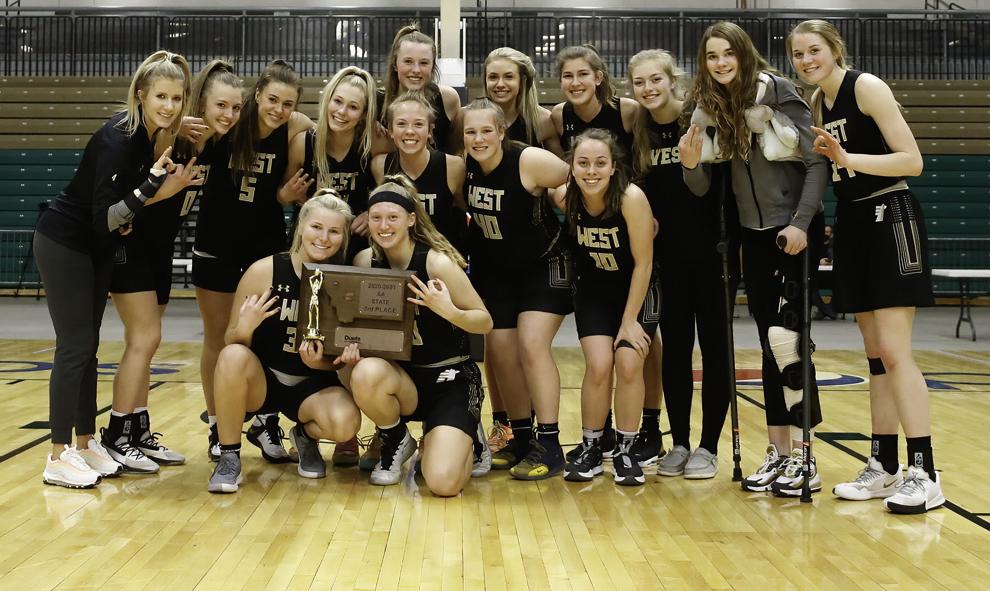 Billings Skyview 60, Bozeman 39
Brooke Berry led three players in double figures as Billings Skyview pulled away from a tight first quarter to drub Bozeman 60-39 to earn a berth in the third-place game at the Class AA girls state basketball tournament Saturday at Four Seasons Arena.
Cami Harris scored 13 and Breanna Williams 11 for the Falcons, who trailed by a  point after one quarter but were up six at halftime and 15 after three quarters.
Skyview will face Billings West, a 33-31 winner over Great Falls.
Macy Mayer scored 14 for Bozeman.
Billings West 33, Great Falls 31
Taylor Chirrick scored 10 points and Sydney Pierce nine as the Golden Bears ground out a win over the Bison.
Great Falls led by four after one quarter but West went on a 12-2 run in the second quarter for a four-point halftime lead. The game was nip-and-tuck from there.
Alison Harris scored 15 points to lead all scorers for the Bison.