GREAT FALLS — Over the past two years, the Missoula Hellgate girls basketball team has gotten used to playing big games at the Class AA state tournament.
But after dispatching the Bozeman Hawks Friday night, 52-35, inside the Four Seasons Arena, the Knights will play their biggest game in 18 years on Saturday, when they will face Helena Capital (7:30 p.m) in the AA state championship game, the first title game appearance for Hellgate since 2003.
A win would give Hellgate its first girls AA basketball title since 1994, but the Knights will need to take down Capital, their Western AA rival after the two teams split during the season, each winning on its home floor.
"After we lost that first game to Capital, our goal was to see them again," Hellgate head coach Brady Henthorn said. "And we achieved that and it just so happens that it's going to be in the chipper. So we are excited, I'm sure they are excited. It's going to be a great matchup."
Much like the Bruins, who rolled Billings West 44-26, Hellgate dominated Bozeman, although the Hawks were able to build a 12-8 lead in the first quarter. However, a 19-0 run by the Knights completely changed the game. It put them in front double digits, 27-17, at the half.
Yet, in the third quarter, back-to-back 3-pointers from Chloe Larsen and Addy Heaphy extended the lead to 16 and the Knights never looked back. 
Alex Covill led the Knights with 14 points; Heady added 10. Emily Williams and Macy Mayer each had eight for Bozeman in defeat. 
"It's crazy," Heaphy said. "I have imagined getting here since my freshman year and it's just surreal right now. It's a lot of fun honestly. I can't wait." 
Capital and Hellgate will square off for the third consecutive year at the state tournament, with the Knights beating CHS in the third-place game in 2019. The Bruins returned the favor, knocking off Hellgate last year in the semifinals before the tournament was canceled due to COVID-19.
Helena Capital 44, Billings West 26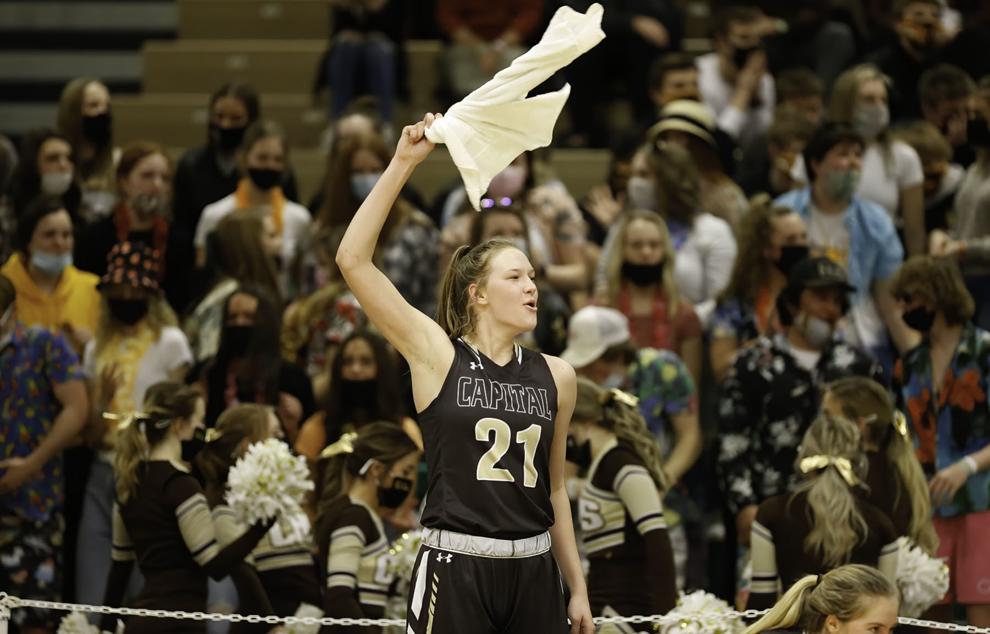 If defense does indeed win championships, then there's a good chance the Helena Capital Bruins could be cutting down the nets Saturday night at the Class AA state girls basketball tournament.
At least they do if the Bruins defend the way they did Friday night against Billings West in the Class AA semifinals, as the Capital defense suffocated the Golden Bears and rolled in a matchup of defending co-champions by the score of 44-26 inside the Four Seasons Arena.
"Oh my gosh, we are so excited," Capital's Jaymee Sheridan said of the trip to the state title game. "Especially since we were going to play Billings West last year. That just makes it, not a sweet revenge, but it's something we have been working towards all year." 
The Bruins earned the 18-point win on the strength of their defense, which can only be described as elite. CHS held West to 21.6 percent shooting from the field and just 0.55 points per possession.
The Golden Bears didn't score more than eight points in a single quarter. Kaitlin Grossman was the high scorer with nine as no West player reached double figures and only two players made more than one field goal. 
"We were just so locked in defensively," Capital head coach Katie Garcin-Forba said. "We were very fundamental. Our girls know fundamentals, they know scouting reports, they study film and they were just mentally, ready to go." 
While Capital's defense was the defining factor for the Bruins, some hot shooting early from Mara McGinley, who hit two 3-pointers in the opening stanza, allowed CHS to build a 10-7 lead after one.
Another triple in the second quarter from McGinley, as well as eight first-half points from Dani Bartsch, put Capital up 19-11 at the end of the first half.
"Once (Mara) gets going, it makes teams have to defend us differently," Garcin-Forba said. "She did a great job of getting us into a rhythm and she kind of relaxes our team when she does that." 
In the third quarter, Capital kept attacking inside with Dani and Paige Bartsch. The Bruins earned a number of free-throw attempts and a hoop by Dani, just seconds before the buzzer sounded, put Capital in front 31-18 with eight minutes remaining.
A 7-0 run early in the fourth quarter by Capital, which included a hoop from Dani and a 3-point play by twin sister Paige Bartsch, extended the Bruins lead to 40-22 and effectively put the win on ice.
"This feels extremely good," Dani Bartsch said. "There were so many people that questioned whether they were the better team or not last year. I didn't think they were. One of their players posted on (Snapchat) that they couldn't wait to beat us, so to hold them to 26 points, when they average 60, feels pretty good." 
Capital will advance to the Class AA state championship game for the first time since 2015, the last time CHS won an outright state championship. The Bruins did reach the title game last year, but it was canceled due to COVID-19 before it could be played.
"I'm excited to finally play in a state championship game," Dani Bartsch said. "And this time, there is basically no chance that it's going to get canceled."
Paige Bartsch led all scorers with 14 points. She also finished with a game-high 10 rebounds. Dani Bartsch pitched in with 13 points and McGinley added 11, with nine coming in the first half. 
Capital will face the winner of Missoula Hellgate Saturday night at 7:30 p.m. for the Class AA state championship. 
Billings Skyview 53, Glacier 38
The Billings Skyview Falcons notched a rare win at the Class AA girls state tournament on Friday at the Four Seasons Arena in Great Falls, defeating Kalispell Glacier 53-38 in loser-out action.
Brooke Berry scored 18 points for the Falcons, who also got 15 points from Brenna Williams as they notched their first win at the Class AA girls state tournament since 1999.
Skyview scored 14 points in the first and second quarters, building a 28-17 lead at halftime and only building on it from there.
Ellie Keller finished the game with 12 points for Glacier, which also got 11 from Kaylee Fritz. The Falcons (12-5) will play Bozeman in the consolation semifinals Saturday morning and can take third place with two more wins.
Great Falls High 44, Missoula Sentinel 36
The Great Falls High boys basketball team is playing for the Class AA state championship Saturday, yet the Bison girls, they aren't done either after a 44-36 win over Missoula Sentinel Friday in loser-out action at the state tournament.
Alison Harris and Ashlyn Jones had 15 and 14 points, respectively, while Challis Westwater led the way for the Spartans with 14.
Sentinel finishes the season 9-8; Great Falls High (10-7) will take on Billings West semifinal game Friday night.