BILLINGS — On the basketball court, Drew Wyman's athleticism is apparent. His mid-range game is effective, his post-up skills are efficient, and at 6-foot-5 he has the ability to play above the rim.
It's what made Great Falls High's Wyman one of the most touted players in Class AA over the course of the past few years, and helped earn him the state's Gatorade player of the year award for the 2020-21 season as well as a roster spot for the Midland Roundtable's annual Montana-Wyoming All-Star Series.
But Wyman's instincts and intellect are just as important to his game. Steve Keller, head men's coach at Providence University in Great Falls and again the coach for the Montana All-Stars as the series opens Friday in Sheridan, Wyoming, said Wyman's ability to understand situations and capitalize on a high basketball IQ particularly stand out.
"He's very smart, probably the smartest guy on the court," said Keller, who is 16-0 in the series since taking over as Montana's coach in 2012.
Keller joked: "We didn't recruit him very hard because he's too smart for us."
Wyman is, however, headed to the College of Idaho of the Cascade Collegiate Conference. He'll play for Colby Blaine, a former Keller acolyte who was named the NAIA Division II national coach of the year in 2020.
You want intellect? Wyman was one of just eight Great Falls High students to graduate with a cumulative 4.0 grade-point average. He plans to study medical sciences at C of I, which he said could springboard him to a career in health care.
"I've tried to work just as hard in academics as I have in basketball. I take pride in it," Wyman said Wednesday as preparations began for the all-star series at Lockwood High School.
On the hardwood, Wyman carries just as much pride. He counts his all-star inclusion and the Gatorade award, which he won after averaging 20.5 points and 8.2 rebounds per game while shooting .574 from the field, as a major honor.
Wyman is one of four Bison players to win the award, following the recent exploits of Brendan Howard (he won it twice) and 1990s stalwarts and household names Mike Warhank and Scott Hatler.
If Wyman harbors one regret, it's the way his senior season ended — a 62-60 loss to Billings Skyview in the Class AA title game. Great Falls trailed by as many as 15 points in the second half but rallied and had a chance to tie or win the game in the waning seconds.
Wyman had 29 points on 11-of-20 shooting that night.
"The way it ended up, it's still difficult right now," he said. "We got ourselves in a hole and we fought really hard and we had a chance. We tied it up, they went down and hit a tough shot and we came down and couldn't convert.
"We were close, and after fighting back it was really tough, especially with the expectation all year of winning the state championship. Just to fall a little bit short was hard, but we fought our butts off."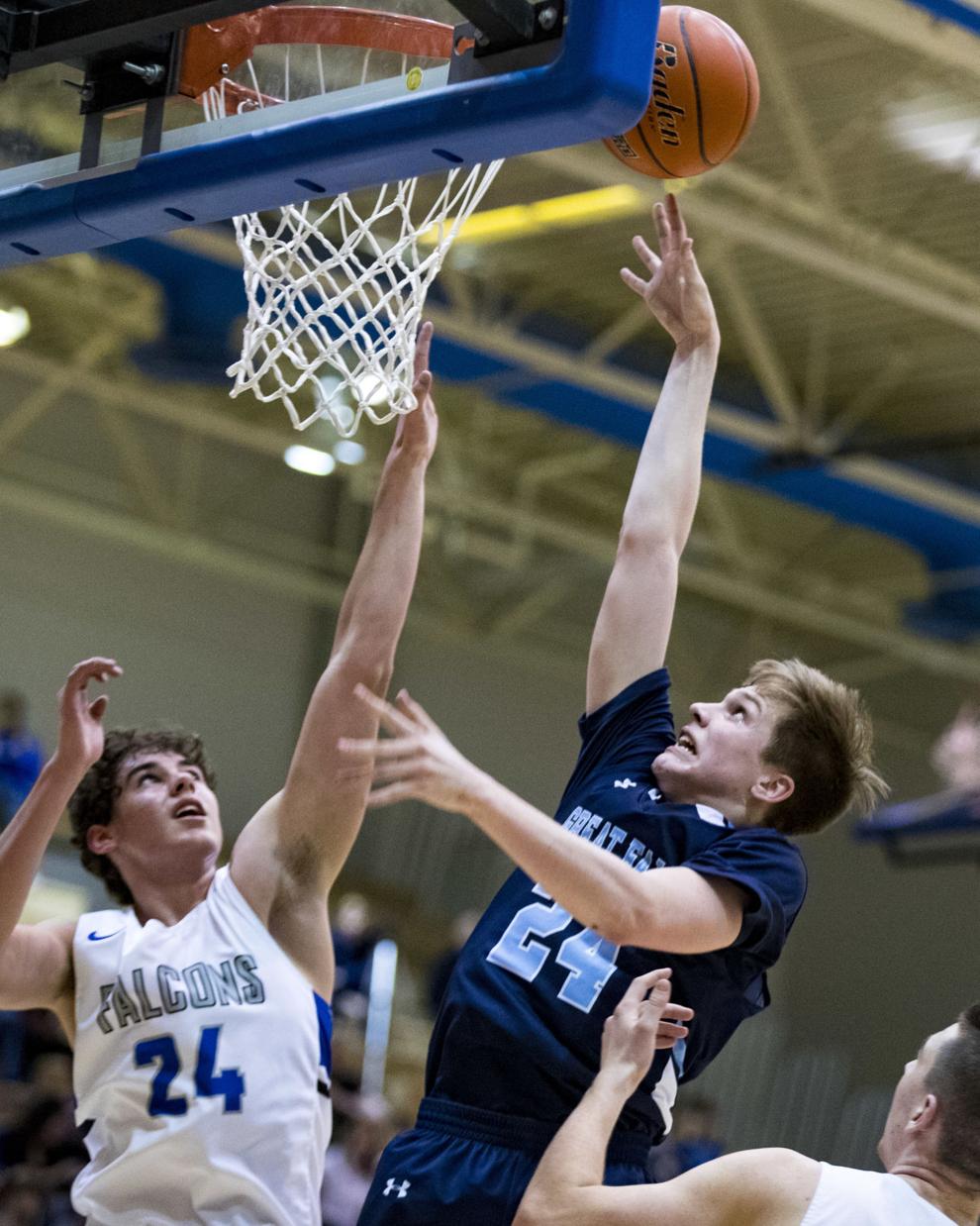 This week presents a final chance for Wyman to play with longtime friend and Great Falls teammate Levi Torgerson, who's also a member of the Montana squad. Torgerson has signed to play basketball at Montana Tech.
"We definitely have a special bond and it shows on the court," Wyman said. "It's been fun playing with him and I'm going to miss it. It's going to be a sad moment when we're done but I'm glad that we get the opportunity. Really thankful for the Midland Roundtable. I'm just happy to have the opportunity to be out here with him."
Wyman's future College of Idaho teammate Caden Handran of Scobey is also on the Montana all-star roster, though he might be limited due to injury, according to the Midland Roundtable. And Wyman is this time on the same side as the Skyview duo of Ky Kouba and Cam Ketchum, who celebrated the state title at Great Falls' expense in March.
Montana State signee Alex Germer of Missoula Sentinel is one of the Treasure State team's top talents. Fellow Spartan Tony Frohlich-Fair is also on the roster, as are Billings Central's Malachi Stewart, Huntley Project's Noah Bouchard and Scobey's Aiden Fishell.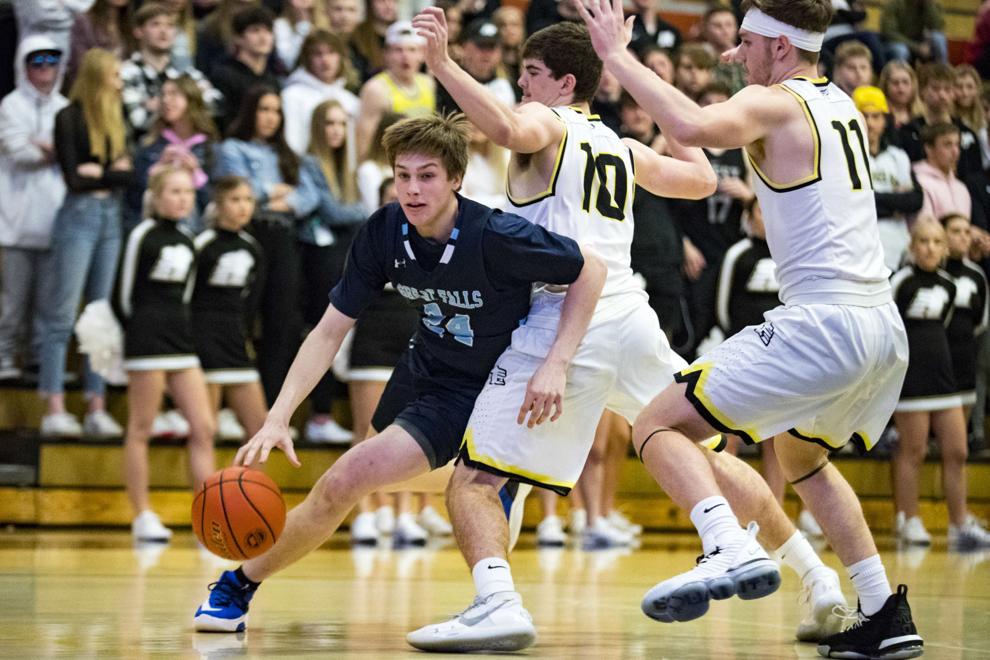 There's also a Montana State recruit on the Wyoming side in 6-6 Sheridan High product Sam Lecholat. Wyman and Lecholat have played together in the past in AAU ball.
"He's really good. Solid," Wyman said of Lecholat. "He can shoot. He can take it inside. He's strong. He's a solid all-around player and I'm looking forward to that."
The connections don't end there. Wyoming's Bryan St. Clair, of Lander, is joining Wyman and Handran at C of I this fall.
The Montana stars will try to extend their winning streak in a series that has become increasingly lopsided (the Treasure State leads 61-27). Wyman said he and the team have a lot of pride in that, too — for both the players and for Keller's unblemished run.
"We've got quite a bit of height," Wyman said. "Not necessarily as physical, but I think it's going to help with our defense. We're long and I think we're going to get quite a bit of steals and some transition buckets. I think we've got great chemistry in there. All the guys are getting along really well."
He added: "We've won 16 in a row, and so we're just going to try to continue that trend. Everybody wants to win, and we want to keep coach happy."
NOTES: Friday's games will be held at the Bruce Hoffman Golden Dome in Sheridan. Saturday's games will be played at Lockwood High. The girls games begins at 5:30 p.m. and the boys games will follow at 7:30. … The all-star series is presented by St. Vincent Healthcare and Universal Awards.