BILLINGS — It wasn't always like this at Laurel High School.
Golf coach Jim O'Neil, who has been a Locomotive pretty much his entire life, says it might not have ever been like this.
A 1984 LHS graduate, O'Neil can't recall the Locomotives winning a single state championship during his four years of high school. Back in those days it was getting close that counted.
"Our basketball teams would take third and they'd drive us around town on the fire truck," said O'Neil, who just completed his 30th year of teaching at LHS.
"For a third place," he repeated for emphasis, laughing at the memory.
Nowadays, engine rides are limited to state champions, and Locomotive teams still kept the Laurel Fire Department plenty busy. Laurel programs won five Class A state championships this past school year (Billings Central grabbed four), the last coming last weekend when the girls track program won its first title in school history.
And that doesn't even count the Locomotives' state drama title won in May (speech, drama and debate are considered sports by the Montana High School Association).
O'Neil's girls golf team teed things up — as it did the previous two years — by winning its third straight championship in October. Girls cross country followed, then girls soccer, then the Loco football team took the baton, until finally the girls tracksters finished the run.
And let's not forget those who came close, finishes that would warrant the fire truck ride back in the day: Boys wrestling (2nd), softball (3rd), boys basketball (3rd) and boys golf (3rd).
Football coach Mike Ludwig, a 1988 Laurel grad, said he's never seen this level of success at Laurel. You can understand why purple pride is booming. 
"It's been a year, with the COVID and stuff, it kind of lifted people's spirits," said Ludwig, who also coaches jumps with the track program. "The people of Laurel, the community of Laurel is excited about things. You're like, 'My gosh, we're winning all over the place.'
"This is fun. Because I've been on the other end, and I know the other coaches have been on the other end, too, and it's miserable. I much rather like where we're sitting at right now and I know all the other coaches would say the exact same thing."
Before we get too caught up in the moment, O'Neil, to his credit and self-awareness, doused a little water on the fire-truck brigade. He pointed out how the town and school have grown over the years, and enrollment numbers on the Montana High School Association website bear him out.
Fall enrollment for the 2006-07 school year (that's the furthest back the MHSA website goes) put Laurel at 582 students, which ranked No. 7 in Class A and 20th in the state overall. By 2019-20, the latest figures available, LHS had 642 students, No. 2 in Class A (behind Columbia Falls) and 17th overall.
"Especially when you look at the fall our girls had, 20 years ago there's no way we could have accomplished that because we just wouldn't have had that many girls to have a state championship golf team, to have a state championship cross country team, a state championship soccer team," O'Neil said. "There just wouldn't have been enough athletes to go around."
Duly noted. But give credit where credit is due. Ludwig lauded the coaches in each sport, and said the recently built sports performance center at the school has improved strength training across the sports spectrum.
In the end, though, it's the athletes that should get the accolades, he said.
"The kids have to go out and produce and make it happen," Ludwig said. "You can give them the tools, but they're the ones, when it's time to go and they need to shine, they're the ones that have to do it."
So let's do a quick review of where the Locomotives shined the most this past school year:
Girls golf: Not only did the Locos win their third consecutive state title last fall, they broke the Class A team scoring record by shooting a 680, 96 strokes better than second-place Sidney. Their four scoring players all finished in the top eight — Hannah Adams was second, Haylee Adams third, Alivia Webinger fourth and Breana Jensen eighth — and all were underclassmen (Webinger, though, suffered a serious knee injury playing basketball and is questionable for the upcoming golf season).
O'Neil, who was a longtime football assistant for the Locomotives before switching sports a few years ago, said his golf teams like being the first out of the gate each fall.
"Winning is a learned process and it is contagious," he said. "You look at our golf team walk up and down the halls, you know, the five girls don't weigh as much as one of our offensive lineman. But these girls are animals, you know. I just think getting off to a good start sets the tone."
Girls cross country: With three runners in the top 15 — Andria Mourich (2nd), Carly Cook (6th), Grace Timm (11th) and Lauren Taylor (13th) — Laurel won its first state championship since 1993.
Coach James Haskins figured his team would be good. But it wasn't until four or five weeks into the season, he said, that he thought a championship was a possibility. From then on, the emphasis was on keeping his runners healthy and trying to avoid getting caught up in any COVID protocols.
"This was a very special group of girls," Haskins said. "You can't coach heart, you can't coach how competitive they are. I've been coaching here in Laurel for 20 years, and I've never had a group like that, ever. It's one thing when you have a girl who is willing to leave every ounce of everything she's got on that race. But to have three or four willing to do that, that just doesn't happen."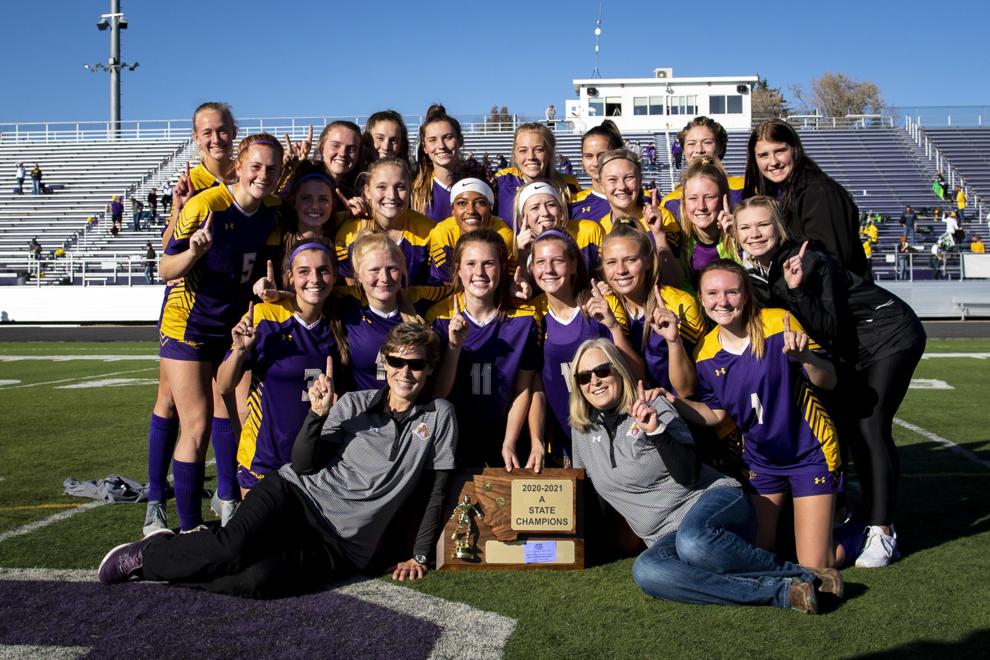 Girls soccer: Like the girls golf program, the Locomotives soccer contingent has been a postseason staple, appearing in seven straight state championship matches. A stirring, come-from-behind 3-2 home win over Whitefish on the last day of October gave Laurel its second consecutive title and fourth overall.
"They're very critical of each other, but they know that to get the job done you have to step up your game," coach Aloma Jess said of her team after the win. "And I know that sounds cliché, but they work harder, I think, when they're down. They are just that driven that they will do whatever it takes."
The championship win marked the end of line for Jess, who stepped down in January. She'll be succeeded by Tom Maack, who has been a fixture in the Laurel youth soccer scene and who coached the high school boys last fall, as the Locomotives go for a third straight title this fall.
Football: Ludwig's team finished 8-1, winning it all in its second straight appearance in the championship game. Their lone regular-season loss was to Billings Central, but the Locomotives whipped the Rams 34-0 in the title game, giving Ludwig his second state championship.
"We played in the state championship the year before, so we had a little taste of it," said Ludwig, who has been the Locomotives head coach since 2002. "We've been in the semis like four times. The other kids, they feed off that, they want more."
Girls track: The Locomotives used depth to win the school's first girls track title. Laurel had just one individual state champion — Cook, in the 800 — and its only other gold medal came when the second-place 1,600-meter relay team was bumped up to first when the winning Whitefish team was disqualified post-race for leaving its lane too early.
Last Saturday, after getting a celebratory dousing of ice water but before being handed the first-place trophy, coach Brandi Fox acknowledged the championship pedigree that had been walking around the Laurel High School halls.
"The kids, obviously, didn't have a season last year, nobody did," Fox said, referencing the COVID-canceled 2020 spring. "But you saw the same girls coming out for track that were your point-getters two years ago, and they were coming back. The other part of it, too, is we had state champions in cross country, in golf and in soccer, and so I was like, you girls need to come out (for track). We're athletic, and so I kind of used that as, 'look at what you guys have.'
"It was an amazing year for sports here, from beginning to end," Fox said.
Yes, 2020-21 was a banner year at LHS.