HELENA — Two years ago, the Helena High girls cross country team found itself on the podium at the Class AA state cross country meet.
Doing that requires finishing in the top three and it's something the Bengals hadn't done in 34 years.
But since then, they haven't stopped achieving — as a team or individuals.
Five varsity runners are on track to compete in college and all have been essential parts of one of the most successful stretches in program history.
In fact, another trophy, Saturday in Missoula, would make it just the second three-year trophy run in school history. 
"They have a legacy of success," Helena High girls head coach Jesse Zentz said. "It doesn't necessarily matter which trophy you win, in terms of the long-term impact it can have on a school. But they have a chance to get three consecutive trophies at a state meet and to do that, is just incredible. And really, this specific group of seniors, obviously, we have the five coming back, but we said goodbye to 17 after crosstown last week and that just shows you how important this class has been in terms of building the culture we want."
Being successful means having talent. But it takes more than that and because of its leaders: Kylie Hartnett, Odessa Zentz, Carly Ryan, Rylie Schoenfeld and Annie Menden, Helena High has built a winning culture. 
"They have just been incredibly committed," Jesse Zentz said. "They are some of the hardest working kids I have been around. They are incredibly coachable and our top five girls all have plans to run collegiately and what they've done is set a stage where kids can see this program as a place where they can do cross country and have fun with it; enjoy that high school experience or, if they want to, use it as a launching pad to continue their running at a competitive level in college."
Ryan is committed to run cross country and track at the University of Montana. Hartnett, the 2019 Class AA state champion and two-time all-state performer after taking 2nd last season, is choosing between Utah and Boise State.
Zentz, who is a state champion in track, and all-state in cross country, is also mulling multiple D-1 offers, which Jesse, her dad, and head coach, attributes to more than just talent, although the Bengals have an abundance of that too.
"People want these kids and it's because of who they are as much as what they do," he said. "Odessa, one of her letters from a coach that's recruiting her spoke to how important she values team and I think that's a reflection of what they've done here. They take those attitudes into their recruiting visits...they are more than just fast runners — they are all about their teammates and that team goal."
While the field in Class AA is going to be crowded with contenders, with Bozeman and Missoula Hellgate among the favorites, along with Helena High, the Bengals focus from day one, has been a return to the podium.
"I think that would be so special," Odessa Zentz. "One of my goals is to get all-state, but getting a trophy would feel even more special because it would be doing something really big as part of this group."
It's not a goal she shares alone.
Another trophy certainly means plenty to Ryan. So much that she's willing to run through multiple injuries — that have sidelined her for the most of the season — to compete at state.
"It's definitely a little risky," she said. "But I just want to be there for my teammates. And that's more important than what I have going on right now."
Despite being hampered by injuries, Ryan has a pair of top-5 finishes this season, as well as a 35th at the Mountain West. She was 23rd at state last season and is aiming for a top-15 (all-state) finish.
"What Carly is doing is incredible to me,"  Jesse Zentz said. "And that just goes back to the value of a senior and it's just a ton of grit and shows a ton of love for her teammates. I think for her, she just knows going into this meet that she is loved and supported no matter what. Really, beyond the race itself, her standing at the starting line with her teammates is going to boost their confidence."
Having a full lineup always helps but so does state experience and Helena has plenty of that. Hartnett is a three-time all-state performer and prior state individual champion; Zentz is a two-time all-state performer, while Schoenfeld narrowly missed in 2019 and 2020 (17th and 20th) as she helped the Bengals win third-place trophies in both years.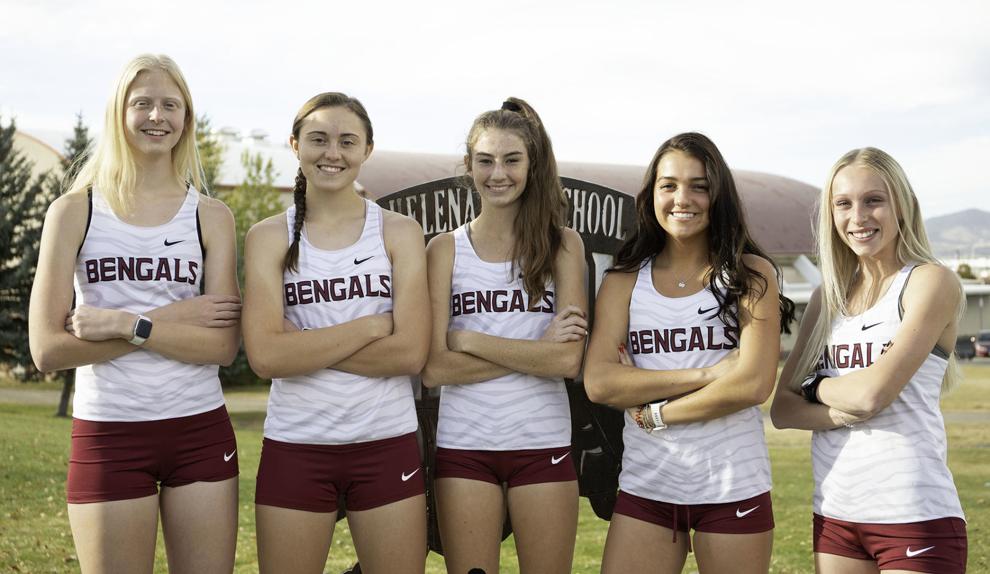 "It's been really special to be part of a group that has been able to do something that hasn't been done here in a long time," Schoenfeld said. "I think that just shows how impressive of a group we are."
While the Bengals have an impressive collection of talent, Hartnett has a resume rivaled by few in the state of Montana and in terms of Helena High history, she's got a chance to become just the third individual to win multiple state championships along with Lauri Adams (1973-74) and Jeannie Berthiaume (1986, 1988).
"Obviously, Kylie is leaving an incredible legacy here," Coach Zentz said. "She's won four crosstown championships and has a Gatorade Player of the Year banner up here, but I think what they've done in leaving those trophies in the trophy case, as a group, is what they will really remember." 
Hartnett's career features a total of 12 first-place finishes, but that team success is what has driven her and the Bengals this season.
"It's been our goal for the entire season," Hartnett said. "We came in knowing that we wanted to get back on the podium and that's what we've been training for. Every time we have a tough day or bad race, we talk about that's not our end goal and it all adds up to our end goal. So it would be really special to get back on the podium to finish out our careers after we got (HHS) back on it."
No matter how it ends, Saturday will be a little bittersweet.
"We've all been running together since our freshmen and sophomore years and we have had so many ups and down together, that it's a little sad it's ending," Hartnett said. "And we are going to be in different places but it will be special to end our high school careers together."
Jesse Zentz for one, has had a front row seat to it all over the years.
"I've been fortunate enough to have worked with these girls since they were about 11 years old," he said. "Odessa, Kylie, Carly, Annie and Rylie have either been playing soccer or running together since they were little kids. They are so supportive of each other and all believe so much in each other and that's why it's important when they line up for meets that they are all there.
"There is confidence that you gain from that and it's fun to see how that relationship has been strengthened over the years," he continued. "And it's hard, let's be honest. Kylie has been so dominant in cross country and the other girls, they never got to be the No. 1 runner on their high school team, but that doesn't seem to matter to them. They feel like there is a team goal here."
The team goal means something to each of them and while Menden said that winning a trophy wouldn't necessarily define her team either way, it's still on the to-do list. 
"We always talk about how consistency is better than one single act of greatness." Menden said. "So I think no matter how we do, we will be proud of it because of how consistent we've been. But getting another trophy would be really cool too."
Top three is the goal of course, but coach Zentz has had another message for his team this week: "If you want to do something you've never done before, you have to do something you've never done before."