BILLINGS — Winning is nothing new to the Bozeman High cross country program, and the victory parade continued Friday at the Billings Public Schools invite at Amend Park.
Led by individual medalists Stirling Marshall-Pryde and Natalie Nicholas, the Hawks took home team titles in both the girls and boys competition.
Marshall-Pryde, a seasoned senior, won the boys race in 16:38.87. Nicholas, a freshman wasting no time making an impact, prevailed on the girls side with a time of 19:15.86. It marked the third win in as many races this season for each runner.
"Top to bottom I think we ran pretty solid," said Bozeman coach Casey Jermyn, whose program has captured 12 straight boys Class AA state titles and 12 of the past 13 girls championships. "It was another positive step in the right direction."
Team wise, Bozeman's boys won with 41 points. Billings West, with second-place finisher Caleb Hornung (16:46.17), took second while Billings Skyview came in third with 106 points. The Hawks' Xander Danenhauer took fourth individually at 16:58.45.
Bozeman's girls had the top-three individual placers and won the team title with a scant 17 points. The Hawks' Natalie McCormick crossed in second place in 19:25.03 and teammate Hayley Burns took third at 19:35.14.
Bozeman Gallatin took second in the girls team competition with 71 points, while Skyview placed third with 81.
To adhere to social distancing protocols amid the ongoing coronavirus pandemic, the start of the boys and girls races were staggered in waves. The first wave consisted of the three top-rated runners from each school, the second wave was made up of their next three runners, and so on.
Marshall-Pryde outlasted Hornung and Belgrade's Samuel Nash, who took third in 16:47.37. Marshall-Pryde gave up the lead to Nash at one point, but rallied down the stretch.
"Overall it was a faster pack altogether," said Marshall-Pryde, who finished 12th individually at state last year. "I think that helped me out a little bit. Sometimes I get out in front and I go into a lull, but they were pushing me the whole way."
"I'm not very good at finishing kicks and going fast at the end, so I have to run away from everybody else on the course," he said. "I tried to take the first mile fast, cruise the second mile and then come in hard on the third mile."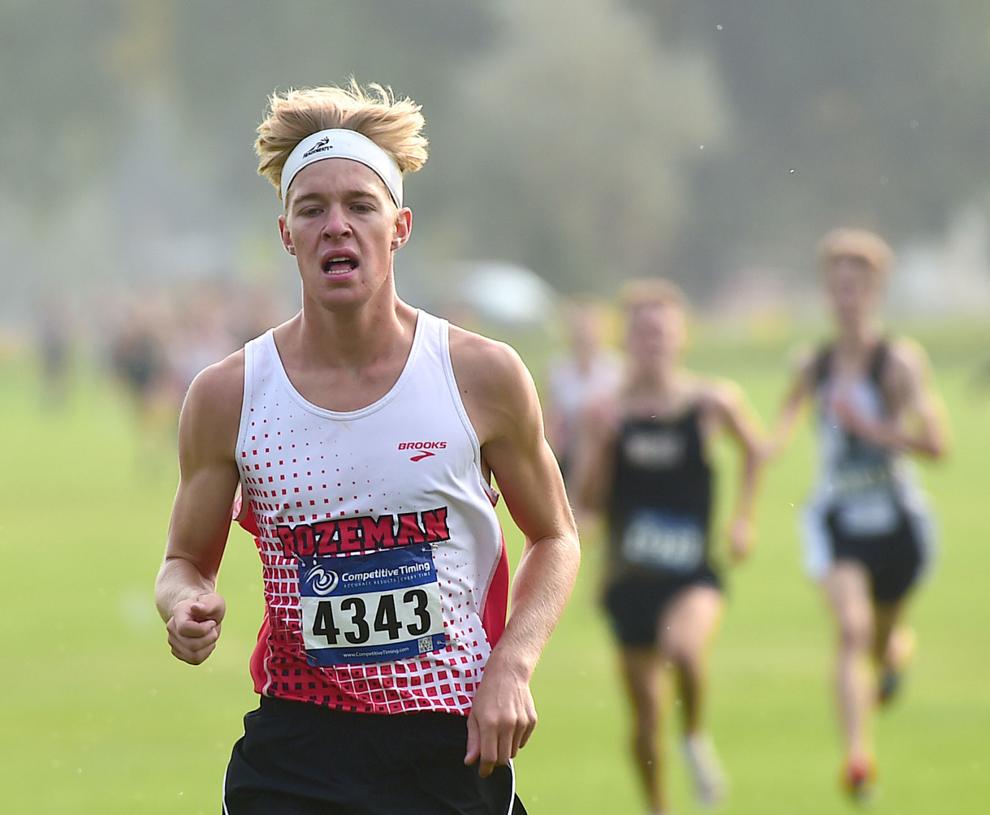 Great Falls High's Mac Palmer rounded out the top five, placing fifth with a time of 16:58.4. Skyview's third-place finish was aided by Gavin Budge, who took eighth in 17:11.87.
Winning hasn't been the No. 1 objective for Nicholas in her first year of varsity cross country, but that's all she's done to this point. Still, Jermyn said he knew the diminutive Nicholas could have an immediate impact based on how she'd performed in junior high.
Nicholas shared the lead with McCormick, a senior, for two-thirds of the race before pulling away. But Nicholas continues to put her team's fortunes above her individual accomplishments.
"I was really nervous at the beginning (of the season) for sure, but all the people on our team are really awesome and inclusive, and it just feels like we're all a team," Nicholas said.
Billings Skyview's Emberlyn Hoffman-Gaschk came in third behind Nicholas and McCormick in the first wave of runners with a time of 19:36.26, which aided in the Falcons' third-place showing. But she ended up in fourth place in the individual breakdown as Bozeman's Burns came out of the second wave to take third overall.
Another Hawk, Molly Sherman, placed fifth in 19:41.29.
Gallatin's Alexis Holton clocked a 20:53.72 time to help the Raptors place second in the team standings.