BILLINGS — There was a lot more, shall we say, breathing room last year at the Billings Invitational cross country meet.
In 2020, as a precaution for COVID-19, meets across Montana were broken down and staggered into heats and, notably, didn't include interstate competition. That meant far fewer competitors.
But those days have passed.
Friday marked a return to format for the Billings Invite, with 38 teams represented, including squads from Wyoming and North Dakota. It made for a bustling scene at Amend Park, in contrast to the year prior.
But it didn't produce a wildly different storyline. Bozeman High, a preeminent cross country outfit, captured top medalist honors at the season-opening meet, with Connor Neil winning a hotly contested boys race and Hayley Burns cruising to victory in the girls event.
Neil's time was 16:12.99. With five runners placing in the top 22 and three in the top 15, the Hawks finished first in the boys team standings with 60 points.
Burns, meanwhile, finished in 19:07.38 in the girls race. The Hawks, though, with 76 points, took second in the team competition to Cody, Wyoming, which had four top-10 placers and scored a meet-low 40 points.
With a greater number of runners in a singular event, Neil knew there was one thing he couldn't allow himself to do.
"I really didn't want to get boxed in. That was the biggest issue," he said. "You don't want to get boxed in at the beginning."
Neil, a senior, avoided getting caught in the pack. By the end of the race, he was able to fend off Bozeman Gallatin's Carson Steckelberg to cross the finish line in first place. Neil edged Steckelberg by a little less than a second. Steckelberg's time was 16:13.55.
"I could feel him coming at the end," Neil said. "That's kind of how it was last year. We've always been running close to each other. It's pretty cool to have somebody like that who you know is always going to be there pushing you."
Last year at state, Steckelberg took fifth and Neil placed 11th.
Caleb Hanson of Dickinson High in North Dakota placed third at 16:26.81. In the team standings, Billings West was the runner up with 91 points, and Gallatin came in third with 118 points.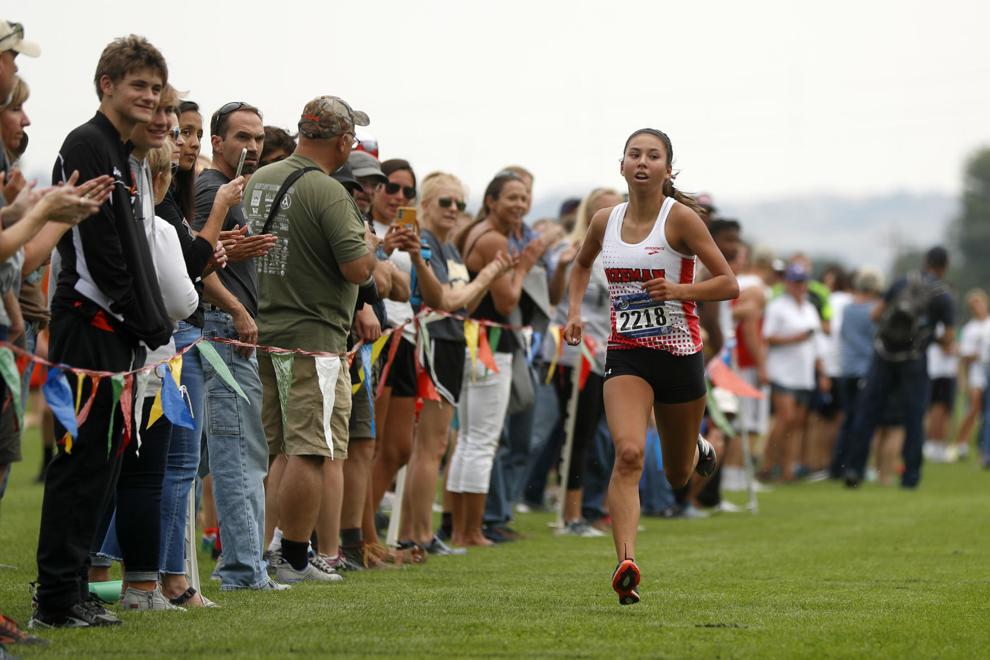 Burns, meanwhile, had no peer in the girls race. The next closest finisher, Big Timber's Natalie Wood, finished roughly 20 seconds behind Burns in 19:28.17.
Burns, a senior, is in her third season at Bozeman after transferring from Class B Colstrip. She placed sixth at state a year ago, helping the Hawks capture their second straight title and 15th since 1982.
When she finished, Burns was handed a bottle of water to cool down, and she immediately took off her shoes.
"My feet were just on fire," she said with a laugh. "It was nice to finally get them off."
With the Billings Invite being a larger meet again, Burns said Friday presented "good pressure."
That pressure gave Burns the adrenaline she needed to capture an easy victory — even though she may have surprised herself.
"It felt really good. It was kind of unexpected," Burns said. "But I know where I should be and where I want to race."
Billings West's Hannah Lukasik took third individually with a time of 19:42.47. With 87 points, Hardin placed third in the team standings.
Cody took the team title led by the quartet of Ava Stafford, Taylen Stinson, Mekenzie Clark and Kinley Bollinger, who finished fourth, fifth, sixth and ninth, respectively.