MISSOULA — Led by a sweep of the top three placers, the Hardin Bulldogs captured their sixth Class A girls cross country title on a drizzly day here. The Bulldogs' 37 points led the podium that included Corvallis (91) and the 2021 champions Columbia Falls (93).
Hardin eighth-grader Karis Brightwings-Pease led the charge from the Bulldogs by completing the course in 19 minutes, 1.8 seconds. Her teammates, junior Mariah Aragon (19:35.3) and senior Elyse Moccasin (19:42.4), followed her across the line as the trio ran together for much of the race.
The boys contest was the complete opposite as the Livingston boys won their first cross country title by scoring 78 points ahead of Whitefish (90) and Corvallis (132). It's the first time a team east of the Continental Divide has won the Class A trophy in 15 years (2007, Browning).
Meanwhile, Billings Central freshman Greyson Piseno won the individual boys race in 16:16.3 for his first title. He was followed by Hardin eighth-grader Ben Bird (16:24.1) and Dillon senior Ben Steadman (16:30.7).
Hardin girls claim sixth Class A girls title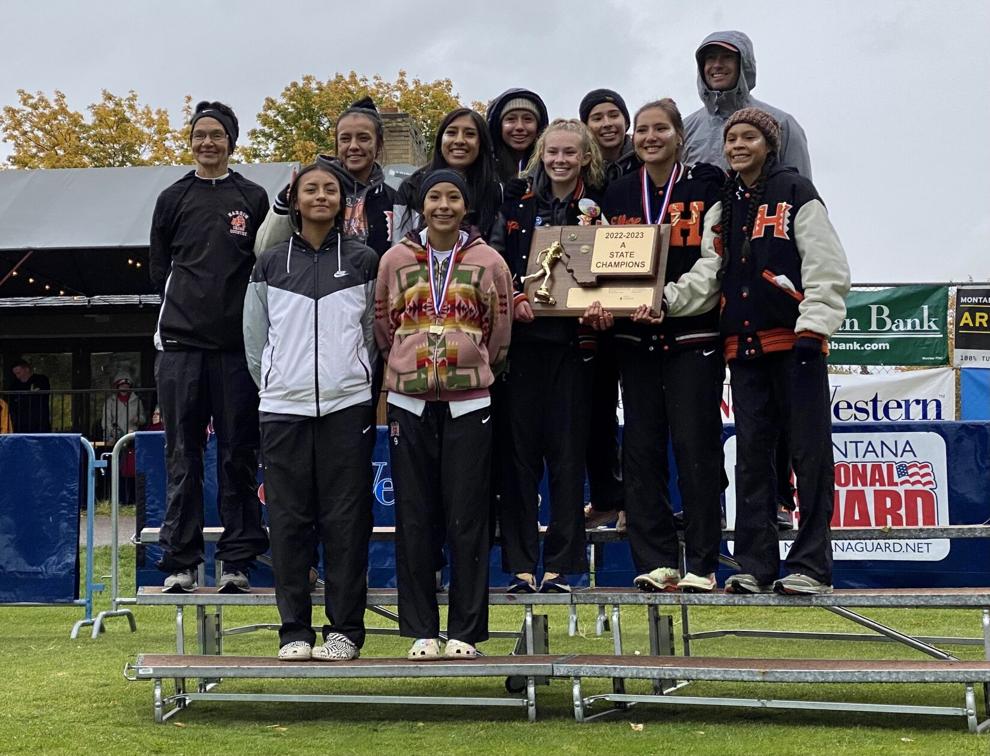 Four Hardin Bulldogs found themselves in the chairs holding the top 15 placers at the finish line waiting for the rest of the competitors to cross the line Saturday and coach Cindy Farmer made her way to the side of the rail separating the crowd from the runners.
There the girls and their coach shared hugs of celebration.
"That was the best part of it right there," Farmer said.
The celebration had begun as soon as the Bulldogs started crossing the line.
"I turned around and seeing my other teammate, I was like, 'You guys! This is awesome. We just placed top-three podium spots. We did awesome!'" Aragon said.
Led by individual champion Brightwings-Pease, the Bulldogs' 37 points is believed to be their lowest score of their championship winning efforts.
"That was really amazing," Brightwings-Pease said. "I knew they worked hard with me and I knew they deserved that part."
It seems Brightwings-Pease runs best in the rain after running a personal best earlier this season in similar conditions at Miles City. She said she was happy that was the way it turned out Saturday.
"It feels good. I feel like my hard work paid off and I'm glad to be here today," Brightwings-Pease said after receiving her medal. 
Farmer told her team before the start, "To run their race and have fun and compete and be there for each other like they have been all year."
They delivered as Bulldogs got performances all the way down their lineup, including ninth-place finisher Zoey Real Bird and senior Sophie Nedens in 22nd. 
It was an intro to the high school ranks for Real Bird who is competing as an eighth grader while Nedens made a comeback from an injury she suffered last season to help seal the Bulldogs' victory.
"I'm so proud of them and so happy for them. They're a great bunch of girls," Farmer said.
Newcomers to the Class A boys podium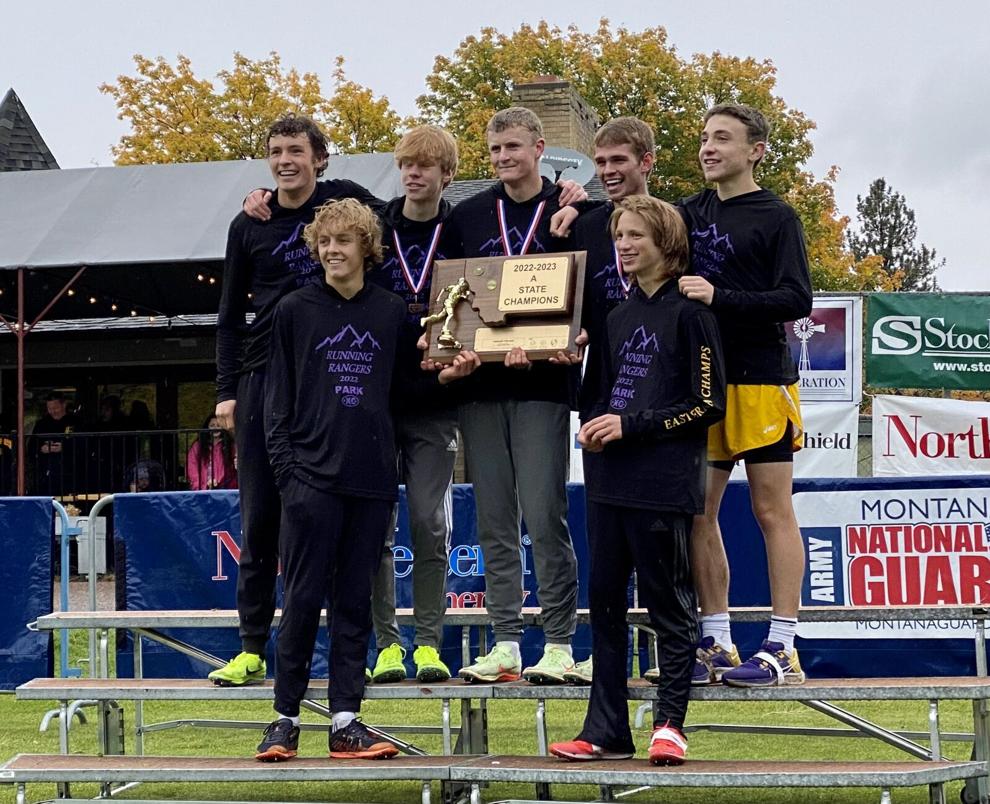 After coming down off the podium with the trophy, the Livingston boys huddled together, arms around each other and heads bent into the center of a circle alongside both their coaches. 
In the quiet of that moment as friends and family milled around them, Kirk Lentz, who's coached the Rangers since 2009, told his team that they earned it.
"It's an incredible feeling to know that these boys have gotten the recognition that I feel they deserve for all the hard work they've put in this season and for some of them, for years building up to this moment," Lentz described after.
Lifted by three all-state perfomances by senior Charlie Serafin (5, 16:39.9), freshman Finn Schretenthaler (6, 16:42.2) and senior Andrew Durgan (15, 17:00.7), the Rangers notched their names into the list of state champions for the first time.
"Somewhere in the middle of the season, we told them that they all started out at lumps of coal," Lentz described after. "They've tuned into gems. This past week, we said we're just working on polishing you. You are these beautiful diamonds, but you need to be polished. And that's what we did and both boys and girls alike just shined brightly today and we're just proud of all of them."
With 12 points ultimately separating the Rangers from runners-up Whitefish, the Rangers had little margin for error and they delivered.
"Absolutely every single one of those seven boys made this happen," Lentz said. "Schretenthaler kind of saved us because he ran out of his mind as far as places." 
"This hopefully will start keep on swinging that pendulum and having people in the community and the school believe that we can do this."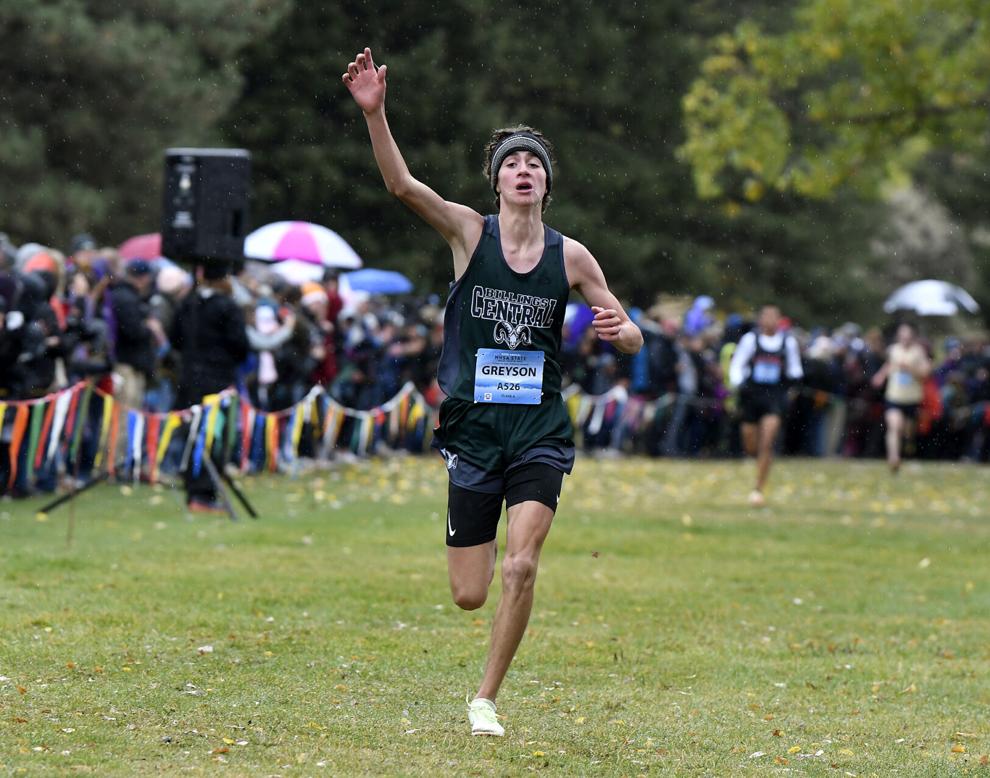 Piseno believed in himself that he could come out and win a state title as a freshman.
He knew that he had the top time coming into the race, but a few things gave him extra confidence. 
Summer runs with former Billings Senior state champion Tiahna Vladic, a personal best in his final race before the state meet and once the race began, some familiarity in who he was running against, all helped Piseno race to victory. 
"I looked at my seeding and I was prepared to run my race, but I want to give credit to (Hardin's) Ben Bird for sticking with me," Piseno said from the bus traveling back to Billings after the win.
Common Eastern A competitors Piseno and Bird led the race through the first two miles in a pack with Dillon's Ben Steadman before Piseno pulled away for the win.
Piseno becomes the first Billings Central male to win a state cross country title since Matt Winter in 2002.