SUPERIOR — Trey Green was at a near loss for words following Clark Fork's 8-Man football state semifinal win over Great Falls Central on Saturday afternoon.
Surrounded by friends and family, the senior running back was understandably a little emotional after the 44-14 win at Bobcat Field that put the Mountain Cats in the state title game. Clark Fork will play Fairview at Herb Klindt Field in Billings next Saturday.
"It's meant everything," Green said of his senior year. "I couldn't ask for more from my teammates and coaches. Just happy to be here."
A battering ram throughout this season and his career, Green stands 5-foot-9 and is listed at 205 pounds. In addition to receiving handoffs, he also sees time as a mostly short-yardage quarterback.
In fact, his second touchdown of the day, a 4-yard dive that gave Clark Fork the lead for good, came out of a formation with Green lining up as a quarterback. He also had touchdown runs of 4 and 16 yards, finishing with 21 carries for 85 yards.
He impressed everyone from his teammates and coaches to the Mountain Cat faithful.
"He's tough," Clark Fork head coach Jeff Schultz said. "That kid just loves running the ball. Big moment, he gets it, and he always comes up for us. Scary, I guess that would be my term for him."
Green had Clark Fork's first score of the day, which came on the Mountain Cats' second drive. Great Falls Central immediately responded with a strong drive of its own. Mustang quarterback Shane Girres found Colby Aderhold from 19 yards out to knot the score at 6-6.
But Clark Fork was able to move the ball down the field efficiently, often leaning on its running game, and got the lead back with Green's aforementioned designed quarterback sneak. Minutes later Mountain Cat junior Jake Calloway found a crease in the middle of the second quarter and raced 43 yards down the field to give Clark Fork a 22-6 lead.
Great Falls Central was able to respond and Girres, who ended the game with 23 carries for 206 yards, scored a touchdown on a 48-yard run.
"He's a gamer. I hope he knows I'm really proud of him and what he's done," Great Falls Central head coach Greg Horton said. "He'll be the first person to be hard on himself, but he shouldn't be. But I think those are the type of guys you want in your program, those guys that want to leave it all out there."
But it was the last time the Mustangs would find pay dirt. Behind the running game of Green and Bryan Mask, Clark Fork was able to control the clock and got numerous third- and fourth-down stops through the final two quarters of play.
Mask scored on runs of 5 and 9 yards in the second half, making up for two first-half interceptions.
"When we need it, he's the guy," Schultz said. "He steps up and doesn't ever, ever get down anymore. He's been solid. He's a big reason why we took a big step from last year to this year."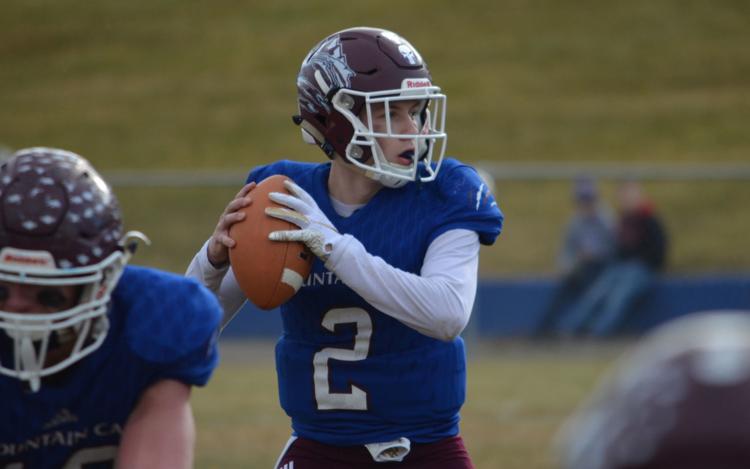 Clark Fork, in just its fourth year as a cooperative, makes its first state championship as a combined team. Superior reached the state title game twice — 2008 and 2012, winning both times. Alberton had never won a state title or made a championship appearance. 
For the seniors on the 2019 iteration of Clark Fork, who were freshmen when they began the co-op, it is simply a credit to everything they have helped build.
Especially for a certain senior captain running back.
"It's rewarding," Green said. "This is what we've been working for."