Helena High's Scott Evans has seen just about everything in the crosstown rivalry between the Bengals and Helena Capital.
However, he had never seen anything quite like Friday night, as a snow storms hit throughout the state of Montana, including Vigilante Stadium, which was blanketed from start to finish.
"We have had some cold ones," Evans said. "But never anything like this. This was incredible. It's unbelievable how much snow there was tonight."
The snow and cold meant less-than-ideal conditions for the offense, but three forced turnovers including a blocked punt, led to a pair of touchdowns for Helena on the ground, which proved to be enough to beat Capital 12-6 in the regular season finale for both teams.
"That was a great effort and a great football game," Evans said. "I am so happy for our kids, they were so excited to play this game and we now we get to sit back and get a little rest and see what happens."
With the weather making it nearly impossible to throw the football, as the two teams combined for five yards passing in the first half, the first big play of the night came on special teams, as Helena blocked a punt late in the first quarter, which eventually set them up with a first and goal.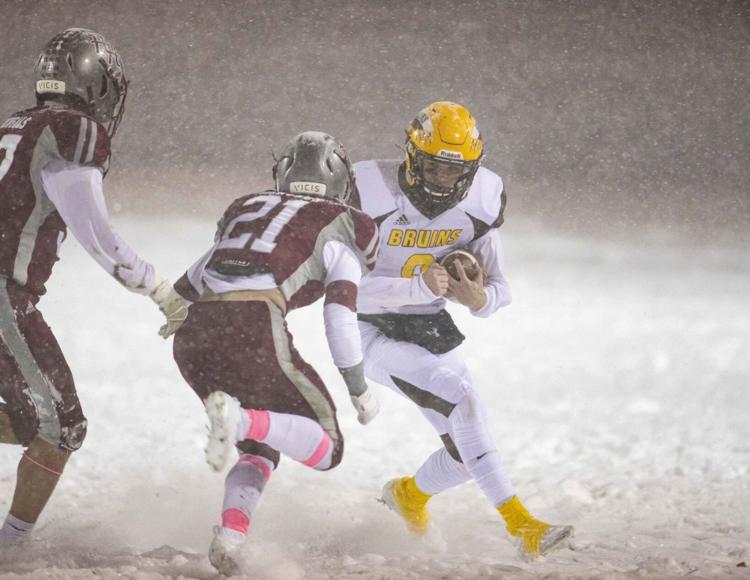 After failing to score on a goal-to-go situation in the first quarter, Helena again was facing a third and short. Forrest Suero, who normally plays defensive line, checked in at at fullback and plunged in for the 1-yard touchdown, putting the Bengals in front 6-0.
"I have to give our coaches credit," Evans said. "We had the old wing-T out there and they were pretty creative moving guys around. We had a pretty big backfield at times with Forrest, but it worked. Just creating any kind of offensive opportunity out there was difficult."
Between the two teams, just six passes were completed and Helena High, which was without Kaden Huot, its normal starting quarterback due to a concussion, won the game with just one completed pass and five yards through the air.
Yet, senior Dexter Tedesco, Huot's replacement, also ran for 62 yards and most importantly, he didn't turn the ball over once.
"It was crazy," Tedesco said. "It was a fun game with the snow and everything, but you just can't hold onto the ball. It was just like a brick."
Tedesco only completed one pass but the plays he made running the ball were impactful, including a first down run on third-and-10 which set the stage for Ben Swanson's 28-yard touchdown run that gave the Bengals a 12-0 lead in the second quarter.
"I just had a fire in me," Swanson said. "I knew coming in that I wanted to be my best and be the best version of myself. And this was awesome, we are going to remember this for the rest of our lives."
Swanson's score made it 12-0, but an interception in the end zone by Helena's David Lowry kept it that way at the half, as Capital missed out on its best chance to score in the first half.
In the third, there was little happening, as the defenses dominated. For a while, it felt like a stalemate until Capital quarterback Matt Burton, despite the tough conditions, drilled a ball through the snow to Quinn Belcher for a 30-yard touchdown and suddenly, with 4:04 left in the game, the Bruins were down just 12-6.
"You have to give Capital a lot of credit," Evans said. "That was a great football game by both teams and it was a battle until the end."
Down by six, Burton and the Bruins got the ball back, following a three-and-out forced by the Capital defense. Only on this drive, when Burton threw the ball down the field, he found Helena's Chase McGurran instead of a teammate. It was the second interception of the second half for the junior.
"I was losing my footing all over the place," McGurran said. "It was kind of a shaky game but it feels great that we were able to come out with a win, we have been waiting for this game all season."
McGurran's interception with just over two minutes left was huge, but the final dagger, that came on yet another first-down run by Tedesco as he avoided Capital defenders, reversed field and scampered past the sticks, which allowed the Bengals to assume victory formation.
"I didn't really know what happend," Tedesco said. "I just looked up and realized that we had won the game. It's a great feeling."
"This was a great team win," Evans said. "Dexter Tedesco being the main one, he just played his butt off. It wasn't pretty tonight. But I am just so happy for these seniors. I have a senior son and watching him run around and dive in the snow that's something special and something these kids will always remember."
Neither quarterback was able to do much throwing the football, but Buron tossed three interceptions for the Bruins compared to the one touchdown. Capital also managed just 32 yards rushing on 23 attempts compared to 235 yards for Helena High on 45.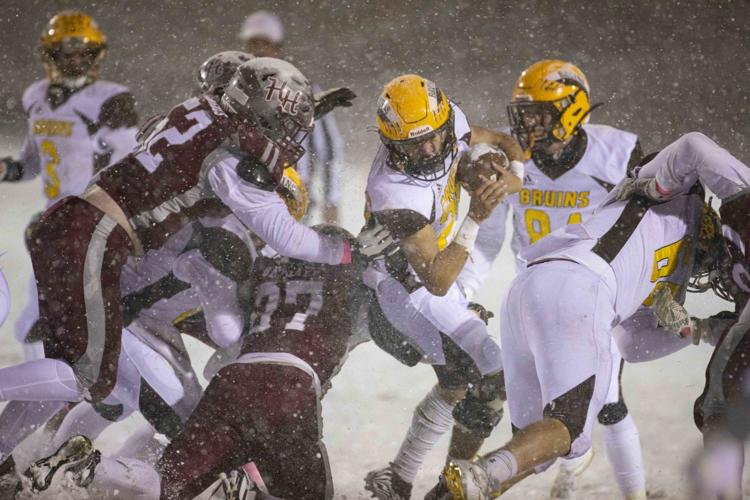 Ethan Maxness led all ball carriers with 86 yards on 25 carries, Tedesco was right behind him with 62. 
Helena High (6-1) will finish as the No. 2 seed in the Western AA. The Bengals will get a first-round bye. Capital (3-4) will head to Butte for the first round of the playoffs next week.