HELENA — It doesn't take a genius to know that you need strong quarterback play to win, no matter what level.
And armed with a potentially elite defense, as well as up-and-coming quarterback Kaden Huot, who showed flashes in 2019, Helena High could have the exact recipe needed to end a state championship drought that extends back to 1932. 
"I feel more comfortable with our passing game than I ever have," Helena head coach Scott Evans said. "And that's a good feeling to have. Hopefully, we are as good defensively as we think we are and our offense can pick up the pace."
Last season was Huot's first as a starter, as Evans decided to give him the nod as a sophomore. In his debut, he threw for 1,799 yards and 11 touchdowns and heading into year two, that experience has paid off.
"I have a lot more confidence this year," Huot said. "Now that I've got a year under my belt."
While the Bengals will be without leading receiver Kyler Tesch from a season ago, along with its two leading rushers in Logan Brown and Hayden Ferguson, Helena does bring back senior wideout Raef Miller, who caught 28 passes for 462 yards and five touchdowns in just eight games last season.
Dexter Tedesco, who missed last season with an injury, will also be counted on to play a big role, as will Chase McGurran who caught 10 passes for 92 yards.
"I think that our passing game should be better," Evans said. "We have a bunch of guys who have played before and our quarterback is more comfortable heading into the season. The glitches of offense happen, we will have some of those, especially in the first game, but I feel we are ahead progressively in our passing game."
Evans also isn't the only coach to take notice of Huot, who has already garnered some attention on the recruiting trail, including from Montana State, which contacted Huot Sept. 1, which is the first day schools are allowed to reach out directly to recruits in the class of 2022.
"(Montana State) has been texting me leading up to the game Friday," Huot said. "Wishing me good luck." 
But with a lack of opportunities in the summer due to COVID-19, this season has become even more important for Helena's second-year starter.
"I was at Montana state camp last year and Coach (Jeff) Choate told me that your junior year film is the most important," Huot said. "So this is a really big year for me."
Huot's growth on the field remains to be seen. He was sharp in the Bengals scrimmage last week but his development is key to Helena High's chances in the Western AA and beyond.
The conference has a slew of experienced signal callers returning from last season led by Dayton Bay at Missoula Sentinel and JT Allen at Kalispell Glacier. Both threw for over 2,000 yards last season and like Huot, led their teams to at least the state quarterfinals. 
But in addition to Huot, the Bengals will have their usually stingy defense, one that returns multiple starters from a year ago at each level, from one of the best defenses in Class AA. 
"Our defense is outstanding," Huot said. "They were outstanding last year and they are going to be again. So that takes a little pressure off us (the offense) but we still have to go out and score points." 
In terms of production, the Bengals are returning tons of it on defense, as the top two tacklers from last season, Zachary Evans (126 tackles, 7 sacks) and Marcus Evans (96 tackles, 3 sacks) are each back. In all, seven of the top 11 tacklers from last year are returning.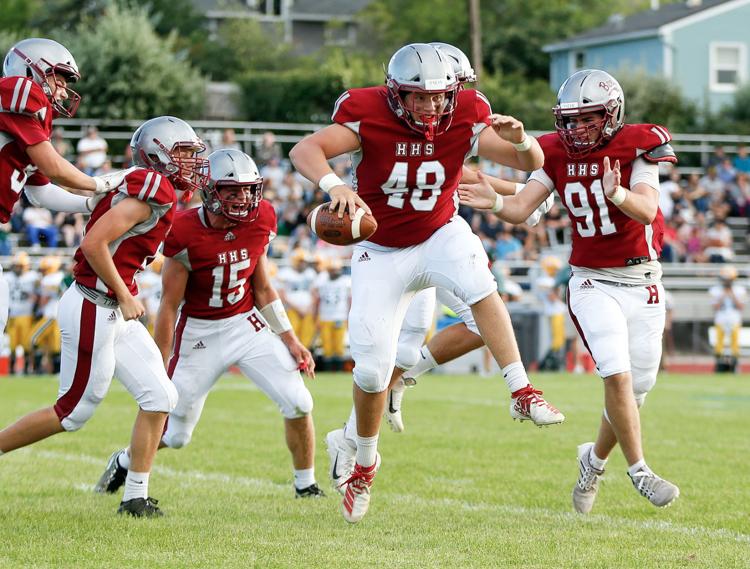 In the secondary, Helena returns three starters, including corners David Lowry and Chase McGurran, as well as safety Ben Swanson.
Lowry and McGurran tied for the team lead in pass deflections (5), while McGurran also notched two interceptions. Swanson also had two interceptions.
In the front seven, the Bengals will be relying on Forrest Suero (5 sacks) and Zach Carson (2 sacks) to help provide pass rush, along with the Evans' brothers who combined for 11 sacks a year ago.
Even though two-way players aren't as common in Class AA football, Helena will have a few going both ways including Marcus Evans, who will be the starting running back. Ethan Maxness will also see carries. Swanson and Zachary Evans will also get time as H-backs.
"We are looking more at the modern times," Scott Evans said. "It's tough to have that bell-cow running back because that guy is usually a good athlete and you can use them at other positions. We are going to use those guys the best we can and use them in situational things to keep them fresh for the entire season."
Up front, the Bengals will be replacing a few starters on the offensive line, but will be led by Judson Seliskar at right tackle and Josh Goleman who will play defensive tackle too.
Helena opens its 2020 season on Friday after nonconference games were canceled. Now, the schedule will be just seven games starting with Butte High.
And after two extra weeks of practice, the Bengals are itching to play.
"We have been practicing for four weeks now and grinding it out," Huot said. "We have been doing the distancing and following all the rules, so we are excited to have a season. We are ready." 
The season that at times looked in doubt, starts Friday night at 7 p.m. Spectators will be limited to two tickets per home participant.