RED LODGE — Sidle up next to Red Lodge's Elijah Reynolds and you'll get the picture real quick.
At 6-foot-3 and 225 pounds, Reynolds is a physical specimen who looks as though he's already spent a couple years maturing in a college football program.
Not the case. He's an uber-talented senior for the Rams, using his size to clear holes and catch passes as a burgeoning tight end.
Teeming with raw ability, Montana State football coach Jeff Choate and his staff pounced on the opportunity to corral Reynolds for their 2020-21 recruiting class.
An MSU fan for years, Reynolds committed to the Bobcats in December and (according to available data) is set to accomplish a rare feat by becoming the first Red Lodge product to play collegiately in Bozeman since Gary Cline in 1961.
"He's one of those kids that you saw the potential of him coming up," Red Lodge coach John Fitzgerald said. "Are they going to work at it to get better? He has. For him to get to that level is pretty special for him and for Red Lodge."
Fitzgerald knows what it takes to make the leap from small-town high school football to the Division I level in Montana, having signed with the Grizzlies out of Columbus in 1997. Fitzgerald went on to win a national title with UM in 2001 as a tight end/H-back and key special teams contributor.
Reynolds was born in Minnesota but has been in Red Lodge since the third grade. He grew his stock while attending camps around the region, and always liked what Montana State had to offer.
He was recruited by MSU assistant coaches B.J. Robertson and Nate Potter, and it didn't take long for him to make a decision.
"Montana State was always the one I was most invested in," Reynolds said. "I grew up watching them and have been a fan ever since I started to know what football is all about. I chose them because of the coaches. I definitely mesh with them and I like what they stand for.
"It's a huge family mentality up there. That's something I really look forward to, having something bigger than football to be a part of. That was a huge thing for me."
Fitzgerald commended Reynolds' ability as a blocking tight end, noting it's his best on-field attribute right now. Rams senior running back Jay Jetmore can attest to it first-hand.
In a Week 1 win at Big Timber in which Jetmore slashed his way to 381 yards and five touchdowns, Reynolds was consistently clearing a path.
"Every play he'd pancake a kid. Maybe even two," Jetmore said. "I'd just take off, get the ball and do what I do best."
"He's a great teammate. Always willing to block," Jetmore added. "He does his best job to get the ball in the end zone even if it's not him. He's a natural leader, leads by example."
Reynolds continues to fine tune his pass-catching ability in an effort to become the every-down tight end Montana State envisions. Red Lodge ran more of a wing-style offense in recent years but is throwing more this season.
Still, Reynolds' impact is felt most in the ground game. Fitzgerald said Reynolds is "a tremendous blocker. Gets after people really well. Low center of gravity for a guy that's 6-3. He really gets low and gets underneath pads and drives his legs and has good power through it."
"There's nothing better than making holes for guys like Jay and Rizon (Berndt) and our other backs," Reynolds said. "My mentality is to get guys out of the way. Being physical is kind of my game."
The oldest son of parents Wade and Kelly, Reynolds said he plans to study civil engineering at Montana State. The MSU football program has a history of utilizing the university's engineering curriculum to find quality football players with high academic ambition.
The Bobcats have produced a long list of standouts who pursued engineering.
It's not an easy road, but Reynolds is intent on adding his name to that checklist.
An avid skier and angler, Reynolds said MSU "is perfect for a lot of reasons"
Fitzgerald believes he's ready for the challenge.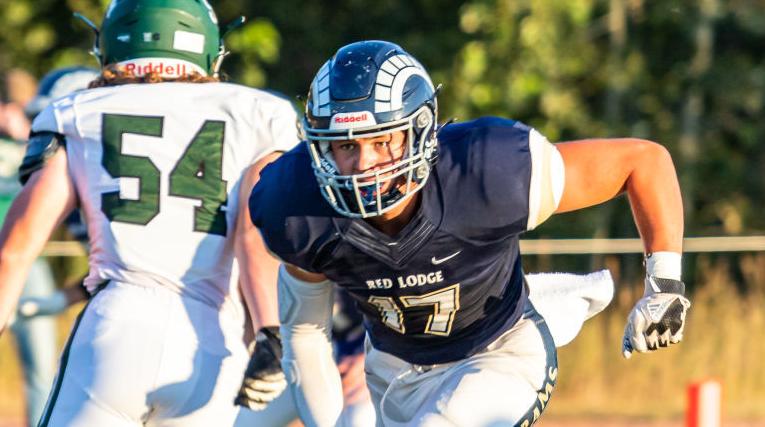 "I went through a similar path," said the coach. "It's a big transition when you're going from Class B to not only college football but Division I football. But he's developed the skills and the mindset to be successful at that level.
"You're going from being a big fish in a small pond to being a small fish in a big pond. You have to just take the coaching that you're given and listen to the advice of the veterans that are up there on how to make it."
This week, Red Lodge (2-1) is scheduled to play on the road at Baker (0-1) in an Eastern B division game. The Rams, two weeks removed from a disappointing home loss to Columbus in which they turned the ball over five times and fell 62-40, are still determined to clean up their mistakes.
Last season, Red Lodge went 10-1 and made a run to the semifinal round of the Class B playoffs. Reynolds and Co. have bigger goals this year, but there's still a lot of season left.
"The loss to Columbus was not what we're looking for," Reynolds said. "We're still figuring out what type of team we are. "The teams in the playoffs that go far are the ones that are productive and do things right.
"We just need to pay attention to the details."
Friday Night Lights
Following is a look at some of the key games around the region this week:
Great Falls at Billings Senior (No. 3 Class AA), 7 p.m., Wendy's Field at Daylis Stadium: The Broncs hit the ground running in their opener, literally and figuratively. The offense looked smooth in racking up 252 rushing yards in a 34-13 win over Bozeman. Meanwhile, the Broncs will have their eye on the Bison's Levi Torgerson, who scored four touchdowns, including a 105-yard interception return. Torgerson had two pick-6's, returned the opening kick for a score, and also caught a touchdown pass in a 48-14 victory over Bozeman Gallatin.
Billings West (No. 4 Class AA) at Great Falls CMR, 7 p.m.: Billings West scored 55 unanswered points in rolling over intra-city rival Skyview 62-7 last week. Taco Dowler picked up where he left off last year, scoring on a kick return and grabbing two touchdown passes from Isaiah Claunch, who had four TDs passes. The Rustlers' defense was the only squad to pitch a shutout last week as CMR defeated Belgrade 27-0.
Billings Skyview at Bozeman, 7 p.m.: These two teams look to rebound from their first-week losses. The Hawks turned the ball over three times against Senior last week, so they'll need to clean that up. Skyview was also hit by the turnover bug, and gave up 351 total yards to the Golden Bears.
Hardin at Billings Central, 7 p.m., Lockwood High School: Rams quarterback Marcus Wittman threw for more than 200 yards, but Central still needed a Brock Ping touchdown run with 1:03 left to hold off Sidney 21-18. Ping, a transfer from Billings Senior, scored two touchdowns on the ground. Hardin makes its debut after the school suspended the football season in late August after several students tested positive for the coronavirus.
Sidney at Laurel (No. 4 Class A), 7 p.m.: The Eagles had a chance to send last week's game against Billings Central into overtime, but missed a last-second field goal. Their defense will be tested again by what looks to be a high-powered Laurel offense, led by quarterback Eli Aby. The Montana State commit (at safety) threw for four touchdowns in last week's 42-0 win over Havre.
Miles City (No. 2 Class A) at Lewistown, 7 p.m.: The defending State A champion Cowboys opened the season with a 55-13 win over Glendive last week. Their 12-game winning streak will be tested against the Golden Eagles, who began their season with a 22-14 overtime win over Bigfork, which was ranked No. 3 in the 406mtsports.com Class B rankings last week.
Fort Benton (No. 1 8-Man) at Belt (No. 6), 7 p.m.: Both teams have demolished their competition through three games. Fort Benton has outscored its opponents 163-6 total, while Belt has blasted its foes 181-22. Last season, Fort Benton lost to eventual 8-Man state champion Fairview 48-8 in the semifinals, while Belt fell to runner-up Alberton-Superior 46-34 in the quarterfinals.
Broadview-Lavina (No. 7 6-Man) at Reed Point-Rapelje, 7 p.m.: Broadview-Lavina is coming off a bye week, and maybe the Pirates needed that week to catch their collective breath from all their running around the field. The team is 2-0, having outscored Fromberg-Belfry and Custer-Hysham by a combined score of 141-0.