BILLINGS — The Baker football team missed the Class B state playoffs the previous two years. It felt like 200 years for coach Dave Breitbach.
Two days is nothing.
The Spartans left school on Thursday afternoon and plan to arrive in Eureka on Saturday morning for their first-round playoff game, which begins at 1 p.m. Baker's bus will cover nearly 750 miles of interstate and highway.
Breitbach and his players aren't complaining, and they're not just trying to sound tough. They would have missed state for the third straight season if they lost last week.
"We're all just excited to be in the playoffs," said Baker senior lineman Trent Collins. "We'll try to show them a little bit of what eastern Montana can do."
Baker sits less than 13 miles west of the North Dakota border and is closer to Minneapolis than Eureka. The Spartans planned to spend Thursday night in Belgrade, which is 375 miles west of Baker. Ronan, where the team will stay Friday night, is more than 600 miles away.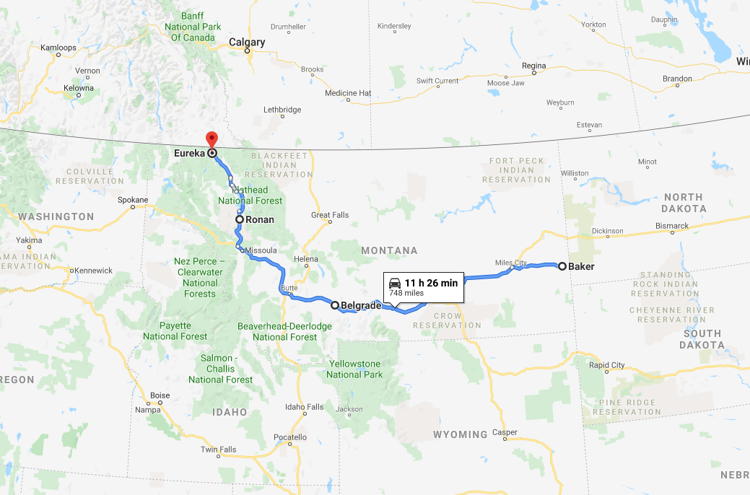 The Spartans lost at Missoula Loyola 49-6 in the first round of the 2016 Class B playoffs, their last state appearance. They spent more than 500 miles and eight hours in a bus to get there.
That memory is still fresh in the minds of Baker seniors such as Collins and quarterback/defensive back Riley O'Donnell. On the bus, players slept, watched old football movies, broke down game film, played on their cellphones and bonded, O'Donnell said.
The shortest driving route from Baker to Eureka, which is about nine miles south of Montana's border with British Columbia and 70 miles east of the Idaho border, is 667 miles, according to Google Maps. The football team is taking a longer trip because the roads, such as Interstate 94 and 90, are wider, safer and have more rest stops, Breitbach said.
Few drives across Montana are longer. The distance from Baker to fellow Class B town Troy is 714 miles, per Google, and it's 719 miles from Westby to Noxon (Westby-Grenora and Noxon both qualified for this season's 6-Man playoffs). The longest drive any football team took during the 2018 playoffs was 579 miles (Arlee to Fairview).
For the Spartans, this weekend's trip is a good excuse to watch more game film on Eureka — a fittingly scary viewing experience on the heels of Halloween.
"The biggest challenge is Eureka," Breitbach said. "That worries me more than the distance."
The Lions are 8-0, No. 2 in the 406mtsports.com Class B rankings and have outscored their opponents 344-58 this season. Baker (4-4) needed to beat Colstrip at home last week to keep its season going.
"The kids knew if we didn't win, we'd be turning in gear this week," Breitbach said. "I don't think they were ready to do that."
Against the Colts, O'Donnell completed a 72-yard touchdown pass to Teight Madler on the first play from scrimmage, and the Spartans led 50-14 at halftime. They won 52-28.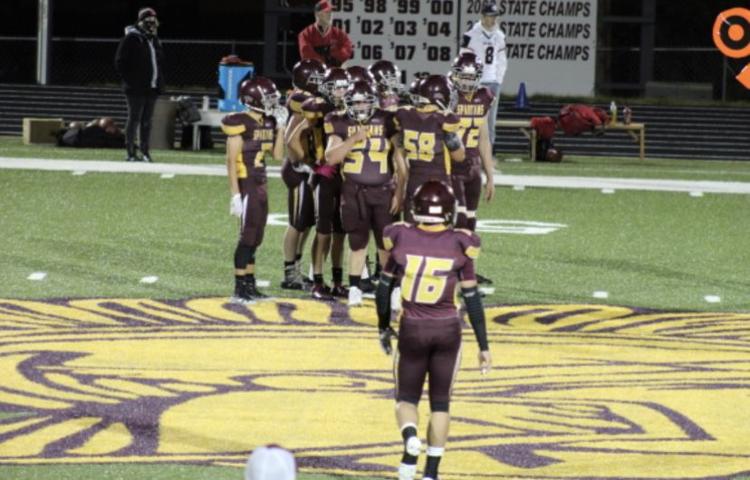 Their reward doesn't look like one: a monstrous drive to play an elimination game against one of the best teams in the state. None of that dampens the Spartans' spirit.
"I really wanted to go on to the playoffs," O'Donnell said. "As soon as that (Friday) night was over, I was like, 'I want to upset Eureka.' … I'm eager to go up and play."
Baker's seniors know what it's like to ride a bus west and get blown out in the first round of the playoffs. They also know how it feels to go 3-4, lose to Colstrip in the final game and narrowly miss state (in 2017). One season ago, the Spartans went 1-7 and lost 41-8 at home to the Colts in the regular season finale.
Baker's players had to turn in their pads the Tuesday after those season-ending defeats. This Tuesday, they were wearing them.
"We don't know when we're gonna turn in our pads and gear now," Collins said.
Kalispell Flathead (2-7) at No. 4 Billings West (7-1), 7 p.m., Wendy's Field at Daylis Stadium: Flathead returns to Billings to play West for the third time in 12 months. West defeated the Braves 20-14 in last season's State AA championship game, and West won again, 48-7, when the teams met in September. The Golden Bears are back on the field for the first time since losing their 18-game winning streak in a 26-20 setback last week in Bozeman.
Billings Skyview (0-8) at No. 2 Missoula Sentinel (8-1), 7 p.m.: Sentinel has won four games in a row and features running back Jaxon Lee. The senior is fourth in AA in rushing with 987 yards and averaging 5.1 yards per carry. He's also scored 14 touchdowns, tied for second with Bozeman senior and fellow Montana commit Asher Croy behind Butte's Kameron Moreno (16).
Missoula Hellgate (3-5) at Billings Senior (4-4), Saturday, 1 p.m., Wendy's Field at Daylis Stadium: Senior had a bye last week but has won its last two games, over Skyview and Great Falls CMR, to reach the .500 mark. Since opening the season with wins over Skyview, Missoula Big Sky and Flathead, the Knights have dropped five in a row, although two of them were one-score games. Hellgate's Brandon Caladonato is tied for fourth in AA with three interceptions.
Glendive (3-5) at Billings Central (6-2), 7 p.m., Herb Klindt Field: The defending State A champion Rams hosted Glendive on Sept. 20 and won 43-0. Last Friday, the Red Devils lost 36-0 at No. 4 Laurel, which beat Central 33-0 on Oct. 4 and has a first-round bye.
Shepherd (4-4) at No. 5 Florence (6-2), Saturday, 1 p.m.: Shepherd won three in a row before losing 35-0 to No. 3 Red Lodge to end the regular season. Still, the Mustangs are in the playoffs for just the fifth time in the past 18 seasons. Florence's two losses are 34-14 to Eureka and 54-14 to No. 4 Manhattan (8-0).
No. 7 Missoula Loyola (5-4) at No. 8 Huntley Project (6-2), Saturday, 1 p.m.: These teams duked it out in the season-opener, with Loyola grabbing a 25-20 win. Loyola lost to Fairfield in last year's state title game and has only lost to ranked teams this fall (No. 1 Fairfield, Manhattan, Eureka and Florence). Project has won three straight since its 35-0 home loss to Red Lodge.