BILLINGS — Carson Hunter quarterbacked Miles City to the Class A state football championship last fall as a junior, accounting for all five of his team's touchdowns in a 35-7 victory over Laurel.
But that wasn't even Hunter's best game: On Oct. 18, he accounted for eight scores in a blowout win over Lewistown.
Naturally, his stock was already high.
Still, Hunter was one of 131 high school players competing Thursday in the Big Sky Combine at Daylis Stadium in Billings as a way to offset the loss of summer camps due to coronavirus and acquire measurables and film for college coaches to evaluate with official recruiting on hold.
"It's affecting everybody, so this was the best bet for anyone who wants to get themselves out there," Hunter said between drills. "Here, right now, this is the place to be."
The one-day event, organized by former Montana and Dickinson State assistant Jace Schillinger, put players through the paces in combine-style drills such as the 40-yard dash, pro shuttle, L drill and broad jump. It also provided individual instruction run by area high school and college coaches.
Hunter's recruitment is firmly established as he gets set to enter his senior year. He said Montana and coach Bobby Hauck have "started to push hard," and he has been in contact with Jeff Choate and the staff Montana State.
He also had camp invites from all the Frontier Conference schools in the state. But this, he said, can only be a benefit.
"I've never been to a combine like this before," said Hunter, who had to zip back to Miles City to play in a Legion baseball doubleheader Thursday night. "Going through the recruiting process, this is only going to help. I'm excited to see my results and try to get better."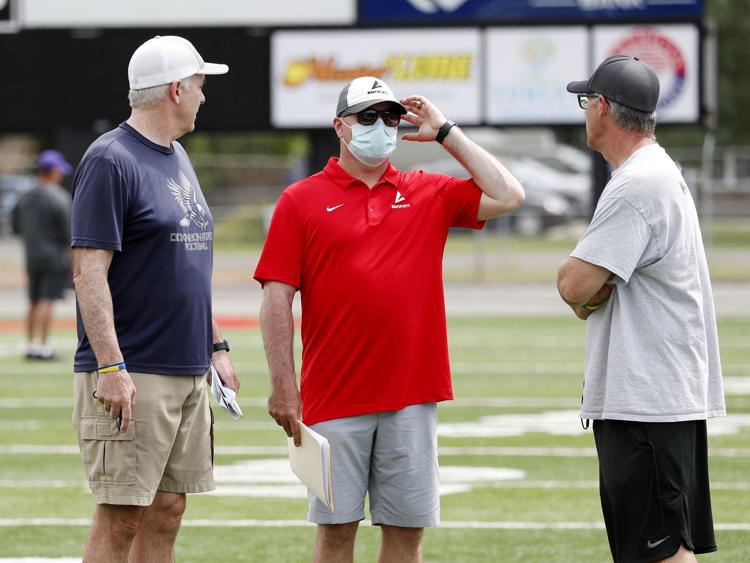 The combine was split into two sessions, with skill players competing first followed by linemen in an effort to adhere to social distancing guidelines. Schillinger, clad with a face covering, said there were around 100 skill players and about 30 linemen participating.
Most were players entering grades 10-12, though a few incoming freshmen also took part.
BSN Sports, an athletic equipment and apparel company for which Schillinger is a sales representative, was a sponsor.
Players came from far and wide — from Billings and the surrounding area to places as far away as Frenchtown and Valier. The combine even welcomed a few out-of-state athletes.
Each station was filmed, and each player received individual footage of their drills.
"When I'm out here, I do really like what's going on," said Schillinger, who rarely had a moment to stand still. "The coaches are doing a great job. And really once you get out there it kind of runs itself.
"These guys know the drills, they know what they're supposed to be doing. I wish I could watch them more. But I think they're all liking what's going on and they're going to get good results out of it."
Among the unfamiliar faces was Kenny Sleeth of Windsor, Colorado. Sleeth had plans to attend camps at Wyoming and Northern Colorado this summer, but those were shuttered. He said he mom came across ads for the Big Sky Combine online and they decided to make the trip.
Sleeth, a running back and defensive back at Windsor High School, a Class 4A school north of Denver, impressed with a 4.44 clocking in the 40, the fastest time of the day. Sleeth broke 4.5 on both of his attempts.
The top measurable in the L drill came from Laurel receiver and defensive back Jack Waddell, who was timed in 6.86 seconds. Waddell moved from Livingston to Laurel last summer. Before that, he was the 200-meter champion at the State A track and field meet in 2019.
Brock Ping, a running back and defensive back who has transferred from Billings Senior to Billings Central, had the top broad jump (11-1) and was also No. 1 in the pro shuttle (4.09).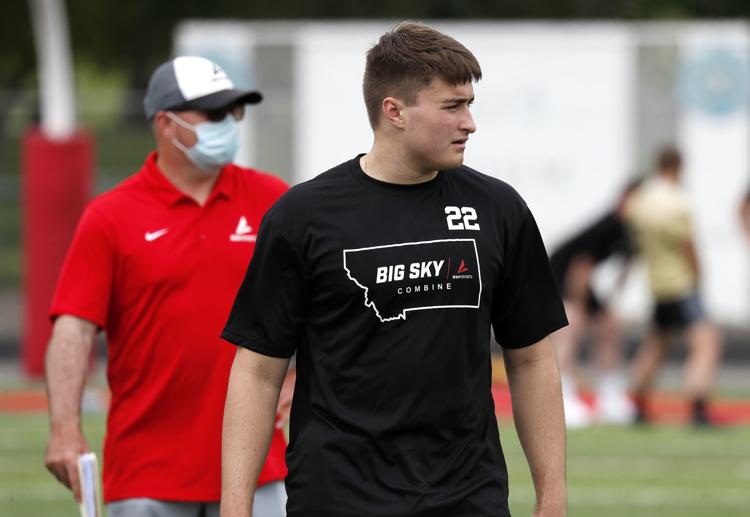 Luke Fedyk, a 6-foot, 205-pound defensive end from state champion Bozeman High, has offers from Montana State, Montana Tech and Carroll College. In June, Fedyk posted a video of himself on Twitter running a 22.5 mph pace on a treadmill.
He held his own again on Thursday, and was happy he got the chance.
"This gives us another opportunity to show what we've got," Fedyk said. "A lot of colleges can't run camps because of the restrictions. For me it was just trying to get as much exposure as I can and to put up the best numbers that I can."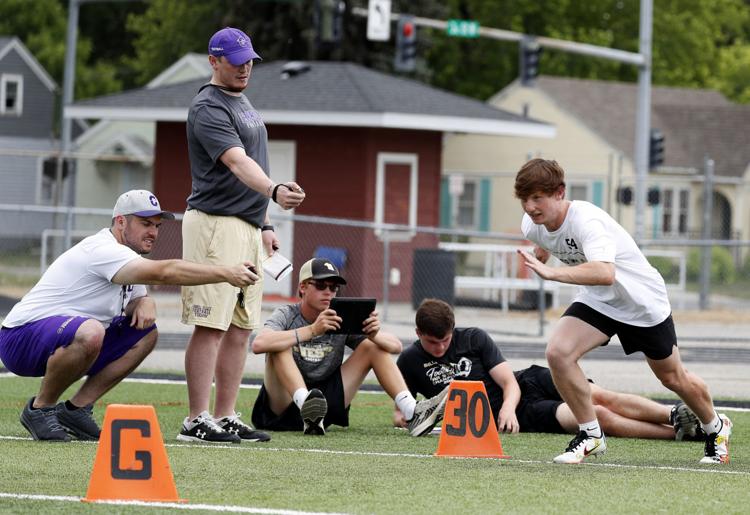 Taco Dowler got valuable experience as a sophomore last fall at Billings West, playing slot receiver and returning kickoffs and punts. Dowler ran 4.62 in the 40 on Thursday.
"I think it will be good most for self-improvement, to see what I can do from this year to next year to the next year after that," he said. "I'm quick, that's my strong suit."
Schillinger still hopes to put on a second combine somewhere else in the state, be it in Missoula, Butte, Hamilton or another location. But he also is admittedly skeptical of that possibility based on rising positive tests for COVID-19.
Schillinger said the combine served its purpose.
"It gives kids an opportunity that they might otherwise not have," he said. "That's what's kind of special about it. It kind of gives them a chance to see how they stack up.
"It gives those kids an opportunity a chance to come out and compete a little bit, which they haven't been able to do for a long time."