BILLINGS — On its surface, the thought of Peyton Carle playing football seems rather crazy.
Carle began his senior year at Billings Skyview not having played a varsity down of football, his favorite sport. A dislocated knee suffered in seventh grade, and a subsequent surgery and series of recoveries and setbacks, made sure of that.
But when Carle explains his reasons for enduring the long road of rehab and false-started dreams, what becomes clear is that his desire to get on the gridiron for the Falcons is more than just a love of the game.
It would have been easily understandable if he were returning to a program that was a perennial winner. But Skyview, at least at this point, is not that. The Falcons have lost 15 consecutive games dating back to 2017, so the cynic has to ask: Why risk your senior season of basketball for this one season of football? After all, despite his injury, Carle has been able to play basketball and saw action in 17 varsity games last season. But football has been off limits since his freshman year when he re-injured the knee playing basketball … until this season. 
Carle said he never gave a thought to not playing football.
"I just wanted to get back playing with my friends," said Carle, a tight end/defensive end/long snapper who was elected a team captain along with Brenner Bushfield, Josh Macy, Bryan Baker, Conor Reitler and Cole Allison. "I've made some of the best memories of my life playing football with my friends. And, yeah, I felt I could be a help to my teammates and encourage them to do well. Because we're going to get there."
There's a photo, snapped by Missoulian photographer Ben Allan Smith earlier this season, showing Bushfield, Skyview's quarterback, squatting on the field, head hung low after a loss to Hellgate. Also in the frame is Carle, bending at the waist, his hand on Bushfield's shoulder.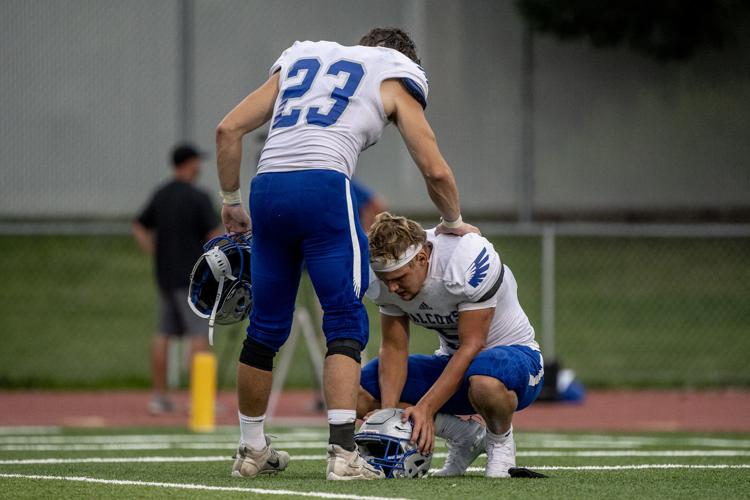 "Peyton, man," said Skyview basketball coach Kevin Morales, who hadn't seen the photo but whose comment was spurred by a description of the picture. "That's Peyton in a nutshell. His positivity can sometimes drive you crazy if you're not in the right mind-frame for it."
Morales laughed heartily at his statement, then added: "But he's just one of those guys who's always, always positive."
It doesn't extend to just the playing fields, either. Carle is on the Skyview Board of Directors (think leaders of the student council). He's also a part of a leadership group comprised of all three Billings public high schools and Billings Central, called Peer Performance, which meets once a month to discuss how to better their schools and student sections.
And if someone looks like they're having a bad day, Carle's not afraid to ask if there is anything he can do to help. He loves hanging out with kids who are in special education, and will sometimes sit with them at lunch.
"You talk about leadership and serving others, he's the epitome of that, for sure," said Nathan Wahl, Skyview's second-year football coach. "Those are the challenges we put forth for all of our kids, and some of them do it better than others. But he's one we can really use as an example of how to treat your teammates, how to treat your classmates, how to treat your teachers and coaches, and just how to live a life of conviction. It's pretty cool to see a young man in high school have that figured out."
Wahl said that even though Carle didn't play last season as a junior, he'd visit with Wahl often and offer encouragement and express excitement for where the program was headed. Carle told Wahl that his goal was to play football his senior season, and Wahl said Carle was at every workout he needed to be at.
For Carle, this season is about building a foundation for the football program and helping restore its winning tradition.
"I know it's been a work in process," Carle said. "I have faith in coach Wahl and all our coaches. We want to bring back the culture of working hard and doing the right thing, being a good leader and being a good person throughout your community and your school.
"With coach Wahl at the helm and all the other coaches, they put in hours upon hours and me and my teammates are so very grateful for that. They spend time away from their families. They could be doing a million other things, but they love the game and that's who we play for, too, because we know how much time they put it."
If others have learned to lean on Carle, he's done the same. He said he'd be nowhere close to playing football if not for the efforts of orthopedic surgeon Guy Schmidt, physical therapist Bill Dolan, Bozeman chiropractor Clete Linebarger, parents Vicki and Mike, and Morales and Wahl, among others.
He also said watching his mother, the longtime Skyview volleyball coach, go through two public battles with breast cancer helped solidify his verve.
"That has shown me to really appreciate life and live each day like it's your last," said Carle, an avid outdoorsman. "Live in every moment and cherish the people that you're with."
And when the chance comes along to play your one and only season of varsity football, run with it.
"I love playing with my teammates," Carle said. "I wouldn't have done any of this if it wasn't for them. I love all of them to death and I just wanted to play with them and for them. I can't sit out. It's not who I am."