BILLINGS — The Billings West and Butte football teams know each other well. Last year, the Golden Bears beat the Bulldogs 42-6 and 45-27 en route to the Class AA state championship.
West and Butte will meet again at 7 p.m. Friday at Naranche Stadium in the state semifinals, and both teams will utilize knowledge from last fall's two matchups. But perhaps a better preview happened a year earlier.
On Sept. 29, 2017, West traveled to Butte and escaped Naranche with a 56-53 win in double overtime. West's Demarcus Carr rushed for the game-winning touchdown, spoiling a four-touchdown performance from Butte sophomore quarterback Tommy Mellott.
It was the second of six straight losses for the Bulldogs, who ended the season with a 2-8 record. The victory was West's fourth in a row, but the Bears lost to Helena in the first round of the playoffs and finished 6-5.
Two seasons later, Butte is 10-0 and No. 1 in the 406mtsports.com Class AA rankings, while West is 9-1 and No. 4. The Bulldogs and Bears are confident in their defenses, but they will not be surprised if Friday's final score ends up around 56-53.
"It's gonna be a pretty epic shootout," West senior lineman Jaden Bienvenue told 406mtsports.com earlier this week. "The state (title) game last year was big, but everybody and their dog is gonna be there at this game Friday.
"It's gonna be big. Fans are gonna be loud. I think it's gonna the closest thing we can get to a college atmosphere."
If Friday's score goes high, Carr will almost certainly fuel it. The senior has rushed for 883 yards and 10 touchdowns on 138 rushes (6.4 yards per carry) this season. Butte senior Kameron Moreno has compiled 1,125 rushing yards and 18 TDs on 217 attempts (5.2 ypc).
Mellott, a Montana State commit, has rushed for 1,036 yards and 16 scores on 123 carries (8.4 ypc). Mellott's passing numbers are equally, if not more, impressive: 2,431 yards, 25 TDs, two interceptions, 64.3 completion percentage.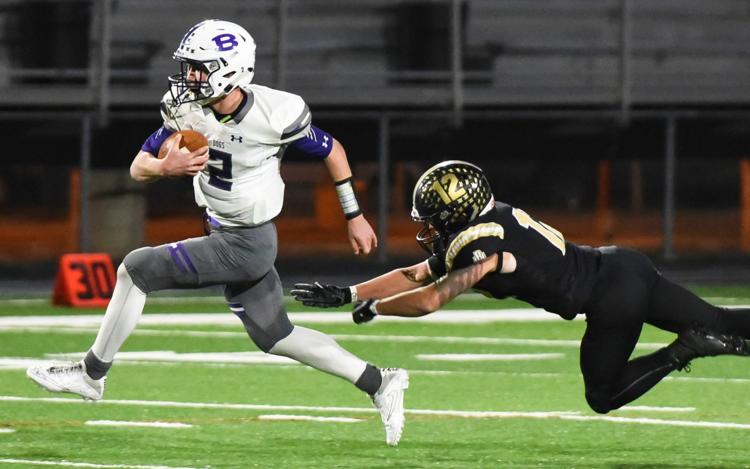 Mellott would lead Class AA in passing if not for West senior Josh Erbacher, who has completed 69.3% of his passes for 2,843 yards, 28 TDs and four INTs this fall (rushing: 38 carries, 294 yards, four TDs, 7.7 ypc). Erbacher, who hasn't committed to a college yet, backed up Alex Bruns two years ago and started all 13 games for last year's title-winning Bears.
"I don't know where you'll find a better quarterback matchup than Tommy and Josh," said West coach Rob Stanton.
West senior wide receiver/defensive back Zack Tallman referred to Erbacher and Mellott as rivals, but both QBs downplayed the individual matchup.
"If you looked at stats, I'd for sure say we're rivals," Mellott said. "But how I look at it, I don't compare myself to him."
Mellott and Erbacher stressed the importance of team success.
"If I throw 10 picks and we still win, I'll be happy," Erbacher said. "I'm not gonna be satisfied until we're holding that trophy."
While a 10-interception game is implausible, a low-scoring affair on Friday night is within the realm of possibility. Even if the score does balloon, the pivotal play might not come from Erbacher, Mellott, Carr, Moreno or another offensive player.
In the first quarter of that Sept. 29, 2017 game, West blocked a punt and returned it for a touchdown to tie the game at 7-7. For Butte coach Arie Grey, that play sticks out the most from the Bears' and Bulldogs' barn burner.
"That keeps me up at night," Grey said. "When you start thinking, 'Oh, it's gonna be a shootout or it's not gonna be a shootout,' it's never what you expect.
"I think you're gonna see two teams play really hard."
The winner of Friday's game will face either No. 2 Missoula Sentinel (9-1) or No. 3 Bozeman (9-1), who play each other Friday night in Missoula.
No. 4 Laurel (8-1) at No. 2 Dillon (9-1), 6 p.m.: Laurel has played two fewer on-field varsity games than Dillon this season thanks to a regular-season bye and a Livingston forfeit. The Locomotives (whose only loss was to Miles City) blanked No. 5 Libby 50-0 last week in the State A quarterfinals, and the Beavers (who have won nine straight since a season-opening loss to Frenchtown) beat Havre 47-7.
No. 3 Hamilton (9-1) at No. 1 Miles City (9-0), 1 p.m. Saturday: Miles City handled Frenchtown 40-3 last week in the State A quarterfinals, and Hamilton beat defending state champion Billings Central 34-17. Hamilton, like Dillon, has played two more games than Miles City. The Cowboys had a bye week in September and beat Livingston, which canceled its season, by forfeit on Oct. 4.
No. 3 Red Lodge (10-0) at No. 2 Eureka (10-0), 1 p.m. Saturday: The Class B state champion will be undefeated — whoever wins this semifinal game will face either No. 1 Fairfield (the defending state champion) or No. 4 Manhattan, who are also both 10-0. Red Lodge defeated No. 6 Malta 35-6 last week in the quarterfinals, and Eureka handled No. 9 Columbus 69-30.
No. 2 Fort Benton (10-0) at No. 1 Fairview (10-0), 1 p.m. Saturday: A 66-6 win over No. 7 Thompson Falls last week in the 8-Man quarterfinals increased Fairview's point differential to 574-54 this season (not including a forfeit victory over Lame Deer). The Warriors' closest win was the season opener against Scobey, 46-8. Fort Benton is coming off a 33-30 win over Park City. The winner of this game will take on No. 3 Alberton-Superior (11-0) or No. 6 Great Falls Central (8-2) in the title game.
No. 1 Big Sandy (10-0) at No. 3 Jordan (10-1), 1 p.m. Saturday: Big Sandy is responsible for Jordan's only loss, winning 44-28 at home in the season opener. The Pioneers pounded Roy-Winifred 60-6 in last week's 6-Man state quarterfinal game, while Jordan shut out Bridger 65-0.
No. 8 Westby-Grenora (8-3) at No. 5 Wibaux (9-2), 1 p.m. Saturday: Westby-Grenora, which won the 2017 6-Man state championship, crushed No. 4 Power-Dutton-Brady 50-0 in the first round and beat No. 2 Hot Springs 48-12 last week. The Thunder's losses came against Big Sandy, Jordan and Richey-Lambert, and they beat Wibaux 52-42 on Oct. 18. The defending state champion Longhorns, who also lost to Jordan, beat No. 7 Shields Valley 41-19 last week.